Tires play a key role in the productivity of construction equipment. Minimizing or eliminating tire problems can have a significant impact on uptime and job completion. Contractors are increasingly turning to solid tires to enhance productivity, improve uptime and minimize tire maintenance expense. You've heard the old adage, "You have to spend money to make money." When it comes to buying solid tires for construction machines, you might say, "You have to spend money to save money."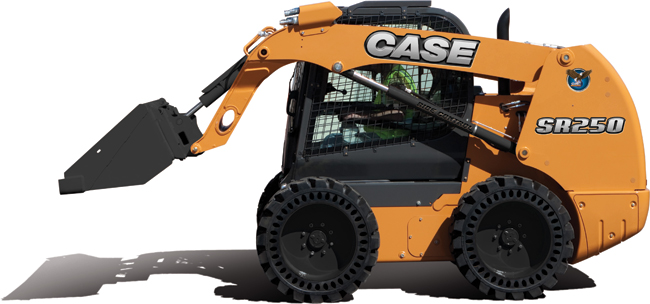 Solid tires are priced at a premium over pneumatic tires. But they offer contractors an important strategic advantage — they last a long time on the job — especially in traditionally hazardous applications. Their longer lifespan translates to savings in maintenance expenses and savings in replacement costs.
While solid tires are gaining traction among several categories of construction equipment including wheel loaders, they have become a particularly popular option for skid steers, where they are proving to last four to five times longer than pneumatic tires. So, despite their higher initial price, solid tires' extended lives save money in the long run. And because solid tires are easier to maintain, they reduce service expenses and help keep the machine on the job.
Excellent Performance in a Variety of Applications
Solid tires are particularly well suited for applications such as scrap handling, metal recycling, waste transfer station duties, heavy demolition work and certain mining operations that are hazardous to pneumatic tires. One downside used to be a rough ride for the operator. Now, manufacturers offer flexible solid tires that give a much smoother ride. Their design has a series of holes through the tire's width around the entire circumference, which lets tires flex when operating on rough surfaces or when they hit a curb or other object.
With these improvements to solid tire design, contractors have started using them for a much wider variety of skid steer applications, including landscaping and hardscaping, tackling chores on dairy farms and feedlots and even for snow removal. The benefits of increased tire life are evident, for example, in landscaping operations that use skid steers extensively on paved surfaces such as concrete, asphalt and stone.
Flexible solid tires also have become popular on smaller- and mid-sized skids, leading to demand for 10- and 12-in. solid tires. It used to be that contractors typically used solid tires only on the largest skid steers, but the extended life of solid tires makes sense regardless of machine size.
Elliptical Apertures Flex for Smooth Ride, Limit Stress on Rubber
Key to a good solid tire's design is a pattern of elliptical apertures around the circumference that creates a smooth ride for the operator while protecting the machine from shock-related damage. Under load, the vertically oriented elliptical apertures flex into a circular shape, which limits stress on the tire's rubber. The tires use a specially formulated rubber compound that offers outstanding durability, high resistance to cuts and abrasions, high tear strength (3,200 psi), a wide profile for improved traction and self-cleaning treads.
Each flexible solid tire adds weight to the machine. A set of four will increase operating weight by about 800 lbs compared to typical pneumatic tires. The increased weight effectively increases operating capacity for higher productivity. The additional weight also helps stabilize the machine by lowering the center of gravity, resulting in greater operator confidence and productivity. No specialized equipment is required for installing or removing the flexible solid tires. In addition, the tires are designed to be mounted on either side of the machine.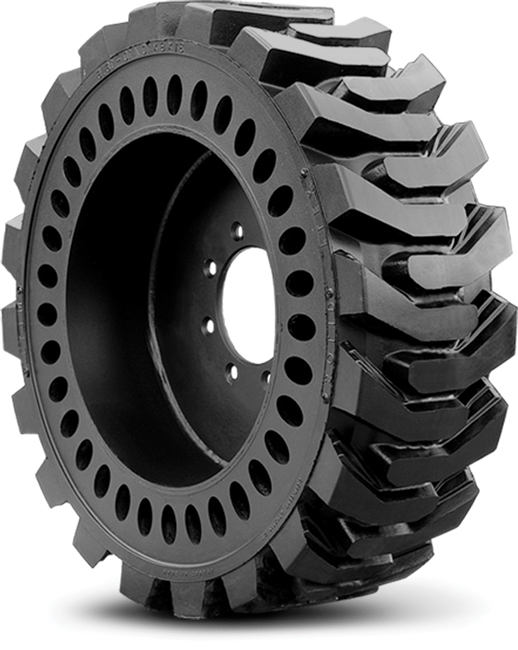 Cost Analysis Proves Value
A sample cost analysis demonstrates the value of a set of flexible solid tires compared to a set of standard pneumatic tires and a set of foam-filled pneumatic tires.
The example below depicts prices from a randomly selected dealer. Not many contractors come back later and express regret for buying solid tires for a skid steer. On the contrary, most claim they are one of the best options they have ever chosen to purchase.
Eric Metzger is the product marketing manager for parts and service at Case Construction Equipment, based in Racine, Wis.