With 24.8 hp on a large chassis, clean emissions and modern styling, the L2501 compact tractor has the performance and features to get the job done right at an outstanding price. Like Kubota's entire standard L Series line, the L2501 is powered by a Kubota diesel engine. Under 25 hp, this model complies with the latest EPA emissions regulations without the need for a diesel particulate filter (DPF). A gas-strut hood with opener assist provides easier maintenance, and a 10-gal fuel tank allows for more time on the job and less time refueling. The transmission delivers smooth operation with four main shift speeds in two ranges for high and low, for a total of eight forward and four reverse speeds. Optional cruise control is also available on HST models. For more info, visit kubotausa.com.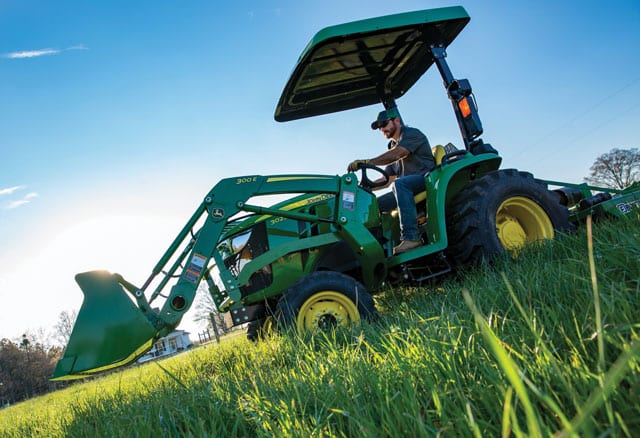 The John Deere 3E Series compact utility tractors, including the 3025E, 3032E and 3038E models, offer customers ultra-reliable machines that are powerful and easy to use. Providing a tight turning radius, the 3E machines are extremely maneuverable and feature an increased wheelbase and weight for improved machine stability. Easy-to-use, color-coded controls increase overall comfort and convenience during operation. The independent power take-off (PTO) system eliminates the need to stop and clutch to engage or disengage the PTO. An easy-to-use, two-range hydrostatic transmission increases tractor performance while eliminating clutching for fast and easy direction changes. Additionally, Twin Touch foot controls provide an automotive-like experience while reducing operator fatigue. For more info, visit deere.com.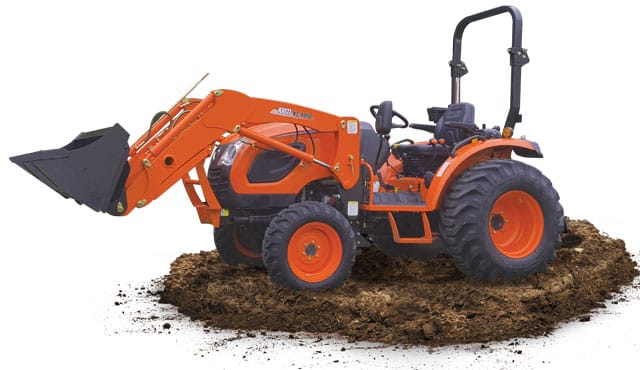 Kioti CK10SE Series
Kioti's CK10SE Series now offers six premium models with either a 35- or 40-hp, three cylinder, inline vertical, water-cooled Daedong diesel engine. With manual and hydrostatic ROPS models and hydrostatic cab model options, customers can find the ideal machine to fit their needs. The premium CK10SE tractor series contains many standard features such as hydraulic power steering, telescopic lower link and stabilizers and dual remote hydraulic valves. HST models boast standard cruise control and a linked pedal for simplified tractor operation for a variety of utility and loader applications. Cab models feature a factory-installed cabin with heat and A/C, creating a comfortable operating environment throughout the year. For more info, visit kioti.com.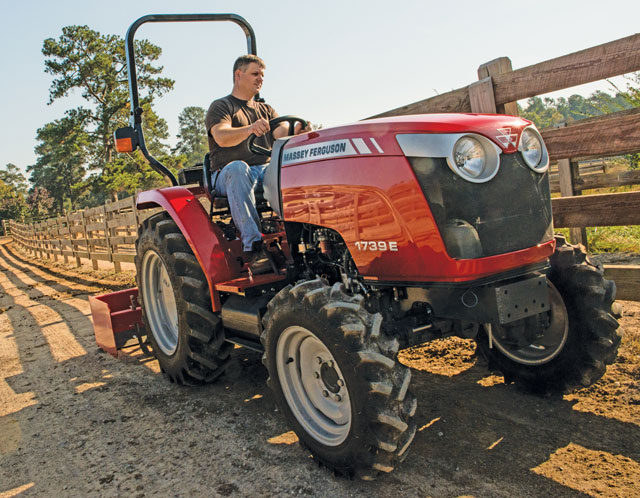 If you're looking for a no-nonsense workhorse with 25 to 38.5 gross engine hp, the three four-wheel-drive models in the Massey Ferguson 1700E Series are great choices. All feature an open station operator platform with handy-to-reach, easy-to-use mechanical controls for most functions. These tough machines have stamped steel foot decks, hoods and fenders and feature fuel-efficient, three-cylinder diesel engines with electronic engine management and fuel injection. Choose either a mechanical 9×3 transmission, great for mowing and efficient hauling or the three-range hydrostatic transmission which is ideal for loader work, delivering smooth acceleration without a single gear change. An open center hydraulic system with a high-flow rate for quick implement response is another key feature. For more info, visit masseyferguson.us.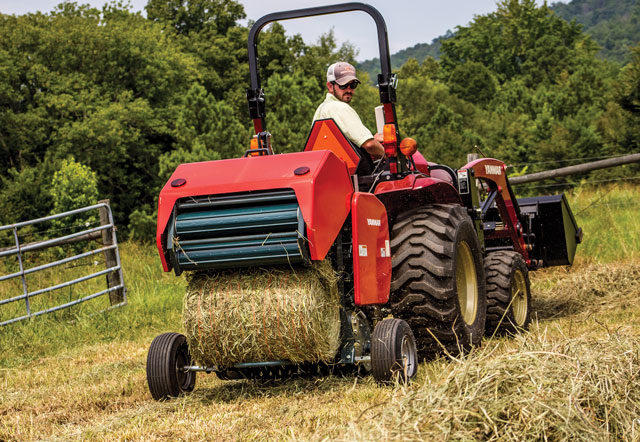 Yanmar Ag Equipment
Yanmar America, Adairsville, Ga., offers 21- to 59-hp tractors through an expanding dealer network. The Yanmar ag network is one of the fastest growing in the industry, according to the company. In each of the last two years, the company has added more than two dozen dealership companies. While adding dealerships, Yanmar added and updated products. The 21- to 24-hp SA Series now has foot-pedal-controlled diff lock. New SA tractors' colors and decals match YT2 and YT3 tractor styling. The 35-hp YT2 Series offers platform or factory cab with standard heat and A/C. Available options include front hitch, loader third function and rear hydraulic connections. The 47- and 59-hp YT3 Series, platform or factory cab, features the productivity-improving i-HMT transmission. For more info, visit yanmartractor.com.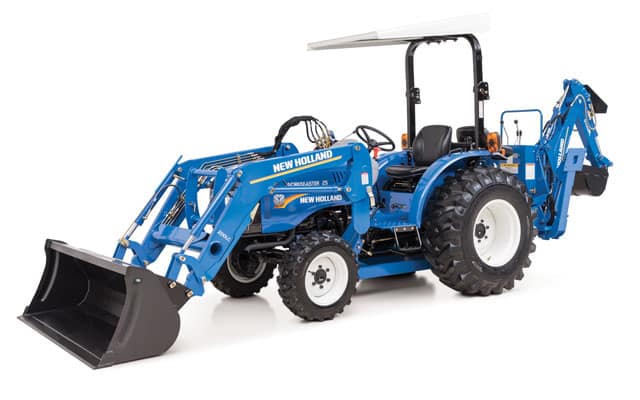 For 2018, New Holland Agriculture has expanded its Workmaster compact tractor lineup to include the new Workmaster 25. Joining the Workmaster 35 and Workmaster 40, you now can find a Workmaster ranging from 25 to 40 hp, allowing you to choose the right power requirements to tackle your tasks efficiently in an easy-to-handle package. Regardless of the model you choose, each Workmaster compact is built to last thanks to their rugged construction and big tractor backbone. Workmaster compact tractors have heavy castings for the engine, transmission and rear axles, which are complemented by heavy-duty internal components for years of performance. For even further peace of mind, New Holland also offers its Boomer Guard 6 warranty package for six years of worry-free operation. For more info, visit newholland.com.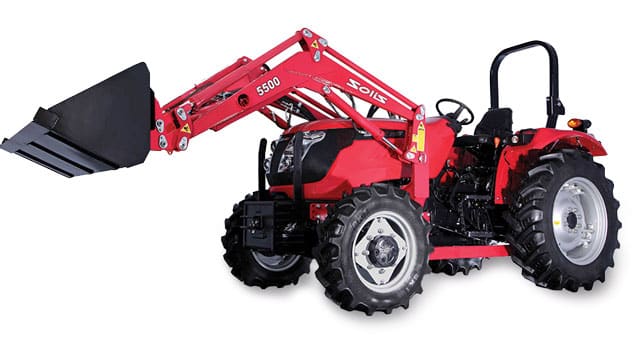 Solis Tractors
The Solis brand of tractors, 24 to 60 hp, are now available through select Yanmar Tractor dealers. Yanmar America, Adairsville, Ga., recently set an exclusive supplier/distributor agreement with International Tractors Limited, India's third largest tractor manufacturer. "Adding the SOLIS brand gives Yanmar dealers a wider range of tractor types in the 20- to 60-hp range. The SOLIS product line adds tractor choices including gear transmissions. The Yanmar tractor line has either the very popular hydrostatic transmission or the unique and productivity-increasing i-HMT transmission on the higher horsepower Yanmar tractors. SOLIS tractors add gear transmission choices that are preferred by many tractor buyers in some applications," said Keith Wainwright, division manager, Agricultural Equipment, Yanmar America. "The SOLIS tractors will be very competitively priced. However, the initial supply will be limited. If you are interested in a SOLIS tractor, I recommend you contact a participating Yanmar dealer soon." For more info, visit yanmartractor.com.
Case IH Farmalls
Compact Farmall tractors from Case IH feature the all-purpose flexibility your operation demands — from loading and mowing to fencing and pushing snow. Large, high-visibility operator's platforms and cabs, ergonomically placed controls and adjustable seating make short work of long days. The compact Farmall A Series (35 to 40 hp) gives you the easy-to-operate, get-the-job-done workhorse you need for all types of chores and grounds maintenance. The compact Farmall C Series (35 to 55 hp) includes standard deluxe features such as a tilted steering wheel, adjustable seating and convenient, easy-to-use controls, and the compact Farmall C CVT Series (45 to 53 hp) is designed for comfortable, easy operation with a smooth CVT transmission. For more info, visit caseih.com.