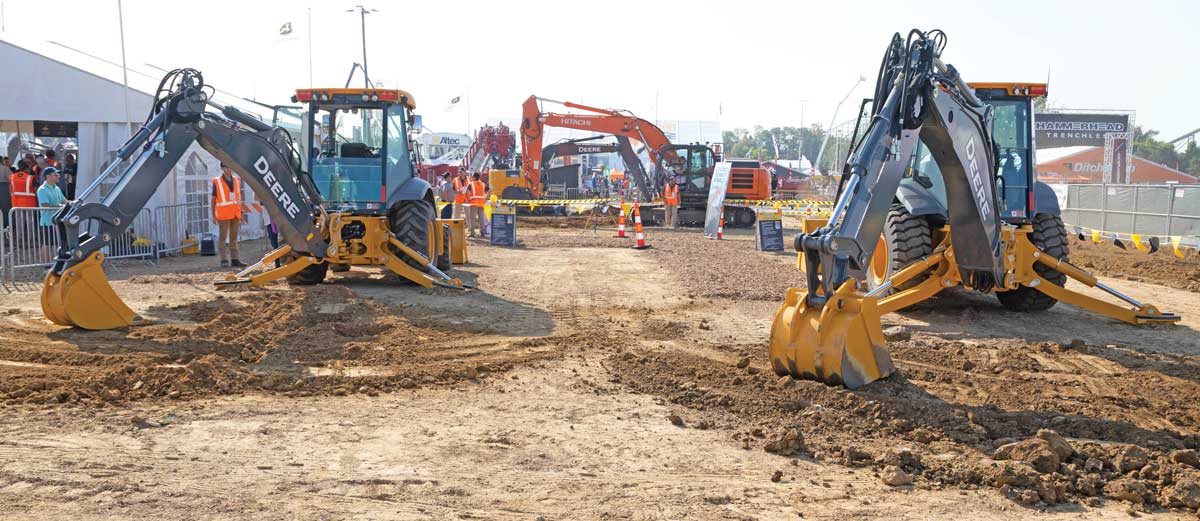 The Utility Expo (formerly ICUEE) starts today, and in 2021 this tradeshow is already on track to be bigger than any previous edition, thanks in part to a new outdoor layout with more space for overhead and underground utility equipment. The new layout will allow for more new product introductions and demonstrations at the show this week, Sept. 28-30, in Louisville, Ky.
The demolition of old Cardinal Stadium from the Kentucky Exposition Center grounds allows The Utility Expo to use that newly paved lot for exhibits, serving as a massive contiguous exhibit area connecting the indoor exhibits in North Hall and the traditional digging space in Lot K. The new layout also provides for the opportunity to group similar product types, making it easier to navigate and find the equipment at the show. Another significant advantage of moving the exhibits all to the north side of the hall is that it greatly simplifies parking and traffic flow. Whether you drive, use ride share or take the hotel shuttles, you will have a quick and easy experience getting in and out of the show grounds this year.
The Utility Expo is already set to be the biggest utility trade show ever, eclipsing the record set by ICUEE 2019 with nearly 1.3 million sq ft of exhibit space already sold. Attendees can select from three badge options, providing access for every day of the show, noting the deluxe badge includes admission for all three days and access to over 60 on-demand education sessions that you can view after the show. There will also be field classes that actually walk the show floor and share best practices on equipment utilization and identifying key features that may bring value to your business. Each class earns 1.5 professional development hours. Register at theutilityexpo.com.
John Deere SmartGrade 333G Track Loader (Booth K270)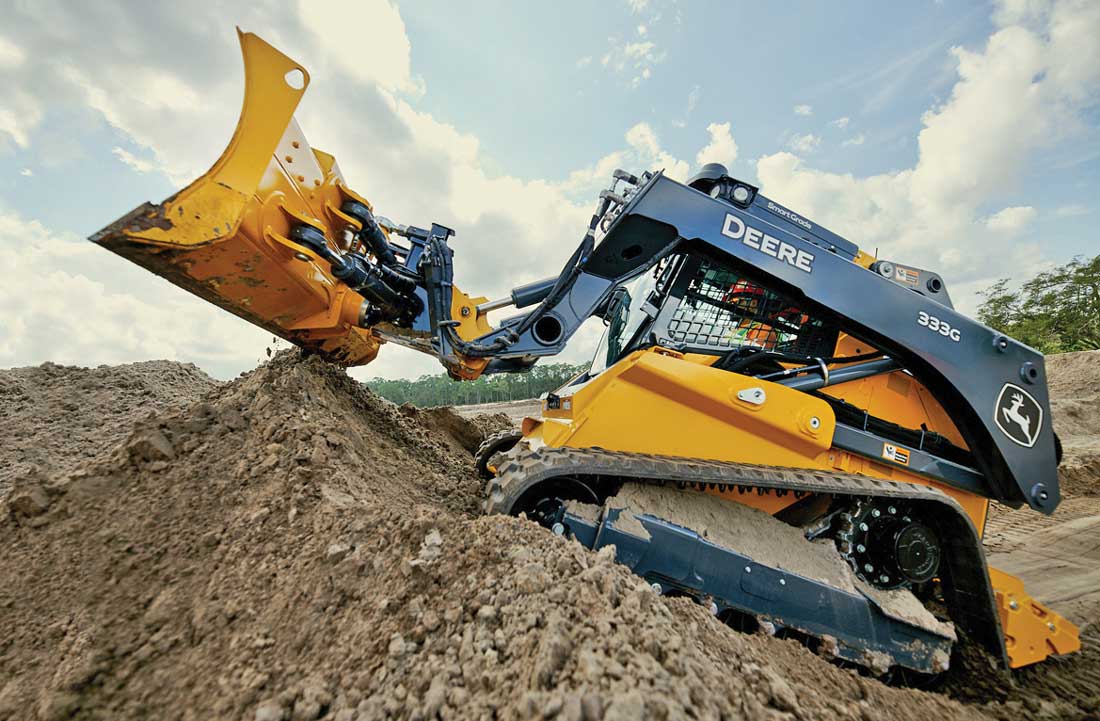 At this year's Utility Expo, John Deere is showcasing the SmartGrade 333G compact track loader, the industry's first compact machine equipped with integrated grade control. Deere continues to build upon its OEM precision grade management products by integrating SmartGrade, its proprietary grade control technology, into the 333G CTL. SmartGrade increases productivity by helping to automatically complete grading tasks faster with fewer passes and less rework compared to working without grade control technology. Operators will also benefit from DozerMode, a breakthrough control solution that enables the EH joystick control system to function like a crawler dozer with the push of a button. For more info, visit deere.com.
Kubota SVL97-2 Compact Track Loader (Booth K120)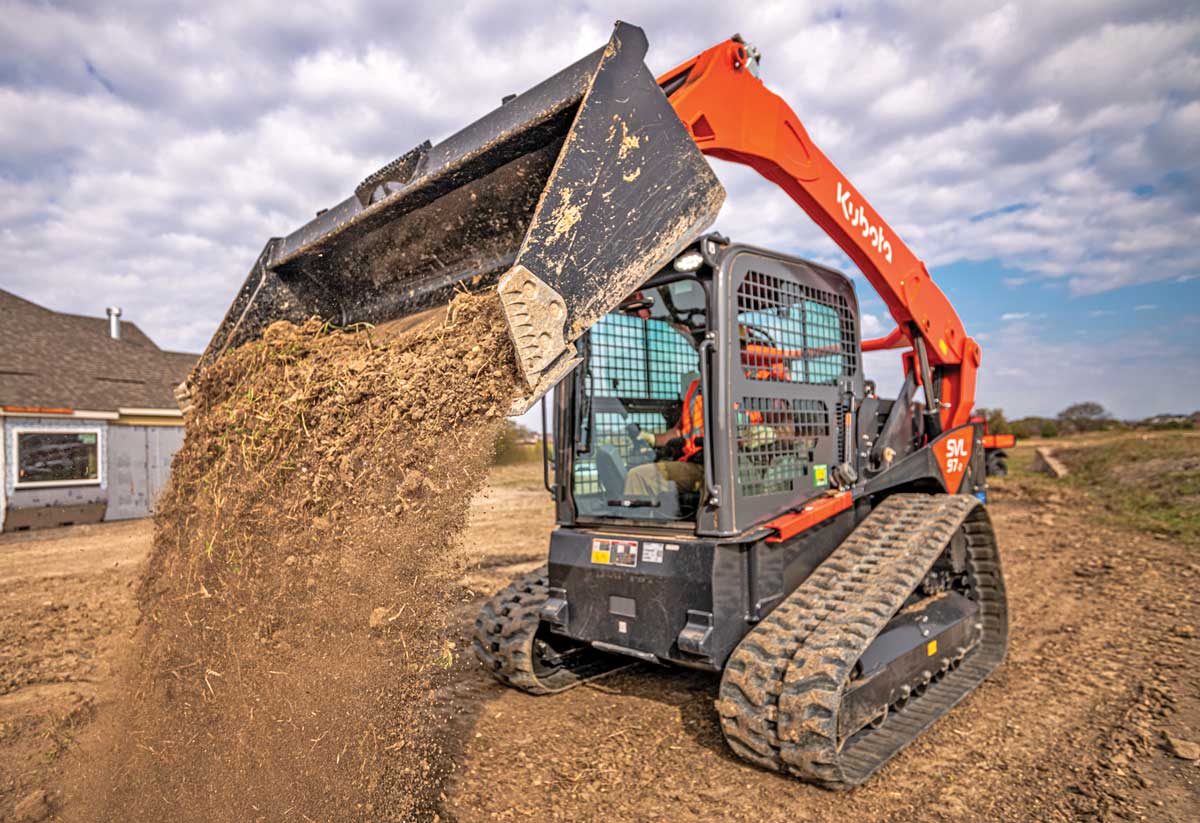 Kubota Tractor Corp. unveiled the newest member of its compact track loader line with the SVL97-2. The new SVL97-2 offers increased productivity coupled with Kubota's tradition of dependable power. The new SVL97-2 boasts a 96-hp engine with a rated operating capacity of 3,200 lbs (at 35 percent tipping load). The track loader outperforms the competition by boasting an impressive 7,961 lbs of breakout force and a staggering 3.4-ft reach at max height. The DEF system has also been re-engineered to ensure long-term reliability and productivity. The SVL97-2 also includes telematics, a rearview camera and lockable DEF door as standard equipment. For more info, visit kubotausa.com.
Vermeer Compact Articulated Loaders (Booth K225)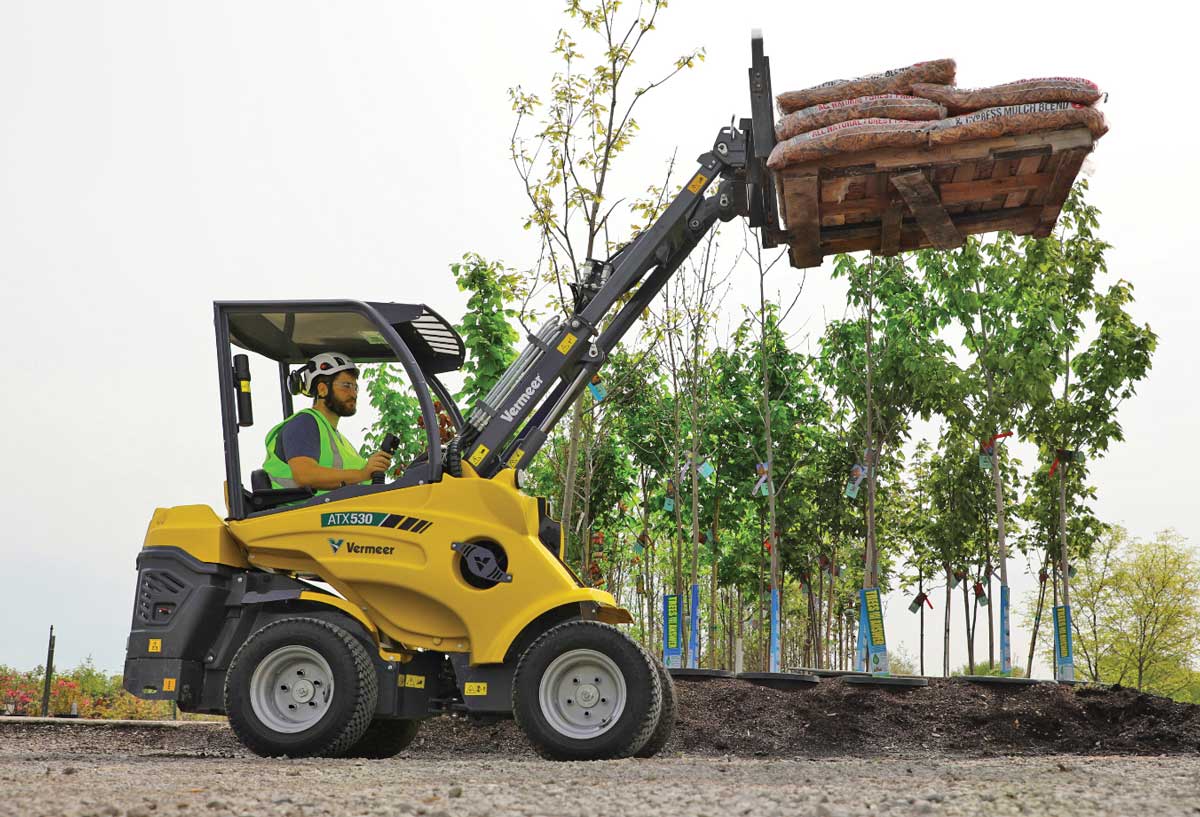 The Vermeer ATX530 compact articulated loader comes with a 25-hp Kubota D1305 diesel engine and a telescopic boom that extends 21.6 in. for loading materials to a dump height of 108.3 in. at the hinge pin height. It has a rated operating capacity (straight) of 933 lbs, while having a standard weight of 2,711 lbs with rear weights and without attachments. The ATX850 is equipped with a 57-hp Kohler KDI903 diesel and has an extended boom reach of 29.1 in. and a dump height of 117.3 in. With narrow tires, this articulated loader is just 42.1 in. wide and can also be outfitted with wider tires. The ATX850 has a ROC (straight) of 1,590 lbs, while having a standard weight of 4,254 lbs with rear weights and without attachments. For more info, visit vermeer.com.
Road Widener Offset Vibratory Roller (Booth N2058)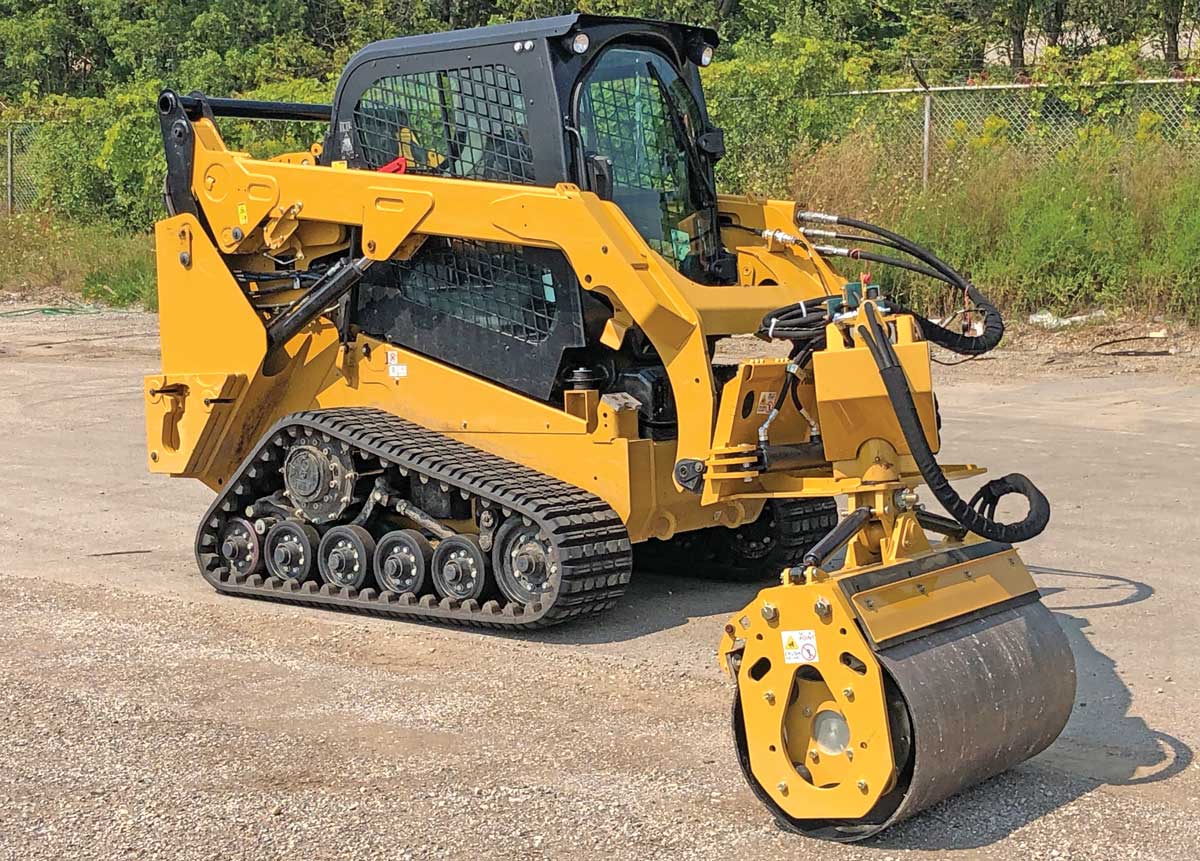 Road Widener offers the industry's first Offset Vibratory Roller attachment. The attachment's offset, patented design allows the host machine to drive safely on flat ground while compacting sloping shoulders, ditches and other hard-to-reach areas alongside the road, a task that traditionally put road crews in danger of accidents, increased workers' comp costs and led to poor safety ratings. The Offset Vibratory Roller attaches to most loaders, graders, compact track loaders and skid steers, operating off the host machine's engine and hydraulics. Utilizing the host machine for power reduces maintenance by 90 percent over self-propelled rollers while also offering three interchangeable drum sizes. For more info, visit roadwidenerllc.com.
Loftness L Series Battle Ax (Booth E1115)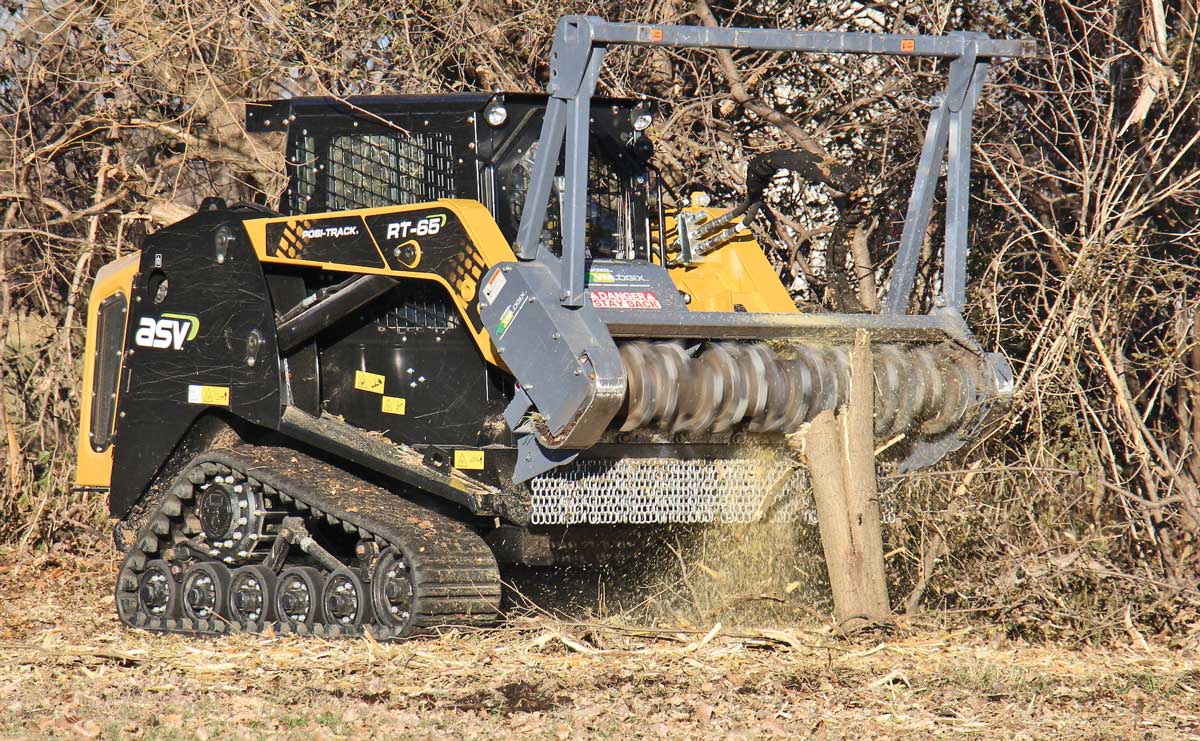 Loftness has expanded its line of Battle Ax horizontal drum mulchers with the new L Series, designed for low-flow skid steers with 15- to 34.9-gpm hydraulic flow ratings. The L Series Battle Ax features a new rotor design with built-in depth gauges, which function similarly to raker teeth on chain saws to prevent the attachment from engaging too much material at one time. The new horizontal drum mulchers also include an exclusive two-stage cutting chamber, which allows material to be cut twice by the rotor and helps produce some of the smallest particle sizes in the industry. The primary shear bar is adjustable for customizing particle size. For more info, visit loftness.com.
Virtual Reality Training: Visit CM Labs Machine Simulators at Booth N2008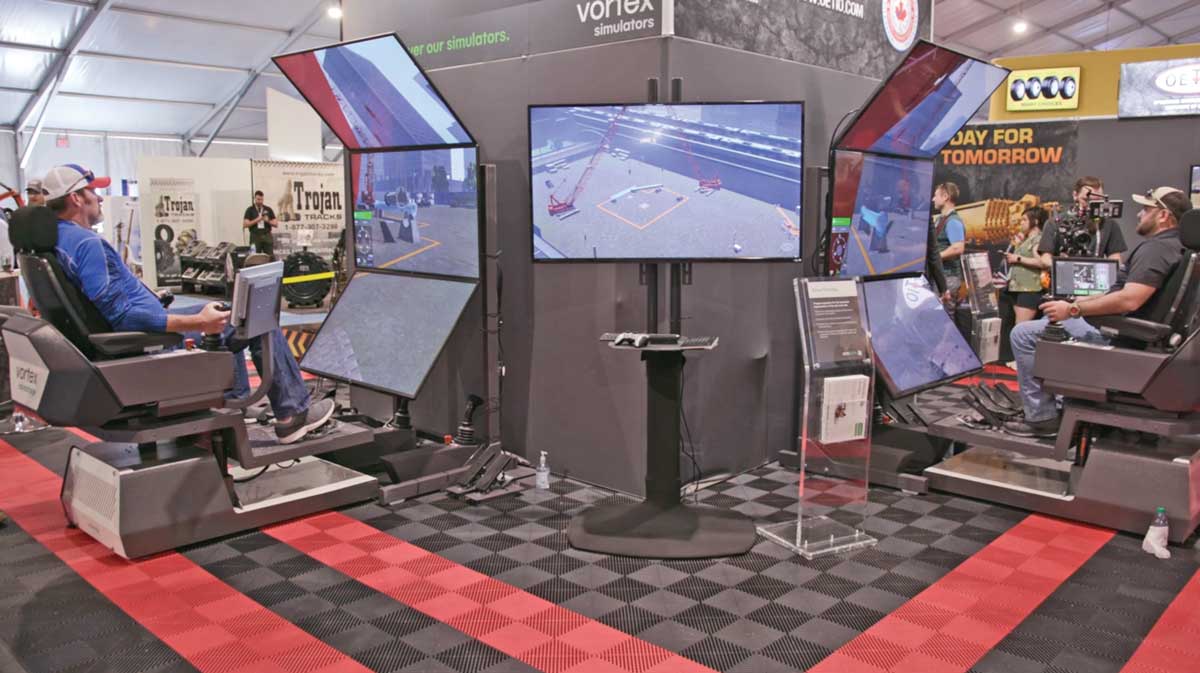 CM Labs will be showcasing the portable Vortex Edge Plus and the highly immersive Vortex Advantage simulators. Both simulators run the full fleet of earthmoving and lifting equipment training packs, including excavators, backhoes, dozers, wheel loaders, motor graders, luffing tower cranes, flat-top tower cranes, mobile cranes and more. The Vortex Edge Plus is designed for maximum portability and simple setup. It mounts on a desktop and is an effective alternative to training and assessing operators on real machines. It can also be deployed in a classroom setting to bridge the gap between theory and experience. The Vortex Advantage features equipment-specific, hot-swappable control sets and pedals. For more info, visit cm-labs.com.
Fecon FMX36 Bull Hog (Booth E617)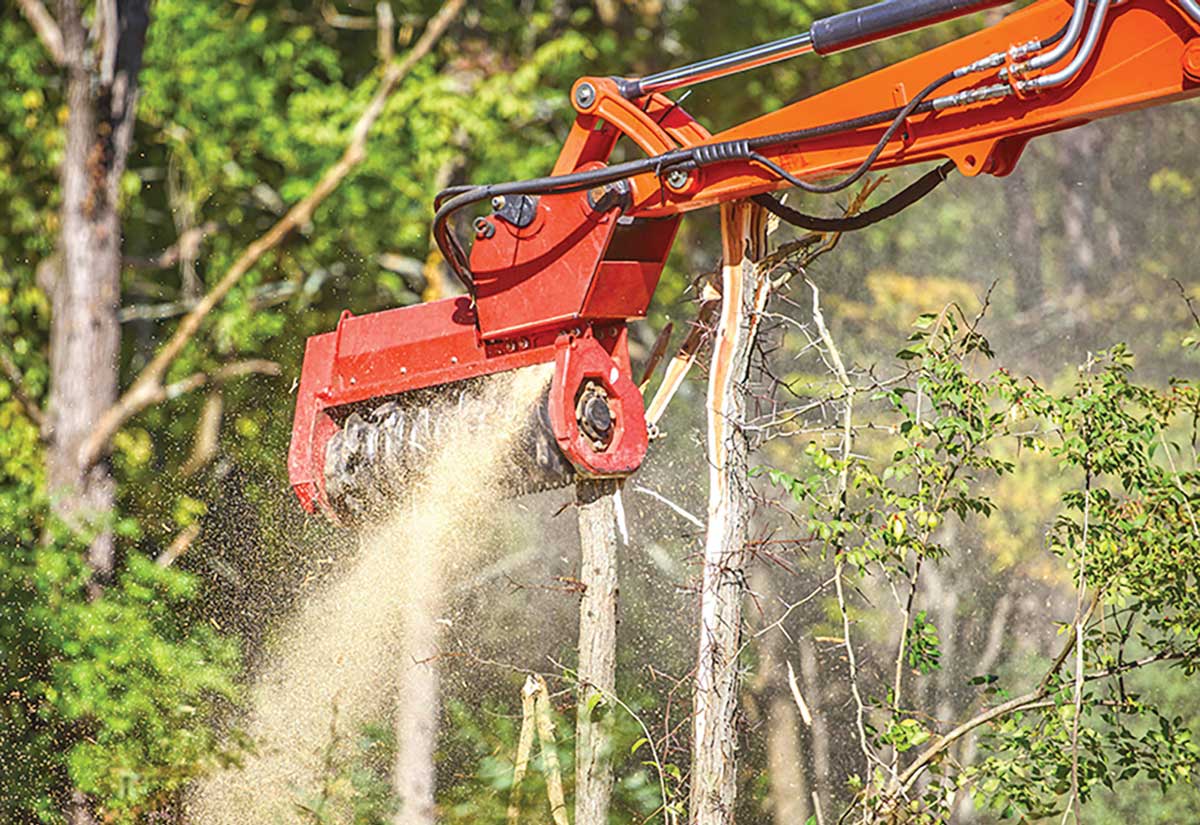 Fecon will feature the FMX36 Bull Hog Mulcher in Lot E at The Utility Expo. With a 36-in. cutting width and 18 carbide tools, this stout mulcher is ideal for excavators in the 5- to 15-ton class. Fully adjustable hydraulics to match the flow of the excavator allow this proven design to mulch standing or felled materials, enhancing the utility of the excavator. The versatile FMX36 also mounts to backhoes and sidearm booms, extending its utility for various carriers. Established in 1992 near Cincinnati, Fecon manufactures the Bull Hog, the No. 1 selling forestry mulcher. It also manufactures tracked carriers and tractors, as well as a full range of attachments and other equipment for vegetation management. For more info, visit fecon.com.
Seppi M. Miniforst (Booth N1316)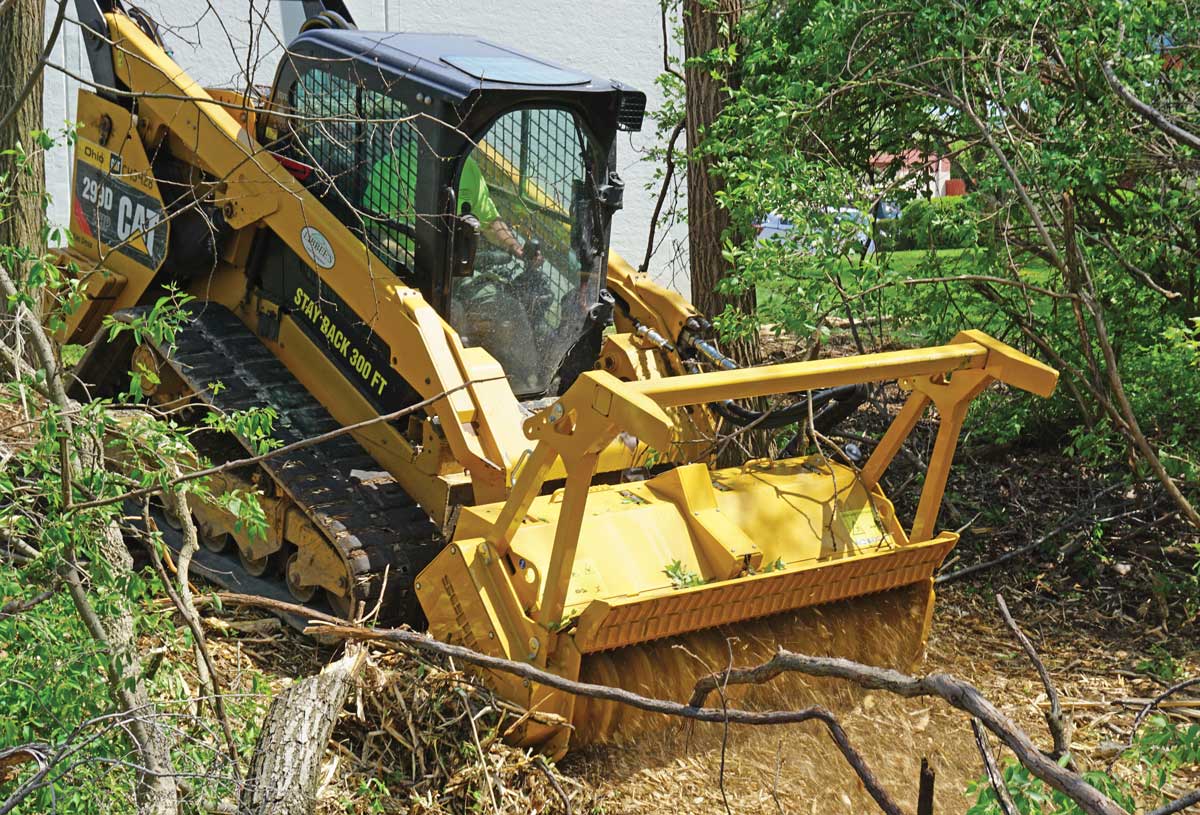 Designed for smaller carriers like skid steers and compact track loaders, the Miniforst cl by Seppi M. is used for utility work and right-of-way and vegetation management jobs. Tear through wood up to 8 in. thick with its tungsten carbide tipped hammers and adapt to almost any compact loader using the SAE interface that makes attachment fast and simple. Its Cut Control rotor works with up to five rows of tempered counter cutters to produce a fine mulch from brush, stumps and felled trees with minimal rotor stalling. A built-in depth gauge lets you tightly control the depth of the cut for highly precise mulching. The Miniforst cl is designed so no tools are needed for daily service. For more info, visit seppi.com/en-us.
Case OEM-Fit Machine Control Solutions (Booth K277)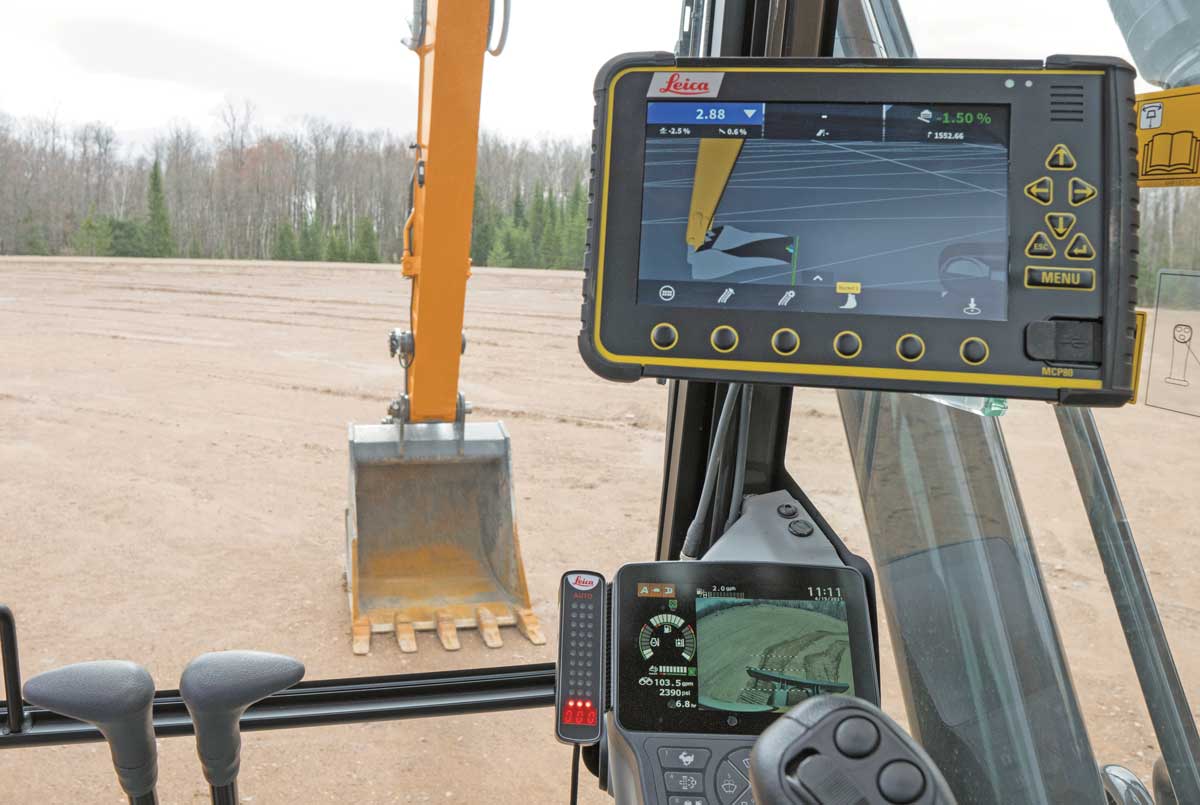 Case Construction Equipment will be showcasing the OEM-Fit 2D and 3D machine control solutions designed by Leica Geosystems — now available for Case D Series excavators from Case SiteControl Certified dealers. This new option ensures that the optimal combination of machine and solution is installed and tested by Case-certified precision field specialists. It also simplifies the acquisition process and allows for the technology to be grouped in with the purchase of the machine — combining the financing or lease approval, rate and payment in a single package. OEM-Fit machine control solutions also increase the residual/resale value of each excavator. For more info, visit casece.com.
Atlas Copco V21 Air Compressor (Booth E913)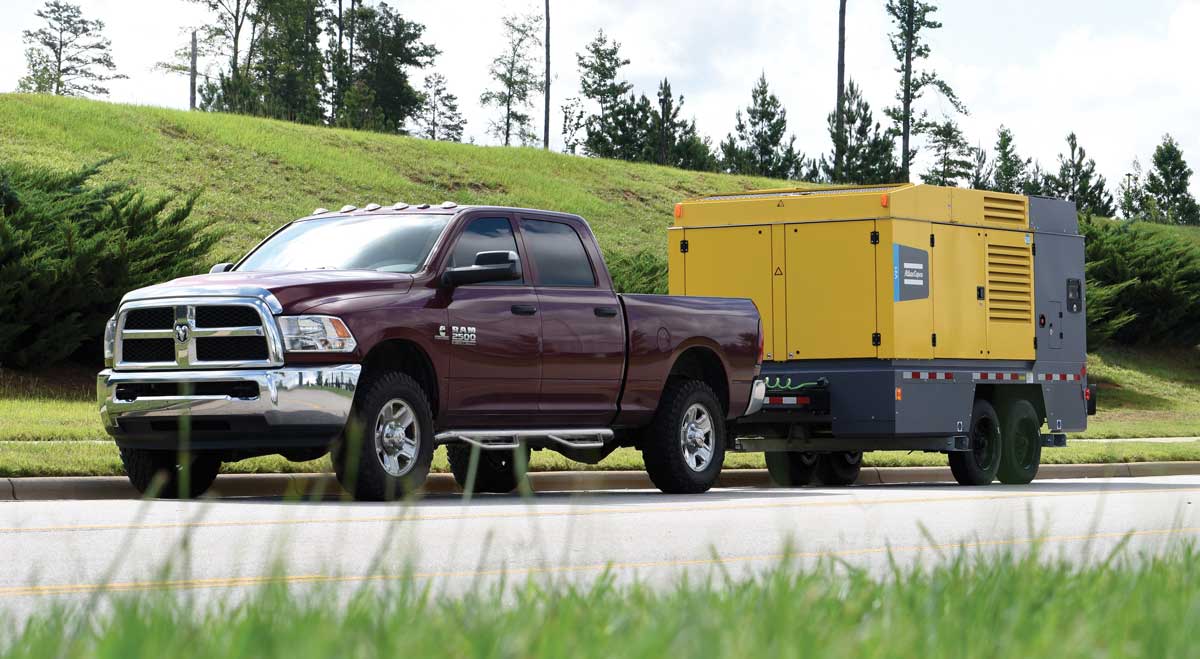 Atlas Copco knows the drill when it comes to compressed air, whatever the flow or pressure. The Atlas Copco V21 Sd T4F is a silenced, two-stage, oil-injected screw-type high-pressure air compressor that brings power to your applications. With a free air delivery of up to 758 cfm at 362 psi, the V21 maximizes the efficiency of your drilling operations and has the lowest cost of ownership in its class. The V21 with the Scania FT4 engine minus a DPF system does require DEF fluid for the SCR exhaust but does not have to regenerate, further improving critical application reliability. Be in complete control of your compressed air with the Xc4004 Smart Air Controller. For more info, visit atlascopco.com/en-us/construction-equipment.
Miller EnPak A60 Power System (Booth E912)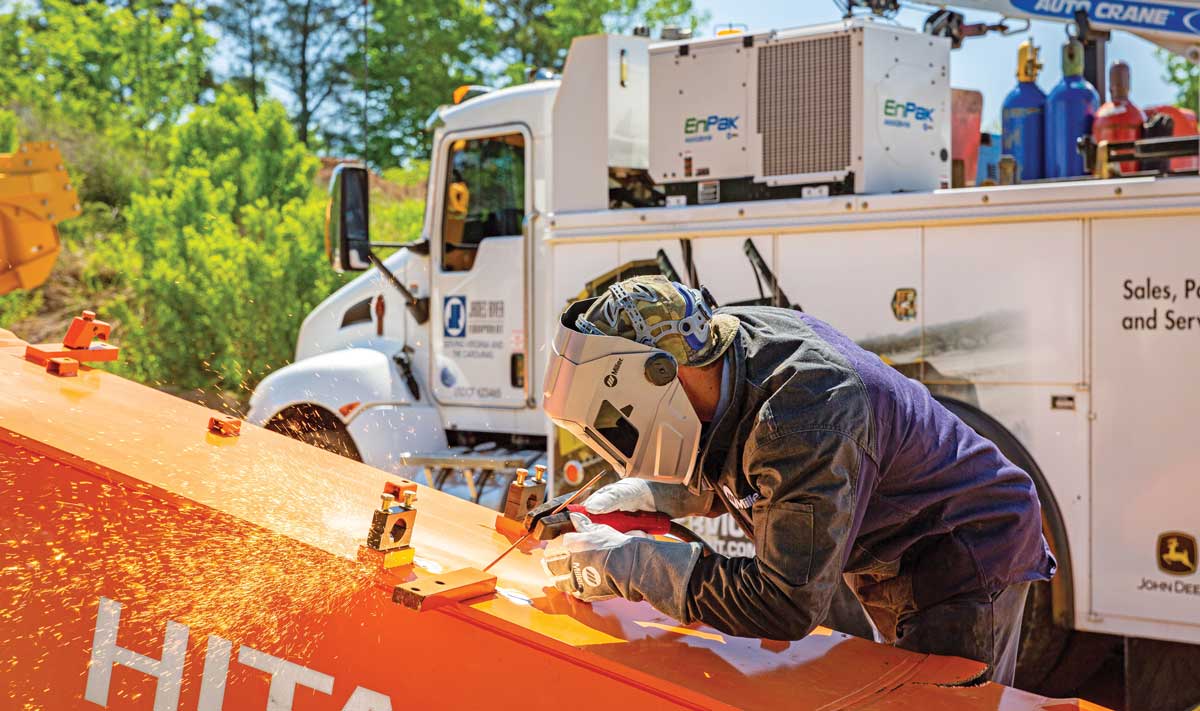 The new EnPak A60 delivers more options and capabilities in one space-saving machine for Class 5 and above truck configurations, so operators can get more done. The EnPak A60 power system provides 325 amps (at 100 percent duty cycle) of integrated multiprocess welding, battery charge/crank assist, compressed air, hydraulic power and generator power. The expanded capabilities of the new EnPak A60 eliminate the need to carry additional equipment, maximizing available payload space. The new EnPak A60 also includes an industry-exclusive turbocharged diesel engine, which delivers high torque at lower speeds. In addition, the EnPak A60 features an LCD control panel that improves the user experience. For more info, visit millerwelds.com.
Don't-Miss Diggers: Check Out These Mini Excavators from Caterpillar and Hyundai
Cat Mini Hex Trio (Booth K335)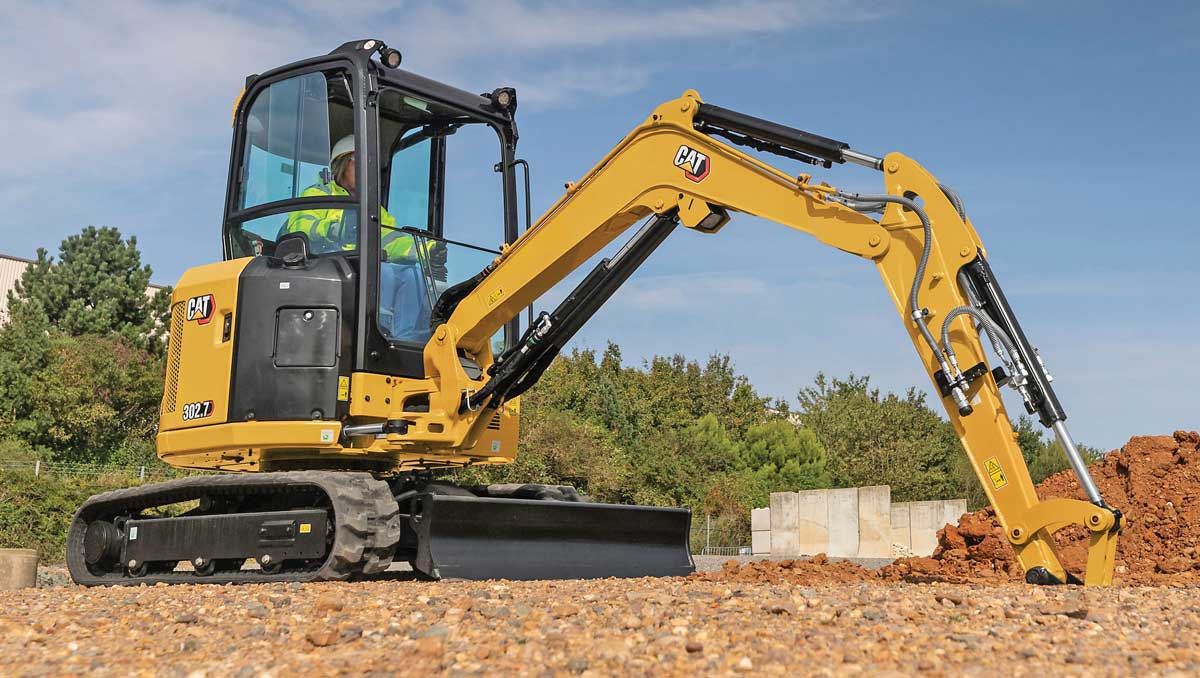 Boosting operating efficiency, servicing ease and operator comfort, the new Cat 302.7 CR, 303 CR and 303.5 CR hydraulic mini excavators introduce industry-first features for the 2.7- to 3.5-ton class machines. Built on the Next Generation platform, each new model features exclusive Stick Steer, cruise control, operator adjustable settings and tilt-up canopy or cab as standard. Expanded use of common parts throughout the line plus their damage-resistant exterior construction help to reduce parts inventory investment and lower repair costs. Daily maintenance checks are quickly made from ground level through side doors, while the tilt-up cab design offers unmatched access to components for servicing. For more info, visit cat.com.
Hyundai HX85A Mini Excavator (Booth K341)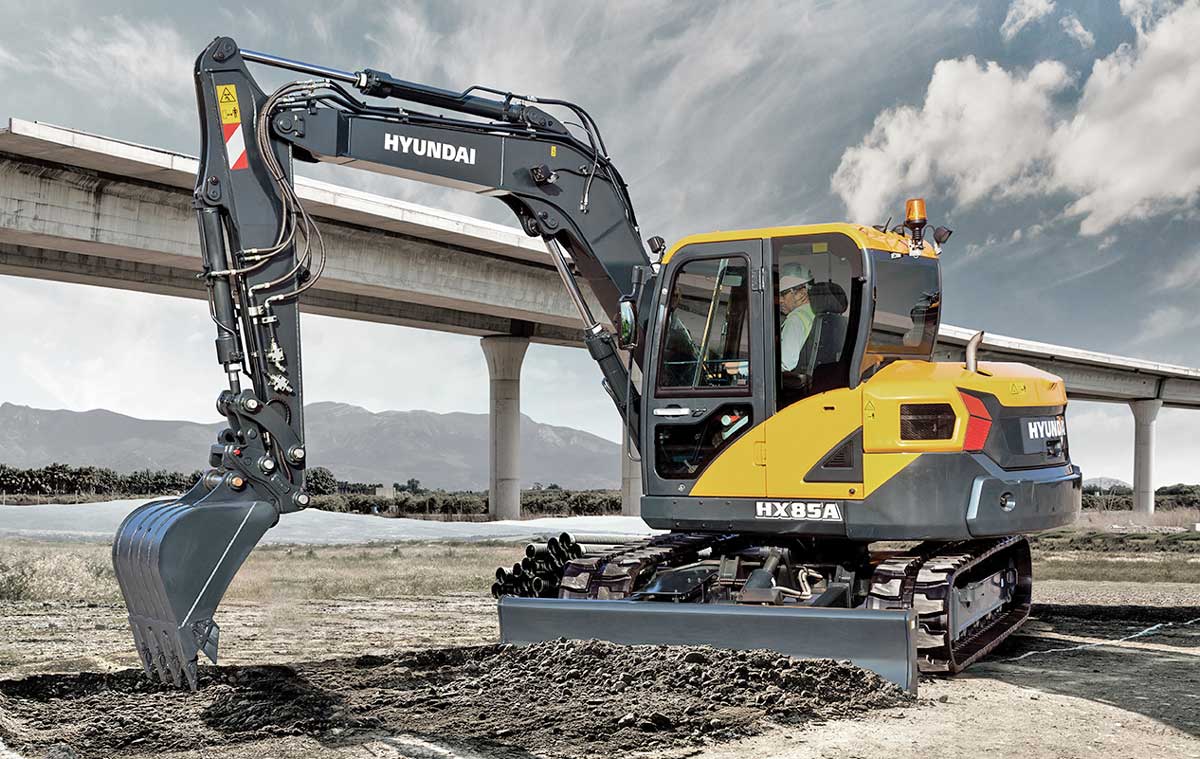 The Hyundai HX85A is the first compact excavator in the new A-Series, and the first to be designated an HX model. The largest of Hyundai's compact excavator lineup, the HX85A fills a transitional spot in the excavator product line between the compact and midi models. Powered by a Yanmar T4 Final/Stage V compliant engine, the HX85A delivers 65.1 net hp at 2,400 rpm to power its all-new load sensing hydraulic system which allows for reduced operator fatigue and precise controllability. The machine weighs in at 20,608 lbs, which includes an 11-ft, 8-in. mono boom and a 6-ft, 11-in. arm with a standard hydraulic quick-coupler. This setup allows the 29-in. bucket to achieve a 15-ft, 3-in. digging depth. For more info, visit hceamericas.com.
For reprint and licensing requests for this article, please click here. Tags: Atlas Copco, Case, Case Construction Equipment, Cat, Caterpillar, Fecon, Hyundai, Hyundai Construction Equipment Americas, John Deere, Kubota, Loftness, Miller Electric, Road Widener, Seppi M., September 2021 Print Issue, The Utility Expo, Vermeer, Your Utility Construction Connection