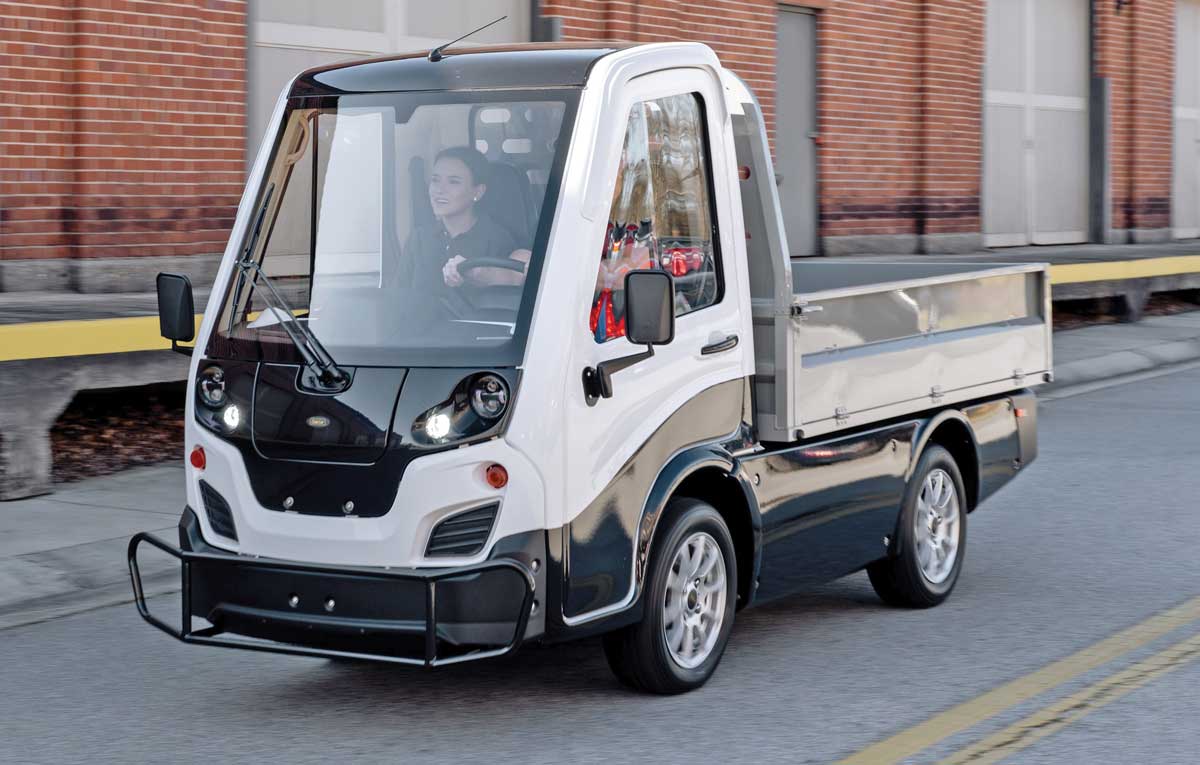 Electric Work Truck: Club Car Launches Electric Truck Designed for Low-Speed Logistics and Cargo Services
Club Car is now in the truck business. The global leader in golf, consumer and UTVs recently announced the launch of an all-new electric vehicle (EV), the Club Car Current, in partnership with Ayro Inc. The Current is a compact, all-electric, light-duty truck that is ideal for low-speed logistics and cargo services. The Club Car Current is available in three different bed configurations with a flat bed, pickup or van box to tackle any job. Special accessories such as ladder racks and a lift gate further extend the use of this vehicle. With a range of up to 57 miles and 72V AC electric powertrain, the Club Car Current is uniquely positioned for use as an all-purpose work vehicle. The Club Car Current be configured to operate at 25 mph on city streets with posted speeds up to 35 mph. This compact low-speed EV can also maneuver through car-free zones bringing essential services directly to the point-of-demand
Club Car Current also features a new modern exterior design with specially designed automotive body panels, LED lighting, new designed two-tone gray bucket seats, new cup holder design and location for those larger drink cups, upgraded 1000W heater, new 170 degree rear view camera, new backlit digital gear selector design, additional legroom, a rear window standard providing more ambient light, the latest software and VRLA gel battery technology providing improved performance and range.
The Club Car Current is changing the way facilities and campuses can deploy their fleet, providing sustainable electric transportation with the ability to replace full size trucks. The Club Car Current is CARB (California Air Resource Board) certified with the "Cleanest" Scores for Global Warming and Air Quality — ZEV (Zero Emission Vehicle). For more info, visit clubcar.com.

Ultimate Hauler: John Deere's Long Bed Special Application Vehicle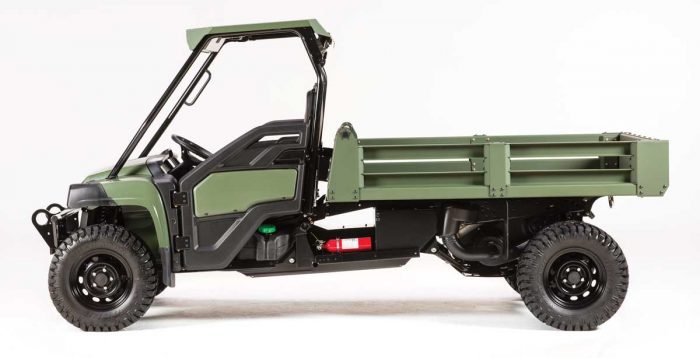 John Deere released a unique utility vehicle to the commercial market that was originally engineered for the Department of Defense. The Long Bed Special Application Vehicle (a very military name) boasts the biggest bed in the UTV industry (a 56-in. by 82-in. heavy-duty powder-coated aluminum bed), made to address the unique needs of large property owners, farmers, ranchers and commercial and government customers. What's also exciting about this vehicle is that custom configurations are available upon request. That's a first for John Deere, which got into the utility vehicle market in the 1980s. Other specs: 45 mph top speed; gas or diesel engine; and optional fully enclosed IAS/Tektite Cab with HVAC; and hard surface tires. For more info, visit deere.com.
Keith Gribbins is publisher of Compact Equipment.
One of the best parts of small equipment is the variety of attachments. From buckets and breakers to mowers and plows, click here to see what's out there.
Tags:
Club Car
,
Innovative Iron Awards
,
Innovative Iron Awards 2021
,
John Deere
,
November December 2021 Print Issue