Terex Utilities Core Barrel
A customer called and Terex Utilities answered with its Core Barrel attachment for skid steers. The tool was designed to meet the needs of a sign installation contractor who was faced with tearing out large pad areas of concrete in order to replace sign poles. Adapted from a Core Barrel design for digger derricks, the Core Barrel for skid steers increases productivity when drilling hard rock or concrete and is designed for easy plug removal. A unique tooth pattern allows the rock or concrete plug to fall out of the barrel when the operator ratchets the rotation of the tool. The pilot bit gives you accuracy where the hole is to be dug. The Core Barrel was designed with a 60-in. length to fit a skid steer and its 25-in. diameter was wide enough to drill a new hole for the 24-in. diameter pole to be set inside. The method saved the contractor both time and money by eliminating the need to tear out the entire concrete pad.
In September 2021 at The Utility Expo in Louisville, Ky., Terex Utilities introduced a whole new product line for compact equipment. Featuring hydraulic auger drives, augers, accessories and that aforementioned core barrel, these new auger tools are ideal for use with skid steers and other compact construction equipment. The product line includes dirt or rock augers with 4.5- up to 36-in. diameters. All tools come standard with replaceable teeth and a 2-in. hex coupling. Round coupling in 2 or 2.5 in. is optional, making these auger tools compatible with many types of compact equipment. The tools are ideal for equipment operating at 3,000 to 5,500 ft-lbs torque range and stem length of 48 in or less. For more info, visit terex.com.

Case Precision Grader Blade
No motor grader? No problem. Case Construction Equipment's all-new Precision Grader Blade gives large-frame compact track loaders the grading performance of a motor grader in a more compact and agile footprint. The attachment is compatible with 2D and 3D machine control solutions — including Case SiteControl grader solutions powered by Leica Geosystems — to deliver improved productivity, quality and efficiency in fine grading applications. The blade is compatible with the use of laser receivers (single or dual), sonic tracers (single or dual), GNSS/GPS (single or dual) and total stations — and the attachment itself is plug and play with the auxiliary hydraulics and 14-pin electrical connection of a large-frame CTL. It features a 108-in. moldboard capable of jointly changing elevation and slope through dual lift cylinders.
The attachment is built for minimal maintenance with powder coated metal surfaces, composite greaseless bushings at the pivot points, and heavy-duty axles with sealed hubs. It comes standard with a bolt-on reversible cutting edge. Optional equipment includes bolt-on side plates for material containment similar to a grading box, and twin mirrors that provide greater visibility down to the moldboard. For more info, visit casece.com.
Danuser Mini Skid Steer Mounted EP Auger System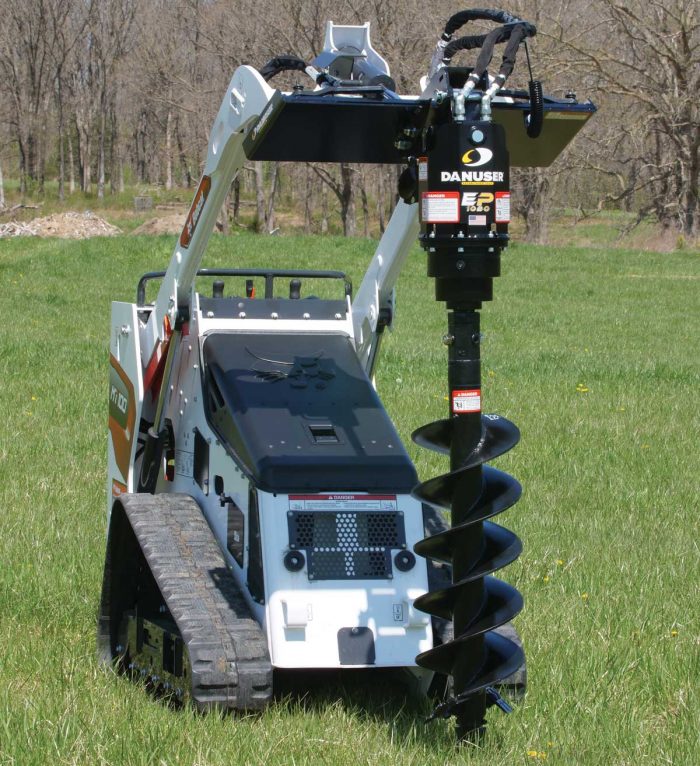 Danuser's mini skid steer mounted EP Auger System enables operators to use their existing EP drive unit and just purchase an additional mount, unlike other manufacturers that require a completely different mount configuration. The new system features a planetary gear drive that is up to 42 percent stronger than the competition with greater torque for drilling through hard-compacted surfaces. It is available in four models, ranging from 6 to 35 gpm and from 1,500 to 3,500 psi. Easily accessible check and fill plugs allow for quick and easy maintenance. The unit swings from a knuckle to allow left to right, forward to back leveling. Most vehicles with 72-in. or greater hinge pin height may use standard 4-ft length augers. Hinge pin heights 71 in. or shorter require 3-ft augers. For more info, visit danuser.com.
Keith Gribbins is publisher of Compact Equipment.
One of the best parts of small equipment is the variety of attachments. From buckets and breakers to mowers and plows, click here to see what's out there.
Tags:
Case Construction Equipment
,
Danuser
,
Innovative Iron Awards
,
Innovative Iron Awards 2021
,
November December 2021 Print Issue
,
Terex Utilities