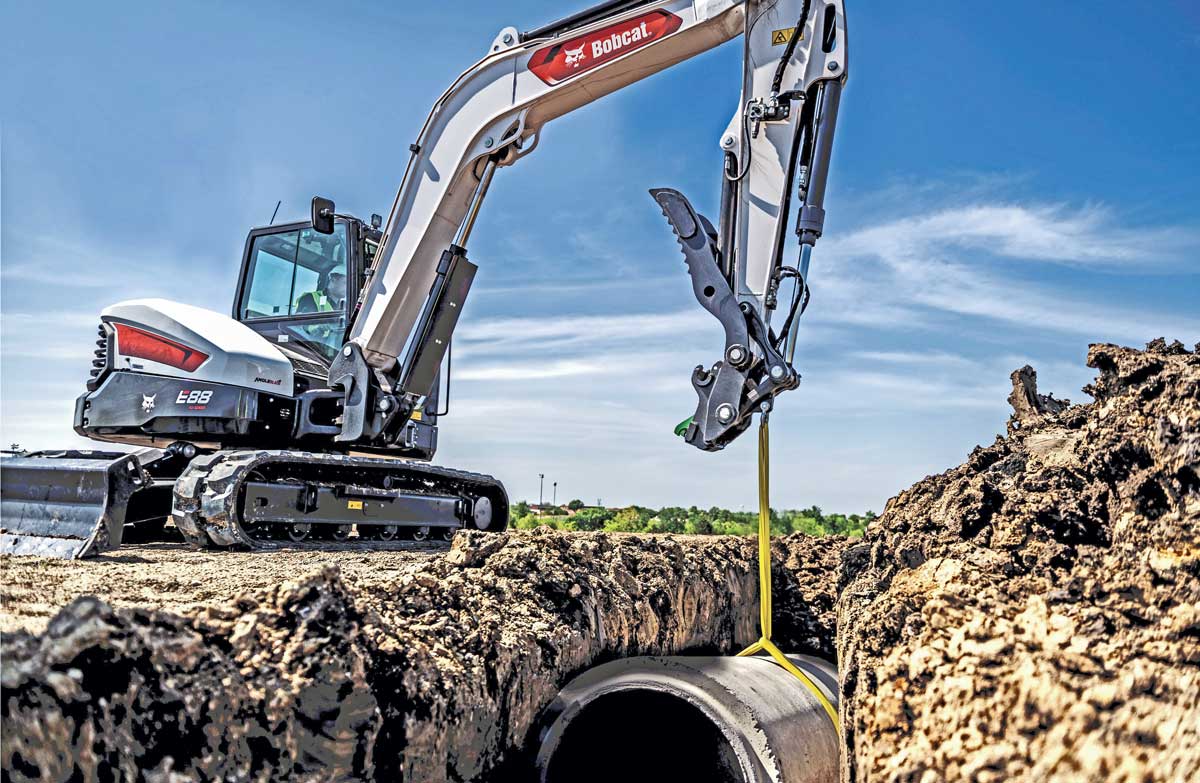 Heavy Lifter: Bobcat's R2-Series E88 Compact Excavator Boasts Serious Over-the-Side Lift Capacity
Mini excavators do more than dig. They can be fitted with a thumb, grapple or rotating coupler to lift and place heavy objects. For such operations, look no further than the new Bobcat E88 compact excavator, which has a 14 percent increase in over-the-side lift capacity compared to the previous generation. The E88 comes equipped with dual-flange track rollers, integrated counterweight, extra machine weight and added track on ground. These improvements offer increased over-the-side lift capacity, allowing operators to dig and lift with greater confidence over the side of the machine. Key new lift features include an integrated lift eye, optional clamp diverter valve and an add-on counterweight option to propel lift capacity even higher. Owners also have the option to add on a waterproof, chemically hardened 7-in. touch display, one of the most advanced compact equipment in-cab displays available.
More Details
Like other Bobcat compact excavators, the E88's Tier 4 turbocharged Bobcat engine achieves emissions compliance without the use of a diesel particulate filter (DPF) or selective catalyst reduction (SCR). This means fewer components for easier maintenance, plus no work stoppage due to DPF regeneration.
Owners and operators looking for leading lift capability will find it — and then some — within the narrow footprint of the new Bobcat E88. Along with the added confidence in over the-side- performance, the excellent slewing ability lends the ability to push productivity higher. Increased distance from sprocket to idler puts more track on the ground, which adds stability and helps to prevent a rocking sensation while lifting heavier loads. Improvements to the track design increase uptime and the overall life of the tracks as well. In addition, increased machine weight gives operators a rock-solid base for strong productivity, especially during the tough digging and heavy lifting tasks.
The E88 is powered by a newly redesigned Bobcat engine that delivers efficiency and performance, plus simplified routine maintenance. It also improves cold-weather operation and includes a variety of features that make maintenance and service more convenient. The new low-effort joysticks coupled with the new hydraulic control valve offers improved metering, movement and controllability, enabling a quick, smooth and precise work group for ultimate operator control.
For generations, Bobcat equipment has been known for being one of the most versatile compact equipment choices on the market. That tradition continues with the E88, designed to help operators get more utilization from one machine to tackle a variety of demanding tasks. Key new features include integrated lift eye, optional clamp diverter valve and an add-on counterweight option to propel lift capacity even higher.
In addition, the E88 features an optional angle blade, important for fast backfilling and grading. This feature allows operators to angle the machine's backfill blade 25 degrees left or right to direct spoil from one side to the other — without forming windrows on both sides of the blade. A great range of downward positioning ability enables the perfect angle for stabilizing the machine on uneven surfaces or while trenching at an angle. The blade is also ideal for "dust panning" material into the bucket, providing extra versatility for jobsite cleanup.
Everything about the E88 cab is designed to enhance operator efficiency, performance and comfort. The spacious interior houses an easy-to-reach control pattern selector right underneath the seat, so operators can switch between ISO and standard controls without getting up or over-reaching. The optional automatic heating and air conditioning adjusts depending on the temperature of the cab, keeping operators in a comfortable environment. An optional high-back, heated seat with headrest provides added support for long hours of operation and serves as an ideal complement to the automatic climate control feature.
Owners have the option to add on a waterproof, chemically hardened 7-in. touch display; the most advanced compact equipment in-cab display available. Via a wide and easy-to-use touch screen, operators can access their mobile devices via Bluetooth, connect with their dealer or customer easily through a quick contacts option and secure convenient touch operation without the inconvenience of glove removal.
For more info, visit bobcat.com.

A Class Above: Kubota's U48-5 Tight Tail Swing Excavator Hits an Industry Sweet Spot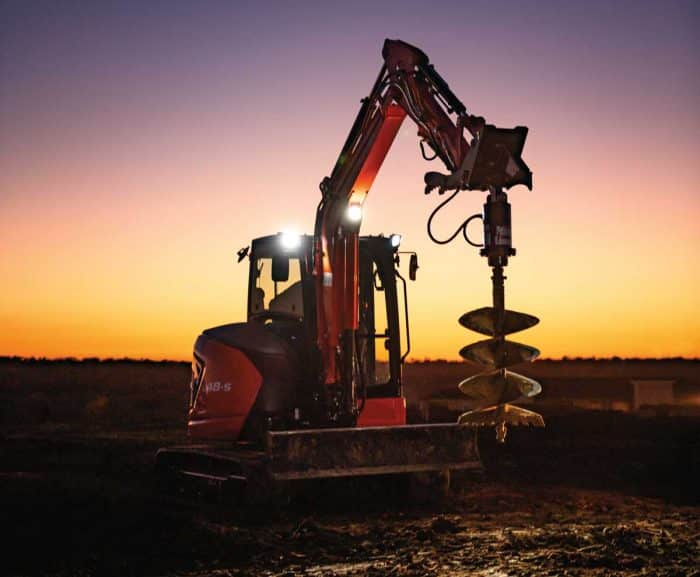 The 4- to 5-metric-ton market for mini excavators is the most important and popular class in the industry, and here comes a new bestseller. In May of this year, Kubota introduced the U48-5 tight tail swing compact excavator, a technology-forward machine packed with advanced features that deliver superior performance and enhanced comfort and tech options in that 4- to 5-ton class (Kubota's sweet spot). The U48-5 includes a full-digital, full-color, 7-in. LCD screen with intuitive and easy-to-use jog dial for single glance access to various functions such as aux flow adjustment and important maintenance functions. Boosting its muscle with 11,057 lbs of operating weight, 40.4 gross hp, a working range that includes a max digging depth of 10 ft, 8 in. and an impressive bucket breakout force of 9,304 lbs, the U48-5 can be found on almost any construction, landscape or ag jobsite.
More Details
A larger redesigned cab with improved operator visibility is central to the U48-5, which comes in a canopy or cab model, and now incorporates greater head and foot space for added comfort that leads to more productivity on the job. The cab model's cabin features expanded front glass for more visibility and an overall slimmer frame for front window, skylight and left and right window increased visibility. It also lends itself to a more open side display for maintaining greater awareness of the operator's total surroundings.
This newly designed cab was also engineered to reduce noise to help protect the operator's ears — registering at 74 decibels and lower than competitor cabs. Additionally, the floor plate is thicker to reduce noise, and rear engine noise is further reduced by a metal partition between the engine and the cab.
An optional keyless start is available on the U48-5 and all new Kubota excavators, where the engine can be started with a four-digit code and holds up to 10 user passwords for easy start and anti-theft functionality. With this new technology, operators no longer need to worry about lost keys.
Improved comfort features also include new optional air-ride suspension seat that is adjustable to easily slide back and forth to create even more added legroom when in the digging position. Standard LED working lights incorporate a shut-off delay to aid in exiting the machine at dusk or dark.
For more info, visit kubotausa.com.
Flexible Digger: Cat Releases Largest Mini Excavator with an Expandable Undercarriage
Caterpillar's Next Generation mini excavator platform is one of the most high-tech in the industry. In 2021, Cat announced three new Next Generation models in the 2.7- to 3.5-metric-ton class — the 302.7 CR, 303 CR and 303.5 CR. These compacts include all the coolness that comes with the Next Generation badge, including similar operational layouts, exclusive Stick Steer tech (the ability to drive the digger with the joystick), cruise control, operator adjustable settings, increased hydraulic performance and a tilt-up canopy or cab as standard. There are fixed undercarriage versions of all three machines, but an expandable undercarriage option is available for the 302.7 CR, and that's pretty cool because now it's the biggest unit on the market to sport one. The expandable undercarriage allows the operator to hydraulically retract track width to 53.3 in. for fitting into confined spaces and then expand width to 70.1 in. for standard digging and lifting stability. For more info, visit cat.com.
Keith Gribbins is publisher of Compact Equipment.
Tags:
Bobcat Co.
,
Caterpillar
,
Innovative Iron Awards
,
Innovative Iron Awards 2021
,
Kubota
,
November December 2021 Print Issue