Mincon Drill Mast Attachments
Get more out of your skid steer, CTL or mini excavator with Mincon's M207 Drill Mast Attachment. The company's Drill Mast Attachments offer customers a cost-effective drilling solution without adding an additional diesel engine to their carbon footprint. For example, the M207 Drill Mast Attachment for skid steers and excavators uses 5-ft drill rods or augers for solar drilling applications, micropiling, rock drilling with DTH hammers, geothermal and water well applications. With a maximum drill depth of over 600 ft and a maximum bore size of over 18-in. OD, with optional breakout clamps, the M207 Drill Mast Attachment is a powerful and versatile drilling solution for the construction and renewable drilling industries.
This is all very cool because entry into the drilling industry is extremely challenging. From knowing the correct method, to choosing the right equipment — not to mention the initial investment. It can be an overwhelming and expensive process. Luckily, Mincon is making it easier. Overall, the full Rock Drill product line comprises three drill rigs and five drilling mast attachments. The R405, R412, R512 drill rigs use a sub-90-hp powerplant and are compatible with 3-, 5- and 10-ft drill rods, respectively. The M106, M112 and M120 drilling mast attachments share a versatile design, with each model representing a different length. The M207 and M220 drilling mast attachments have a heavy-duty design to accommodate the power requirements of deep-hole drilling duties.

Crucially, all Rock Drill drilling mast attachments and rigs offer guaranteed compatibility with Mincon's existing range of drilling solutions and accessories, including the company's class-leading DTH hammers and DTH drill bits, spiral flush geotechnical drilling systems, rotary drill bits and drill pipes.
The new product line has been made possible by Mincon's acquisition of Hammer Drilling Rigs in January 2021. The Rock Drill line of drill masts and rigs are based on proven, modular designs that have been fine-tuned over the last four decades. Mincon has continued development and engineering on the original designs to provide greater functionality and reduce environmental impact during manufacturing. This entire product line has now been completely integrated with Mincon's comprehensive range of drilling solutions, cementing the company's reputation as "The Driller's Choice." For more info, visit mincon.com.
Fecon's Wide Standard-Flow Mulcher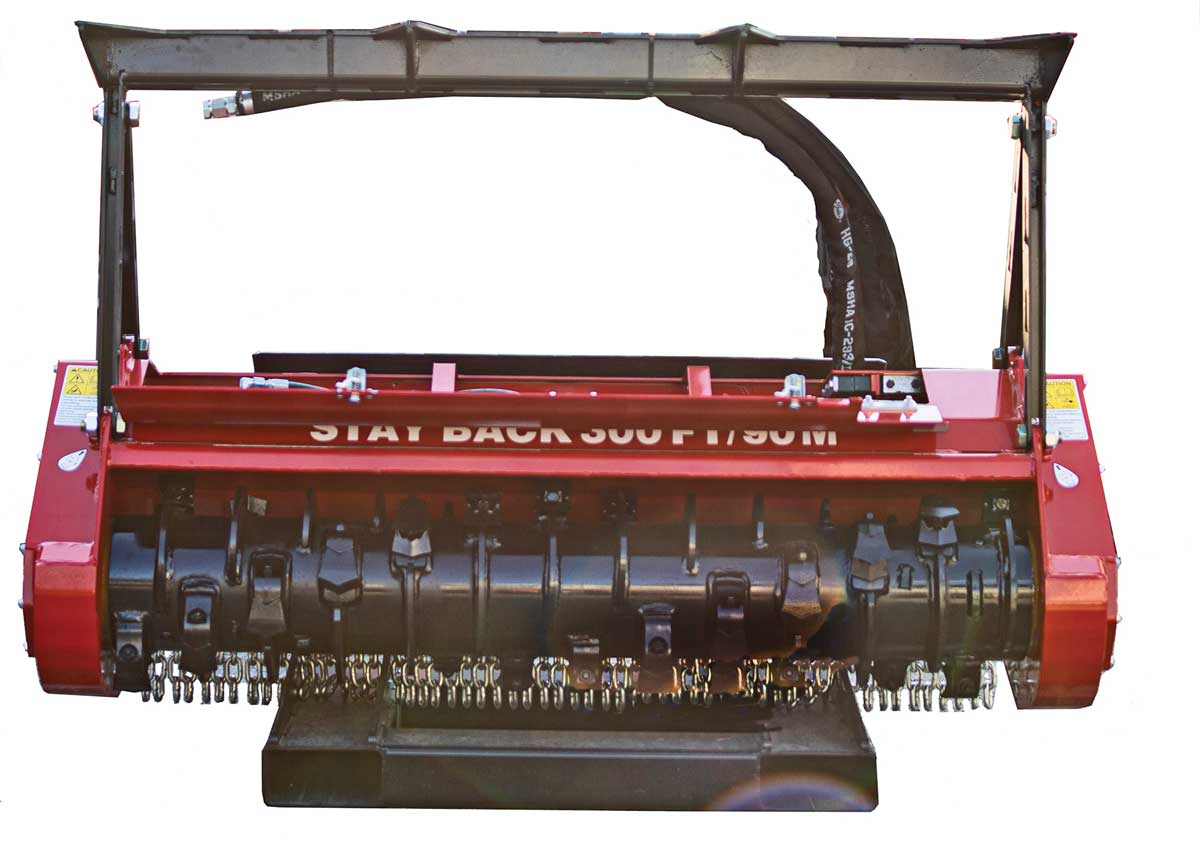 Clear more with fewer passes by using Fecon's RK6015 — a new, wider, standard-flow mulcher head. The RK6015 allows operators with standard-flow skid steers up to 75 hp to expand their capabilities and enter the brush cutting arena without a large capital expenditure. A bite-limiting split ring rotor holds 26 knife or carbide-type cutting tools and has a 60-in. working width. Operating at 2,400 rpm, it can easily shred brush and small trees up to 5 in. in diameter, making it an excellent tool for general vegetation management, creating defensible space for fire prevention and much more. Weighing just 1,490 lbs with the mounting plate and push bar, the RK6015 is easily handled by the carrier, yet stout enough to provide a long service life.
The RK6015 is ideal for rental fleets as well as landscapers, arborists, farmers, ranchers, landowners/property managers, parks & recreational facilities, municipalities, Christmas tree farms, and others tasked with managing brush and vegetation. Overall width is approximately 71-in. with a cutting width of 60 in., and overall height is 47 in., with a depth of 33 in. This unit is ideal for loaders up to 75 hp, and it's adaptable with varying mounting plates to fit several types of carriers with carrier-specific hydraulic hoses and couplers. A variable displacement 45-cc hydraulic motor is standard, as is an adjustable bolt-on push bar with serrated ears for directing material. For more info, visit fecon.com.
Werk-Brau's Compact Productivity Package
Operators can be ready for whatever the job brings with Werk-Brau's compact productivity package. The package includes a heavy-duty excavator bucket, a main pin hydraulic thumb and D-Lock coupler, providing greater versatility and production for excavators from 5,000 to 25,000 lbs. This utilitarian combination allows users to dig into virgin soil, move rocks, logs, debris and other materials, demolish structures and clear pipelines and more. A quick coupled D-Lock coupler makes switching between attachments quick, safe and reliable, so the correct attachment is always at hand. With standard bucket sizes from 10 to 42 in., there is a compact productivity package for all compact excavator models and sizes.
Werk-Brau's Heavy-Duty Excavator Bucket is built to last with high quality T-1 steel utilized in all critical or high wear components and heavy-duty horizontal wear straps protect the bucket bottom. Each bucket is engineered with tapered side plates and a dual taper radius that reduce wear and make dumping easier. The Main Pin Hydraulic Thumb is specifically designed to aid in handling or loading irregular shaped objects, debris, rocks, or anything that cannot be handled with a bucket alone. With approximately 120 of thumb rotation, it retracts against the stick and can be left on the machine during normal excavation. Each Main Pin Hydraulic Thumb is custom designed to work with existing OEM/factory cylinder mount to match the bucket width and tip radius of the bucket it is being paired to. Two-, three- and four-tine versions are available to suit specific project needs. High strength steel is used throughout the weldment with hardened pins, and greaseable bushings at all pivot points, ensuring long life and easy maintenance.
The D-Lock Coupler is a very simple mechanism with only six total parts and is the ideal complement to a Werk-Brau Bucket and Main Pin Hydraulic Thumb. Safety is assured as an automatic front lock locks the front pin in the event the rear pin is not secured. The unlock process is designed to release only when the operator intends to do so, in a controlled and safe manner, eliminating accidental releases. Multi-pin centers and multi-pin diameters allow the coupler to pick up all attachments in the same weight class even with different pin diameters. Its compact design improves machine performance. With only two hydraulic lines required installation is simple, and since no greasing or lubrication is required, they are virtually maintenance-free. These unique features and its wide-ranging capacity (from 1.0 to 11 MT) make Werk-Brau D-Link couplers one of the safest, most reliable hydraulic couplers in the world.
For more info, visit werk-brau.com.
Keith Gribbins is publisher of Compact Equipment.
One of the best parts of small equipment is the variety of attachments. From buckets and breakers to mowers and plows, click here to see what's out there.
Tags:
Fecon
,
Innovative Iron Awards
,
Innovative Iron Awards 2021
,
Mincon
,
November December 2021 Print Issue
,
Werk-Brau