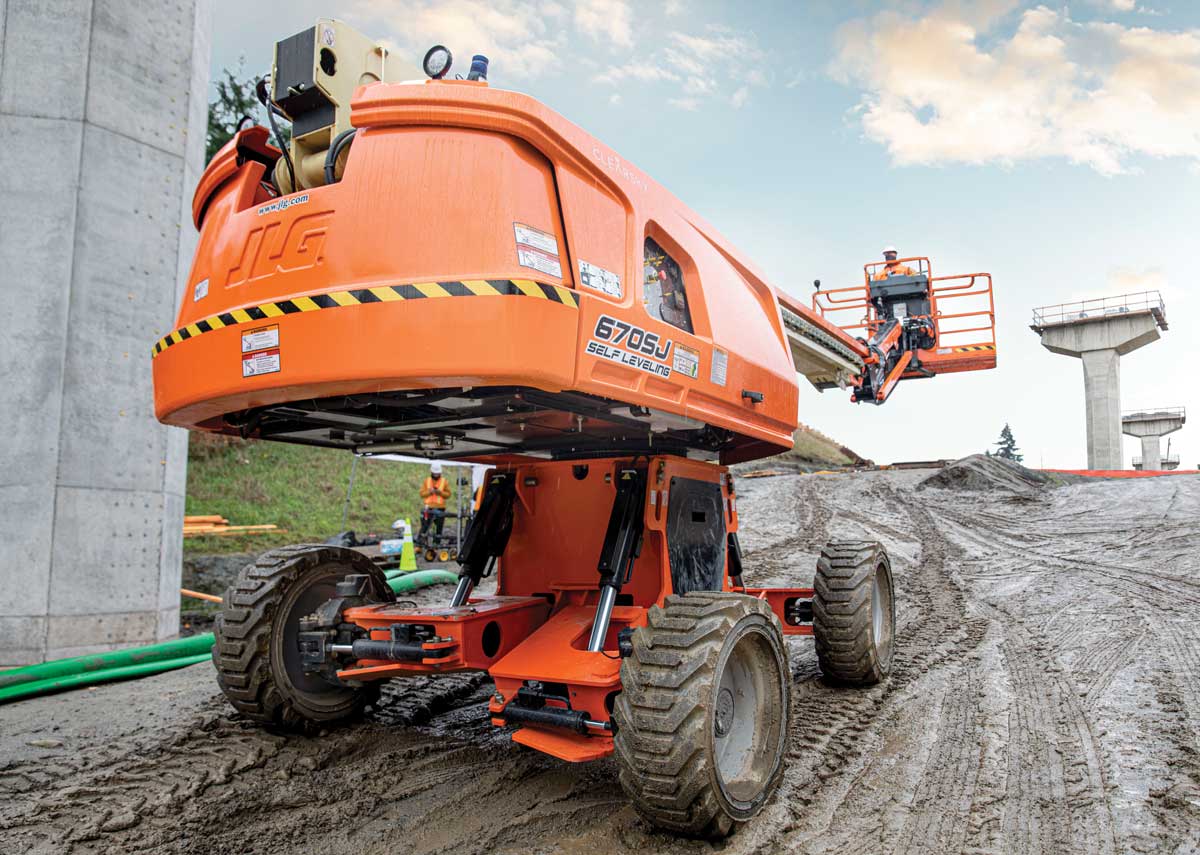 Level Up: JLG's 670SJ Self-Leveling Boom Lift
The 670SJ also boasts three operating modes to maximize transportability on site or on the road. Self-leveling mode enables the machine to work at full height, with full functionality, on slopes up to 10 degrees. Travel mode can be used when the boom is stowed to move across the job site at a faster rate of speed. And, shipping mode allows the entire machine to be lowered once in position on a truck, reducing its travel height.

All of these features are made possible through the machine's advanced control system. This system continuously receives performance data from various sensors on the machine, then displays the information through a digital display and selectable screen interface in the platform during operation, ensuring users are more knowledgeable about what's going on at ground level while working at height.
JLG's self-leveling technology offers a host of benefits for machine operators and their support crews, including reducing (and in some cases even eliminating) the prep work required to level the work area. That means no more pre-grading the site or constructing laborious cribbing before getting to work. It also eliminates the trial and effort of repositioning a boom lift to find a level work area. This helps operators get into position and up to the work area quicker, maximizes reach capabilities and reduces the need for larger, higher reaching lifts onsite as a backup for added reach when uneven ground conditions exist.
Operator comfort and safety were also key factors in the development of this product. The 670SJ provides a smoother ride as operators travel across a job site thanks to its advanced control system. It is designed to continuously adjust to the terrain to keep the platform level and minimize movement, thereby reducing operator fatigue, as well as the potential for objects to bounce around and/or out of the platform.
The JLG 670SJ self-leveling boom lift offers a class-leading 73-ft work height and 57 ft of horizontal reach, with 550-lb unrestricted and 750-lb restricted capacities. It also features JLG's automatic, single sensor load sensing system with zero-load calibration. This functionality keeps the machine within the allowable work envelope by limiting range, depending on the platform load. For more info, visit jlg.com.
Taskmasters: Genie's GS Micro Scissors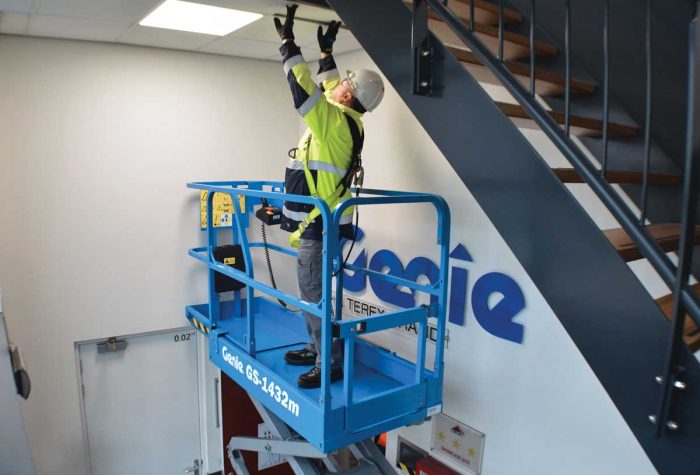 Genie GS-1432m and GS-1932m micro scissors wow with their versatility, performance, improved battery life and a lower total cost of ownership. With a 500-lb capacity, the Genie GS-1432m and GS-1932m micro scissors feature a 32-in.-wide platform and 2-ft extension deck, ensuring good access to low level work locations. They can drive through doorways with standard fixed guardrails, be transported in standard elevators and feature front-wheel drive with a zero degree inside turning radius. AC electric drive (Genie's E-Drive) means brushless, fully-sealed and maintenance-free AC E-Drive motors, delivering 30 percent more run time on a single charge. The GS-1432m weighs less than 2,000 lbs with a max indoor height of 14 ft, 1 in. (outdoor 12 ft). The GS-1932m has a weight of 2,600 lbs and features a max indoor height of 18 ft, 2 in. (outdoor 15 ft).
Genie micro scissors are engineered with quality parts and design to be lightweight and compact enough to reach jobsites inaccessible to traditional scissor lifts. Despite their compact footprint, the platform is sized to ensure two people can work comfortably side-by-side. They're a safe alternative to ladders and a more productive alternative to vertical mast lifts and also are well suited for any job where users might normally use a standard 19-ft scissor lift, making them a versatile, do-it-all machine on any jobsite and in any rental fleet. With a 500-lb capacity, the Genie GS-1432m and GS-1932m micro scissors feature a 32-in. wide platform and 2-ft extension deck, ensuring good access to work locations.
A key feature that sets GS-1432m and GS-1932m scissor lifts apart from competition is Genie's AC electric drive (E-Drive) system. According to Genie, the brushless, fully-sealed and maintenance-free AC E-Drive motors deliver 30 percent more run time on a single charge for greater jobsite productivity. The GS-1432m and GS-1932m micro scissors also offer real-world 25 percent gradeability and powerful traction for loading and unloading. Not only does E-Drive deliver productivity benefits, it also is key to delivering a lower total cost of ownership. An optimized design reduces the amount of hydraulic hoses and fittings by 70 percent, says the company, reducing the potential for hydraulic leaks which, when they occur, cost valuable time and money associated with clean up and repair.
The quiet and emissions-free AC electric E-Drive motors also provide contractors with a green solution to meet the demands of customers and jobsite regulations. And, equipment owners will find they spend less on batteries over the life of the scissor lift due to longer runtime per charge and fewer lifetime charge cycles. According to Genie, based on industry-standard HIRD cycle testing, E-Drive scissor lifts have shown not only a 30 percent increase in runtime per charge, but also up to a 20 percent reduction in lifetime battery costs. For more info, visit genielift.com.
Keith Gribbins is publisher of Compact Equipment.
I hate to be the bearer of bad news, but sometimes you can't have it all… unless you rent. From finding the right dealer to scoring the perfect rental machine, we have you covered!