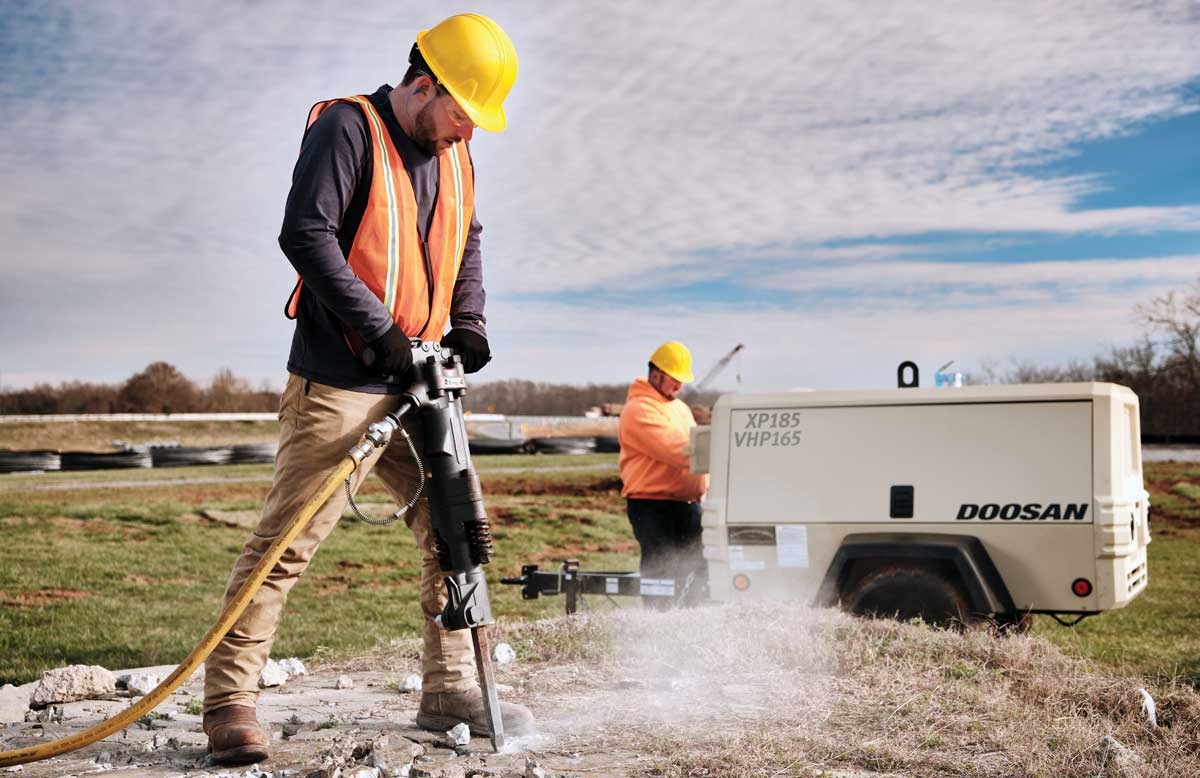 Impressive Air Force: Doosan Evolution Series P185 Gets 200 psi from a 185-cfm Air Compressor
Doosan Portable Power is getting more power from a smaller package. Operators that need 200 psi can now select the Doosan Evolution Series XP185-VHP165WDO-T4F with Doosan FlexAir technology, which can produce 200 psi at 165 cfm. Prior to the launch of this new model, achieving 200 psi typically required going a step up in air compressor size class. Now operators can get the air pressure they need from a smaller, versatile machine. This is especially good news for fiber-optic installations. Fiber-optic blowing machines typically require 200 psi but less than 200 cfm. Of course, all air compressor operators face the challenge of hose line pressure loss. With Doosan FlexAir, the operator can easily increase pressure to compensate for the loss.
According to the company, the XP185-VHP165WDO is designed with the operator in mind. Operators can select the psi of the output air electronically by using the control panel rather than reaching in the machine and manually adjusting the output with a wrench. The XP185-VHP165WDO's control panel, air discharge outlets, tool box and — when outfitted with optional 4kW generator, 120V duplex outlets — are safely located on the curb side of the air compressor. There's plenty of space for tools and accessories thanks to a large, deep, full-length tool box, providing 8,700 cubic in. of storage. For more info, visit doosanportablepower.com.

Large Value: Kioti NS Series Offers a Big Bang for Your Buck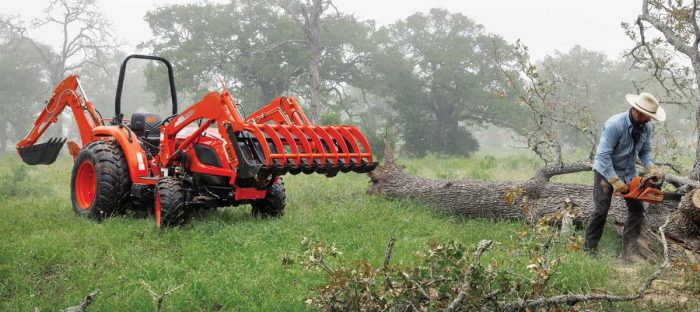 Kioti Tractor continues to launch impressive new product lines for both high-end and economized customers. Concentrating on the latter, Kioti introduced its NS Series of tractors, designed to meet the needs of value-conscious customers who require a powerful tractor, a large platform and the right price. NS Series models include the NS4710, NS4710 HST, NS5310 HST, NS6010 and NS6010 HST. Engines range from 45 to 58 hp and all models come standard with features like power steering, rear remote hydraulic valve, deluxe suspension seat, LED projection head and working lamps, rear PTO, as well as independent PTO with auto and manual selection. There are options for a synchro shuttle or HST transmission too. Plus, the CRDI Kioti diesel engine offers improved fuel efficiency with reduced noise levels.
Released in November 2021, NS Series tractors feature single lever joysticks which make front end loader work easier. The company explains that the lever returns to neutral when released, and a float position allows the bucket free flotation over the ground surface.
Three models in the NS Series — the NS4710 HST, NS5310 HST and NS6010 HST — feature hydrostatic transmission to deliver power smoothly and efficiently. The three range transmission (Hi/Mid/Low) with twin pedal operation, cruise control makes an operator's job easier, smoother and safer. For more info, visit kioti.com.
Keith Gribbins is publisher of Compact Equipment.