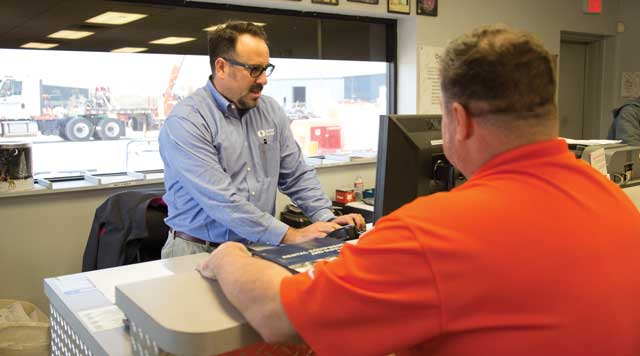 Let's face it, sometimes you could use a hand — or in some cases — an extra piece of equipment. Whether you need an extra machine to meet a tight deadline or tackle a job that's a little too big for the tools you have, rental is the perfect option to give your operation the boost it needs. Below is a list of popular brands and their specific models of equipment that go into the rental channels. Read up and find your ideal machine to rent and maybe eventually buy.
Gehl RT105 Compact Track Loader
The Gehl RT105 track loader is an ideal fit for the rental industry. It is simple to operate, has the power to get the job done and is compact enough to maneuver through tight jobsites. The Gehl RT105 is 50.8 in. wide, 71.5 in. tall and weighs 4,720 lbs. A maximum operating capacity of 1,050 lbs at 35 percent tipping load and a powerful 34.7-hp Yanmar engine with 80.7 ft-lbs of torque ensure superior performance in demanding applications. The RT105 features Gehl's exclusive IdealTrax automatic track tensioning system. IdealTrax saves on maintenance and track replacement costs by automatically tensioning the tracks when the engine is turned on, eliminating the chance of over-tensioning. For more info, visit gehl.com.
Takeuchi TL6R Compact Track Loader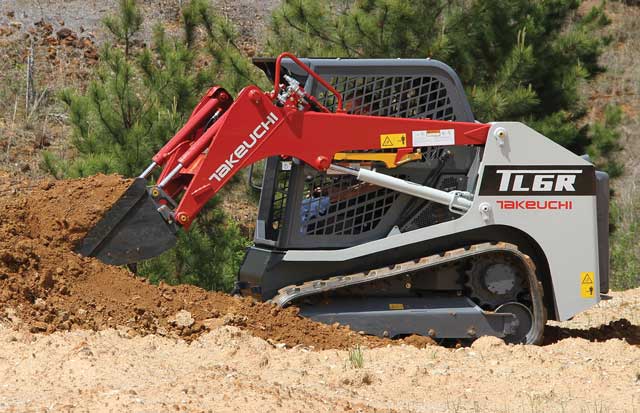 The Takeuchi-US TL6R compact track loader is an agile, compact machine that is easy to transport and features outstanding stability and performance. The TL6R is ideal for customers in the agricultural, general contracting, landscaping and rental industries. Powered by a Kubota 2.4-liter, 65.2-hp engine, the TL6R features a radial-lift loader design with a maximum lift height of 9 ft, 6.4 in. and a rated operating capacity of 1,841 lbs. Additionally, the TL6R has a width of 5 ft, a height of 6 ft, 5.8 in. and weighs 7,480 lbs with a canopy and 7,780 lbs when equipped with a cab. The TL6R features a newly designed cabin with an overhead 5.7-in., color, multi-information display. For more info, visit takeuchi-us.com.
Cat Next Generation Mini Excavators
Four new models in the Cat mini hydraulic excavator lineup, engineered and manufactured by Caterpillar, are designed to provide users the best performance, versatility, safety, operator convenience — and affordability — in the smallest possible packages for 1- to 2-ton-class machines. This customer-centered approach to engineering results in the new models incorporating industry-first standard features, such as joystick steering (Stick Steer) and a tilt-up canopy or cab, as well as new options including air conditioning and expandable undercarriages across the range. The new model range allows customers expanded choices for matching machine capabilities and machine features to the applications. For more info, visit cat.com.
Kubota KX033-4 Compact Excavator with Dipper Arm
The KX033-4 is part of Kubota's popular KX Series and sits in the 3-ton class yet boasts the lifting capacity of a larger machine. Ideal for those hard-to-reach areas, the KX033-4's optional extendable dipper arm can be quickly and easily extended up to 31 in., boosting productivity as well as efficiency. Its impressive capabilities include a digging depth of 12 ft, 2 in. and a digging reach of 18 ft, 3 in. The KX033-4 is powered by Kubota's direct injection diesel engine with auto shift and idle features. Operators will enjoy the easy-open front glass windows, deluxe suspension seat, cup holder, wrist rest and air conditioning. A large, easy-to-read digital panel is user friendly. For more info, visit kubotausa.com.
Kobelco SK30SR-6E Excavator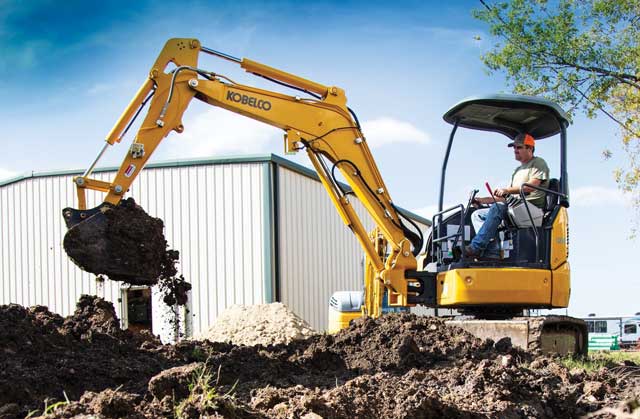 The Kobelco SK30SR-6E provides full-size performance while maintaining a short tail swing. This Kobelco model is equipped with a Tier 4 Final engine and utilizes ground-breaking energy conservation elements to deliver outstanding hydraulic performance and reduce fuel consumption by ~25 percent. The SK30SR-6E also features the proprietary Kobelco iNDr cooling system to provide quiet operation, protection from dust and easy maintenance. A minimal rear swing radius and zero tail overhang makes for safe and easy operation in confined spaces with excellent side-ditch digging performance, allowing the operator to concentrate on the work in front of them for greater efficiency. For more info, visit kobelco-usa.com/excavators.
John Deere Plate Compactor
The John Deere PC4, PC7 and PC10 plate compactors were designed for trench, slope and excavation compaction applications. The attachments are available for sale to rental companies and are compatible with the John Deere 26G, 30G, 35G, 50G and 60G compact excavators. The weight's mass is further from the shaft, offering increased impulse forces up to 8,000 lbs and improved compaction rates when working with granular soils and pouring concrete. Delivering 4,000 lbs of impulse force, the PC4 is available in a 13-in. width. The PC7 delivers 6,400 lbs of impulse force and is available in an 18-in. width. The PC10 delivers 8,000 lbs of impulse force and is available in a 24-in. width. For more info, visit deere.com.
Danuser Mega Mixer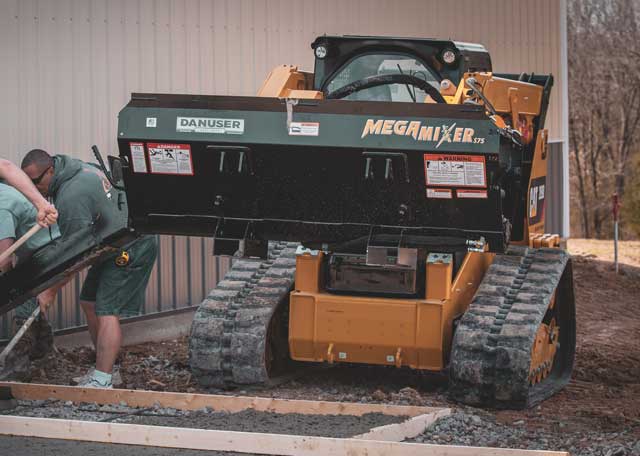 The new and improved Danuser Mega Mixer material handling bucket is designed to mix, scoop and dispense a wide variety of materials ranging from livestock feed to bag-mix concrete. New and improved items include a new easy-to-operate discharge end, an 8-in. diameter with 8-in. pitch auger for greater mixing and dispensing and a 22.8-cu-in. motor for improved power and torque. The built-in cutting edges and robust design make it well suited for scooping from piles of sand, gravel, feed, grains, dry topsoil, dry compost and a variety of other agriculture and construction materials. The Mega Mixer has the performance to handle a variety of materials, saving the operator time and labor cost. For more info, visit danuser.com.
FAE Excavator Rock Grinders
FAE RC Series machines are unstoppable rock grinding attachments for excavators ranging from 2.5 to 70 tons. Tested in the most challenging environments and praised by customers, these fixed-teeth hydraulic rock-crushing machines are capable of cutting through hard rock quickly and efficiently. This equipment is widely used in road construction, underground utility work, tunneling, mining, the oil and gas industry and much more. The RC Series features a caged frame with a built-in pre-drilled attachment flat plate, a hydraulic block with compensating and check valves, a motor safety cover, replaceable heavy-duty rock teeth and wear plates. For more info, visit faeusa.com.
Volvo L20H Wheel Loader
The Volvo L20H compact wheel loader is powered by a Volvo D2.6M Tier 4 Final water-cooled engine with a diesel oxidation catalyst (DOC) that eliminates the need for regeneration or additives. It also has 5 percent greater fuel efficiency and 8 percent more horsepower than its predecessor. To improve cycle times, the fully automatic hydrostatic drive has two speed settings, with the ability to reach maximum speeds of 18.6 mph. Standing at a height of 8 ft, 1 in. tall and boasting a turning radius of 26 ft, 11 in., this loader offers excellent maneuverability, even in the most confined spaces. For more info, visit volvoce.com/na.com.
Toro MB TX 2500 Tracked Mud Buggy
Toro recently announced the launch of the all-new, patent-pending Tracked Mud Buggy — the MB TX 2500 — as an innovative solution for the concrete placement and material handling equipment categories. With the addition of this new product, Toro now offers both a wheeled version and a tracked version. The MB TX 2500 has a unique dump switch design that travels with the controls, ensuring that the dump switch is always at the operator's fingertips. The unit can carry up to 2,500 lbs of material in the 16-cu-ft tub, powered by a 25-hp Kohler Confidant engine. Additionally, the MB TX 2500 can reach transport speeds of up to 6 mph in forward and 3 mph in reverse to efficiently transport material. For more info, visit toro.com.
JLG Mobile Control App
The JLG Mobile Control app for its R Series scissor line allows users to drive, steer and load R Series scissor lifts while in a stowed position from an iOS mobile device. The app gives operators a better view of the jobsite while moving equipment. It is available as an option on new R Series scissor lifts or available for purchase as an aftermarket option for previously-purchased machines. Easy to use and equipped with an intuitive user interface, the app displays all the essential features needed to run a scissor as if the operator was standing inside the platform. In addition to battery and machine status, the app features a horn symbol, allowing operators to easily alert jobsite personnel when the machine is operating nearby. For more info, visit jlg.com.
Manitou ATJ 46+ Mobile Elevating Work Platform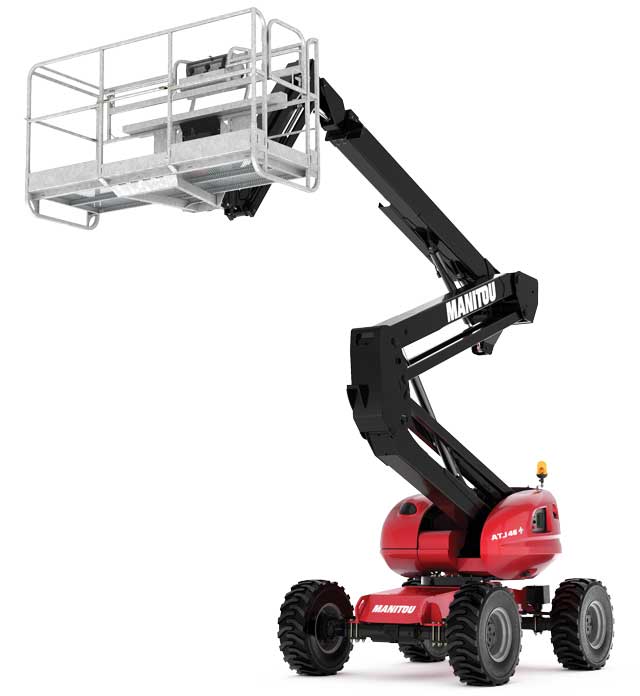 The Manitou ATJ 46+ Mobile Elevating Work Platform (MEWP) is ideal for high capacity jobs, featuring a large 7-ft, 7-in. by 3-ft platform that holds up to 900 lbs without restriction. The platform has a maximum height of 45 ft, 6 in. and horizontal outreach of 28 ft, 3 in. This all-terrain, diesel-powered model can push through the toughest site conditions with four-wheel drive, 17 in. of ground clearance and four-wheel steering. A self-diagnostic system and easy access to the main components also lower maintenance costs. The Manitou ATJ 46+ is part of a full line of MEWPs available in North America, including diesel and electric models that lift from 33 up to 49 ft. For more info, visit manitou.com.
Genie GS-1330m Scissor Lift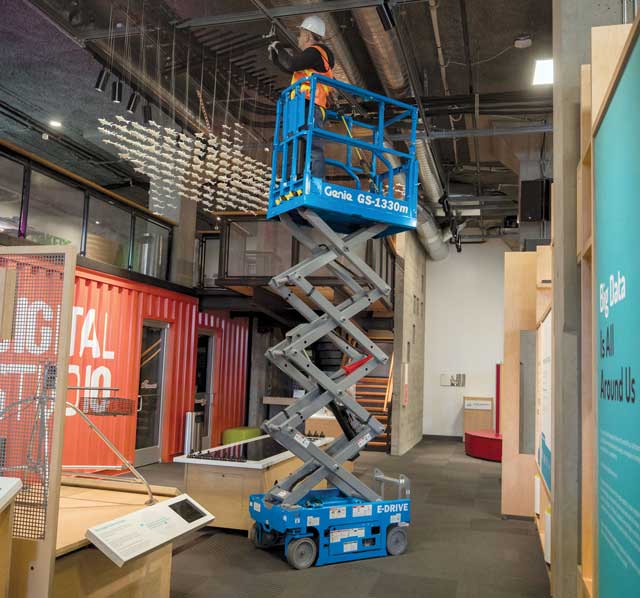 Responding to worldwide demand for compact maneuverability in low-level access and space and weight restricted applications, the new Genie GS-1330m scissor lift offers a maximum platform height of 12.8 ft and a maximum working height of 18.8 ft, with a two-person, 500-lb capacity, and weighs in at only 1,950 lbs. Rental-ready, this new micro-sized scissor lift is well suited for construction applications in space restricted or congested locations, such as offices, high rises and retail spaces. The Genie GS-1330m scissor lift is equipped with an efficient, all-electric DC drive system that offers productive power for getting around indoor jobsites with quiet, zero-emissions operation. For more info, visit genielift.com.
Doosan Portable Power C185 Air Compressor
Doosan Portable Power has released a newly updated Doosan C185WDO portable air compressor with industry-leading runtime and cold starting capabilities. The redesigned C185 has a runtime of 12.6 hours at 100 percent load — 26 percent longer than other brands. The longer runtime is achieved by adding a 65 percent larger fuel tank. The C185 also outperforms competitors in extreme temperatures with cold starting capabilities at temperatures as low as -10 degrees Fahrenheit, which is 20 degrees colder than its closest competitor. The C185 is equipped with the Doosan DSN100 airend and a Tier 4 Final Doosan D18 engine. Together, they deliver 185 cfm of air at a rated operating pressure of 100 psi. For more info, visit doosanportablepower.com.
---
Two Popular Rentals
ASV RT-65 Compact Track Loader
ASV Holdings' radial-lift RT-65 Posi-Track compact track loader is a great choice for rental companies and customers. The machine boasts industry-leading serviceability features like a swing-out radiator, top hood and side doors that allow access to all sides of the engine. The RT-65's turbocharged 67-hp Deutz 2.2-liter diesel engine produces 184 ft-lbs of torque. The Tier 4 Final engine requires no regeneration, exhaust sensors or diesel exhaust fluid. ASV built the RT-65's auxiliary hydraulic system with 3,300 psi of auxiliary pressure and 22.2-gpm standard flow. An optional 27.4-gpm high-flow system offers even greater performance. The RT-65 features a ROC of 1,925 lbs and a tipping load of 5,500 lbs. For more info, visit asvi.com.
New Holland C245 Compact Track Loader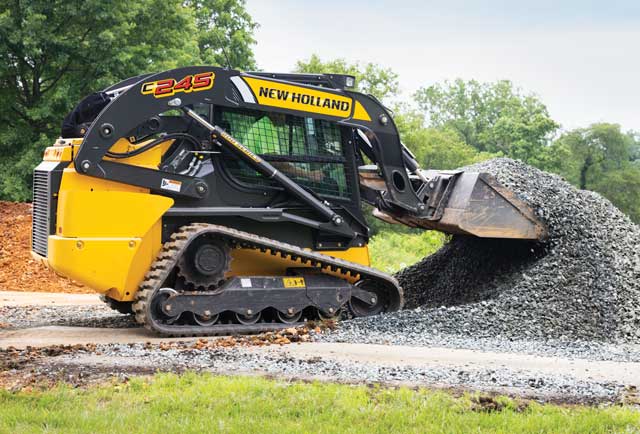 Lifting force and hydraulic power is in the New Holland compact track loader's DNA. The new C245 compact track loader can achieve 9,188 lbs of breakout force and 4,500 lbs ROC at 50 percent tip through the SuperBoom design. The C245 high-flow package comes with hydraulic relief pressure of 3,450 psi and 40 gpm. With the optional enhanced high-flow package of 35 gpm and 4,000 psi relief pressure, the C245 can achieve hydraulic power up to 82 hp. Controls are all within the operator's field of vision, perfect for expert and novice operators. The C245 provides operators with high visibility through the low pivot SuperBoom geometry resulting in less operator fatigue. For more info, visit construction.newholland.com.
---
Perkins New Turbo Engine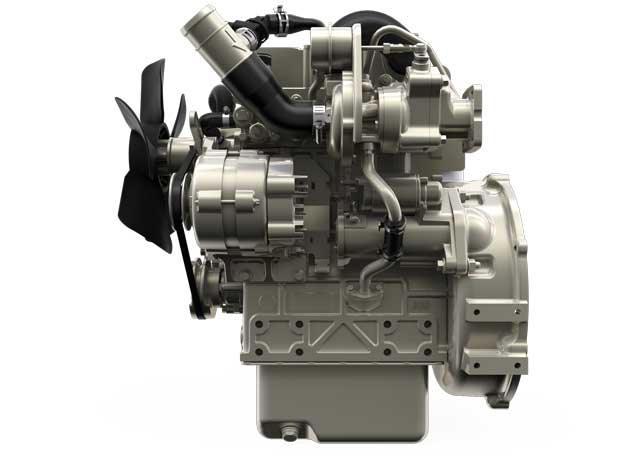 Perkins newest engine, the 403J-11T, outputs 24 hp (18.4 kW) and 86 Nm (63.4 lb-ft) of torque and is particularly suited to power small construction equipment that is popular among rental fleets. The 403J-11T joins three other 24-hp engines in the Perkins lineup that meet U.S. EPA Tier 4 Final emissions standards and offer original equipment manufacturers the choice at this power node. "For this critical power of 24 hp, OEMs need to balance multiple engine characteristics to get the best match for their machines," says Oliver Lythgoe, marketing manager for small engines at Perkins. "The 403J-11T will be particularly suitable for machines that need good torque performance but also need the smallest package possible. Many rental companies want to stock the same equipment across the whole of North America and these turbo engines are particularly good for maintaining performance even at high altitudes and across a wide range of temperatures." For more info, visit perkins.com.
Tags:
ASV
,
Cat
,
Danuser
,
Doosan Portable Power
,
FAE
,
Gehl
,
Genie
,
home
,
JLG
,
John Deere
,
June 2019 Print Issue
,
Kobelco
,
Kubota
,
Manitou
,
New Holland
,
Perkins
,
Rental
,
Takeuchi
,
Toro
,
Volvo