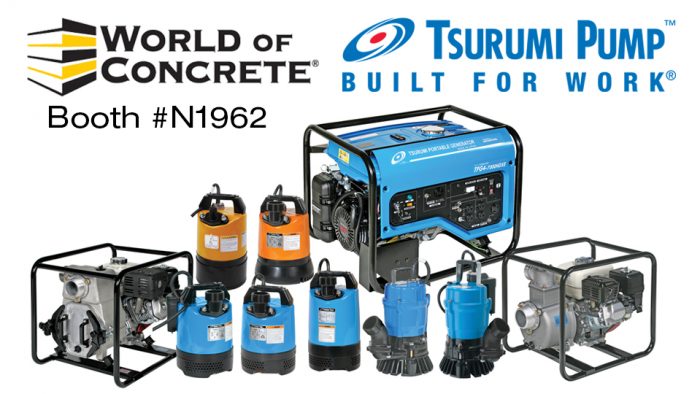 Tsurumi Pump will exhibit its lines of electric submersible pumps, engine pumps and generators at the World of Concrete tradeshow, which will take place January 18-20, 2022, at the Las Vegas Convention Center. The company will occupy booth N1962.

With the recent passing of the Infrastructure Investment and Jobs Act (also known as the bipartisan infrastructure framework, or BIF), Tsurumi will underscore its growing network of technical support and its ability to secure availability ahead of an expected surge in road and bridge construction and water infrastructure investments.

"A considerable increase in pump demand is on the horizon, and we would like to reiterate our commitment to timely deliveries," said Glenn Wieczorek, Tsurumi's managing director. "We had a strong 2021 and we're looking forward to an even better year ahead. We are ready for it."

Tsurumi's booth will feature the company's comprehensive array of top-quality dewatering, trash, ground drainage and engine-driven pumps. One highlight will be a cutaway display of its HS2.4S electric submersible pump that showcases its inner workings. The pump was designed to tackle water that contains sand and other debris with minimal wear and clogging, which makes it ideal for many types of construction applications.

By displaying the insides of the HS2.4S, Tsurumi will give attendees an in-depth look at the high standard and robust engineering that the company proudly employs throughout its product lines.

Tsurumi's oil lifter, for example, is featured in all of the manufacturer's pumps and highly improves the longevity of its silicon carbide seals. The oil lifter adds protection even in special applications when the pump is installed horizontally.

Other products at the company's booth will include:
LB-480, LB-480A and LB-800 electric submersible dewatering pumps
LSC1.4S and LSR2.4S electric submersible ground drainage pumps
HS2.4S, HSE2.4S and HS3.75S semi-vortex submersible trash pumps
TE3-50HA and EPT3-50HA engine-driven trash pumps
TPG4-6000HDX portable generator
Tsurumi's team will be on standby at the company's booth to answer questions and discuss strategies for successful applications in construction.
We'd love to keep in touch! Check us out on Facebook, Twitter and LinkedIn!