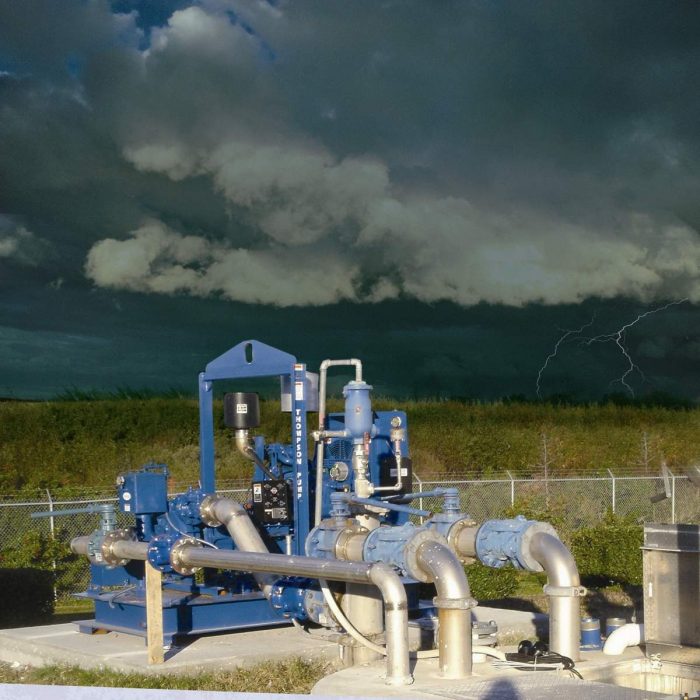 The early predictions are out, and 2022 is expected to be another above-average hurricane season. According to scientists at Colorado State University, there will be at least 19 named storms and nine hurricanes, four of which could be Category 3 or higher.
Thompson Pump and Mfg. Co., one of the nation's leading manufacturers of heavy-duty portable diesel-powered bypass and dewatering pumps, is dedicated to helping pump owners and municipalities weather the storm. While storm preparedness is a year-round job, Thompson Pump shares some well-thought-out steps that will go a long way toward deducing the negative impacts a hurricane can have on a city and its citizens, essential services and the overall economy.
Inspect pumps today
Service and repair equipment before you need it, including correcting fittings and hoses
Clean out drains
Pump down lakes and ponds
Check fuel supplies
Stock up on spare parts for emergency repairs
Identify areas more susceptible to major storm damage that can be serviced immediately
"It is critical to take these steps now, because during the one or two days leading up to the storms, the call volumes for emergency assistance go up and it is often too late to do all that needs to be done to prepare in hopes of minimizing any damage," said Chris Thompson, President of Thompson Pump and Manufacturing Company.
Thompson Pump, a family-owned company celebrating more than 50 years in business, is a full-service manufacturer and provider of high-quality pumps, pumping equipment and engineering expertise for bypass pumping, dewatering, mining and flood control.]
I hate to be the bearer of bad news, but sometimes you can't have it all… unless you rent. From finding the right dealer to scoring the perfect rental machine, we have you covered!