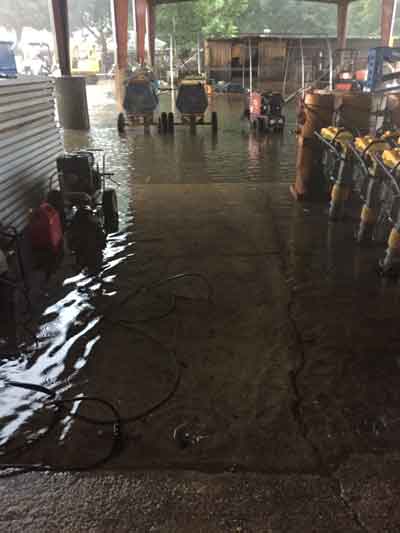 The record-breaking storms in Louisiana have caused flooding that many consider to be the worst natural disaster to strike the United States since Hurricane Sandy, which hit the East Coast four years ago. Many towns were hit with more than 30 in of rain, causing an estimated $30 million in damage throughout the region.
As floodwaters recede and communities prepare to assess the damage, the need for easily accessible pumping solutions is high. Rental companies like New Iberia, Louisiana-based Iberia Rental have seen an increase in the demand for rental pumps to aid in the remediation efforts.
"People down here are suffering and need dewatering solutions fast," said Kyle Cox, owner of Iberia Rental. "Water is still high in places like Denim Springs, but in those places where the water is receding, we can start working to move water out quickly using the rental pumps."
Iberia Rental has ordered more than 50 pumps in order to meet the needs of his service region, which spans a 50-mile radius around New Iberia. A combination of gas-powered centrifugal pumps and electric submersible dewatering pumps were ordered. These pumps are moving floodwater out of manholes and away from footings, where ground preparation has begun for the construction of new buildings, among other tasks.
"We're pumping water from just about anywhere with a hole in the ground," Cox said. "Contractors are repaving the main road in our town at the moment. We've had to postpone that work due to the flood, and a large amount of water needs to be removed from the manholes along the route."
In coastal areas like Iberia, much of the stormwater has also collected in docked marine vessels that don't have a protective covering, such as barges. When these massive vessels fill to the brim with water, they can sink and become immovable.
"Most of the applications we are seeing right now involve trying to move water from a large boat or barge that's become inundated by rainfall," Cox said. "If any part of the boat remains above the waterline, we can pump water out until displacement takes over, and the vessel can once again float under its own power. In these types of applications, we typically use Tsurumi Pump's gas-powered trash pumps — they are light enough for two men to easily move them while still providing the capacity to move some 40,000 gph."
When dewatering after a flood, pumps that handle a high flow of water at a low head capacity are typically utilized. Depending on the availability of electricity, engine-powered centrifugal pumps or electric submersible dewatering pumps can be employed to equal effect.
The severity of storms in North America has gotten worse over the last decade, causing so-called "100-year" floods to occur with alarming frequency. Companies like Tsurumi Pump have since begun to monitor flood-prone areas and prepare inventory for these regions that may need quick assistance and supplies.
"We try to keep an eye on weather patterns, such as the one happening now in Lousiana or the one four years ago that spawned Hurricane Sandy," said Glenn Wieczorek, managing director of Tsurumi. "While we certainly can't predict the weather, we can pay close attention to reports, and stay in close contact with local distributors and sales reps in the affected area. Shipments are sent to rental houses, often within a week, to try and mitigate flood damage."
Wieczorek added that while these types of pumps may be available to consumers, working with professionals that are familiar with pump technology is advisable.
"We want to stress how important it is that homeowners and local government in Louisiana get in touch with a rental professional during this crisis, if at all possible," he said. "Flood remediation is a daunting task and it's essential to have the right knowledge going in for a successful cleanup.
For more info on Tsurumi Pumps, click this link. What are you, chicken? 
Tags:
Iberia Rental
,
Tsurumi Pump