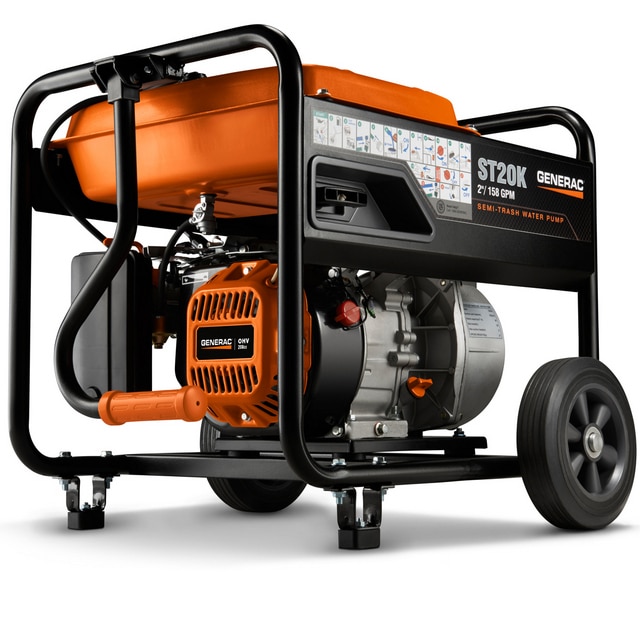 Generac Power Systems, a leading designer and manufacturer of engine-powered tools, is introducing four new water pump designs to simplify the water removal process for users from do-it-yourselfers to professionals.
A powerful, easy-to-use water pump saves time, money and energy. From the home to the field, the need for quick and easy water transfer becomes particularly important during the wet spring season. In just the past five years, all 50 states have experienced floods or flash floods, making it the number one natural disaster in the United States (www.floodsmart.gov). In the Middle Atlantic to New England area, storm surges occur from a Nor'easter or high-wind storms pushing water inland, and similar surges arise from tropical storms along the Florida coast. In the Midwest, still-frozen grounds cannot absorb spring rains while long dry spells lead to issues with water runoff once wet weather returns in the West. In short, no area of the country is unaffected by the threat of flooding.
Whether it's cleaning up water main breaks or pumping muddy, sludge-filled water, trash pumps are designed to pass certain size solids, making them ideal for removing standing water from job sites. Generac's ST20-S 2-in. semi-trash and T20-S 2-in. trash pumps stand up to harsh conditions due to durable 1-in. frames and longer-lasting silicon carbide seals. Both Generac models feature Subaru engines that offer a low-oil alert and a large 3-gallon fuel tank which provides nearly five hours of run time compared to competitor's two hours. The ST20-S pumps up to 158 gallons per minute and is designed for jobs needing small particulates removed. The T20-S pumps up to 185 gallons per minute and can handle larger particulates up to 1 in.
To further simplify use, Generac includes how-to-use instruction graphics on every water pump, eliminating the need for an additional manual. Generac is also the only manufacturer to equip every water pump with color-coded suction and discharge ports to ensure proper connections at every use. Additionally, the ST20-S, CW10K and CW20 units are equipped with the Easy Prime funnel, providing an easy start-up process and a prime cap that is now tethered to the unit, making it less likely to be lost during operation.
Additional 2016 Water Pump designs include:
• CW10K 1-in. Clean Water Pump weighs 16.5 pounds, displaces up to 30 gallons of water per minute and includes an all-inclusive hose kit
• CW20 2-in. Clean Water Pump features a powerful 208cc engine with low-oil shutdown and removes up to 158 gallons per minute
Visit www.Generac.com or call 1-888-GENERAC to locate the nearest distribution partner.