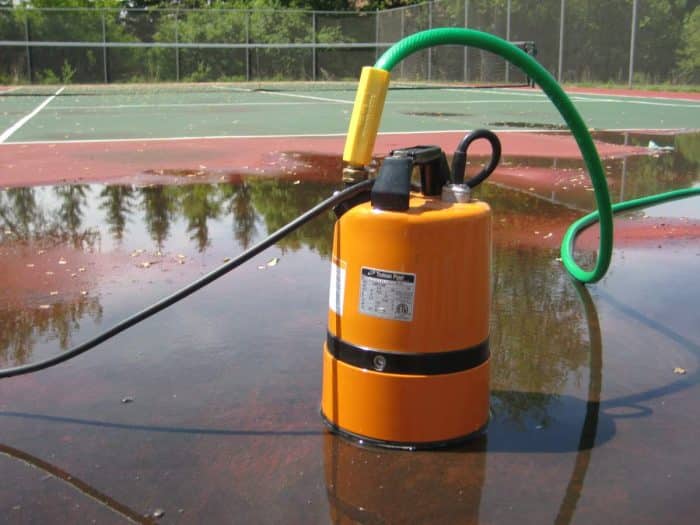 Accumulated water on surfaces poses significant challenges and potential hazards across various properties and activities, including golf courses, parking lots, and construction sites. On golf courses, flooding leads to erosion, compacted soil, and waterlogged greens, negatively impacting playability and necessitating costly repairs. Floodwater in parking lots can harm pavement surfaces, jeopardize structural stability, and disrupt traffic flow.
Erratic weather patterns have resulted in heavy rains that can inundate homes and construction sites, resulting in structural degradation, mold growth, and material losses. Excess water on construction sites also hampers daily operations and compromises valuable equipment.
Effectively countering these challenges demands thorough preparation and access to dependable, efficient dewatering equipment. Over the years, Tsurumi's ground drainage pumps have gained a reputation for their effectiveness and cost efficiency in low-level water pumping. The LSC and LSR series offered by Tsurumi are submersible electric pumps capable of efficiently draining water from depths as shallow as 0.04 and 0.2 inches, respectively.
Tyrone Hipwell, Tsurumi's Northwest Sales Manager, noted: "These pumps offer real-world solutions to critical challenges encountered by our clients in diverse settings. Their versatility enables them to adapt to various water levels and situations. Engineered with internal check valves and prime-through-discharge technology, they assist with easy startup and sustained suction. These pumps even permit seamless transportation between bodies of water without losing prime."
Distinguishing themselves through smart design and industry-leading features, the LSC and LSR pump series incorporate various design elements that ensure their durability and reliability in demanding environments. They feature dual internal mechanical seals with silicon carbide faces, guaranteeing extended operational lifespan by averting leaks and wear. Tsurumi's patented oil lifter ensures essential lubrication to seal faces, prolonging the pump's longevity and maintaining smooth operation.
Having spent numerous years in the pump industry, Hipwell attested to Tsurumi's ground drainage pumps' efficient design. "Constructed from the most durable materials and equipped with numerous design features, these pumps simplify surface dewatering," he explained. "Our units are capable of pumping to remarkably low levels with uninterrupted suction, providing us with a competitive edge. We have received positive feedback from users spanning various industries."
In addition to its design excellence, Tsurumi has been bolstering inventory levels and nationwide parts availability while enhancing logistical capabilities. This commitment ensures that customers can access equipment whenever needed. Hipwell underlined: "Our team of engineers and distributors have gained recognition for their swift and effective assistance, underscoring our commitment to delivering a seamless customer experience. This proves especially vital when dealing with unwanted water incidence, which can disrupt projects and livelihoods. Effective water management is of utmost importance, and we approach it with the highest commitment."
For more information on Tsurumi's products, visit www.tsurumipump.com.
We'd love to keep in touch! Check us out on Facebook, Twitter and LinkedIn!