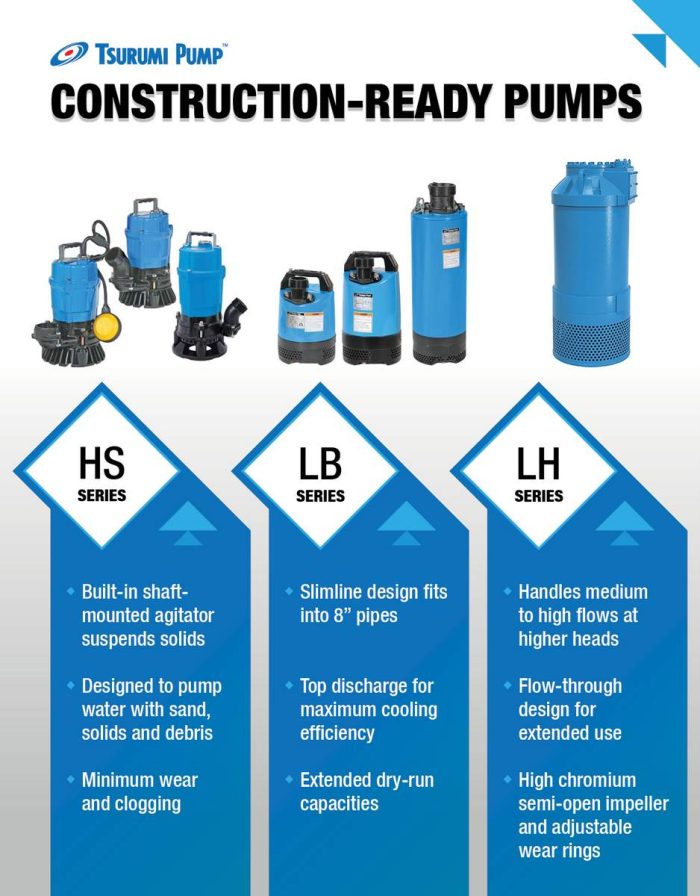 Dewatering pumps are essential in the construction industry for an efficient and speedy transfer of water and other fluids. They are used across a variety of applications and are critical to completing projects on time, meeting quality standards and avoiding costly delays. The reliability and availability of pumps can make all the difference in ensuring a project runs smoothly without any disruptions to tasks, schedules or workers.
With the U.S. industrial pump market expected to expand at a rate of 5.9% a year over the next decade, according to Global Industry Insights, equipment uptime is gaining increased value. Mike Grant, Tsurumi's portable product and rental market manager, acknowledges that the overall outlook of the construction sector is currently robust.
"Despite some apprehension about high-interest rates affecting residential housing and the deceleration of commercial building and office space projects due to hybrid work schedules, the demand for dewatering equipment has only somewhat decreased. Consequently, infrastructure projects throughout the United States are expected to continue at a strong pace for the next few years."
Glenn Wieczorek, Tsurumi's managing director, added that the company has undertaken a series of initiatives to expand its capabilities in recent years. This action is in pursuit of the company's commitment to establishing itself as a key player in the construction market and supporting the sector's rapid growth.
"Our company is proud to devote significant efforts to promoting its manufacturing process and maintaining a well-stocked parts inventory," Wieczorek said. "Additionally, Tsurumi has expanded its logistical capabilities to ensure that contractors have access to the pumps they need for a wide variety of construction and infrastructure projects, regardless of location or timing."
Contractor Friendly
Tsurumi's HS Series submersible pumps are a favorite among contractors due to their transport ease and impressive ability to resist wear and clogging. These features are largely due to a built-in shaft-mounted agitator that suspends solids while pumping water containing sand, solids and debris. Suitable for a wide range of applications requiring the removal of water, this small yet robust trash pump is available in manual or automatic configurations, with 2 or 3-inch side discharge.
The HSE2.4S model features an Automatic Water Level Sensor that enables automatic operation, even in confined spaces where floats are not an option. As the water level rises to the electrode, an internal 60-second timer starts the pump. Conversely, once the water level falls below the electrode for 60 seconds, the pump will shut off.
"There's no tougher application for a piece of equipment than construction and rental, and that fact is integrated into every step of our design process to build heavy-duty, reliable equipment," Grant said. "Our pumps have a record of dependable, continuous work, which contractors and engineers everywhere appreciate."
Operation for Extended Periods
The ability of Tsurumi's LH Series electric submersible three-phase cast iron drainage pumps to endure extended operation at low water levels has driven their use across a variety of construction sectors. The top-discharge flow-thru design forcibly cools down the motor, providing extended dry-run capability. Able to fit inside 8, 12 or 16-inch pipes, with discharge sizes from 2 to 12 inches. Featuring a 4 hp to 150 hp range supporting flow rates from 110 up to 3700 gal/min.
Options include seawater-resistant kits, using special cast iron impellers, high-temperature rewinds, and mining variants where all parts that contact fluid are machined from 316 stainless steel. These features provide high resistance to corrosive fluids or those with high pH levels.
Slim Design to Fit into 8-in. Pipes
Tsurumi's LB Series is an electric submersible dewatering option. The portable, easy-handling design enables fitting into 8-inch pipes while efficiently handling up to 110 gal/min. Ideal for applications such as well dewatering, river bypass, site dewatering and manholes in tanks, it is offered in outputs from 2/3 hp to 2 hp, with 2 or 3-inch discharge sizes.
LB models offer a level of durability equivalent to three-phase drainage pumps with a single-phase design and wear parts made from abrasion-resistant materials. The LB Series employs all the technical advantages Tsurumi is known for such as anti-wicking power cable sealing and double mechanical seals that protect the electric motor from water intrusion during submergence. These seals, sporting silicon carbide faces, provide five times the corrosion-, wear-, and heat resistance than the tungsten carbide alternatives.
Some LB models are also available in LB-A designation, employing the aforementioned Automatic Water Level Sensor that enables automatic operation. The feature eliminates dry-running and reduces power consumption by up to 40%.
What can we say? We love rental. So much so that we published a Digital Rental Guide covering everything you need to know when renting a machine. Check it out here!