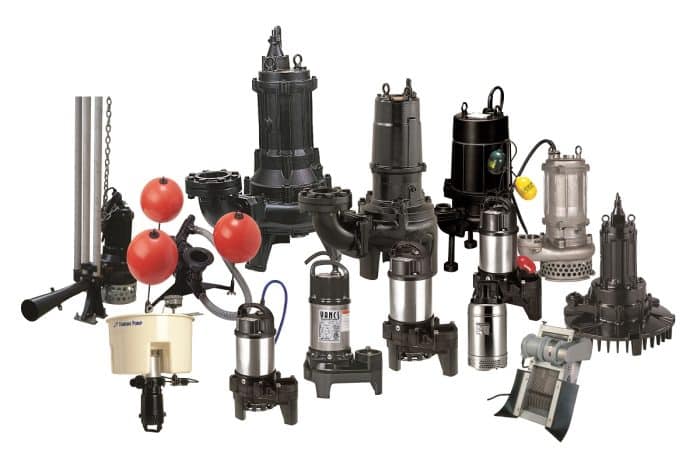 Pump downtime is a major concern among wastewater plant operators. If a pump suddenly stops working, the consequences could be disastrous. Facility closure or stoppage puts the surrounding waterways and residential areas at risk of sanitary sewer overflow.
To alleviate these concerns, Tsurumi has ensured that its pumps come equipped with fail-safe features. The pumps have integral thermal protection switches that can detect high motor temperatures and shut off the pump before any severe motor damage occurs. The seal chamber contains moisture detection sensors that can detect seal failure.
"When moisture is detected, an alarm alerts the issue to the operator, preventing severe damage," explained Pat Donahue, engineer at Tsurumi America. "These tools are designed to detect common, yet often overlooked problems early, allowing for timely responses and the prevention of extended pump downtimes. All pumps will encounter damage such as clogs and seal leaks, but early detection is key to avoiding prolonged downtimes."
According to Donahue, the durability of wastewater pumps is especially important in cutter and chopper applications — tight tolerances and sharp edges need to be maintained to prevent clogs.
"Tsurumi's cutter design utilizes a tungsten carbide cutter piece brazed onto the tip of the impeller vane as well as a high chrome serrated wear plate. These hard materials work in tandem to provide cutting with minimal wear and tear," Donahue said.
Tsurumi's chopper impeller is constructed of hard cast iron that rotates and cuts against the high chrome stainless steel chopper blade. While constructed of hard, wear-resistant materials, abrasion will eventually increase the gap between the impeller and cutter/chopper. Both Tsurumi's cutter and chopper designs feature clearance adjustability to return clearance back to factory-level settings.
Nearly 100 Years of Innovation
Tsurumi Pump's rich history dates to 1924 in Osaka, Japan. It was the first pump company in Japan to establish submersible pump technology, pioneering the use of durable materials and simple, reliable designs that are easy to operate and maintain. Tsurumi's established designs helped designate the company as a leader in the construction and mining sectors.
"While Tsurumi's pumps are better known amongst the construction and mining industries, the company's wastewater lines utilize the same design philosophies, construction materials and features that are proven to withstand the most aggressive industries," Donahue explained.
Tsurumi's wastewater pump line includes a variety of styles to accommodate a wide range of applications. The company's wastewater line includes choppers, cutters, grinders, high head, open channel and vortex. Pump features include cooling jackets (open and closed loops), corrosion-resistant material options and the FM hazardous location certification (AVANT Series). They are used in residential areas, such as lift stations that move wastewater to a treatment plant, as well as within the wastewater treatment plant, where these pumps advance the water through the treatment process.
"Every plant with a form of liquid process requires wastewater collection and transfer. Large enough plants require their own internal treatment process," Donahue added. "In addition to many types of pumps, Tsurumi provides a variety of process equipment including bar screens, and submersible aerators and mixers. With these various styles and features, we can be a one-stop wastewater solution from residential collection to final treatment. Tsurumi's pumps are known for being heavy-duty, durable and reliable. These are the tenets that build partnerships with our customers.
We'd love to keep in touch! Check us out on Facebook, Twitter and LinkedIn!