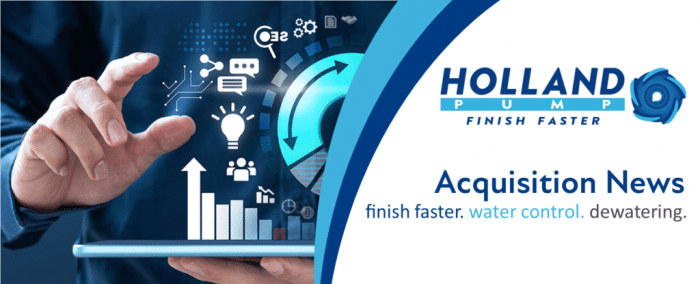 Holland Pump Company, a leading independent specialty pump rental and dewatering solutions provider, today announced that it has completed the acquisition of BPR Pumping & Vacuum Solutions based in Pearland, Texas.
This is the sixth acquisition since Holland Pump partnered with XPV Water Partners, adding branches in the Houston and Austin, Texas, areas, as well as complementary rental equipment to Holland Pump's extensive pump fleet and complete dewatering services offering. The acquisition increases Holland Pump's capabilities to service municipal, infrastructure, industrial, and mining projects in Texas.
Simon Wright, President of BPR Pumping & Vacuum Solutions, said, "We're proud to be joining the Holland Pump family. We've been impressed with the company's leadership and look forward to being part of the team's exciting growth in the Gulf Coast market."
"This strategic acquisition supports our commitment to delivering best-in-class customer services through our pump fleet, field services, and engineering support. We welcome the employees of BPR Pumping & Vacuum Solutions to the Holland Team," said Tom Vossman, CEO of Holland Pump Company.
We'd love to keep in touch! Check us out on Facebook, Twitter and LinkedIn!