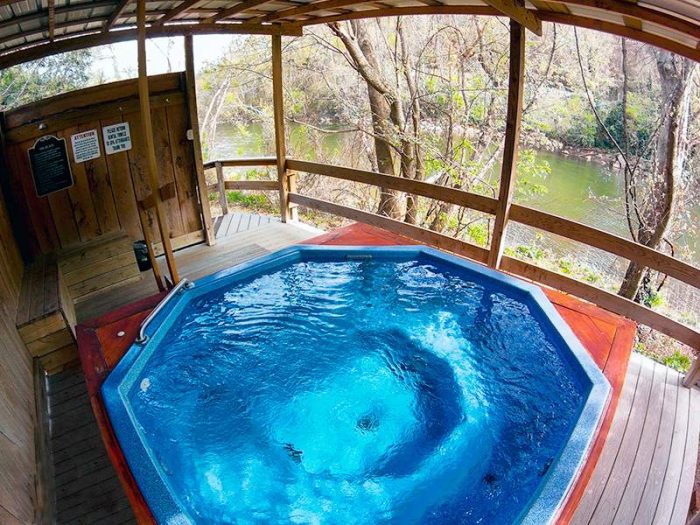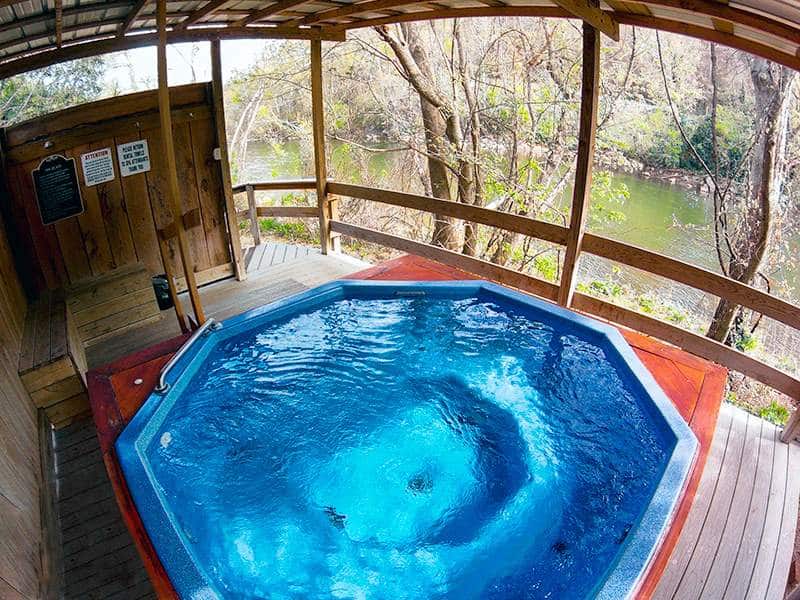 Tsurumi KTZ Pumps Allow the Staff at a North Carolina Hot Springs Resort to Relax (Finally!)
A new pumping system at the Hot Springs Resort & Spa in the mountains of North Carolina has taken the resort's operations to an entirely new level of efficiency and reliability. In addition to providing a stronger, steady flow of hot water to the facility's many tubs and pools, the new Tsurumi KTZ pumps have also eased many of the previous system's concerns. For example, with their flood-proof design and ability to operate in submersible applications, they have required little to no maintenance. This is a change from the previous setup and has allowed staff who are accustomed to the old, maintenance-intensive surface pumps to work more productively.
Before, whenever the nearby French Broad River overflowed, the 20-year-old pump system supplying the flow of geothermally heated mineral water to the resort's 18 outdoor jetted hot tubs would have to be disconnected, severely disrupting business, sometimes for days. To make matters worse, the same minerals that give the resort's waters invigorative powers would clog the surface pumps, causing more shutdowns.
Fortunately, a timely encounter between resort management and a Tsurumi rep at a conference changed things for the better. Staff had long realized that a transition away from the well's basic surface pumps was necessary, but without the know-how to implement a submersible system, or even settle on the optimum supplier or models, no progress had been made.
"That meeting put us on to Tsurumi as a pump provider, so we engaged a local engineering firm to come up with the design and told them we wanted to use Tsurumi pumps," said Tommy Hicks, resort manager at Hot Springs Resort & Spa. "Six months after the KTZ installation, everything's working as it should. We sometimes forget about the pumps because they're submerged, and they just do their job reliably day after day!"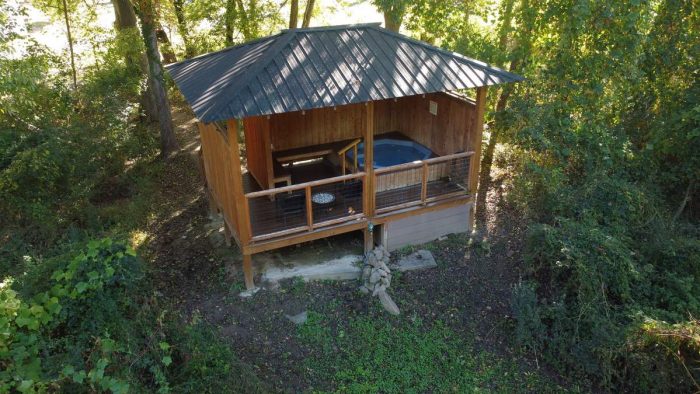 The new system, comprising a pair of Tsurumi KTZ heavy-duty dewatering pumps, replaced the previous four units (one main pump with a backup, and two smaller pumps supplying supplemental flow in response to increased demand).
Hot mineral water is pumped from a 25 ft deep well to hot tubs scattered around the property, some of which are up to 1,000 feet away from the source.
With the spa's 16 standard hot tubs, which hold about 360-400 gallons of water, and two larger pools of approximately 600 gallons each, being drained and replenished after each use, a powerful, reliable pump system is vital to the resort's daily operation.
A 10 hp KTZ47.5 and 2 hp KTZ21.5 were therefore attached to a specially fabricated harness and suspended 2 ft from the bottom of the 25 ft deep well, from where they distribute the hot water over roughly 1,000 feet horizontally. With a head height of just 40 ft, the installation greatly benefited from the easy switching between high-head and high-volume performance enabled by a simple change of the KTZ's impeller and wear plate, and now delivers a significantly stronger and more reliable water flow than the previous system.
Challenging Environment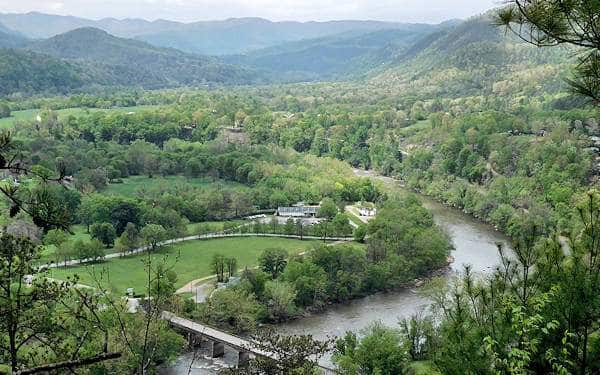 Faultless performance in a submersible setting was the number one requirement for the resort from any new pumping system. With the old set-up, staff would have to rush to dismantle the old pumps whenever the river (which sits just 50 ft from the resort) looked like it might flood. With the new Tsurumi installation, that kind of stress has become a distant memory.
"We had to get them out before the flood came and wrecked everything, but the KTZ pumps have totally mitigated that problem," Hicks said. "They're always in the water so regardless of what happens we don't have to worry about them. They really help us be more resilient."
KTZ pumps are designed with high-chrome impellers to withstand the highly abrasive waters of construction, aggregate, and mining dewatering applications. The units installed at the resort are destined to remain in a challenging environment of hot water with high levels of calcium, which can easily damage lesser pumps.
An aerial view of the Hot Springs Resort & Spa and the French Broad River in North Carolina.
"The well water is about 108°F, and as it bubbles up through the limestone it extracts lots of calcium," Hicks explained. "Those deposits used to coat everything — we had foot valves in there that would quickly become calcified, so we'd regularly have to clean them up. We were initially skeptical that submersible pumps would survive in those conditions for long but, as Tsurumi's KTZ pumps are designed for industrial use, we've had no issues at all in over six months and we're confident they'll continue to perform as intended."
The steady, reliable operation of the Tsurumi pumps has eased the burden on the resort's staff, who can now focus more of their attention on making sure customers have a great experience while at the facility.
"Our pump maintenance has gone from very intense to virtually non-existent," Hicks said. "In the old days, it required constant attention to make sure the seals were lubricated on the pump shaft. When we changed the seals, we needed people sitting at the top for weeks on end to make sure they weren't leaking — we had to babysit them all the time."
With Tsurumi KTZ pumps the resort now has a grown-up solution that can more than take care of itself.
For more information on Tsurumi's KTZ pumps, click here. To visit Hot Springs Resort & Spa's website, click here.
Compact track loaders are the most popular category of compact equipment in America. Learn why with loads of track loader features right here.