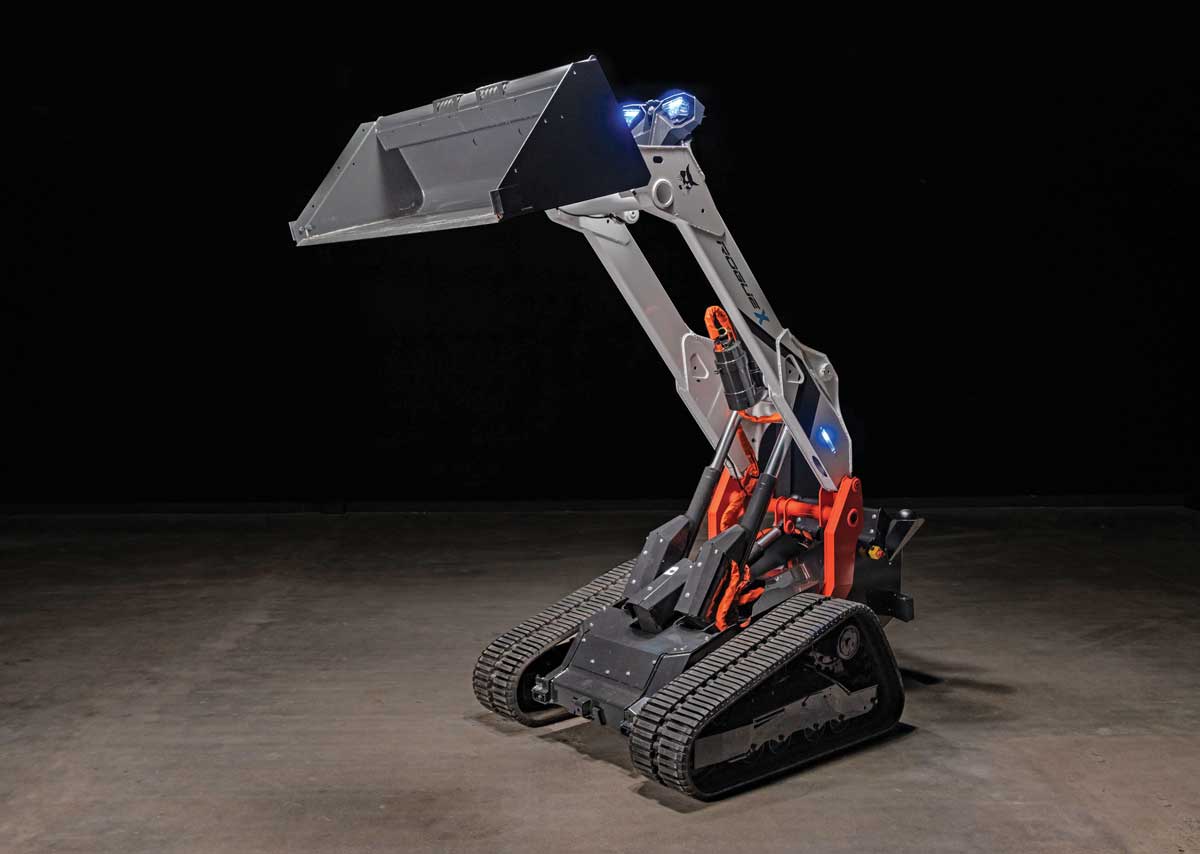 One of our big editorial focuses for the summer of 2023 is technology, and the centerpiece of our online coverage comes with our Top Tech series of feature stories and e-news articles. From electric and hydrogen to AI and VR, the Compact Equipment team tackles the top technologies evolving the off-highway equipment industry in this five-part Top Tech guide. Click here to see the other four articles.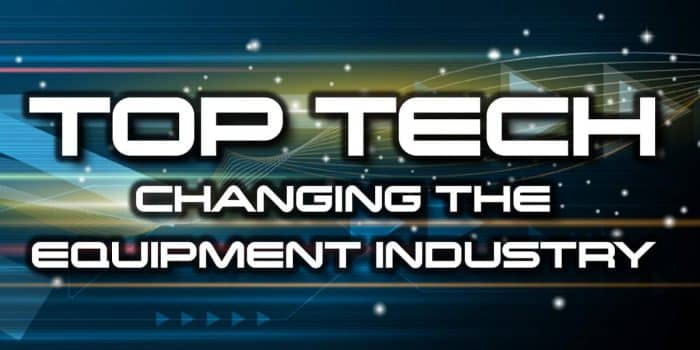 Artificial intelligence is one of the most transformative tech trends of 2023. As an example: One free AI chatbot is changing the world of writing. In fact, it was easy enough just to turn to ChatGPT to generate this article: "Analysis: AI in Construction Equipment." In about four seconds, I had 700 words that described five general benefits of AI in construction equipment: enhanced efficiency; predictive maintenance; improved safety; autonomous operations; and data-driven decision making. Makes you wonder who wrote the rest of this article.
First off, AI, what is it? We're talking about computers and data. It's a field combing computer science with robust data sets to perform problem-solving applications. AI takes many forms in our everyday life already — it feels like mostly via our phone — facial recognition software, navigation apps, bank fraud alerts, social media recommendations and onward. AI also already takes many forms on a construction site and in construction equipment. Telematics is a great example, a term that describes the digital monitoring of construction machines (health, location, production levels). Telematics can include predictive maintenance services, which is the gathering and analysis of machine data using intelligent algorithms to determine the best maintenance interactions to keep a fleet running efficiently, minimizing the cost of part replacements, repairs and downtime. Now, enjoy this photo of telematics.

Safety is a paramount concern on construction projects, and AI-equipped equipment can identify potential hazards and avoid them. Object detection and avoidance systems on many categories of machines today use cameras, LiDAR, GPS, GNSS and other technologies to identify obstacles and jobsite parameters, reporting them to the operator or automatically adjusting a machine to stay safe and productive. Of course, the big AI sector that everyone envisions is autonomous construction equipment — machines that just work by themselves — and that's a thing too. Manufacturers are on their way to developing autonomous robot earthmovers that can do jobs with minimal input from real people.
Lots of big names are dipping their toes in autonomy. Komatsu and Toyota Motor Corp. just announced a joint project to develop an "autonomous light vehicle" or ALV that will run on Komatsu's Autonomous Haulage System. Komatsu has been working in autonomy since the 1990s, and its current FrontRunner Autonomous Haulage System (AHS) combines Komatsu electric drive mining trucks with the power of autonomous haulage tech. Mining is great for autonomy because of the nature of the job and jobsite — repetitive tasks performed in a closed environment, which doesn't change very much from day to day — but autonomy is going beyond mining.
Back in 2020, Hitachi Construction Machinery announced its Zcore platform, which facilitates the development of autonomous construction equipment. Zcore consists of an information processing platform, which collects data from various sensors and communication networks, and a machine control platform, which controls the hydraulic and powertrain components on the actual machines. There are currently some prototype Zcore autonomous hydraulic excavators and a vibratory roller prototype out on the market, and Hitachi has begun demonstration tests in Australia for autonomous mining trucks, but what about smaller off-highway construction equipment?
Bobcat's RogueX is a compact prototype machine that caught my attention for its use of automation, batteries and its potential for higher forms of AI. Unveiled at CONEXPO-CON/AGG in March, RogueX resembles a robotic tool carrier the size of a big walk-behind/stand-on category machine. RogueX has no operator station, and it's designed to work via remote control and eventually via autonomy or at least semi-autonomy. It's also all-electric featuring a lithium-ion battery pack, electric drive system and no hydraulics. Over the last few years, Bobcat has been partnering with technology leaders to make this happen — like Moog Construction (a New York-based designer and manufacturer of precision control systems), Ainstein (which makes intelligent radar systems in Kansas) and Viridi (an electric machine expert and creator of Green Machine products). Moog also showcased a semi-autonomous Bobcat track loader working at CONEXPO (pictured below).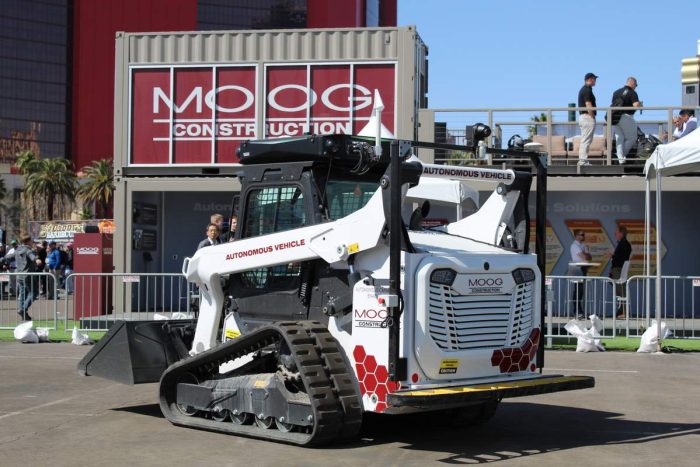 As you can read, AI has already infiltrated the construction industry in many different ways. There are even technology experts like Moog, Trimble or SafeAI that are ready to retrofit whole machines with AI powered software that allows construction and mining sites to transform existing vehicles into autonomously operating assets. Just remember: Autonomy is only one of the building blocks using AI in the construction machinery business. Telematics, machine control, obstacle avoidance and a zillion other tools might require and use artificial intelligence to get the job done.
Like all tools, there are limitations. Complex and unstructured environments like construction sites present challenges for AI algorithms. Factors like unpredictable weather conditions and variable terrains can impact the effectiveness and reliability of AI-enabled equipment, but the building blocks are there for all types of applications, ranging from simple traffic navigation to fully autonomous construction fleets.
Keith Gribbins is publisher of Compact Equipment.
We'd love to keep in touch! Check us out on Facebook, Twitter and LinkedIn!