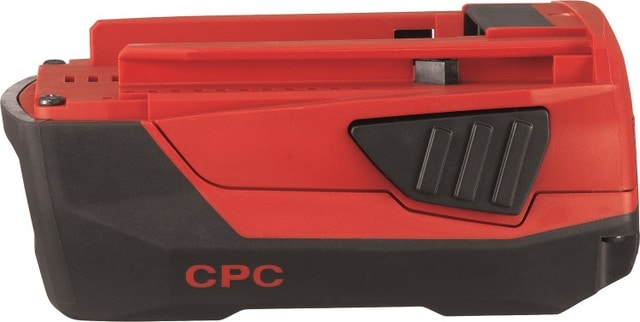 The new Hilti advanced compact battery B22/3.0 packs powerful performance with a dramatic reduction in weight. Comparable in application performance to an industrial class battery, the B22/3.0 offers superior tool usability and reduced worker fatigue in a broad range of applications. Weighing only 1.3 pounds, the B22/3.0 is the only compact battery that can be used with every 22-volt Hilti cordless tool.
Featuring the latest in CPC Li-Ion battery technology, the B22/3.0 provides higher charging accuracy for longer run time and intelligently monitors each cell for improved performance. Surrounded in a rubberized, glass-fiber reinforced casing, the B22/3.0 is sealed for protection against dust, humidity and water. It's also drop resistant, even with the additional weight of the tool body, meaning it can stand up to the wear and tear of every day commercial use.
The B22/3.0 is also backed by Hilti's 20/2/1 year warranty — 20 years of repair or replacement of defective parts; 2 years no cost repair including wear and tear; and a guaranteed 1-day turn-around on repairs — so you can be sure it will be ready to go to work when you are.
For more information on Hilti, click this link. We promise meaty content.
Tags:
Batteries
,
Hilti