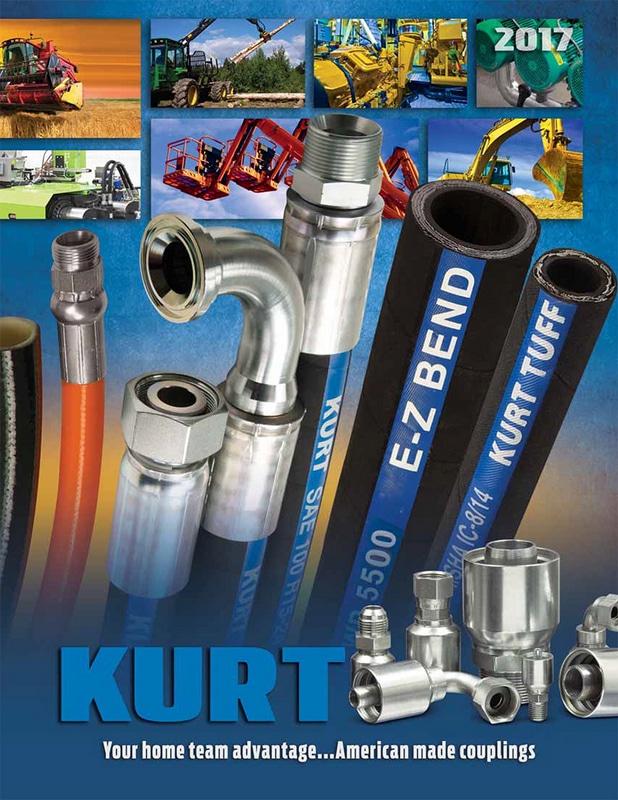 Kurt Hydraulics recently announced publication of its 180-page catalog featuring an expanded and full line of standard hose and couplings designed for a broad range of hydraulic applications. This 2017 catalog edition is indexed to make selection fast and easy. The catalog contains hundreds of coupling styles ranging from braided hose couplings and spiral hose couplings to ultra-high-pressure, non-skive couplings and Teflon couplings. The catalog also contains a full range of spiral, braided, thermoplastic and specialty hose in dozens of styles.
An Industry First — A Total Hydraulic Solution
To handle the most common pressure ranges, Kurt's new catalog highlights two hose styles and a single coupling style to simplify the design process and minimize inventory. For these common pressure ranges of 3,000 to 6,500 psi, Kurt Tuff and E-Z Bend hydraulic hose along with W-Style couplings provide "the total hydraulic solution."
The Kurt Hydraulics product catalog is complete, containing everything that a system designer might require, including accessories such as connections and crimpers.
Recommended Practices for Successful Hydraulic Hose Assemblies
Designing the "just right" hydraulic hose assembly requires good practices. With over 35 years experience designing and manufacturing hydraulic couplings and systems, Kurt provides over 12 catalog pages of helpful recommended practices for designing hydraulic hose assemblies complete with easy-to-follow drawings. Included are routing tips, SAE specifications, and I.D. hose selection information for correct flow and velocity.
Supporting this new catalog is Kurt's in-stock inventory of over 3 million feet of hose and millions of couplings in hundreds of styles to keep customers' systems up and running. Kurt reports that its couplings are "proudly made in the USA." The company also boasts of having the latest CNC machining technology for high volume, cost effective manufacturing to meet every customer's needs.
Kurt's OEM partnerships often require designing new style hydraulic connectors in special sizes and configurations. In addition, Kurt provides complete life cycle testing and routinely co-manages validation processes with area integrators and distributor partners. Kurt's close proximity both with design and manufacturing capacity provides the resources and extra edge needed to win OEM satisfaction and loyalty.
The new 2017 Kurt catalog is available FREE by calling toll free 1-866-257-7995 or 1-308-787-0127.