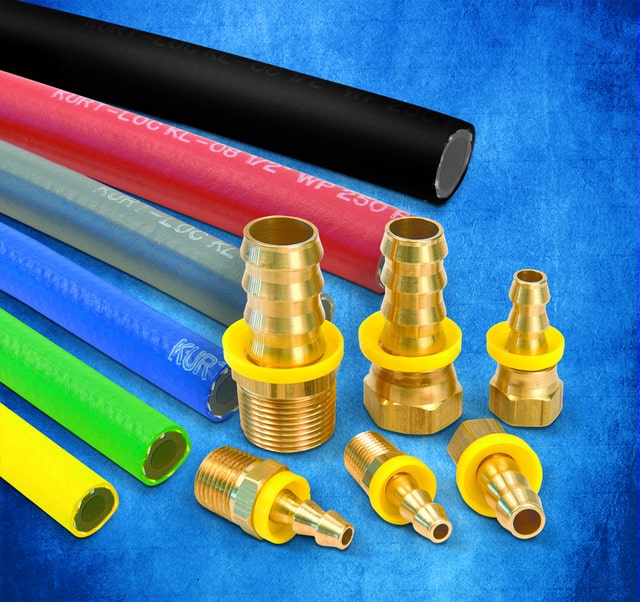 Kurt Hydraulics recently announced the introduction of its new Push-On Hose and Push-Loc Hose Couplings for low pressure applications. The product combination allows the Push-On fittings to be easily and quickly inserted into the hose for a tight fit. No special crimping tools are needed.
Kurt Hydraulic's Push-On hose has very strong coupling retention. A specially designed spiral polyester material inside the hose locks onto the fitting. The tight grip remains constant under pressure up to 250P PSI for leak-free operation. Flexible and versatile for a wide range of low pressure installations, the hose operates in temperature ranges from -20°F to +180°F (-29°C to +82°C).
Kurt Hydraulic's Push-On hose has high oil resistance. The tube material is Nitrile, RMA Class A and the hose cover is Nitrile PVC, RMA Class A. Available in a full range of sizes from ¼ ID/inches and 0.5 OD/inches to 1/2ID inches and 0.75 OD/inches. Hose colors varies by diameter size and is available in reels of 250 and 700 foot lengths.
Designed to integrate with Kurt Hydraulic hose, the Push-Loc couplings are precision machined of corrosion resistant brass. They attach to Push-On hose both in the field and in manufacturing settings without crimping or other special tools needed. Kurt Hydraulics Push-Loc hose couplings are available in 22 different types and popular sizes. These include ¼-, 3/8-, ½-, ¾-in. male pipe rigid sizes, 3/8- and ½-in. female pipe rigid sizes, ¼-, 3/8-, 5/8- and ¾-in. female SAE swivel sizes, ¼- and ½-in. male pipe swivel sizes and 3/8- and ¾-in. female JIC swivel sizes.
Applications for Kurt Hydraulic's new Push-On hose and Push-Loc couplings include paint spraying systems and similar industrial equipment and maintenance systems requiring fast, push-on hose assembly.
See this new Push-On Hose and Push-Loc Hose Couplings now at www.kurthydraulics.com
Tags:
Kurt Hydraulics
,
Push-Loc Hose Couplings
,
Push-On Hose Couplings