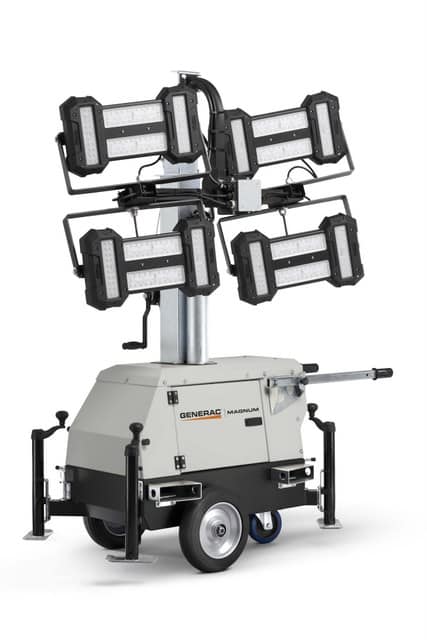 Generac Mobile Products, a leading designer and manufacturer of mobile light towers, generators, pumps and heaters, launches its first LED light towers from Generac l Magnum. While the new light towers have the same long-lasting, efficient and durable Generac LED lights, the towers differ greatly in features and benefits.
The newest member of the award-winning MLT6 family, the MLT6SMD LED light tower is a 6kW unit powered by a Tier 4 ultra-fuel-efficient ECOSpeed engine that operates in multiple speeds, allowing it to have a runtime of up to 215 hours on a single tank and a service interval of 750 hours. Its temperature management system ensures the engine maintains proper operation regardless of load, and can reliably perform in ambient temperature extremes between -20° to 120°F (-29ºto 49ºC). The MLT6SMD light tower is ideal for a variety of applications including construction, roadwork and events.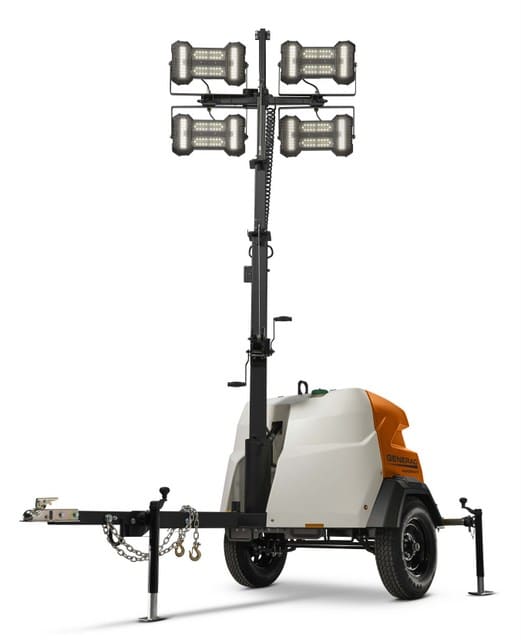 Additional MLT6SMD Features: • (4) 240W instant-on Generac LED lights with 88,000 total lumen output • Standard Power Zone controller with automatic start and stop selections and dusk-to-dawn photo sensor operation • Mast extends up to 23 ft. (7 m) • Ground-adjustable light fixtures that deploy easily and can be rotated 359 degrees for total illumination of the jobsite • Flip hood for easy engine access and maintenance • Convenience outlets offer 5kW of clean power export, safe for sensitive electronics • Telemetry options for remote monitoring and recovery assistance
The PLT240 LINKTower is a new and unique breed of light tower for Generac l Magnum. LINKTower is powered by a standard 120V outlet. Being shore-powered means the light tower can be used safely, indoors and out, with zero localized emissions. But, the most interesting feature is the linking capability. Users can link two LINKTowers together on a single 120V outlet. This enables a great deal of versatility in lighting jobsites and events. And because this light tower does not have an internal engine, it is silent; making it ideal for entertainment and other special events and jobsites in which sound is a major consideration. Additionally, LINKTower's design allows it to be maneuvered by one person, and it even fits through a standard doorway.
LINKTower Features: • (4) 240W instant-on Generac LED lights with 88,000 total lumen output • Zero localized emissions • Mast extends up to 16 ft. (4.9 m) and stows to fit through standard doorways • Retractable handles and added caster wheel for one-person maneuverability • Link up to two towers together for maximum lighting versatility
"Our international design and engineering teams have collaborated to provide what we think are the best light towers on the market," said Dave McAllister, Director of Product Management for Generac Mobile Products. "The Generac LED lights are not only bright and energy efficient, they are extremely durable. Because of the modular design, individual lights will still continue to operate even after significant damage. We are so confident about the robust nature of these lights that we put a 5-year limited parts warranty on the components, modules, drivers and cords."
For more info on Generac, click this light (er, link?). We promise meaty content.
Tags:
Generac
,
Generac Mobile Products
,
magnum