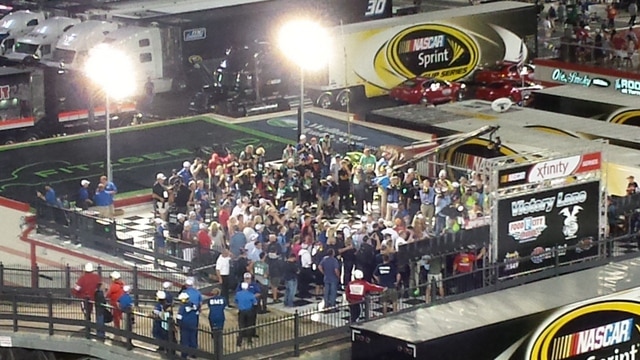 Doosan Portable Power will help light up Victory Lane when NASCAR's best drivers return to Bristol Motor Speedway April 21-23 (this weekend!) for the Food City 500 Monster Energy NASCAR Cup Series event. When the checkered flag waves on race day, two Doosan light tower masts will help shine light on the winning driver and race team as they celebrate victory.
Doosan light tower hardware is permanently installed along the infield platform known as Victory Lane. The installation was part of a collaborative effort between Bristol Motor Speedway and Doosan Portable Power. The Speedway contacted Doosan about their desire to replace a previous lighting system that presented logistical and visibility issues, including uneven light distribution, interference with sight lines around the track and cumbersome storage.
The Speedway was interested in a lighting option that would provide even illumination on the winning driver and team from one direction so media representatives can take pictures during the post-race celebration. Doosan met the challenge, while also offering unique design elements that provide additional aesthetic and operational advantages.
"Bristol Motor Speedway was impressed with the sleek, symmetrical design of the mast, the ease of raising and lowering the mast, as well as how secure the boom is in the upright, fixed position," said Deree Bivins, product manager, lighting systems and light compaction, Doosan Portable Power. The ease of deployment means the structure can be lowered during the race to avoid blocking sight lines to the track and raised at the completion of the race as the victory celebration begins.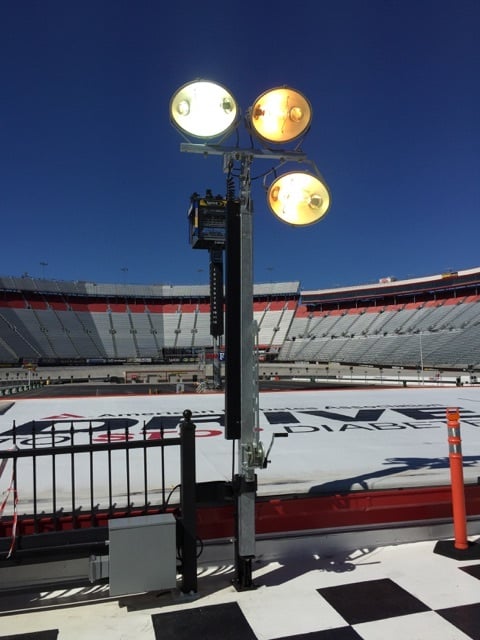 Doosan light tower products don't just shine once the top driver takes the checkered flag. The North Carolina-based equipment manufacturer also supplies more than three dozen portable light towers during race weekends at Bristol Motor Speedway and Charlotte Motor Speedway. The fleet of light towers improve safety by providing necessary lighting for parking lots, campgrounds, sidewalks, entrances and exits, as well as other areas where installing permanent lighting isn't possible.
"Portable light towers give BMS the opportunity to deliver on our top priority of providing a fun, memorable and safe experience for our guests," said Jerry Caldwell, executive vice president and general manager at Bristol Motor Speedway.
The Food City 500 Monster Energy NASCAR Cup Series event is one of the most anticipated events of the NASCAR schedule and promises an action-packed weekend of racing at The Last Great Colosseum.
For more info on Doosan PP, shine your light on this link or just click it.
Tags:
Doosan
,
Doosan Portable Power
,
Food City 500 Monster Energy NASCAR Cup Series
,
NASCAR