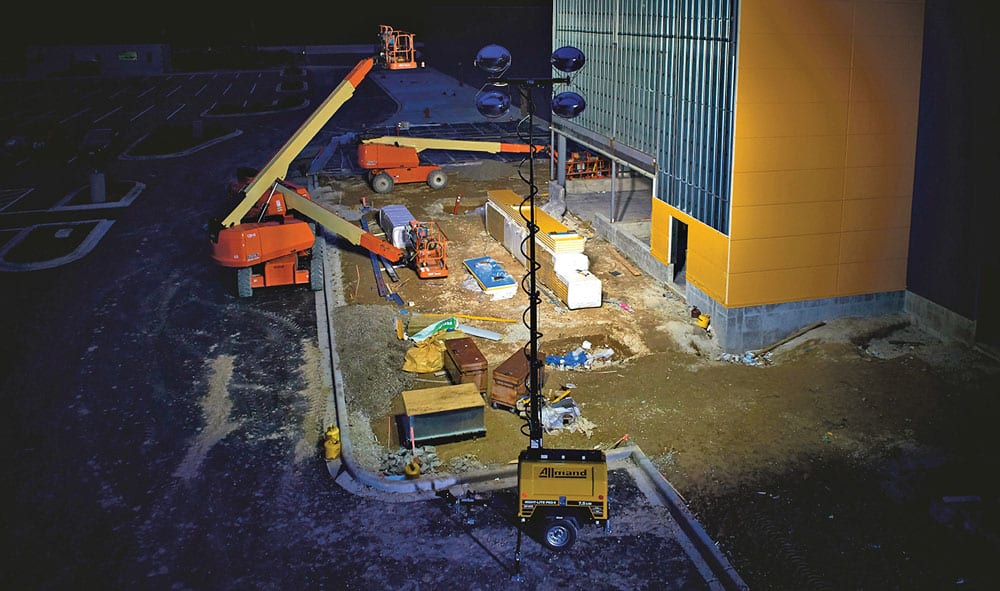 Light towers may not command the attention that large equipment does on a jobsite, but they play a big role in keeping crews productive. These sturdy machines lend a hand in illuminating construction sites, mining locales, disaster and emergency response areas and special events when a little extra light is needed for work to continue. And while light towers look fairly standard with a trailer, mast and bulbs, there are customers pushing for new technologies to make these machines more efficient, easier to service, etc. In response to that, manufacturers such as Atlas Copco, Genie, Chicago Pneumatic Power Technique, Doosan Portable Power and Allmand Bros. are working to make their products even better. Let's take a look at how.
The biggest push in the light tower market recently has been the swap from traditional metal halide bulbs to LEDs. Just like LEDs have taken over the hearts of energy-efficient minded homeowners, light tower owners are seeing the benefits and wanting more.
"LED technology is definitively changing the market," says Angel Nieto, product manager of power and light with Atlas Copco. "For the same luminosity of a metal halide lamp, we will have one third the fuel consumption, and the bulb is almost unbreakable."
In fact, five out of the five manufacturers we surveyed for this article agreed that LED technology is taking over the light tower market. Molly Frank, Genie product manager, Terex AWP, further explains its advantages.
"The decreasing price and low maintenance requirements have made LED an increasingly attractive option for light towers," she says. "LED lights boast 50,000 hours of service life and are more durable than the metal halide option, which can more easily break during transport. Also, unlike metal halide lights, which require a warm up and cool down time, LED lights have instant on/off capability. This means when users turn them on they get 100 percent brightness almost instantly, and when the light tower is turned off, the lights quickly cool for immediate transport."
Speaking of transport, vertical masts are another feature customers are gravitating toward. This configuration allows companies to easily haul even more units to a jobsite.
"Rental companies purchasing light towers have expressed a strong preference for vertical masts," says Frank. "Vertical mast design means the mast is stowed on top of the unit instead of hanging over the end, which reduces the potential that the unit will be damaged in transit. They are also easily towable behind a pickup truck equipped with a standard hitch and allow for greater rear visibility than the horizontal towers. Since vertical masts have a compact footprint, they allow for more units to be transported when hauling."
An automatic start/stop feature is also starting to take hold. This allows operators to turn on the units remotely or have them turn on and off at a particular time — a great perk for those working in the early morning hours.
"Customers are starting to show more interest toward remote auto start/stop controllers where they can set a time and not have to use a lot of manpower tending to it," says Erin Brown, product specialist at Doosan Portable Power. "These are great for people who work on receiving docks and come in at 5 a.m. or in settings that are dark and may pose a safety concern. The auto start/stop feature allows crews to get those machines turned on before they arrive, so lights are on when workers get to work. This feature is especially useful in areas that use light towers as an additional safety precaution, and they want the lights to come on and off at a certain time."
Equipment owners are always looking for ways to make their machines work smarter, so it's no surprise that telematics is gaining ground with light towers too. Joan Westwater, product manager for jobsites at Allmand Bros., says that the company is seeing a significant push for IOT-enabled (Internet of Things) equipment, which allows operators to gather and use diagnostic, location and performance data.
Brown also sees the trend and mentions that the rental sector is a large part of that demand.
"Telematics is really gaining some traction, especially with rental houses, so they know where their machines are, how they're being used and what kind of hours they have on them," she says. "With a rental contractor, there's a set number of hours that they're being billed. The rental house can monitor those billable hours and things like that. I would say telematics will be the next big thing that the market is really pushing for on a regular basis."
There's even an interest in looking beyond the traditional diesel- or gas-powered units. Nieto points out that electric light towers are gaining traction thanks to their simplicity and reduced investment.
"They are really a good alternative if there is an external power supply or even a need to work indoors," he says. "There are few solar light tower models available in the market. Customers are still cautious and are just trying these out before fully trusting this new innovation."
---
Taking the Lead with LEDs
Manufacturers Discuss Their Most Popular LED Light Towers
As the article said, LED technology is trending in the light tower market, and manufacturers are seeing an increasing interest in LED models among customers. Here, three companies point out their most popular units — all of which boast LED bulbs.
"The demand of LED light towers at Atlas Copco has surpassed metal halide," says Angel Nieto, product manager of power and light for Atlas Copco. "In this sense, our Hilight V5+ is undoubtedly our high runner. In addition to the LED benefits, it brings the lowest fuel consumption in the market: 150-hour fuel autonomy and a noise level as low as 63 dBA."
Molly Frank, Genie product manager, Terex AWP, credits the Terex RL4 LED light tower as the company's most popular unit. The light tower has a Champion gas engine coupled with an innovative 3.5- kW inverter generator. "Engineered for low fuel consumption, the unique design of the new Terex RL4 LED gas-powered light tower offers variable speed performance that matches the unit's output to the required load," she says. "It is EPA/CARB compliant and equipped with wireless start capabilities."
Chicago Pneumatic Power Technique's Eric Massinon says out of the three portable models the company offers, the CPLT V5 + reigns supreme thanks to LED lights.
"With LED light towers, the lights can be turned on and off just like in your home," he says. "The light emitting diodes are good for an estimated 10,000 hours, they are brighter than the metal halide lights and they use less power."
Tags:
Allmand Bros
,
Chicago Pneumatic
,
Doosan Portable Power
,
February 2019 Print Issue
,
Genie
,
home
,
Terex