Before 2018 really starts heating up, we wanted to make sure you, CE reader, had all of your equipment shopping research finished, so you'll be prepared with the proper knowledge to make the right machine choices come work season. To help, the Compact Equipment crew traveled to two of the biggest equipment trade shows in America — World of Concrete in Las Vegas (Jan. 23-26) and The Rental Show in New Orleans (Feb. 18-21) — to find out what hot new iron was being released from manufacturers. From "mixed reality" hard hats to a compact wheel loader with "Articulation Plus" to tons of dust suppression technology (aimed at OSHA's new silica dust rules), the products released were varied, diverse and definitely worthy of your attention.
There were plenty of double takes on the show floors, but the only triple take was probably the Toro Dingo TXL2000 — a crazy large, stand-on compact tool carrier. It's nearly the size of a skid steer, and it dwarfed everything in the Toro booth at The Rental Show. The Toro Dingo TXL2000 has telescoping boom arms that go up to about 10 ft, great for pick-and-place applications. Toro was mum on most of the specs as this unit is currently in its final stages of development and testing (available in late 2018), but the company is setting a whole new bar for bigness in the small CTC market, even as competitors like Ditch Witch and Vermeer release their largest models, which aren't nearly the size of the TXL2000.
John Deere made the most noise at World of Concrete. The company rounded out its full line of G-Series skid steers and compact track loaders with new mid-frame machines, and it launched its second annual "Small Machines. Big Impact." contest, where entrants are encouraged to share how they would make a positive difference in their communities if they were to win a new John Deere G-Series machine. But, the coolest piece of Deere equipment was definitely the new 344L compact wheel loader with Articulation Plus.
"We designed the new 344L to help operators get more done in the field faster than they have before," said Drew Miller, product marketing manager for John Deere compact wheel loaders. "The 344L is a quick, nimble machine that is optimized for handling tight turns while maintaining heavy loads, helping customers focus on the task at hand and not having to manag the machine."
The 344L offers a fast travel speed with smooth auto shift technology up to 25 mph, ideal for customers who have larger jobsites to traverse or for snow removal. The industry-exclusive Articulation Plus steering system on the 344L allows operators to lift more during turns than leading competitive machines, said Deere. Its design features an articulated frame plus rear-wheel steer, providing a tighter turning radius, improved stability and additional lift capacity. The 344L also touts better parallel lifting of attachments, increased visibility, more comfort and more uptime maintenance features.
Also from the showroom floor at World of Concrete, Kubota Tractor Corp. introduced the new KX033-4 mini excavator with an extendable dipper arm. The new KX033-4 weighs in as a 3-ton-class machine (a super popular class right now) yet boasts the reach and dig depth of a heavier weight class. It's ideal for those hard-to-reach areas. The optional extendable dipper arm can be quickly and easily extended up to 31 in. Its impressive capabilities include a digging depth of 12 ft, 2 in. and a digging reach of 18 ft, 3 in.
Digitized technology was also on display at both trade shows. Trimble announced Trimble Connect for HoloLens and a new hard hat solution for Microsoft HoloLens that improves the utility of mixed reality for practical field applications. Wait. What is that exactly? First off, Microsoft HoloLens is a high-tech pair of glasses that allow users to interact with holograms in the real world. Fitted to a hard hat, Trimble Connect for HoloLens is a mixed reality solution that improves building coordination, enabling precise alignment of holographic data on a 1:1 scale on the jobsite, so you can review building models in the context of the physical environment.
"With the rise in acceptance for mixed-reality solutions in business today, the need for 3D visualization outside the office is driving this next wave of Trimble innovation," said Aviad Almagor, director of Trimble's Mixed-Reality Program. "We are expanding the opportunities for implementation of mixed reality in a broad range of industries."
At The Rental Show, new ANSI standards for aerial lift equipment had manufacturers focused on safety and technology. Serious Labs developed a VR simulator with scissor lift leader Skyjack, and we got the opportunity to operate it on the show floor (A+ experience). The simulator will support a generic style of scissor lift — one diesel rough terrain and one electric slab — and provide the exact same feel and balance as being on the actual machine (it convinced this writer). A data-capture system records the operator's achievements and failures, which can identify weaknesses for future improvement. Serious Labs has future plans for earthmoving equipment VR simulators as well, including a skid steer.
"We saw the Serious Labs approach with their boom training simulator, and it just seemed natural that we should expand the scope to that product group," said Brad Boehler, president of Skyjack. "As with other Skyjack products, we firmly believe the adoption of new technology should not mean the end result is more complicated. In fact, although we are utilizing advanced ideas, successful adoption really depends upon it being simple and reliable."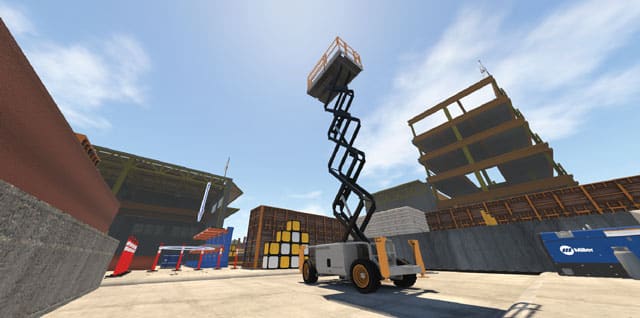 Safety standards and government regulations were also pushing new products for OSHA's final silica rule. Chicago Pneumatic Power Technique (CP) introduced an OSHA-compliant, 36-in. retrofit dust suppression kit that can be attached to any size CP tool, including handheld breakers, rivet busters and chipping hammers. Hilti released its DD-WMS 100 Water Management System, which makes quick work of dust and slurry. Water is recycled up to seven times inside the DD-WMS 100's portable tank. During coring, slurry is captured in the filter bag. Once the bag is full, simply remove the disposable filter bag. Atlas Copco's spin-off company Epiroc showcased its SB hydraulic breakers, which feature the industry's only integrated water port for dust suppression. With an integrated water channel, operators can spray water at the source of dust creation to keep dust levels down and thus comply with new silica dust rules.
Of course, there was loads more equipment released at both of these shows. Atlas Copco light towers, a new Cummins generator, JLG's 400SC crawler boom lift and a whole new line of Generac Pro outdoor power equipment. Read more highlights from World of Concrete here and The Rental Show here.
---
Gehl Pilot Series Track Loader
At both World of Concrete and The Rental Show, Gehl showed off its new line of track loaders called the Pilot Series (three new models). The new models include: the RT185 with 1,850 lbs of rated operating capacity at 35 percent of tipping load; the RT215 with 2,150 lbs of rated operating capacity at 35 percent of tipping load; and the RT255 with 2,550 lbs of rated operating capacity at 35 percent of tipping load. All three models feature pilot-operated joystick controls, which give the operator true one-to-one proportional control over the drive system. For more info, visit gehl.com.
---
ARA Forecasts Equipment Rental Industry to Grow to Nearly $60 Billion
In its latest five-year forecast, the American Rental Association (ARA) expects equipment rental industry revenue to continue to grow consistently in the United States over the next five years, resulting in total revenue of $59.6 billion in 2021. According to the ARA Rental Market Monitor five-year forecast updated in February, total rental revenue in the United States is expected to grow by 4.5 percent in 2018 to reach $51.5 billion, 5.6 percent in 2019, 5 percent in 2020 and 4.4 percent in 2021. For more info, visit ararental.org.
Tags:
home
,
John Deere
,
Kubota
,
March 2018 Print Issue
,
Serious Labs
,
Skyjack
,
The Rental Show
,
Trimble
,
World of Concrete