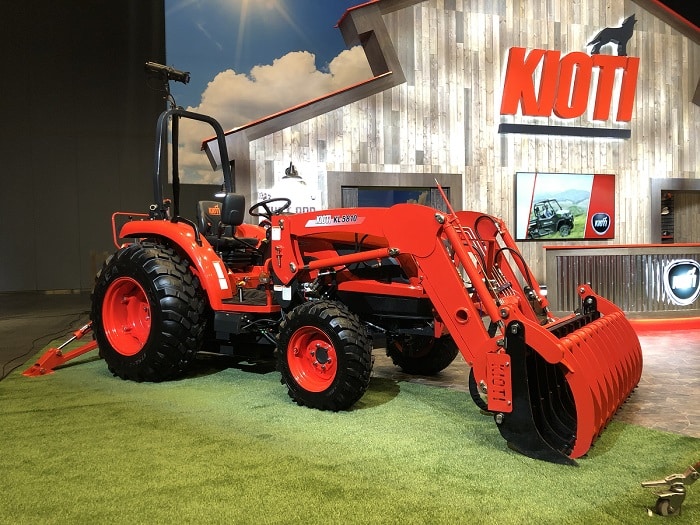 I have a confession to make: Virtual events are kinda my jam. Sure, I miss seeing new equipment and industry friends in person, but virtual events have become a great alternative during this unprecedented time. There are no delayed flights, no questionable tradeshow food and you can wear sweatpants. Not so bad. One particularly impressive virtual event I recently attended was the annual Kioti Dealer Meeting. Kioti has been hosting this event in person for about 15 years and decided the show had to go on despite a global pandemic.
"Our dealer meeting has always been important to us, so there was really no question whether we were going to do some type of event — the question became how we were going to execute it, and the result was virtually," says Greg Bibee, director of strategic sales and marketing at Kioti North America. "The virtual event offered us the lowest risk and allowed us to work with some really great partners."
The Kioti dealer network has grown to 500 dealers in North America, and the company is committed to serving them the best it can. That has involved hosting the dealer meeting annually to keep dealers apprised of what's new with Kioti as well as gather insights.
"We've built a really strong sense of camaraderie and family among our dealer network, and it's become important for us to get everybody together," says Bibee. "A lot of our dealers may never see or talk to each other all throughout the year, but then they come together and they share stories, they talk business and learn from each other."
The virtual event took place in December and was jam-packed with tons of important information for Kioti dealers, such as product introductions and walk-arounds. So, what's new with Kioti? Let's start with the addition of a cab to its popular K9 UTV. Kioti has been manufacturing UTVs since 2011 with the introduction of the Mechron. The company has seen a recent increase in UTV sales with the introduction of its K9 line in 2018.
"The Mechron was positioned to be a workhorse. It's not the fastest or quietest, but it'll do some work. It's a great option for customers who want a basic, entry-level utility vehicle," says Bibee. "What we wanted to do with the K9 was overcome some challenges we heard about the Mechron. The K9 is designed to be faster with more horsepower. It's quieter and more refined with better ergonomics — it's a more modern take on a work UTV. The Mechron has been successful over the years, and when we introduced the K9, we saw our UTV sales uptick a little bit. Over the last couple of years, we've seen the K9 start to take over and command a higher percentage of our overall UTV sales."
In hopes of continuing to add to the K9's success, Kioti announced the addition of a full factory cab. This new automotive-style cab is intended to add value to the UTV which already boasts good payload capacity, ground clearance and overall specs.
"One of the things that we heard from our dealers was that a full factory cab would be a good addition to our lineup," says Bibee. "There are not many manufacturers out there that actually have a full factory cab on a UTV. This will give our dealers the opportunity to offer a broader line of products to meet the needs of their customers. The cab gives the K9 four-season capability anywhere in North America with the heat and cool cab."
Tallying Up Tractor Lines
Kioti is known for its tractors … I mean, they have nine series of machines. Well, make that 10 when its new NS line hits dealer lots. The NS Series will feature price-conscious, 45- to 58-hp tractors and fit right in with existing tractors in the Kioti family — particularly the NX Series.
"This new series will be positioned well with our current NX Series as a less expensive option," says Tim Philips, Kioti's national sales manager. "The NX Series is equipped with a lot of bells and whistles and electronic controls that allow the operator to apply the machine to various jobs in different conditions. The new NS Series has the same physical size and capabilities, but it doesn't have all of the electronics and other features which will reduce the cost. For someone who is maybe doing something like bush hogging or ground engaging work that doesn't need those capabilities you would find with the NX, the NS Series is an opportunity to get the same basic functionality but also save a little bit of money."
According to the company, all of the new models will feature high-capacity hydraulics and power steering, with the option for a synchro shuttle or HST transmission. NS Series tractors will also feature both an adjustable three-point hitch and an independent PTO with auto and manual selections.
Big News in Small Equipment
The biggest news to come out of the dealer meeting for us at Compact Equipment was the announcement of Kioti's entrance into the skid steer and compact track loader market. Yep, you read that right. Kioti says it will introduce a skid steer and compact track loader to its dealers in 2021, with production likely to start in 2022.
"Looking at the market, our customers and our dealers, we wanted to better serve them with a more complete line of products from Kioti," says Bibee. "Our dealers have requested these types of products from us for a number of years now to help expand their business and enable them to serve a broader group of customers. It's a natural progression into some of these construction type machines."
While info on the new machines is a bit limited right now, what we do know is that they are being designed, developed and engineered totally in-house — making them complete Daedong-Kioti products.
"We're going to be the newest kid on the block once we introduce the machines, so we're approaching this line with what makes the most sense and what's the most effective for us and our dealers," says Joel Hicks, Kioti product development manager. "That's why we chose to go with vertical lift, as well as releasing both a skid steer and a tracked machine because that seems to be the trend where the market is going. Ten or 15 years ago, skid steers were the market dominator. However, we've seen the skid steer market start to dwindle and tracked machines start to take over."
Have questions about protecting your crew during the current pandemic? Check out our COVID-19 microsite for more resources from cleaning equipment to wearing the proper PPE.
When the new machines enter the market, they will be met by hefty competition from the likes of Bobcat, John Deere, Caterpillar and more. Luckily, Kioti is up for the challenge and excited to be offering this new line to its dealers and customers.
"At Kioti, we always try to focus on ergonomics and how the machine relates to the customer — whether you're a veteran operator or new to the crew," says Hicks. "Our goal is to make the machines seamless for the operators thanks to ISO controls, ergonomics in the customer interface and easy serviceability."
"We experienced a similar situation when we entered the zero-turn market a couple years ago — there are dozens of competitors," adds Bibee. "For us, we're taking our design, engineering and manufacturing capabilities and applying those plus top-shelf components to our new construction equipment line. I think our customers will find intuitive, easy-to-use machines that are reliable and a great value."
While the virtual dealer meeting was informative and full of exciting product developments, there are a lot of fingers being crossed for the return of an in-person event in 2021.
"Like I said, it's an event that we really like to have and our dealers look forward to it," says Bibee. "We received so much positive feedback from the dealers and they loved what we did with the virtual meeting, but they can't wait to get back to a live event."
Pam Kleineke is managing editor of Compact Equipment. Tags: home, Kioti