No one quite pulls together a press event like Caterpillar. They are big. You're boarding a bus at 7:30 a.m. for all-day discussions with product managers and customers, and your day ends operating equipment after sunset. This past November, the iconic earthmoving machinery brand held its annual fall press event for two full days in Peoria, Ill., and journalists from all types of industries (ag to construction) interviewed product managers, listened to panel discussions with contractors, operated iron and then reviewed it all with a few beers at dinner each night. But this event also held an impressive record even for a Cat event: It was the biggest media days ever with the release of 24 different models (that doesn't even include other tech and service products like the new Cat App).
The event was especially huge for the compact category. The big headline was Caterpillar's brand-new Next Generation mini excavators, which all come with maybe the nicest features in the industry — like a big LCD monitor, Stick Steer (explained below), automatic two-speed travel, AC on a micro machine and loads more. Four years in the making, these Next Gen models were codesigned by dealers and customers.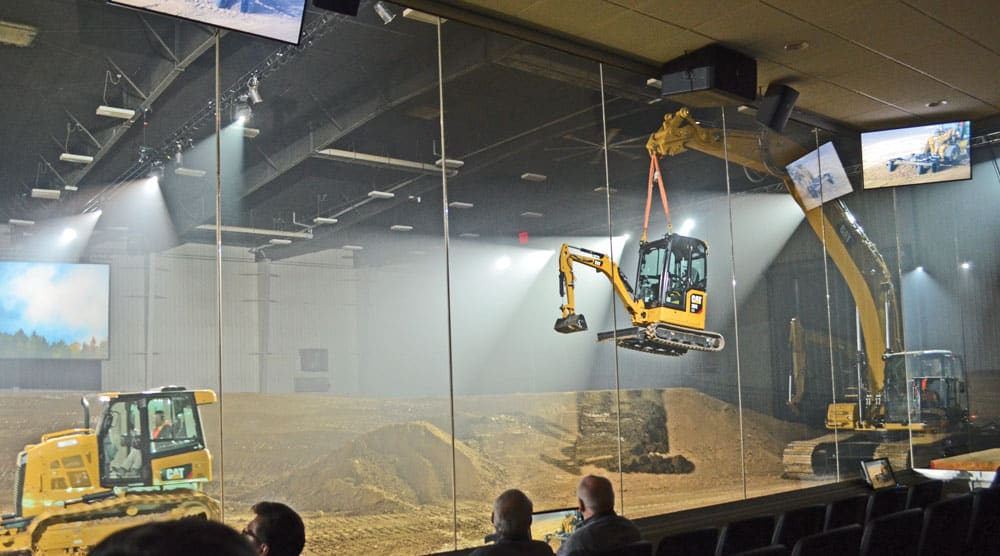 "What if we could develop, design and build a machine that our customers want?" asked Greg Worley, senior product engineer at Caterpillar, during a classroom session. "AC on a micro machine. Machines that are easy to maintain, look after and that are affordable. Machines that are strong, do the work that customers expect. What if we bring things like Stick Steer and cruise control — never seen before features to the industry? What about putting a monitor on a 1-ton machine that is exactly the same as the monitor on the 10-ton machine? Well, that is what the Next Generation mini hydraulic excavators are. They have been inspired by our customers."
While the Next Gen mini exs were the highlight, there was a metric tonne of cool equipment launched at the event. The heavy stuff ranged from ag-focused wheel loaders like the M Series 906M, 907M and 908M to a complete revamp of Cat's famed D6 dozer, which debuted the world's first high drive electric drive powertrain. On the small side, the company announced the aforementioned Next Generation mini excavators, the ultra-small 903D compact wheel loader and the CUV85 and CUV105 D five-seat utility vehicles. We discussed all of these models with Cat product managers and customers and then took the opportunity to get behind wheels and sticks in the indoor arenas at the Edwards Demonstration and Learning Center just outside of Peoria.
Premium Diggers
The 10 new Cat Next Generation excavators set a new standard for premium features on small excavators. The Next Generation covers two ranges — 1- to 2-ton and 7- to 10-ton variants. On the micro side, there's the 301.5, 301.7 CR, 301.8 and 302 CR. Dig depths are 7 ft, 8 in. or 7 ft, 9 in., depending on the model, and an available long stick increases depth to 8 ft, 4 in. or 8 ft, 5 in. Rubber track undercarriages are standard, with steel tracks available for all models. The expandable undercarriages (standard for all models) narrow to allow the new machines to enter worksites through restricted access points, then extend to provide a stable work platform. Undercarriages for all models, except the 302 CR, retract from 51.2 to 39 in.; the 302 CR retracts from 55.1 to 42.9 in.
"There is nowhere that these first four model machines cannot get to and work in," said Worley. "You see them in vineyards, you see them in the dog park and you see them at 10,000 ft in Colorado. All these models use the same pin size, which becomes very important as you use different sizes of these models, which swap around thumbs, hammers, couplers and buckets. There's also four industry first features, which allow 15 percent reduction in ownership cost and 20 percent more performance over the models that we have today."
Those four industry-first features include:
Stick Steer: An exclusive feature that allows the operator to switch (with the touch of a button) from conventional lever/foot-pedal steering controls to left-hand joystick control.
Cruise control: Travel from one side of the jobsite to the other with a cruise control of 2.2 mph.
LCD monitor: The same monitor is on the 1-ton as on the 8-ton unit. This LCD monitor provides easy-to-read machine information and features a jog dial for ergonomic interaction. Radio is standard with cabs, as is Bluetooth capability.
Flip-up cab with AC: Cat is noting that it's the first manufacturer to put air conditioning on all mini excavators down to 1.8 tons. The cab, optional on the 301.8 and 302 CR, is pressurized and sealed to reduce dust intrusion. The cab or canopy also tilts up for great access to maintenance points and parts.
All of these features also come standard on the six new models in the 7- to 10-ton category. That new lineup includes the: 307.5, 308 CR, 308 CR VAB, 309 CR, 309 CR VAB and the 310. These bigger new models have standard dig depths from 13 ft, 5 in. to 17 ft. Three models — 307.5, 308 CR and 309 CR — are available with a long-stick option that increases dig depth by approximately 22 in.
"Once again, we have those industry-leading features for the 7- to 10-ton machines," said Worley. "They have Stick Steer, just like the smaller ones, and cruise control like the smaller ones. They also have the LCD monitor, but now you get the camera option as well when you get to the larger machines. Then we have high float on that 309. We're the first manufacturer to bring high float to the market."
Super Small Wheel Loader
While Cat launched a number of new wheel loaders, its new Cat 903D compact wheel loader caught our attention because of its super small size and 25 percent increase in both lifting capacity and travel speed compared to the previous model. The Cat 903D has a 9,400-lb operating weight and an overall length with bucket of 15 ft, 9 in. Boom arms are available in both standard and high-lift configurations, with the latter increasing hinge-pin height from 10 ft, 1 in. to 10 ft, 7 in. Standard features include boom-float and return-to-dig functions. New optional features, such as creep control, throttle lock and work tool electrical harness, are focused on running attachments.
"The reason I love this little 903 is it is a simple, easy-to-use, intuitive machine," explained Joel Grimes, Cat small wheel loader product specialist. "Let's be honest. A lot of times the operators that might jump in this type of equipment, it may be the first piece of equipment that they've owned and operated. It's a go pedal, a stop pedal and this moves the linkage. It's basic in nature, and that allows us to push this unit into landscaping, agriculture, fertilizer co-ops, snow removal and onward."
Two-Row UTVs and More
At last year's fall press event, Caterpillar announced the introduction of its first-ever Cat utility vehicles — the gasoline-powered Cat CUV82 and diesel-powered CUV102 D. To expand that offering, Cat is now selling the gasoline-powered Cat CUV85 and diesel-powered CUV105 D, both featuring a spacious second row to accommodate five people.
Other announcements at the press event included the all new Cat 440 and 450 center pivot backhoe models, boasting better lifting performance and nicer cabs. Caterpillar also talked plenty of tech and telematics. It launched a new Cat App (see page 10), which delivers simplified, streamlined data directly to mobile devices. It also introduced a new suite of Cat Connect technology that offers remote equipment diagnostics. New Cat Remote Services include two key offerings — Remote Troubleshoot and Remote Flash — that leverage telematics data to allow Cat dealers to remotely keep customers' equipment operating.
There was just so much released at this event, we can't cover it in four pages, so be sure to visit cat.com for more info.
---
Detailing the New Cat App
The new Cat App is a mobile equipment management tool, giving customers an easy way to monitor their entire fleet, request parts and service and connect with their Cat dealer from the worksite. The exact location of all equipment tracked by the app is displayed on the mobile device, along with the machine's operating hours, health and utilization data. It enables operators to get the most from their equipment by moving an under-utilized asset to precisely where it is needed most. Customizable push notifications alert Cat App users of machine operating conditions, even if they don't check into the app every day.
Check out even more about Cat here.
Tags:
Cat
,
Caterpillar
,
Editor at Large
,
January 2019 Print Issue