We'll Be Connecting with Manufacturers and Utility Professionals at this Great Trade Event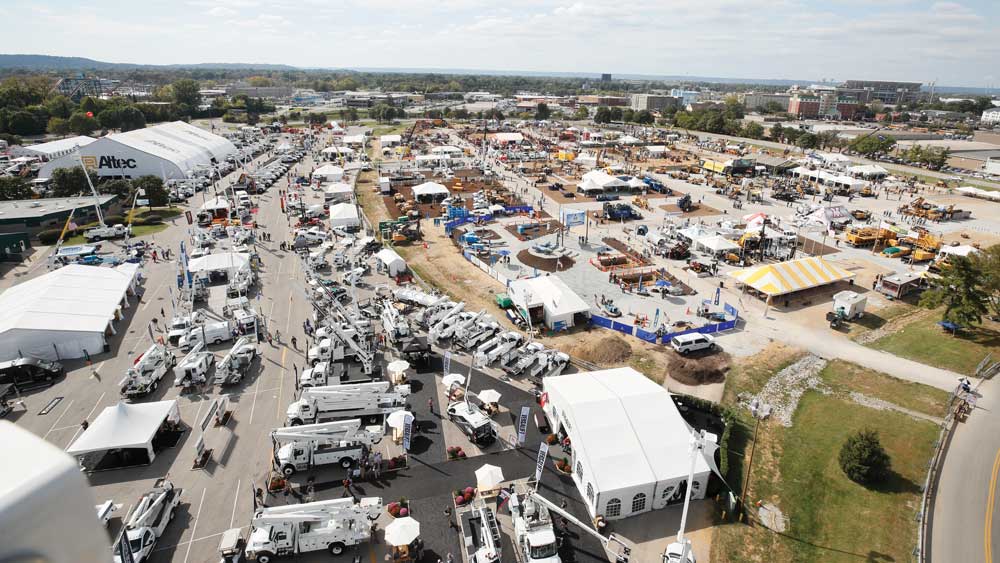 The International Construction and Utility Equipment Exposition (ICUEE), also known as the Demo Expo, will take place this week October 1-3 in Louisville at the Kentucky Exposition Center. Benjamin Media, Compact Equipment and about 18,000 utility and construction professionals will be attending ICUEE, as it's the utility industry's largest trade show, covering 28 plus acres of indoor and outdoor exhibits and only happening every two years.
This year it's bigger. ICUEE is expanding to nearly 1.3 million net sq ft of exhibit space and welcoming an exciting lineup of top manufacturers and service providers, including Bobcat, Caterpillar, Ditch Witch, Alltech, Terex, Kubota, Toro and many more. New registration options make it easier than ever to attend and take advantage of ICUEE's exhibits of the latest utility and construction product innovations.
Of course, attendees will have tons of opportunities to inspect and actually operate equipment. Complementary educational sessions will range from new disaster-readiness simulation labs to new eat-and-learn workshops to new "walking" classrooms on the show floor, which sounds especially cool.
What else is cool and new? There's the show's mobile app, which will sync to your show planner and include show maps and real-time notifications. Watch for the new outdoor Food Court Patio in addition to the traditional indoor and outdoor food/beverage options. Then there's an awesome special concert downtown at Fourth Street Live! Wednesday evening, Oct. 2, for all ICUEE attendees. There's so much more. For additional show information, visit icuee.com.
Case N Series Backhoes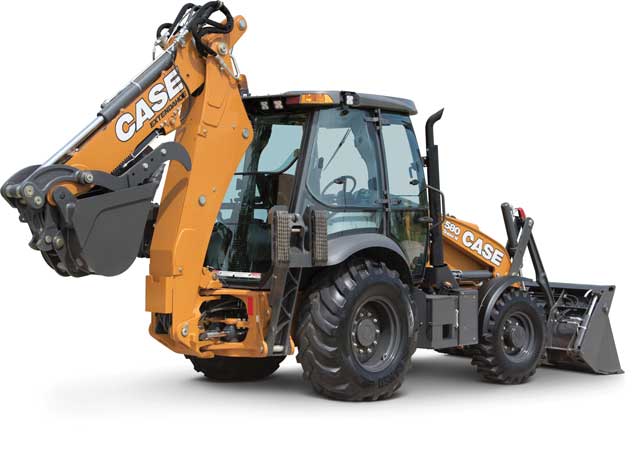 Case is featuring updates to its N Series backhoe loaders at ICUEE 2019, including new industry-exclusive PowerBoost functionality, a new PowerDrive transmission upgrade with direct drive and a factory-installed thumb that makes backhoe operation even more versatile. New Case N Series backhoes also feature updates to loader controls, including a new declutch trigger, new roller/rocker switch for better attachment control and an all-new F-N-R thumb switch for simplified operation. PowerBoost is on the left-hand backhoe joystick, providing the operator with a boost of increased hydraulic power without decreasing engine rpm. This feature is ideal for digging through tough conditions. For more info, visit casece.com or ICUEE booth K277.
John Deere 332G Skid Steer Loader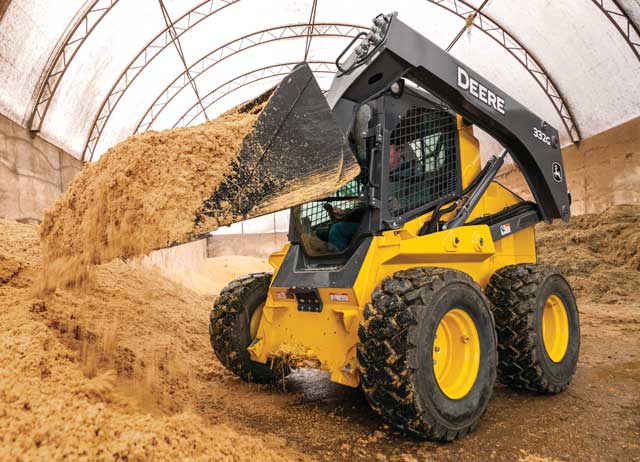 The 100-hp 332G skid steer loader from John Deere offers superior productivity, visibility and simplified service. The large-frame 332G is powered by a smooth-running, turbocharged Tier 4 Final engine. This skid steer loader meets rigid emissions standards while offering plenty of power for any task. Automation technologies such as EH Boom Performance and EH Joystick Performance are integrated into this machine to increase productivity for the operator. The refined vertical-lift loader boom design rises higher, reaches farther and lifts more for easier loading. The unique boom design keeps loads close to the machine and provides stability. For more info, visit deere.com or ICUEE outdoor booth K245.
Kubota SVL65-2 Track Loader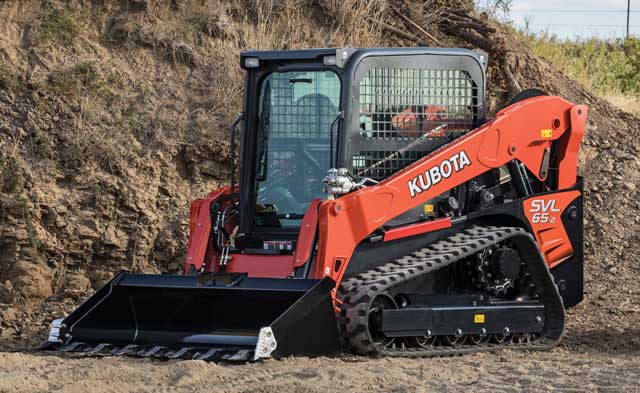 Come visit Kubota's outdoor space to ride and drive equipment at ICUEE. Included in Kubota's product demos is the SVL65-2, its new addition to its popular compact track loader line. The new compact track loader is positioned in a lighter ROC weight class than its predecessors and features an advanced multi-function valve, slide-up overhead front door and easy on/off self-leveling function. The new SVL65-2 features an Advanced Multifunction Valve (AMV Valve) that provides smooth operation when using simultaneous functions, such as auxiliary, boom and bucket circuits. The SVL65-2 has a rated operating capacity of 2,100 lbs (35 percent), a reach of 34.9 in. and a hinge pin height of 118.5 in. For more info, visit kubotausa.com or ICUEE outdoor booth K381.
Rayco's C120R Forestry Mulcher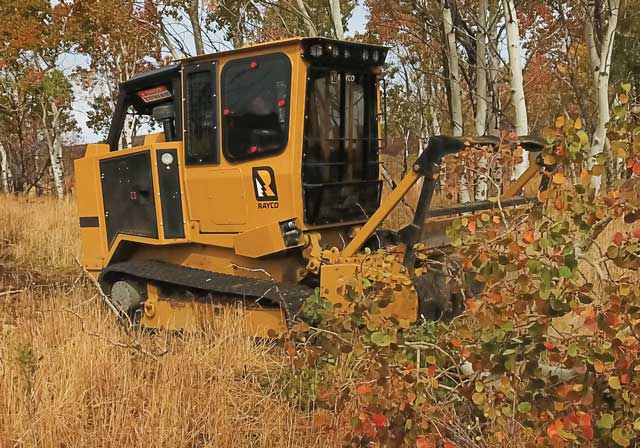 Rayco's C120R Forestry Mulcher has the power and in-woods characteristics of a dedicated forestry machine with the versatility of rubber tracks for crossing roadways and sensitive turf. It rides on 17.7-in.-wide, steel-embedded rubber tracks. It boasts a reliable and powerful 120-hp Cat diesel engine, while Rayco's exclusive Super Flow, closed-loop hydrostatic system delivers mulching power. Purpose-built for mulching, the C120R features a 12,000-lb capacity hydraulic rear winch and Rayco's exclusive elevated cooling design, which places engine radiators in both the rear of the engine compartment and in the limbriser for maximum cooling performance in the harshest climates. For more info, visit morbark.com/brand/rayco or ICUEE booth K287.
Ditch Witch Mini Skid Steers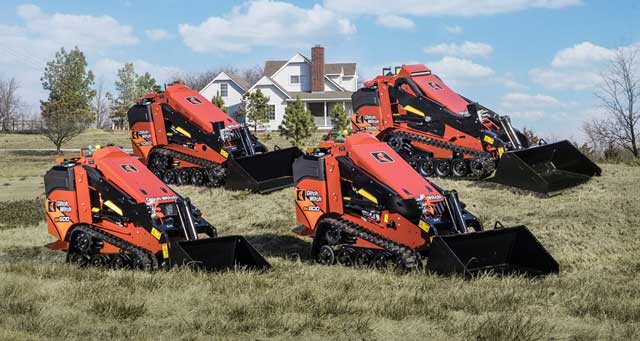 Attendees can experience and demo a variety of equipment from Ditch Witch — including a brand-new machine — adding to its family of mini skid steers. The units offer construction-grade durability and versatility to conquer a range of complex tasks. The SK600, SK800, SK1050 and SK1550 units are equipped with powerful engines ranging from 24.8 to 44 hp and offer up to 34.5 hp directed to the attachment, depending on the model. The machines deliver a smooth ride, providing operators with enhanced comfort during long hours on the job. From small- to large-scale projects, the Ditch Witch mini skid steers provide unparalleled performance and productivity. For more info, visit ditchwitch.com/mini-skid-steer or ICUEE booth K145.
Toro Dingo TXL 2000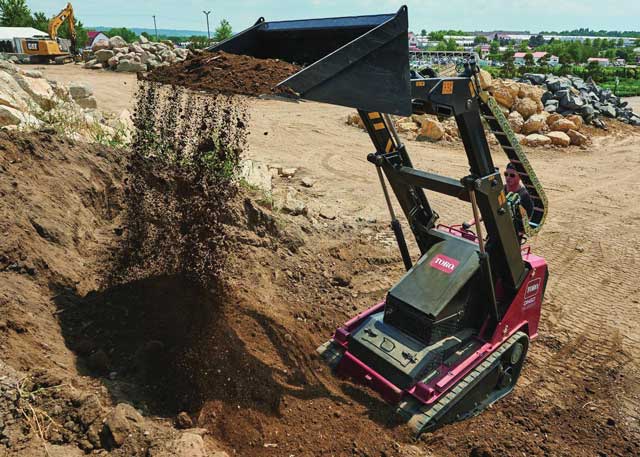 Representing a continuation of 20 years of innovation in the compact utility loader equipment category, Toro recently launched the all-new Toro Dingo TXL 2000. The latest model features telescoping arms to allow the TXL 2000 to reach over obstacles, dig below grade and generally extend the operator's working range. Thanks to the telescoping loader arm technology, operators are able to backfill behind a retaining wall and dump material into the center of a full-size dump truck or dumpster. Fully extended, the boom has a hinge pin height of just over 10 ft. In addition, the TXL 2000 is also the most powerful compact utility loader on the market today with a rated operating capacity of up to 2,000 lbs. For more info, visit toro.com or ICUEE booth K150.
Doosan Portable Power XP185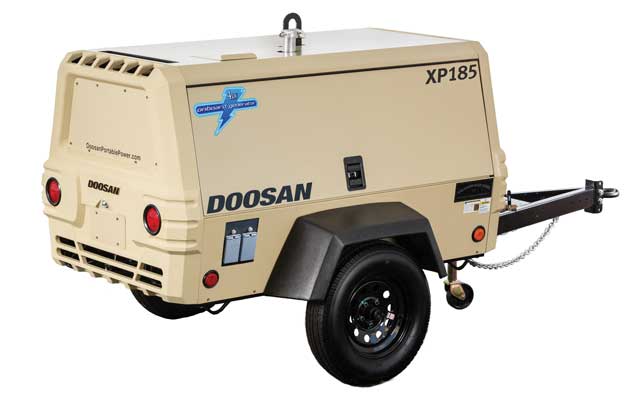 Air compressors will definitely be on display at Doosan Portable Power's booth. Two new models in the spotlight for the utility market are the P185 (first shown at World of Concrete 2019) and the brand new XP185 (a first time showing for this new model). The new XP185 is ideal for utility work. Some differentiators from the standard and also new P185, the XP185 is really a two-in-one machine with the capability of providing both air and power with the optional 4-kW generator. Key is the versatility offered with powering air and electrical tools. The XP185 is a 125-psig air compressor, offering the requested pressure along with the 185-cfm free air delivery. For more info, visit doosanportablepower.com or ICUEE booth L328.
Vermeer SPX25 Vibratory Plow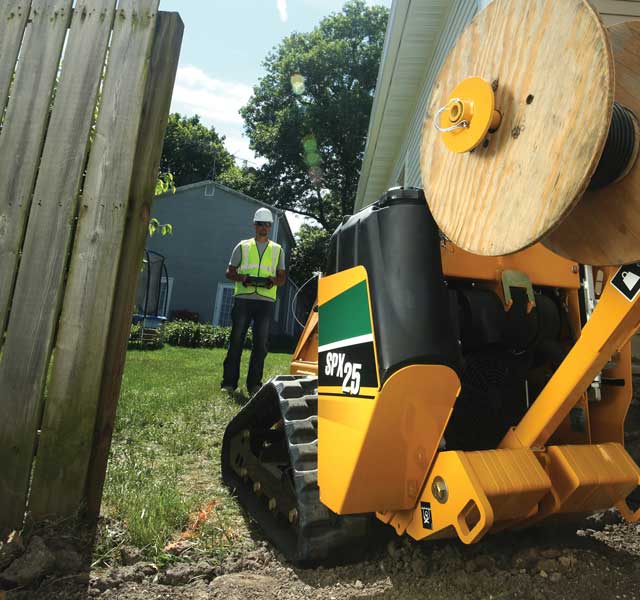 The Vermeer SPX25 vibratory plow is designed for fast and efficient irrigation system and cable/fiber installations. It features a full-function remote control that gives the operator a 360-degree view of the jobsite, helping to avoid potential obstacles with an unobstructed view of the product being installed. The SPX25 vibratory plow is compact, powerful and built with tracks to minimize ground disturbance. The Vermeer SPX25 vibratory plow is powered by a 25-hp Kohler gas engine that provides ample power for installing at depths up to 12 in. The dual rubber tracks with a ground pressure of 3.7 psi on the SPX25 plow delivers great floatation in soft ground conditions. For more info, visit vermeer.com or ICUEE booth K225.
Vacuworx Subcompact Vacuum Lifting System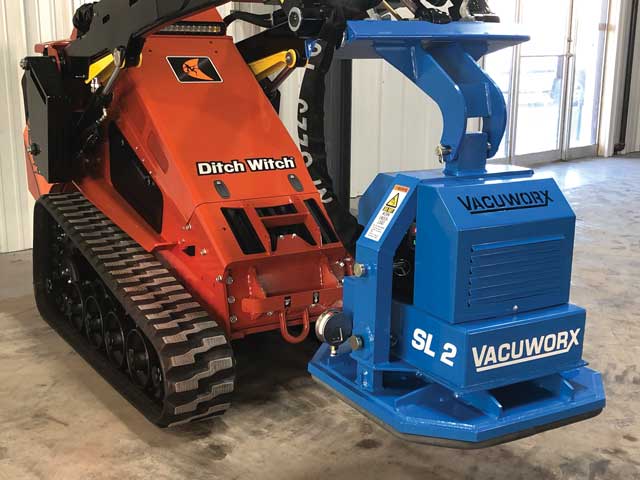 The new SL 2 Subcompact Vacuum Lifting System from Vacuworx is the ultimate attachment. The SL 2 features a base unit — available with manual or wireless remote control — with modular pad options. Featuring all-aluminum construction, the patent-pending design has a hydraulically driven vacuum pump and can be easily attached to any skid steer or compact tool carrier. The SL 2 is lightweight but delivers a lifting capacity up to 2,700 lbs. Quick-connect hydraulic hoses and universal mounting plates make switching attachments fast and easy so you can maximize productivity on the job. For more info, visit vacuworx.com or ICUEE booth K185.
Striker Hydraulic Post Pounder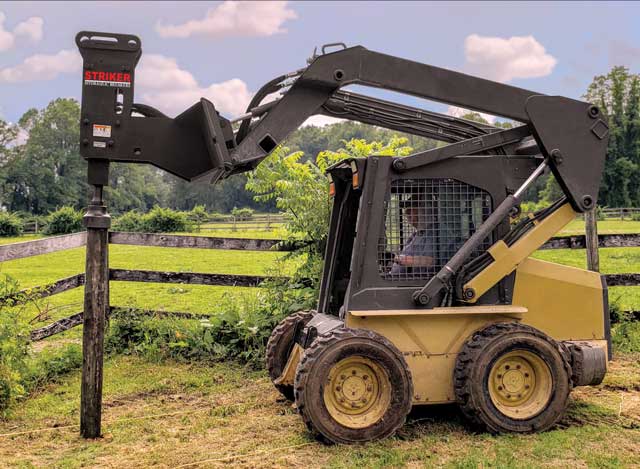 Striker Hydraulic Breakers by Toku-America Inc. are hydraulic attachments which produce industry-leading impact energy, while also increasing overall productivity. Patented, accumulator-free technology, this exclusive, built-in system removes pressure spikes and allows the breaker to have significantly less parts, downtime and better overall operation cost. Toku America is now offering a Hydraulic Post Pounder for skid steers and mini excavators. The bracket design for the skid steer unit was carefully designed to meet the proper hammering angles. Using the special post pounding tool, the TNB-4M will hammer in up to 8-in.-diameter posts. For more info, visit toku-america.com or ICUEE booth 2015.
Loftness Battle Ax Mulching Attachment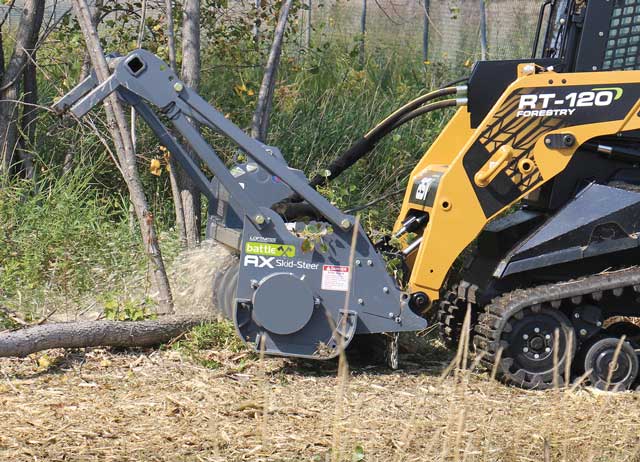 Loftness has introduced new models of its Battle Ax horizontal drum mulcher designed specifically for skid steers and track loaders. Featuring a new rotor, tooth design and two-stage cutting chamber, the heavy-duty Battle Ax is designed for highly efficient vegetation management, including right-of-way maintenance, land clearing, forestry applications and more. The Battle Ax is available with 61- and 71-in. cutting widths for loaders with 50 to 120 hydraulic hp. Its 17-in.-diameter rotor features built-in depth gauges, which function similarly to raker teeth on chain saws to prevent the attachment from engaging too much material at one time. For more info, visit loftness.com or ICUEE booth N2217.
Genie GS-1330m Scissor Lift
Responding to worldwide demand for compact maneuverability in low-level access and space and weight restricted applications, the new Genie GS-1330m scissor lift offers a maximum platform height of 12.8 ft and a maximum working height of 18.8 ft, with a two-person, 500-lb capacity and weighing in at only 1,950 lbs. Rental-ready, this new micro-sized scissor lift is well suited for construction applications in space restricted or congested locations, such as offices, high rise and retail spaces, as well as facility maintenance tasks. Visit the Genie booth to learn more and get a personal tour of the Genie GS-1330m model. For more info, visit genielift.com or ICUEE booth L316.
Thunder Creek MTT Trailers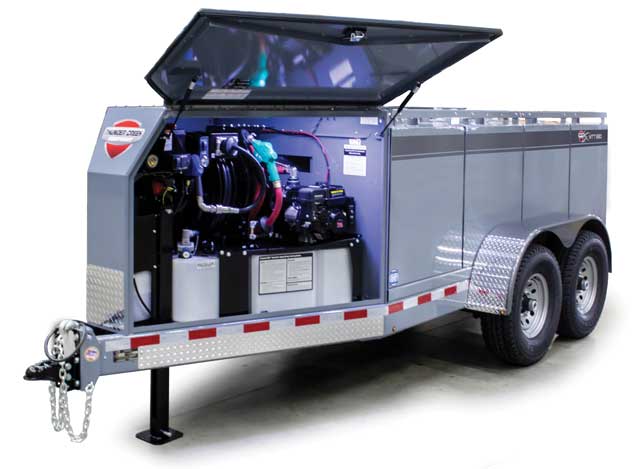 Thunder Creek Equipment has made a series of detailed improvements to its Multi-Tank Trailer (MTT) fuel and service platform that allows users to legally haul up to 920 gal of diesel without a CDL or HAZMAT endorsement (Title 49 (CFR49). The MTT updates are highlighted by a new electric manifold that automatically shuts off tank valves after fueling to ensure legal transportation and provide protection against users accidentally leaving a valve open, which could subject them to moving violations. Additionally, Thunder Creek redesigned the front-end of its MTTs to accommodate new customization options and quality improvements. For more info, visit thundercreek.com or ICUEE booth 3016.
Stellar Industries Truck Products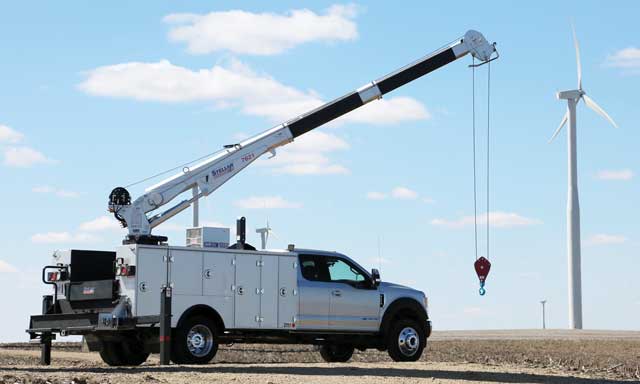 Stellar Industries Inc. is an Iowa grown company, where it has designed and manufactured its products since 1990. Through a rigorous product development program that is dedicated to providing its customers with the best tools available, Stellar Industries Inc. has become a leading choice for professionals in the utility marketplace. Products include hooklift hoists, cable hoists, container carriers, telescopic cranes, articulating cranes, tire service truck packages and work truck accessories. Stellar also offers complete mechanic service truck packages, which you can see highlighted in its booth at ICUEE. For more info, visit stellarindustries.com or ICUEE booth N1012.
Morooka MST2200VD Rubber Track Carrier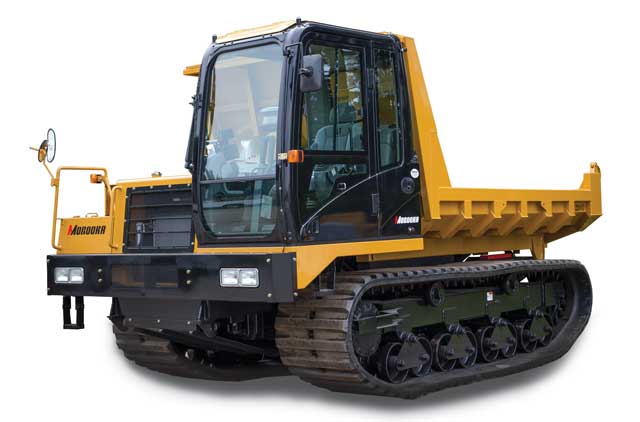 Virginia-based Morooka America marked production of its 1,000th rubber track carrier in July, and the celebration will continue at ICUEE. The MST2200VD rubber track dump truck goes into a variety of applications. It is the most popular model among its pipeline and construction industry customers with its rated operating capacity of 24,255 lbs and 6.5 psi of ground pressure. Morooka America is the only rubber track carrier manufactured in the United States and can offer full customization. Models like the MST2200VD offer high value, market-specific carriers with competitive pricing, product support, electronic control packages and Caterpillar and Kubota engines. For more info, visit morookacarriers.com or ICUEE booth N3103.
Terramac Rubber Tracked Crawlers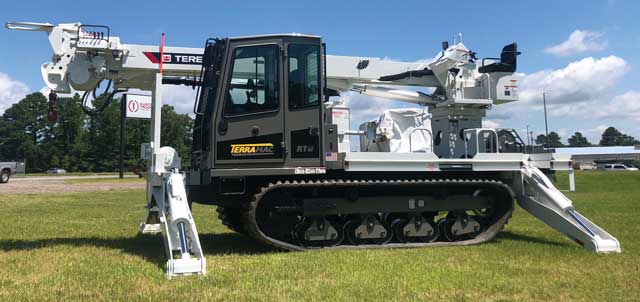 Terramac manufactures a full line of rubber tracked crawler carriers allowing electric co-op crews to work safely and efficiently to install, restore or repair powerline services in remote areas. On display at ICUEE will be the Terramac RT6U with Terex Commander 4047, which is nimble enough to access tight jobsites yet powerful enough to install powerlines on all types of ground conditions. Also on display will be the Terramac RT14U with Terex RMX, featuring a working height of 79.7 ft, improving material handling efficiency as they transition between the RMX as an aerial device or personnel lift. Carriers feature low ground pressure, making it easy for utility crews to climb steep hills. For more info, visit terramac.com or ICUEE booth N2030.
---
Dig It: Cat and Hyundai Offer Excellent Mini Ex Options at ICUEE
Cat 306 Mini Hex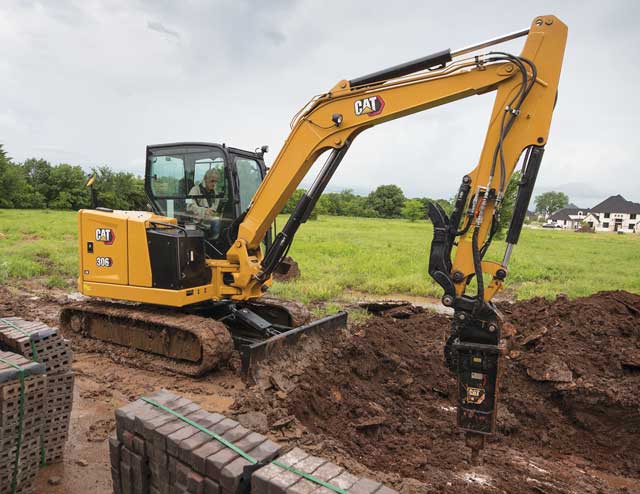 The new 306 has been designed for serious work, especially when it comes to digging and lifting applications. It features a heavy-duty main structure, fuel efficient engine, load sensing hydraulics, spacious cab and the exclusive Cat Stick Steer system, which allows the operator to switch (with the touch of a button) from conventional lever/foot-pedal steering controls to low-effort joystick control. Automatic two-speed travel is standard, as is a cruise control system that further simplifies machine travel. The overall design goal for the excavator is to ensure optimum value for the customer in terms of performance, operator experience, serviceability and affordability. For more info, visit cat.com or ICUEE booth K233.
Hyundai's Electric-Powered Compact Excavator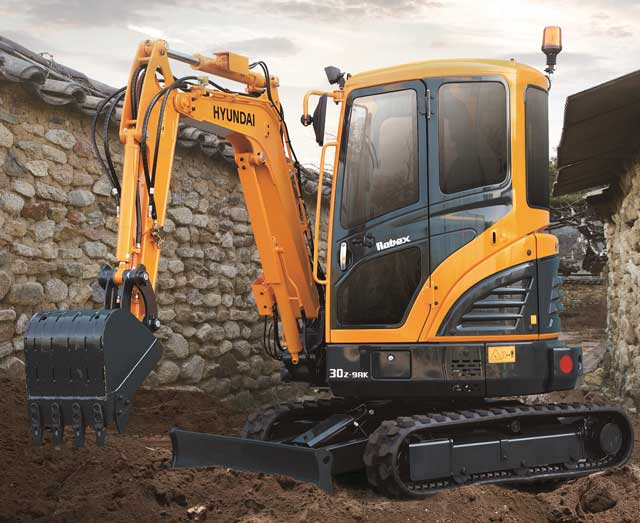 Hyundai Construction Equipment Americas will showcase its equipment solutions for the utility industry when it participates in the ICUEE show. Among seven compact excavator models on display from Hyundai will be the prototype of an electric-powered model, the Hyundai R35E, developed in collaboration with Cummins Engine Co. Hyundai also will exhibit six conventional diesel-powered models from it 9A Series of compact excavators, ranging from its smallest — the 3,750-lb, 15.8-hp R17Z-9A — to its largest — the 19,290-lb, 65-hp R80CR-9A. Three of the compact models feature zero tail swing designs and two models offer compact radius designs. For more info, visit hceamericas.com or ICUEE booth K345.
---
Race Cars with Compact Equipment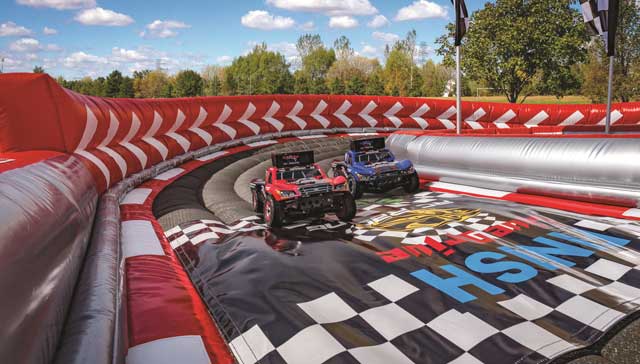 Benjamin Media — publisher of Compact Equipment, Trenchless Technology and seven other construction-related magazines — is inviting attendees to the Benjamin Media Speedway to race remote control cars and vie for prizes and champion-status at ICUEE. Located in Lobby A near registration, the Benjamin Media Speedway will conduct races all day, every day during the show. Stop by, choose your car (sponsored by notable industry brands Akkerman, Cat, Radius HDD, TuffRod and Underground Tools) and race against other ICUEE attendees. Winners of individual races win prizes, and the fastest racer each day will win a daily grand prize. For more information about Benjamin Media and its brands, visit benjaminmedia.com.
FOR MORE INFO ON ICUEE, CLICK THIS LINK. WHAT ARE YOU WAITING FOR? CLICK!