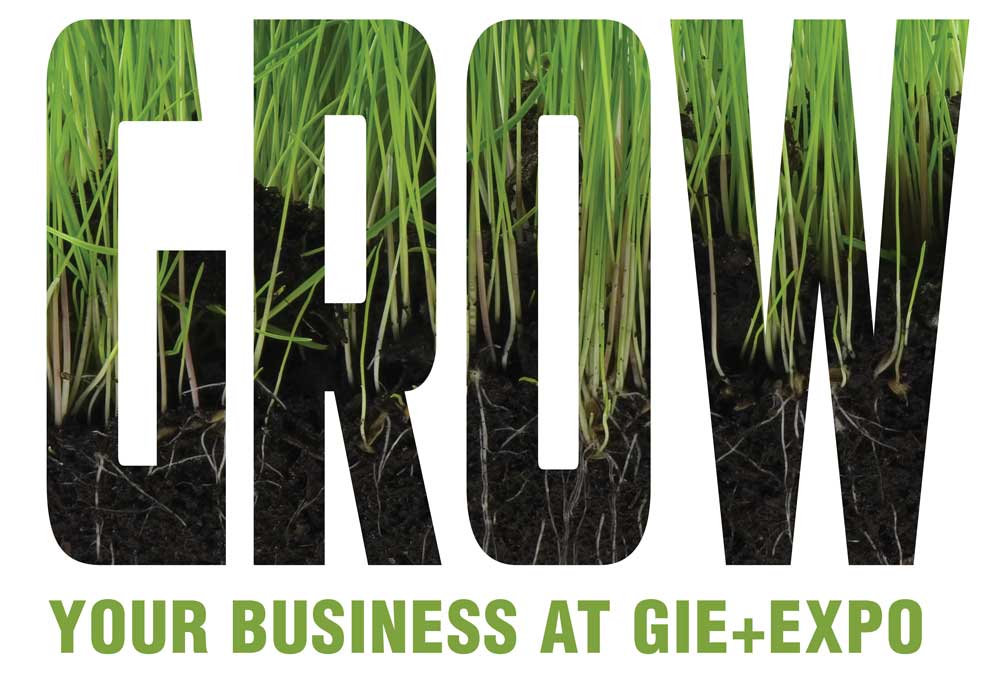 GIE+EXPO, the biggest lawn and landscape show in America, is heading back to Louisville Oct. 16-18 at the Kentucky Exposition Center. Attendees can expect three days full of educational tracks, new products and an awesome entertainment lineup.
"GIE+EXPO is the place to be for landscape professionals and dealers who want to take their company to the next level," says Kris Kiser, managing partner of GIE+EXPO and OPEI president. "Plan to land in Louisville this October for the industry's biggest show — it's the place to be if you're in the outdoor living and equipment business."
This year's GIE+EXPO, which is co-located with Hardscape North America, will feature more than 1,000 exhibits throughout 500,000 sq ft inside the Kentucky Exposition Center and in the turf area outside. The show boasts more than 20 acres of outdoor demonstrations and test driving, so attendees are able to get plenty of opportunities to explore new machines and products.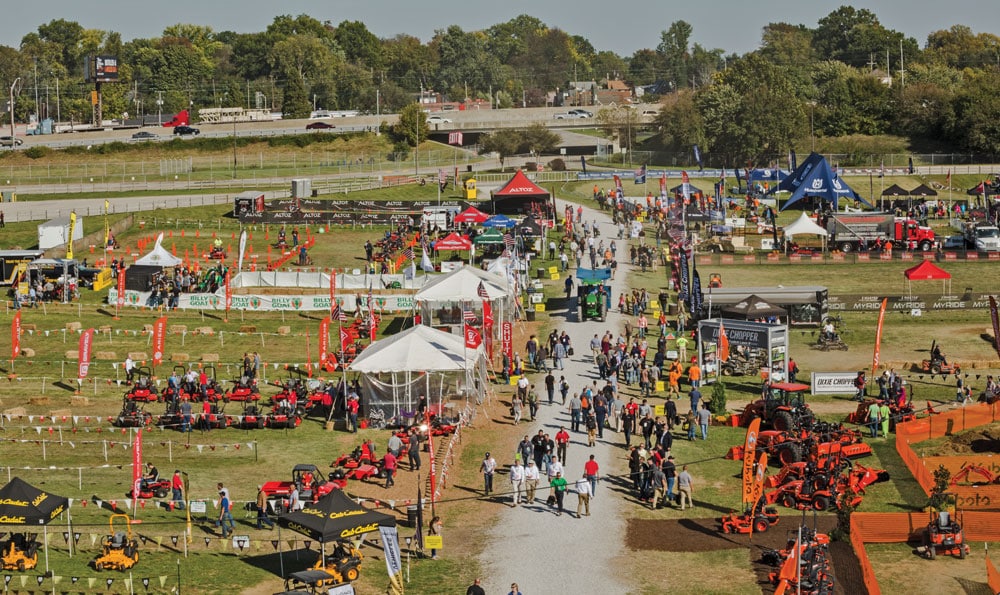 On top of the exhibits, the GIE+EXPO Workshops are back again with sessions spanning all three days of the show. Attendees can enjoy sessions covering a variety of management topics specifically for landscape contractors' businesses. Looking to diversify your operation? No problem. Hardscape North America offers professionals the opportunity to learn about expanding into the hardscape market. There will also be live Hardscape Demonstrations on both Thursday and Friday held in the new Hardscape House in the Outdoor Demonstration Area.
Not to be forgotten: GIE+EXPO boasts some of the best entertainment in trade shows. Attendees can enjoy three nights of free concerts at Fourth Street Live! in downtown Louisville: The Crashers (Oct. 15); Easton Corbin (Oct. 16); and JD Shelburne and Cassadee Pope (Oct. 17).
For a complete schedule or to register, visit gie-expo.com. We'll see you there!
Caterpillar D3 Series Loaders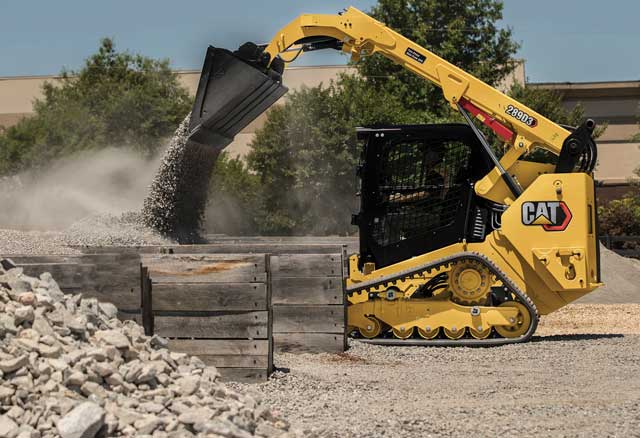 Caterpillar's new D3 Series skid steers and compact track loaders advance the company's D and D2 Series' reputation for quality, comfort and performance and deliver improvements in operator experience and track loader stability. An industry first, the D3 Series models also support a line of new Smart Attachments. This advanced machine technology recognizes certain attachments and tailors the controls and operator information to match the tool and the task. Entering and exiting the new D3 Series loaders equipped with an enclosed cab is now easier thanks to a wider opening cab door. Additionally, the distance between joystick pods has increased by 3 in., offering extra space for the operator inside the cab to deliver a more comfortable experience. For more info, visit cat.com or booth 7650D.
Ditch Witch SK3000 Mini Skid Steer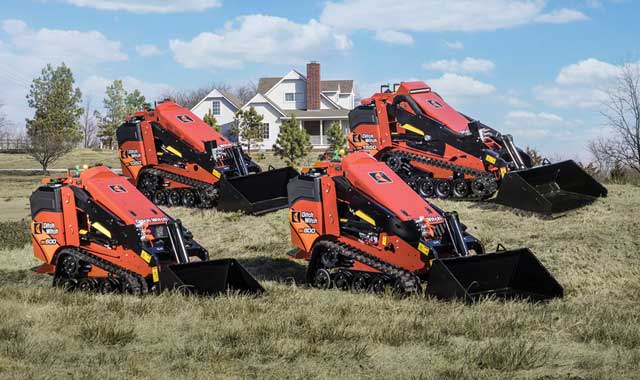 New at GIE, attendees can experience and demo the newest and largest Ditch Witch mini skid steer, the SK3000. As the largest and most powerful unit in the Ditch Witch family of mini skid steers, the SK3000 is equipped to handle a wide range of hardscape, landscape and tree-care projects typically suited for full-size skid steers and compact track loaders. At 59 hp and a lift capacity of 3,100 lbs, the SK3000 can accommodate larger loads and a higher volume of material than competitive units. Don't miss your chance to see and demo the newest machine as well as the full family of construction-grade mini skid steers in Ditch Witch's booth (1096) at GIE. For more info, visit ditchwitch.com/mini-skid-steer.
John Deere 317G and 35G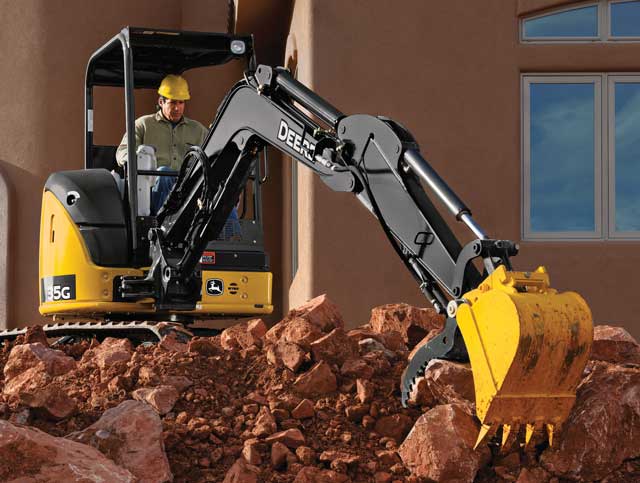 The John Deere 317G compact track loader and the 35G compact excavator will be exhibited at GIE+EXPO. The 317G has a rated operating capacity of 2,125 lbs and an operating weight of 8,195 lbs. Key features of the 317G include boom auxiliary hydraulic line routing, four tie-down points, removable cab window, improved cab pressurization to keep dirt and debris out and newly redesigned grips. The 35G has a net power of 23.3 hp, a maximum digging depth of 10 ft and an operating weight of 8,135 lbs. With its zero tail-swing design and ability to easily change from backhoe to excavator-style controls, the 35G promotes efficiency on the jobsite. For more info, visit deere.com or booth 1110.
Kubota SZ Series Stand-On Mowers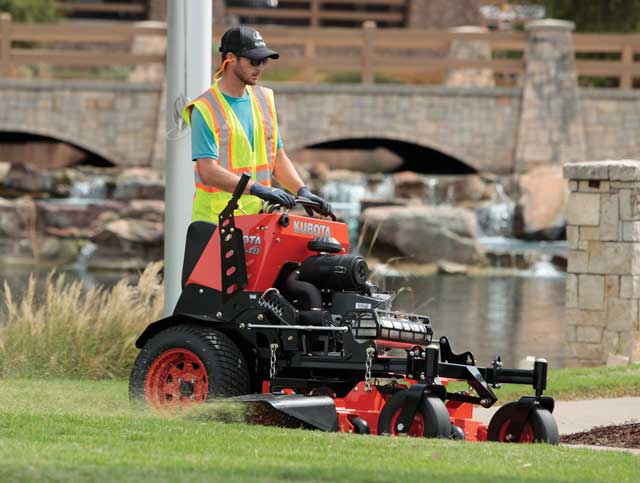 Kubota's SZ Series is comprised of three stand-on mower models including the SZ19-36, SZ22-48 and the SZ26-52. The stand-on mowers are designed for properties with narrow lawns that can't be mowed with zero turn mowers. The SZ Series is equipped with Kawasaki FX and FT Electronic Fuel Injection (EFI) commercial engines and a hydro-gear transmission. The mowers are designed with a low center of gravity for exceptional stability and fast travel speeds, up to 11 mph, depending on the model. A unique cushion pad provides maximum comfort to the operator standing on the mower, ergonomically designed to support the upper thigh area and reduce knee and lower back pressure. For more info, visit kubotausa.com or booth 5084.
Toro Dingo TXL 2000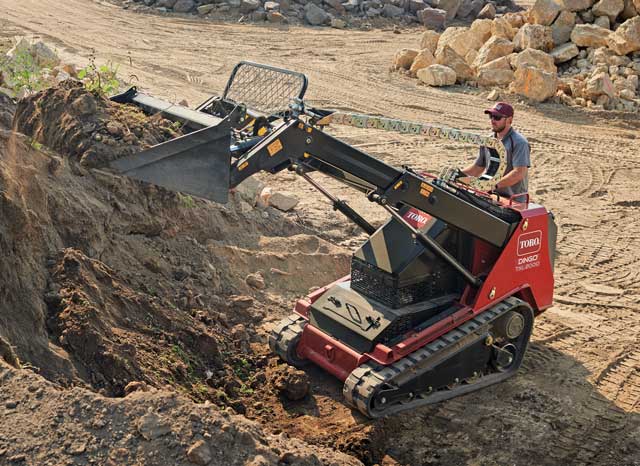 Representing a continuation of 20 years of innovation in the compact utility loader category, Toro recently launched the all-new Toro Dingo TXL 2000. The latest model features telescoping arms to allow the TXL 2000 to reach over obstacles, dig below grade and generally extend the operator's working range. This equipment solution consolidates the benefits of several machines into one to perform a variety of tasks on the jobsite. Fully extended, the boom has a hinge pin height of just over 10 ft. In addition to featuring innovative telescoping loader arms, the TXL 2000 boasts a rated operating capacity of up to 2,000 lbs, rivaling the strength of many skid steer loaders and compact track loaders. For more info, visit toro.com or booth 7148.
Kioti ZXR and ZXC Mowers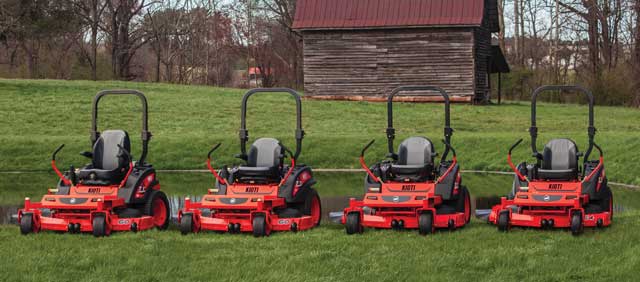 Kioti's zero-turn-radius (ZTR) mower line includes two series — the ZXR and ZXC — with a total of 12 riding mower models built for versatile mowing needs. Models range from 21- to 27-hp, feature traveling speeds of 8 to 10 mph, and include one of the following engines: Briggs & Stratton Professional Series, Briggs & Stratton Commercial Series, Kohler Confidant or Kohler Command PRO. Perfect for efficient and effective jobs, the ZTR models include adjustable, fabricated mower decks and cutting widths of 4 to 5 ft. Optimized for comfort, all models feature cushioned seats and ergonomically placed mechanisms that allow for easy and comfortable operation. Additionally, Kioti ZTR mowers boast Hydro-Gear transmissions which further provide a smooth, adaptable ride. For more info, visit kioti.com or booth 7528.
Case TV450 CTL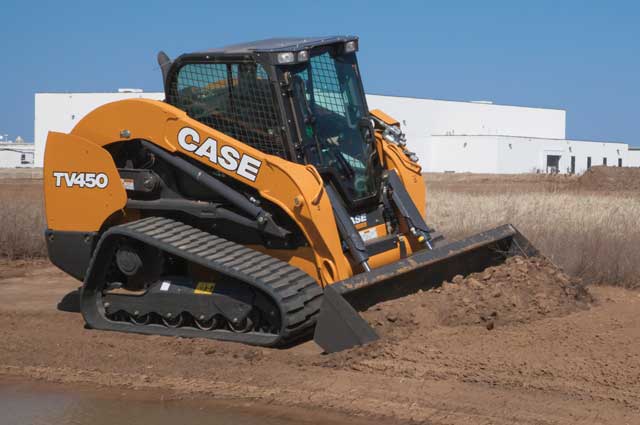 The TV450 compact track loader from Case Construction Equipment is a 10,610-lb vertical-lift machine with a rated operating capacity of 4,500 lbs at 50 percent tipping load. The newest and largest Case CTL ever built features an industry leading 9,188 lbs of breakout force and optional high-flow (3,450 psi at 39.5 gpm) and enhanced high-flow (4,000 psi at 35 gpm) hydraulics for high-power attachments. The Case TV450 is available with either standard mechanical (H Pattern) controls or optional electro-hydraulic controls (H and ISO pattern interchangeability), as well as with optional mechanical hand and foot controls. Case electro-hydraulic controls — EZ-EH — provide adjustable speed and control sensitivity settings that can adjust to meet the needs of each application and attachment. For more info, visit casece.com or booths 7216 and 7546D.
Vacuworx PS 1 Portable Vacuum Lifting System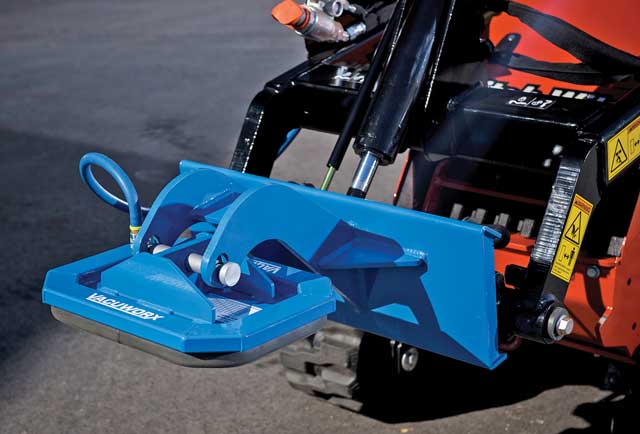 The Vacuworx PS 1 Portable Vacuum Lifting System is ready to work. The lightweight, rugged design can lift up to 1,700 lbs and is a great companion to small equipment such as mini skid steers and forklifts. The PS 1 features a 12-volt, 22-amp/hour rechargeable battery, which includes an intelligent, full-floating charging system. The 3.5-amp charger will fully recharge the battery in 8 hours or less without overcharging. The charger also features an LED display to indicate the charging level. The battery provides approximately 6 to 8 hours of run time (intermittent operation), so you can put the PS 1 to work all day, then set it to charge overnight for the next day. For more info, visit vacuworx.com or the Ditch Witch booth (1096).
Boxer 700HDX Compact Utility Loader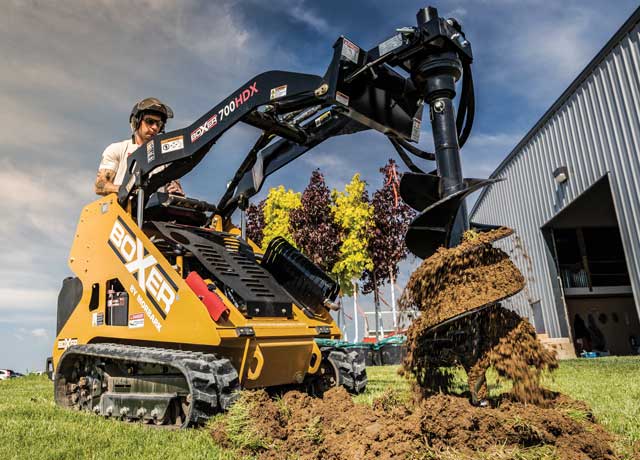 With more than 50 available standard attachments, the Boxer 700HDX compact utility loader is designed to reduce hand labor and costs so you can lift more, move more and dig faster. The 700HDX features a 77-in. hinge pin height and a 707-lb rated operating capacity, with a tip capacity of 2,020 lbs. A 24.8-hp diesel engine and 11.3 gpm hydraulic auxiliary flow provides all the power you need for tough jobs. The unique hydraulically expandable undercarriage allows the operator to retract the undercarriage for passages as narrow as 36 in. wide, then expand for increased stability. The 700HDX boasts a redesigned platform, hydrostatic drive, piloted joystick controls and more. For more info, visit morbark.com or booths 10142 and 7524D.
ASV VT-70 High Output Compact Track Loader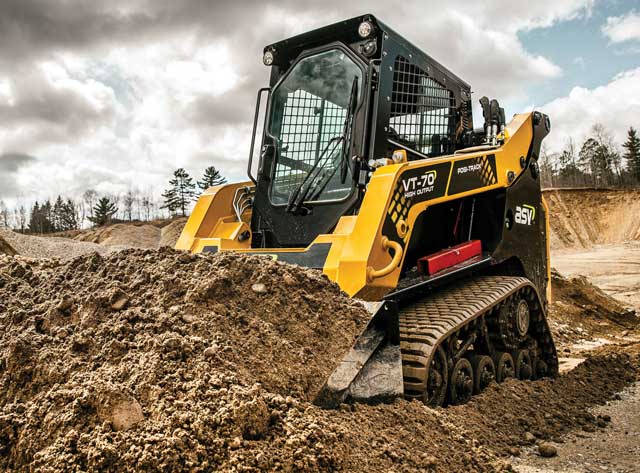 ASV's new mid-frame, vertical-lift VT-70 High Output compact track loader will be showcased at GIE+EXPO 2019 for the first time. The 74.3-hp VT-70 High Output features 207 ft-lbs of torque. A robust hydraulic system allows for optimal performance and efficiency with even the most demanding attachments. The VT-70 High Output includes a rated operating capacity of 2,328 lbs, a 126.5-in. lift height and speeds as fast as 11 mph. The machine features a ground pressure of 4.6 psi and a 13-in. ground clearance. Numerous contact points and guide lugs also virtually eliminate the risk of track derailment. ASV will also feature the RT-40 and RT-25 — the industry's smallest sit-in compact track loaders — as well as other models. For more info, visit asvi.com or booths 6031D and 10134.
New Holland Construction Solutions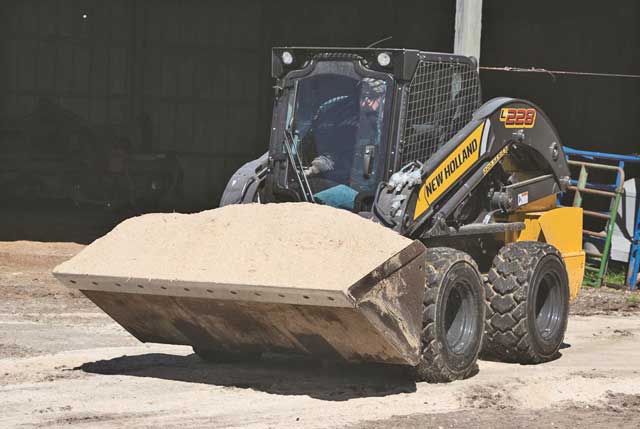 New Holland Construction will feature a variety of products and solutions to meet your needs at GIE+EXPO. Whether it's snow removal, landscaping, hardscaping or general site work, New Holland Construction has a solution to fit any contractor's needs. At its booth, New Holland Construction will feature the E37C compact excavator, W80C compact wheel loader, B95C track loader backhoe, L228 skid steer loader and the C237 compact track loader. At the demo area, attendees can get into New Holland Construction equipment and test it for themselves. Products featured in the demo area include the E60C compact excavator, C245 compact track loader and the C237 compact track loader. For more info, visit newholland.com or booth 1054.
Vermeer S925TX Mini Skid Steer
The Vermeer S925TX mini skid steer delivers an impressive lifting performance and the power to conquer demanding jobs. With a tip capacity of 2,643 lbs, a rated operating capacity of 925 lbs and maximum hinge pin height reach of 84.5 in., the radial lift path of the Vermeer S925TX makes easy work of lifting and dumping heavy loads. It also features a dual auxiliary system which allows the operator to switch between high flow for ground-engaging attachments and low flow for maximum control. For more info, visit vermeer.com or booth 7138.
SnowEx HELIXX Poly Hoppers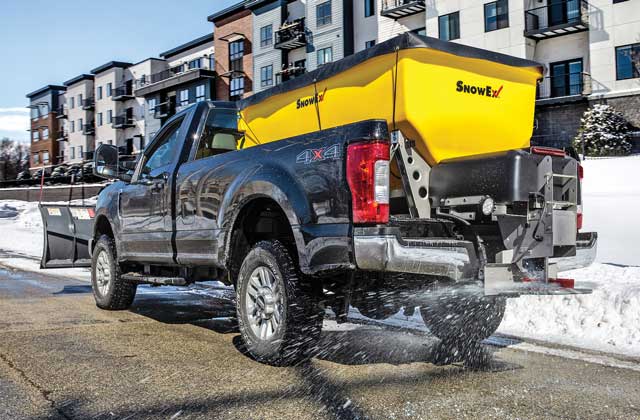 SnowEx's new HELIXX poly hoppers feature an advanced material delivery system. Combined with a multi-dimensional tub design, the HELIXX system vastly outperforms traditional augers and delivers unmatched material flow. It also offers the triple threat capability to spread, pre-wet and spray with one machine. The corkscrew — or "helix" — design of the patent-pending HELIXX material delivery system is optimized for efficient and cost-effective use of salt and was engineered to operate in the target range for salt spreading best practices. The HELIXX is engineered to prevent clogs and provide a flow of material superior to that of traditional auger spreaders. A key advantage of the HELIXX is that it runs the full length of the poly hopper with variable flights. For more info, visit snowexproducts.com or booth 5004.
Earth and Turf Model 65PT Spreader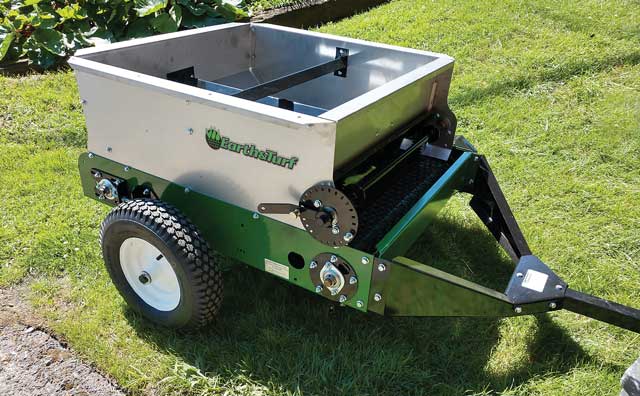 Earth and Turf's Model 65PT MultiSpread pull-type topdresser spreader is designed to spread a wide variety of materials, including compost, sand and topdressing blends. The unit is available with two types of tongue — one to fit the drawbars of conventional, four-wheel compact tractors and one to fit two-wheel, walk-behind tractors. The Model 65PT is a ground-drive unit which takes power from the left of its two wheels. This will ensure the overall drive efficiency of the unit. Material is carried toward the front of the machine by means of an apron belt, where it is forced under an adjustable endgate to control the depth of spread. The Model 65PT features a capacity of 6.5 cu ft and a spread width of 30 in. For more info, visit earthandturf.com or booth 364.
Tags:
ASV
,
Boxer
,
Case
,
Cat
,
Caterpillar
,
Ditch Witch
,
Earth and Turf
,
home
,
John Deere
,
Kioti
,
Kubota
,
New Holland
,
September 2019 Print Issue
,
SnowEx
,
The Toro Co.
,
Toro
,
Vacuworx
,
Vermeer