Safety isn't a gadget. It's a state of mind. Well, sometimes it should probably be both. With ANSI A92 standards for mobile elevated work platforms (MEWPs) going into effect this December, safety will actually require both training and technology to work together. These new standards (read rules) will require: A) new safety gadgets on machines — like industry-mandated platform load sense technology on scissor lifts that will disable machine function if the load is above the load limit; and B) a huge emphasis on the responsibilities of the user and employer for training, planning and accountability on MEWPs.
The aerial lift industry is changing dramatically (like how we're calling them all MEWPs now), yet a lot of renters and contractors are still fuzzy about the new standards and new safety technologies that will be on scissors, booms, masts and lifts of all types come 2020 and beyond. It's an uncertain vibe that has aerial lift manufacturers like Genie gearing up with a slew of new products and technologies and pushing hard for education and training around these new, standards-compliant units.
Of course, it's not like this is a new thing. Most of you just haven't been paying attention. Genie started adapting to ANSI A92 way back in 2016 when it launched its innovative Xtra Capacity booms aimed at giving operators a whopping 660-lb unrestricted lift capacity (the industry standard is 500 lbs) to help boom operations avoid machine stoppages via new safe load capacity sensors (because, of course, contractors overload booms).
I learned how Genie is taking a variety of innovative approaches to new ANSI standards at a recent media event in Redmond, Wash., this past fall. The company and its competitors are facing one of the biggest regulatory challenges in recent history. To help operators and rental houses meet these new rules — and not lose money or get fined in the process — Genie is basically engineering the standards into the machine.
"We should be able to design that out — that risk," explained Matt Fearon, president of Terex Aerial Work Platforms, in the opening presentation. "You can warn, you can set lights on it, but the best thing to do is design it out."
The New Safety Tech and Certs
Just outside of Seattle, Genie moved into its still exceedingly-new-looking headquarters in 2015. In those expansive main offices, with its cool equipment showroom, trade journalists from all over the world discussed new products, ANSI standards and market evolutions with Genie experts. There was plenty of new products to inspect — slab scissors from the updated global-spec GS Series to the brand-new GS-4655 electric unit to tire and track options and new telematics services. Genie experts took the opportunity to infuse all of these discussions with the ANSI standards.
"[The American National Standards Institute] looks at things very differently than the [previous] ISO-based standards," said Chad Hislop, senior director of product management at Genie. "It really has to do with the way in which the standards assign responsibility to capacity, to the measurement of the tilt angle the machine is sitting on and to how the machine and the operator respond when wind is involved."
Let's take Genie's new GS slab scissors, which have been updated to be in compliance with worldwide standards, as an example. These new scissors now come equipped with: dual zone control, enabling outdoor and indoor use on all models; load sense; standard folding guardrails (excluding the Genie GS-1330m); and standard swing gates.
All these technologies are geared toward ANSI A92. With the new dual zone feature, operators will now have the ability to switch between indoor or outdoor applications because MEWPs designed to be used outdoors will utilize a wind-speed sensor to reduce height and weight and enhance safety in windy conditions. Genie slab scissors, equipped with the Genie Smart Link dual zone control, will now have two buttons on the platform controller that require the operator to select the "Indoor" or "Outdoor" zone of operation.
"Let's talk about scissors and wind," said Hislop. "We had two choices here. Most manufacturers in Europe currently divide up their fleets into indoor and outdoor machines. Indoor machines tend to be narrower and lighter. Outdoor machines tend to be heavier and more expensive. We thought that there was a better way than having two machines. Using some of our control systems, what we decided to do was make sure that all of the slab scissor fleet had the capability of going indoor and outdoor, and limiting the height of the machine when in outdoor mode."
All new MEWPs require load sensing technology, continuously checking the weight in the platform and disabling functions if the load is above the limit. On the new Genie GS global-spec slab scissor lifts, load sense is accomplished using a hydraulic pressure sensor and a link angle sensor. When an overload event occurs, the Genie Smart Link platform controller will indicate -OL-, an alarm will sound and machine motion will stop. In the event the scissor lift is overloaded, weight must be removed from the platform to resume operation.
Similarly, all new equipment will come with a tilt sensor alarm and system to disable boom functions if the machine exceeds its slope limit. Let's take Genie's S-40 and S-45 Xtra Capacity booms as examples. Genie XC booms boast an expanded working zone thanks to a new chassis tilt sensor incorporated into the machines' function. This unique chassis tilt sensing technology gives operators access to different ranges of motion based on the ground angle. And, it is engineered to automatically cut-out certain lift and drive functions of the machines when the tilt activation setting is reached.
On top of these high technologies, there were other smaller compliance updates. Like, all of these new units are also required to increase guardrail heights to 3 ft, 7 in., and units now need a gated entrance as chains are no longer permitted.
"When we moved to the new ANSI standards, folding guard rails were standard as a result of the taller guard rail requirement," explained Mike Flanagan, Genie product manager, Terex AWP. "To get through the doorway, you must fold down the guardrails. Once you're through the door, you can fold them back up."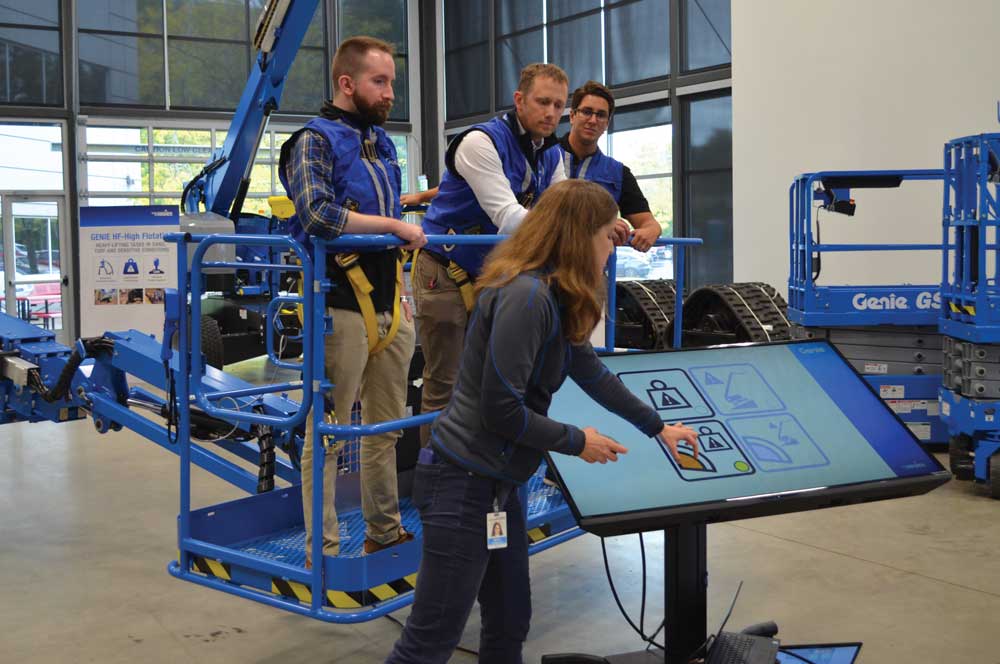 Training
Along with the new technology being incorporated into MEWPs, training standards for aerial operators is also evolving. MEWP users are still required to have documented training (like a certification card), but now organizations utilizing MEWPs will be required to do things like develop a documented safe use plan that includes a detailed site risk assessment, as well as develop rescue plans that everyone must be trained on. Anyone who directly supervises a MEWP operator must also receive training. Even the operator will now have the responsibility to provide limited training to any occupants. Plus, maintenance personnel will be required to conduct annual inspections and be trained on new safety features.
That's a lot. Both rental houses and MEWP manufacturers like Genie are heavily pushing new ANSI standards training. Genie offers both in-person and online training for supervisors, operators and mechanics.
"If we're not here in the office, we're constantly on the road training," explained Tommy Meluskey, Genie product trainer, Terex AWP. "We're currently one of the only OEMs right now that goes out into the field to do training. We have three locations where we do training — Rockville, S.C., Oklahoma City and once a quarter in Seattle, Wash. If we're not at one of those three locations, we're out on the road. In the last six or seven weeks, I've exclusively been at rental yards."
There are a ton of new aspects to this required training, and I can't begin to summarize all of it in this article, which is why it usually takes four to six hours for certification.
Tags:
Genie
,
home
,
November December 2019 Print Issue