The magic kingdom of Orlando was the destination city for February's The ARA Show. The rental industry tradeshow is always full of enthusiastic exhibitors who get the opportunity to sell products directly on the show floor. Deals are always to be had by ever-price-conscious rental houses looking for new off-highway equipment, general tooling and event and party supplies, but the show has also become a technology showcase. Hybrid construction vehicles, new ANSI-compliant lift and access equipment, earthmovers with luxury cabs and the digitized services tracking it all were on display at the Orange County Convention Center Feb. 10-12. These were the highlights…
Telescopic Alternatives
Let's kick things off with a category we don't get to talk enough about — miniaturized telehandlers — which have been trying to enter the American market for some time. Popular in Europe and often used in agricultural applications overseas, these pick-and-place units were noticeably more present at The ARA Show. JLG announced the expansion of its "value-driven" SkyTrak telehandler line with two new models. One of those is the SkyTrak 3013 — an ultra-compact telehandler purpose built for use in small spaces and applications requiring up-and-over reach work. The new unit comes via an OEM agreement with excellent Spanish manufacturer AUSA. The tiny telehandler (the smallest we've seen on the market) only weighs 5,300 lbs, yet still has a big load capacity of 2,700 lbs. The unit lifts up to 13 ft, and its compact 4-ft, 6-in. by 8-ft, 9-in. footprint matched with its rear pivot steer make it highly maneuverable.
"We think the primary market is going to be landscapers, hardscapers and a little bit in the ag arena," said Jennifer Stiansen, director of marketing at JLG. "Now we have a 3,000-lb class telehandler that can give professionals up-and-over reach to load and unload flatbed trucks and also the versatility to equip it with any number of skid steer attachments [utilizing 5 gpm to the implement]. Companies don't have to buy a whole new set of attachments. Also, a standard pickup truck will pull this unit. It's 5,300 lbs. We feel landscape and hardscape, in particular, is going to be the No. 1 market for this product, and we've really had strong interest in it coming out of the gate at this show."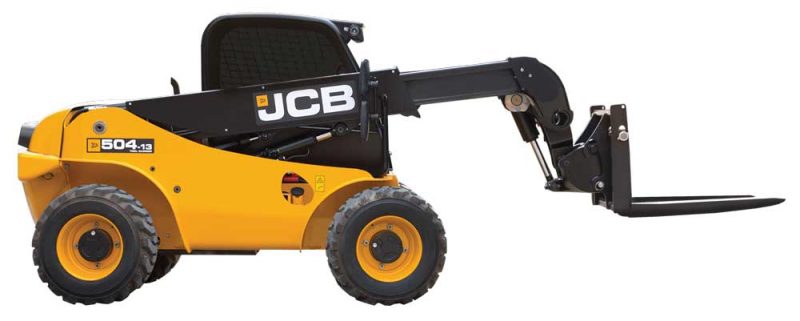 Another famous three-lettered company called JCB was also pushing high-reach telescopic alternatives. Attendees looking for a steely earthmover could inspect JCB's brand-new 2TS-7T Teleskid — a smallish compact track loader engineered with a telescopic boom. Powered by a 74-hp JCB by Kohler engine, the 2TS-7T has a rated operating capacity of 2,096 lbs with the boom retracted and 1,140 lbs with the boom fully extended. It has a maximum lift height of 12 ft, a forward reach of 7 ft and the ability to dig 2 ft below grade. Those looking for more of a pick-and-place tool carrier could check out JCB's 504-13 Loadall subcompact telescopic handler (pictured below). Released last year, this sub-6,000-lb-category unit sports a 4,000-lb lift capacity and a maximum lift height of 13 ft, 3 in. Its engine is rear mounted.
"There are people who just really love the rear engine. It's great for visibility," said Rebecca Yates, JCB product manager for material handling equipment. "Because of its size, it is a basic machine, but it comes with a good amount of options. You can get a cab or canopy. There are different lighting packages. You can get AC, not a problem at all. What's the hydraulic flow to the attachment? It's actually about 16 gpm, so it's fairly similar to some of our bigger telehandlers, and it does use a skid steer front end."
Batteries and Zero Emissions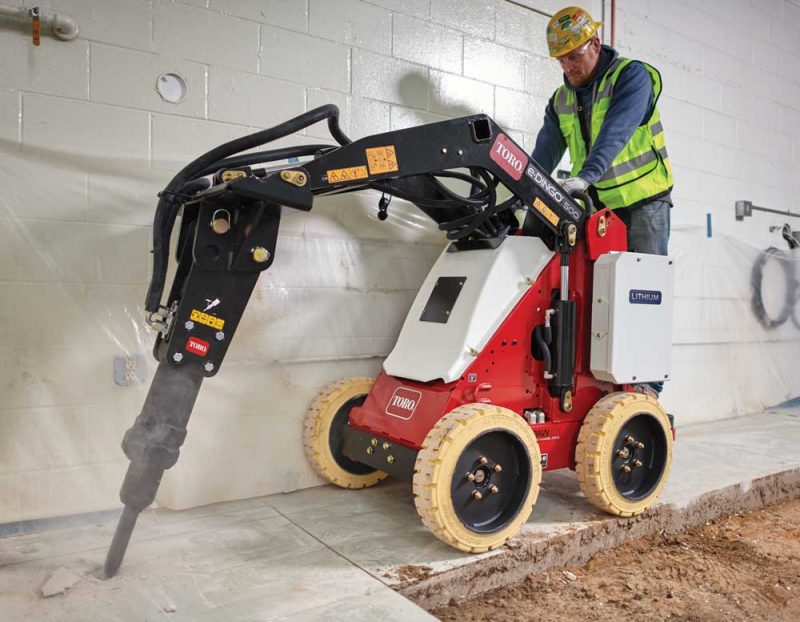 Hybrid propulsion machinery continued to be showcased at big events including The ARA Show. Toro previewed an electric compact utility loader at last year's event. This year it officially released the commercially available e-Dingo 500, which is powered by lithium-ion battery technology. The e-Dingo is aimed at zero exhaust emissions and low noise applications — say, indoor construction jobs — equipped with non-marking tires and a breaker and 4-in-1 bucket combo. The unit has a maximum operating capacity of 515 lbs.
"First off, we wanted to give people the same user experience that they're familiar with from our regular Dingo line," explained Jay Thaker, marketing manager at Toro. "The second thing is we wanted to make sure that it was as robust and reliable as our other Dingos — particularly for the rental market. The third thing is we wanted to create a machine that has zero exhaust emissions and low noise but didn't compromise on power."
Power is an overall theme. The e-Dingo allows operators to utilize several power modes to conserve energy (the unit charges to full in less than eight hours). Auto Idle automatically powers the motor off after it's been idle for a certain amount of time. The machine also shifts to low idle after five seconds of non-use and shuts off when not in use for over 30 seconds. The operator can then instantly restart the machine by double-tapping the traction control lever.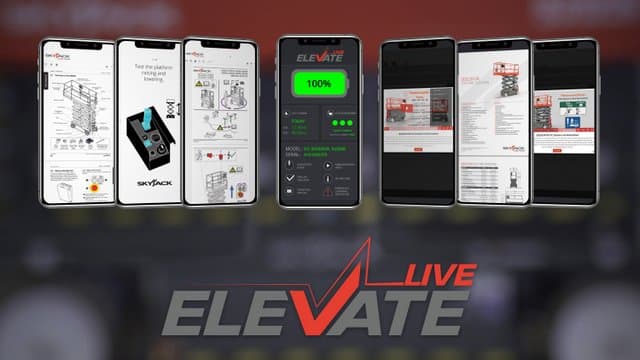 The lift and access industry has long embraced battery technology on mobile elevating work platforms (MEWPs), but Skyjack is hoping to push battery longevity further with its new Elevate Battery Management System (BMS). BMS is integrated into Skyjack's Elevate telematics services, and it's aimed at helping both rental houses and end-users understand battery health on MEWPs. Elevate BMS has identified that batteries are currently sitting at an average battery life between 1.5 and 2.5 years, and its goal is to provide rental companies with the insights that change behavior and drive toward a four-year battery life. With Elevate telematics installed, the operator will be able to see an electric machine's state of health, including a simple percentage of battery life, last charge date and recommended charging actions. Skyjack is hoping this easy-to-access info will help keep batteries charged properly and increase lifespan.
In the portable power arena, Generac Mobile revamped its popular LinkTower zero-emissions LED light tower. LinkTower is not engine-driven. It is powered by a standard 120-V outlet and produces zero localized emissions, so it's safe to use indoors and out. The smaller size of the tower allows it to fit through a standard door opening, and it can be set up by a single person in less than one minute. As the name implies, as many as five units can be linked together to illuminate big projects. What's also cool: New, more powerful 240-W LED fixtures on the latest LinkTower are impact-resistant and are backed by a five-year limited warranty. Generac sources also noted the company would be adding to its electric line of light towers sometime this year with a new stationary unit.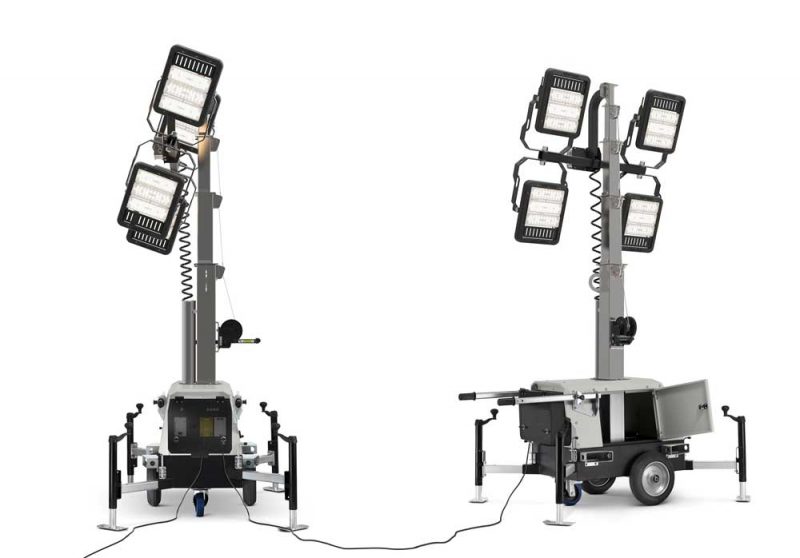 Loaders Galore
Rental houses and contractors are rich in loader options these days. The show was full of new skid steers and track loaders specifically. The biggest headline was New Holland announcing its new 300 Series — sister company Case also launched a whole new skid steer/track loader line called the B Series, which we discussed last month. These new tool carriers highlight comfort and technology like an 8-in. multifunction LCD display with a reverse camera. The 300 Series will be offered in 11 new models in radial lift or Super Boom vertical lift, ranging from 60 to 90 gross hp with rated operating capacities from 1,600 to 4,500 lbs and dump reach stats from 18.5 to 35.5 in.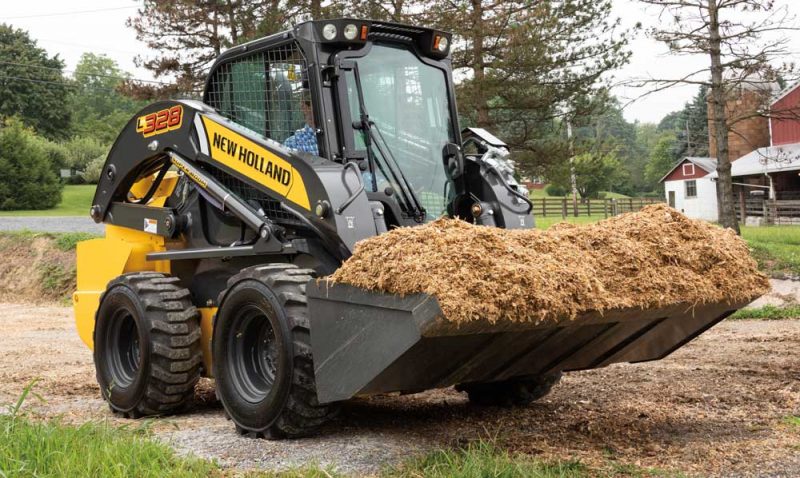 "We've got some new performance features as well," noted Dan Kakareka, product specialist at New Holland. "We offer a new feature called creep mode that basically allows you to set a nice constant low speed while keeping your rpms high to run an attachment on the front. Another new feature we have is straight travel assist. We provide equal power for the tracks to make sure you're maintaining a nice straight line. We also changed the joysticks. They are much more responsive. There's also less resistance on the button, so it's easier to push. Little things like that mean less wear and tear on the body when you're running that machine all day long. Plus, we still offer three styles of controller options."
Track loader pioneer ASV continued to focus on the small, rental-friendly side of the market with the new mid-size RT-50 Posi-Track loader, which sits beside the RT-25 and RT-40 as some of the industry's smallest sit-in compact track loaders. The RT-50 has a 1,400-lb rated operating capacity while weighing just 5,350 lbs, so it can easily be towed behind a 1/2-ton pickup. A 50-hp, three-cylinder diesel engine is matched with a robust hydraulic system producing 3,000 psi of auxiliary pressure and 13.3 gpm of flow to the attachment. For its size, it has a lot of power.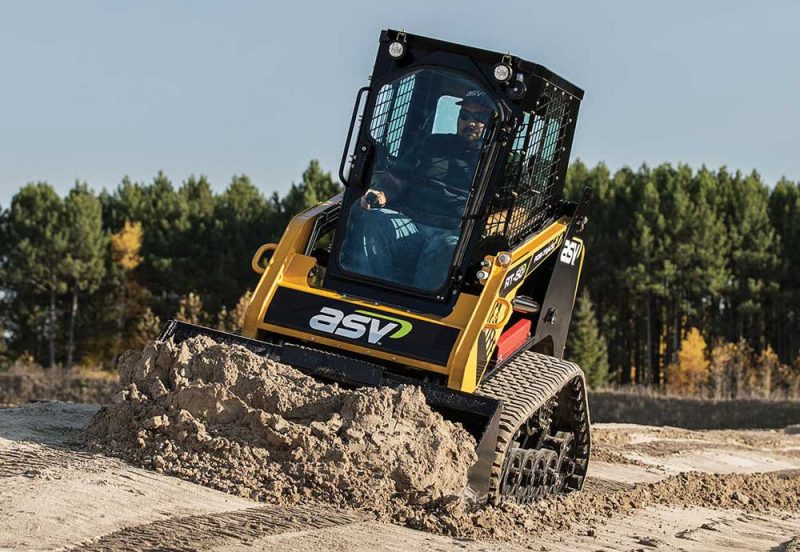 "We've added some weight to the machine too," said Buck Storlie, product line manager at ASV. "You can see the large counterweight [pointing to the back of the unit] as it also doubles as a nice bumper. Additional guarding for those full contact customers in rental. The RT-50 also has a big lift height. We got this unit all the way up to 109.6 in., which makes it able to load those landscape trucks, smaller dump trucks and step into actual construction grade applications."
Along with these traditional American-style loaders, European alternatives could be found all over the exhibition floor at The ARA Show. Vermeer showed off its new compact articulated loaders, which are a partnership with Italy's MultiOne brand. Those tool-carrying mini wheel loaders take a zillion attachments, feature telescopic booms and provide a light footprint thanks to articulation. French-based Mecalac was promoting its TA3SH power swivel site dumper at the show, designed to deliver big loads in precise locations. The TA3SH's power swivel technology allows the dedicated loader to rotate 90 degrees on either side before being tipped. This reduces the need to move equipment, enhancing productivity.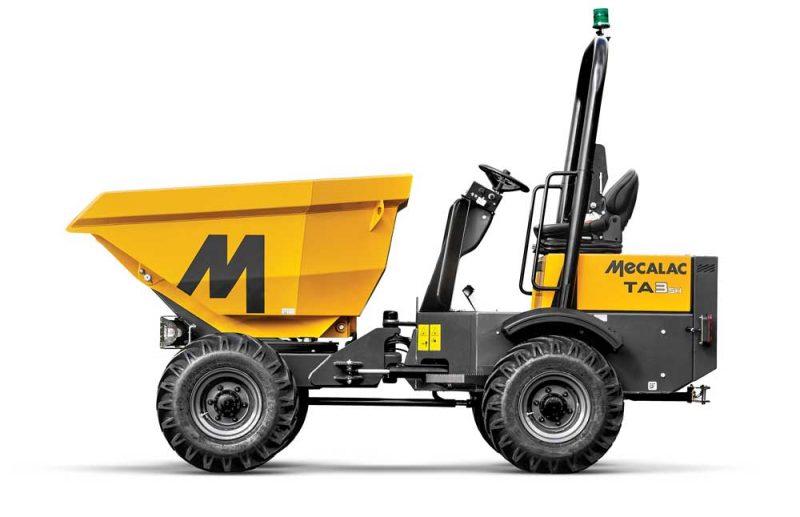 "Of course, everyone and his brother has one in the U.K.," explained Peter Bigwood, general manager at Mecalac. "An excavator and a dumper working together is absolutely the means and methods of U.K. construction. [In the United States], what we've seen is a lot of concrete contractors. We put a little chute on it, and then you're pouring your own concrete. Beyond that, golf courses, cemeteries, landscaping, hardscaping, there's a growing number of people that are realizing the benefits of a site dumper."
There was a ton more equipment and services released at the annual rental trade show, but alas, we only have so much room. From Snorkel and Genie's new lifts to Australian innovator Kanga pushing its compact tool carriers back into the American marketplace, The ARA Show was busier than it's ever been.
Allen Introduces the All-New AW16E Fully Electric Wheel Buggy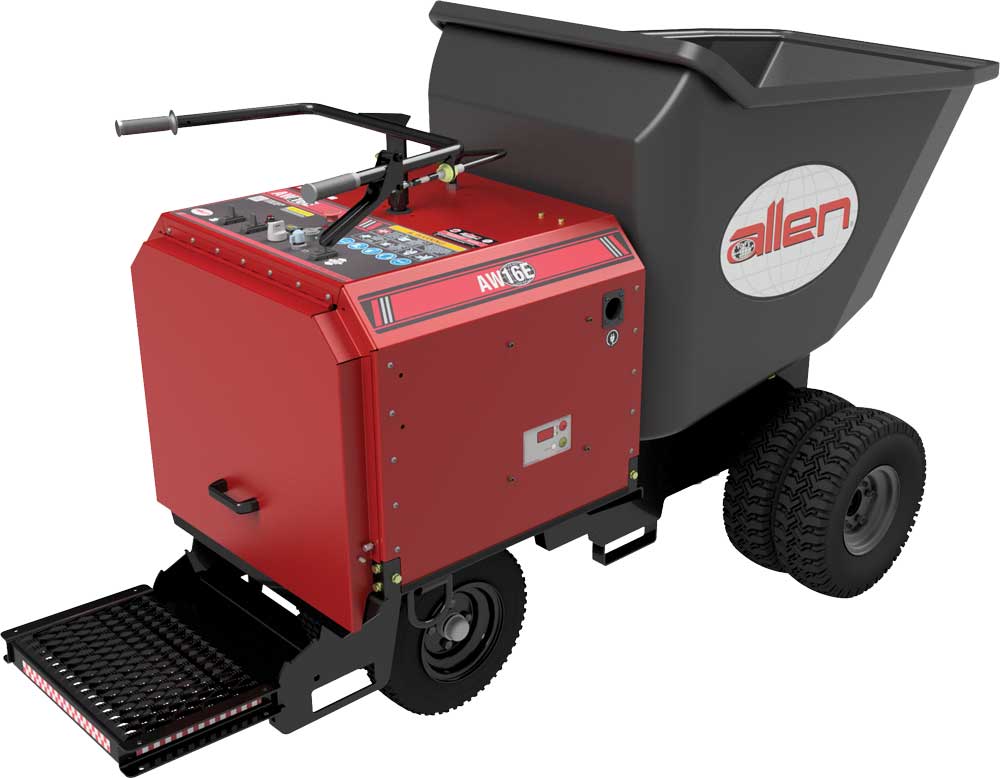 The AW16E is the newest wheel buggy in the Allen Engineering lineup and was designed to compete with existing wheel buggies but with a more thoughtful impact on the environment. This wheel buggy, shown off at The ARA Show, comes with travel speeds up to 6 mph and a payload of 2,500 lbs. This new, fully electric wheel buggy is contractor tough and ready to meet your zero emissions needs. AW16E standard features include a rechargeable 48-V lithium ion battery, long-lasting battery life up to six hours of constant use and a bucket capacity of 16 cu ft with a 90-degree dump angle. For more info, visit alleneng.com.
Perkins Power Options: Sullair Showcases Expanded Engine Choices for Portable Air Compressors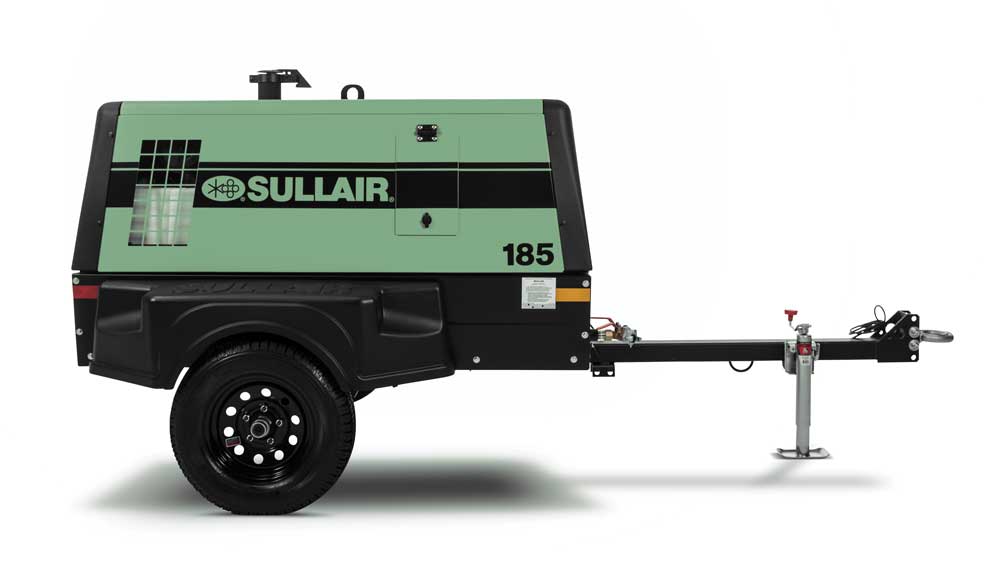 Sullair, an industry leader in innovative compressed air solutions, announced an expanded Perkins portable diesel air compressor line at The ARA Show last month. Sullair now offers a comprehensive line of Tier 4 Final Perkins-powered "small air" machines, including the 185, 375H, 400HH and 425H.
"We doubled our product line and gave better value to the rental market because we added the Perkins option," explained Russell Warner, vice president of rental and infrastructure sales for the Americas at Sullair. "And Perkins is great. They've got a great service network that offers unsurpassed flexibility. They can help a rental yard with self-maintenance, and they've got all these cool programs focused on supporting the rental industry. It just adds value and choices to the rental yard."
Of particular note is Sullair's Perkins 185 Series machine pictured to the left. It's powered by a Tier 4 Final emissions compliant Perkins 404F-E22T engine and delivers 185 cfm at 100 psig. The four-cylinder, 2.2-liter engine is even turbocharged to handle high altitudes. For more info, visit sullair.com.
Chore Tractor: John Deere Launches a 'Heavy-Duty' Compact Utility Tractor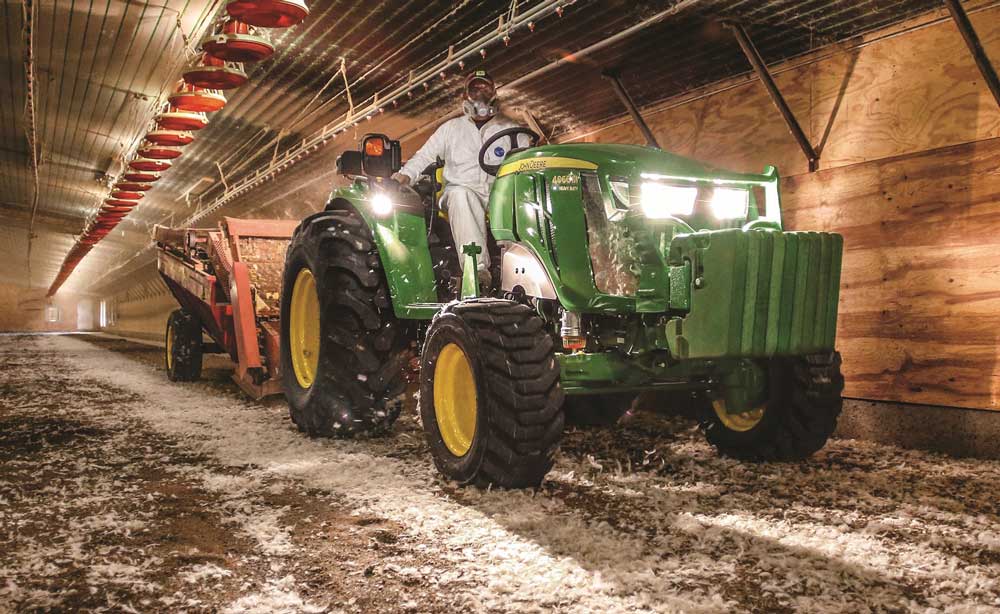 The famous John Deere tractor brand recently announced the launch of the seriously named 4M Heavy-Duty Tractor. Designed with commercial customers and large property owners in mind, the new 4M Heavy-Duty is available in two output ratings, the 52-hp 4052M HD and the 66-hp 4066M HD. Both units feature John Deere's innovative three range eHydro transmission with Twin Touch pedals, allowing for easy direction changes and increased productivity while decreasing operator fatigue. The eHydro transmission also includes eThrottle, LoadMatch, MotionMatch and SpeedMatch systems along with automotive style cruise control. John Deere also equipped the 4M Heavy-Duty with a category I/II hitch with telescoping draft links. For more info, visit
johndeere.com
.
Tags:
Allen
,
Generac Mobile Products
,
Genie
,
home
,
John Deere
,
Kanga
,
March 2020 Print Issue
,
Mecalac
,
MultiOne
,
Perkins
,
Perkins Engines
,
Rental
,
Skyjack
,
Snorkel
,
Sullair
,
The ARA Rental Show
,
The Toro Co.
,
Toro
,
Vermeer