The American Concrete Institute will soon bring the ACI Concrete Convention to Boston, Massachusetts, USA. Known as the world's gathering place for advancing concrete, the convention will take place October 29-November 2, 2023.
Engineers, contractors, educators, manufacturers, and material representatives will convene at the ACI Concrete Convention to collaborate on concrete codes, specifications, and practices. Technical and educational sessions will provide attendees with the latest research, case studies, best practices, and the opportunity to earn Professional Development Hours (PDHs). Select programming will also be available on-demand to attendees who choose to attend virtually.
The in-person event showcases companies, projects, research, and more, plus numerous networking events where you can expect to meet with many of the concrete industry's leading professionals. Attendees may also visit the exhibit hall to learn more about the many products and services offered by exhibitors.
The convention will have a robust schedule that includes over 300 committee meetings, 60+ technical sessions, an industry trade exhibition, networking events, and much more. The committee meetings are open to all attendees. Select programming will also be available on-demand to attendees who choose to participate remotely.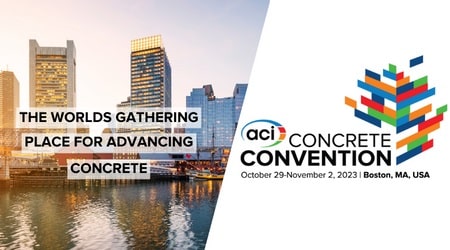 Convention highlights include:
Opening Session: The Opening Session is the official start to the ACI Convention and will begin with a welcome address by ACI President Antonio Nanni. The Opening Session will conclude with a keynote presentation.
ACI Excellence in Concrete Construction Awards Gala: The ACI Excellence in Concrete Construction Awards will showcase and honor some of the most creative concrete projects from around the world nominated by ACI Chapters, ACI International Partners, and new for this year, project team members. Project nominations were judged by industry professionals with technical expertise in each of the seven award categories.
Student Competition: In this exciting competition, students design, construct, and test a concrete structure reinforced with fiber-reinforced polymer (FRP) bars to achieve the optimal load to cost ratio, predict the ultimate load, and predict theoretical type of failure and load. Results and cash prizes sponsored by NEx: An ACI Center of Excellence for Nonmetallic Building Materials, will be announced at the Student Awards Program on Monday. For more information on the competition and how to register, please visit the Student Competitions page.
PRO: Advancing Productivity Day: PRO: An ACI Center of Excellence for Advancing Productivity is sponsoring sessions on Tuesday, October 31st, covering the topics of productivity and constructability, including: industry initiatives; design documents and their impact on productivity; industry collaboration; formwork efficiency; success stories and more. A lunch and learn will also take place (preregistration required).
Concrete Mixer: Join ACI attendees and guests for an evening of networking, entertainment, and great food during the Concrete Mixer, held at the convention venue. An assortment of food and beverages will be available.
Student and Young Professional Networking Event: Student and Young Professionals Activities Committee (SYPAC) invites all students, young professionals, and convention mentors to a casual networking exchange following the Opening Reception. Attendees will establish connections with fellow young members. Prizes will be awarded during ice breaker activities.
President's Reception: ACI President Antonio Nanni invites all convention attendees to the President's Reception, where you'll have the opportunity to network with committee chairs, chapter presidents, and international attendees. An assortment of food and a hosted bar will be available.
Technical and educational sessions will be presented live with on-demand viewing available afterwards, providing substantial opportunity to advance concrete knowledge Through the convention platform to both those who registered for the in-person event or Virtual Technical Sessions.
Registration is currently open online. Discounted rates are offered until 10/27. To learn more about the ACI Concrete Convention and to register, please visit aciconvention.org.
We'd love to keep in touch! Check us out on Facebook, Twitter and LinkedIn!