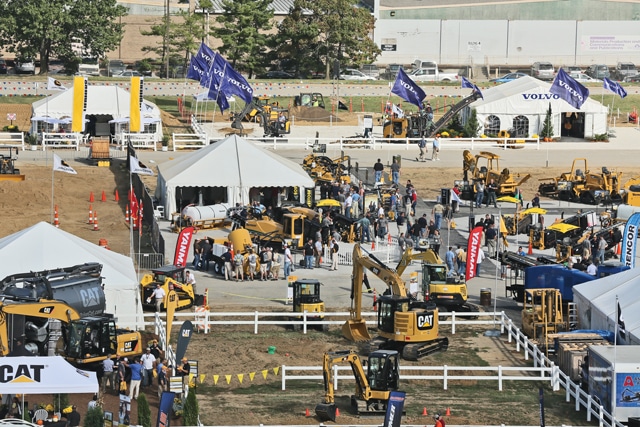 Being an exhibitor at ICUEE — The International Construction & Utility Equipment Exposition — is a unique opportunity for your brand to make a persuasive, in-person sales pitch that increases your brand's awareness and lingers in the minds of prospective clients for months to come. The team at the Association of Equipment Manufacturers (AEM), owner and producer of ICUEE, knows how hard you work to showcase your products and services and we want to help you make the most of ICUEE 2019.
"We are working on marketing ICUEE to past and perspective attendees," said Steve Suhm, show marketing director at AEM. "We've increased our industry segment targets, expanded our direct marketing contact lists and reworked our creative to build a relationship with attendees and provide event information to targeted audiences, create credibility and build ICUEE's identity.
"This is an effort to provide the best ROI for our exhibitors at ICUEE," Suhm added.
Will your brand shine in the spotlight?
One of the many new tactics that are included in the marketing plan is an Exhibitor Spotlight. The spotlight is an opportunity for new and returning exhibitors to be featured over the next several months on the ICUEE website, as well as have their story shared with the media.
"We are looking for exhibitors who have an interesting story to share about their product or service," Suhm said. "Was your product inspired by a need in the community, were you able to help solve an insurmountable challenge with your product, were you able to use your product to help an individual or a group of people overcome an obstacle and make their lives easier? If you think your company and product should be in the spotlight, then we want to hear from you."
The Exhibitor Spotlight will feature stories that you would read in the news. Not only useful information about your product or service, but a great story as well. Photos and videos as well as any audio interviews could also be included. Spotlight stories will be distributed to AEM's list of trade media and targeted consumer media to use for an even greater reach.
"The right stories drive traffic to a company website, generate leads and drive sales," said Suhm. "We want to help our exhibitors tell those stories in a way that potential customers and utility contractors want to hear, read or see."
Next steps: If you are interested in collaborating with ICUEE on the Exhibitor Spotlight, contact Sandra Mason, public relations director for AEM, to discuss your idea. She can be reached at smason@aem.org or 414-298-4122.
ICUEE 2019 takes place October 1-3 in Louisville, Kentucky, Learn more about ICUEE here.
ICUEE, International Construction and Utility Equipment Exposition is known as The Demo Expo for its equipment test drives and interactive product demonstrations. It is the leading event for utility professionals and construction contractors seeking comprehensive insights into the latest industry technologies, innovations and trends.
Tags:
Association of Equipment Manufacturers
,
ICUEE