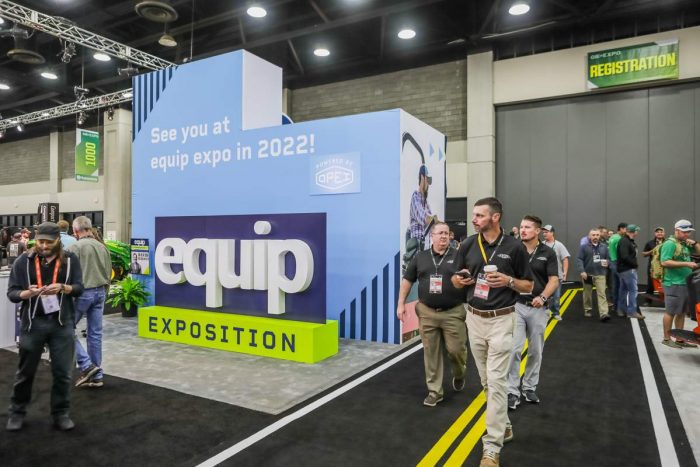 Hey Compact Equipment crew, let's go to a show, shall we? I'm off to Equip Exposition (formerly GIE+EXPO) in Louisville, Ky., this week from Oct. 19-21 to explore some of the coolest new equipment in the marketplace. This is probably the best landscape- and green industry-focused tradeshow in America, and it's always busy. It's hailed as the sixth largest tradeshow in the United States, and organizers are hoping for more than 20,000 attendees this year. It has nearly 1,000 exhibitors. In fact, Equip Expo already announced that its exhibit space has sold out.
Plus, there's that 30-acre Outdoor Demo Yard, and dang, it might be the best place to demo a ton of different brands of compact earthmoving equipment in one walkable location. That's why I go, plus the press room is awesome and Louisville is my kind of town, but yeah, look at this:
Now, while there will be lots of new machines released at the show (not listed below and not just compact equipment), I've gathered a set of compact units I'm excited to inspect at this green industry fair, which focuses on everything from mowers to hardscape. I'm booked almost every half hour to talk to machine experts about their latest offerings. Below is a list of machines I'm excited to see, and below that is list of 10 awesome reasons you should be hitting Equip Exposition this week. I assume you will register last second, because hey, that's totally you. Ok, here we go…
Top Machines & Booths I'm Excited to Inspect
Ditch Witch's SK3000 Stand-On Skid Steer (Booths 1096 and 7428D)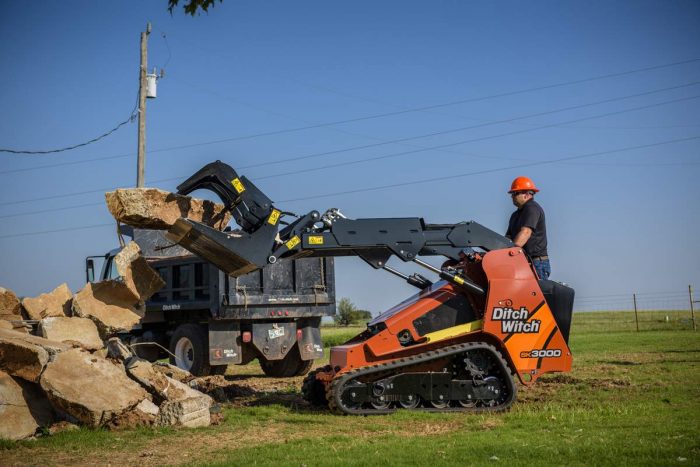 Green industry contractors looking to gain a 360-degree view of the jobsite, without compromising power, can now turn to the Ditch Witch SK3000. The new Ditch Witch SK3000 full-size stand-on skid steer is built with the power to complete a wide range of projects typically reserved for traditional skid steers, but with the convenience of a stand-on machine. As the largest and most powerful unit in the Ditch Witch SK fleet, the SK3000 features an operating capacity of 3,100 lbs. The unit delivers 5,500 lbs of breakout force to help operators lift and move heavy loads while directing up to 51 hp to the attachment — more than any other machine in its class. The machine provides a smooth, comfortable ride with outstanding maneuverability and stability — even when transporting heavy loads across rough terrain. For more information, visit the Ditch Witch website or booths 1096 and 7428D.
Kubota's U10-5 Excavator (Booth 5084)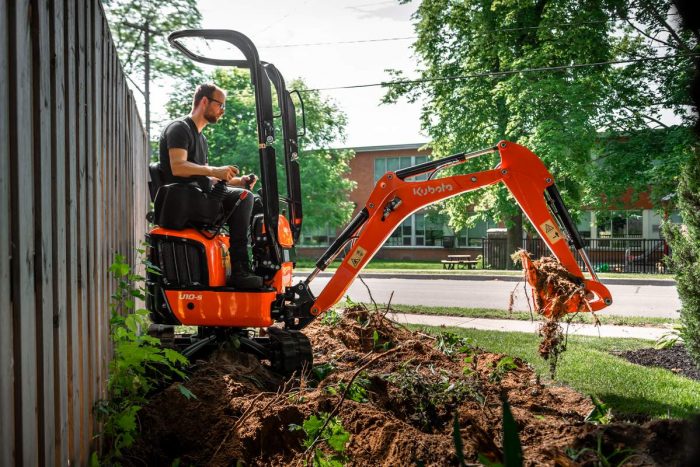 The U10-5 is Kubota's answer to the landscape, rental or equipment pro who requires a compact excavator in the 0- to 1-ton range, but in a more compact frame with minimal tail swing to be more nimble and agile than ever before for both residential and commercial work. The U10-5 offers easy, single-level maneuverability with hydraulic adjustable track widths that quickly contract to fit through tight spaces easily — think doorways, fence gates, inside buildings, hallways, elevators and more. The U10-5 contracts to 2 ft, 6 in., then when the operator wants to widen the tracks, the tracks widen out to 3 ft, 3 in. The U10-5 extends to a 5-ft, 11-in. digging depth with a bucket breakout force of 2,337 lbs. What's more, the U10-5's hydraulic control system offers smooth operation and an increase in digging productivity. The U10-5 also offers the same side lever joystick operational controls found on larger Kubota excavator offerings. For more info, visit Kubota's website or booth 5084.
Yanmar's ViO25-6B Mini Excavator (Booths 1142 and 7766D)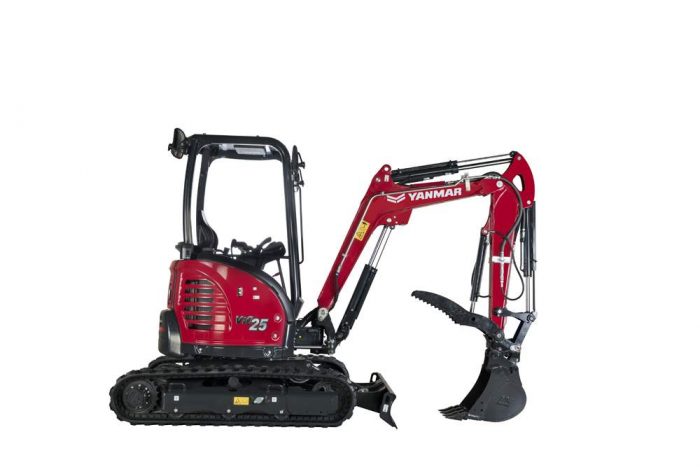 Landscapers need to dig, so might we suggest Yanmar Compact Equipment's new generation ViO25 mini excavator. Despite its small size, the ViO25-6B features an impressive dig depth of 10 ft. The ViO25-6B has been upgraded for improved operator comfort, convenience and ease of use. The ViO25-6B is ideal for projects ranging from residential work or landscaping to building maintenance projects, irrigation, plumbing pipeline and more. The machine features a 5,908-lb operating weight and 20.4-hp engine and features a light footprint for minimized damage to soft, delicate surfaces in landscaping, residential and sculpting applications. Operators will find it simple to work efficiently in the new model thanks to added features such as standard PTO quick-connect fittings that allow for easier hookup or switching between attachments. For added efficiency, the upgraded LED boom light integrated into the boom can shine directly onto the work area so operators can easily see what needs to be done. For more info, visit Yanmar's website or booths 1142 and 7766D.
Compact tool carriers, compact utility loaders, mini skid steers. Whatever you call them, we can all agree these machines pack a lot of productivity in a small package. Learn more about them here!
Bobcat's Light Compaction Equipment (Booths 3052, 7506D and 7700D)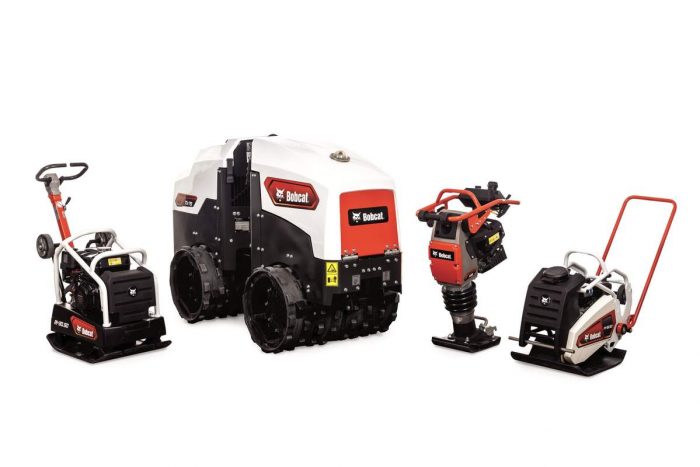 To meet the compaction demands of numerous industries and jobsite requirements, including landscaping, Bobcat has launched nine light compaction machines in North America. This latest expansion of product offerings provides customers with the added versatility and productivity they have come to expect from Bobcat in an innovative product lineup fit for construction, roadwork and landscaping. he full range of Bobcat light compaction products includes rammers, forward plates compactors, reversible plates compactors and trench rollers. The light compaction line can be used in a variety of settings and is designed to meet compaction requirements on nearly all jobsites. Bobcat's light compaction range of products contain many state-of-the-art features to increase productivity. Each machine within the line possesses different strengths, including maneuverability, power, fuel-efficiency and much more. The versatility of this line was thoughtfully designed with operators in mind, crowning maneuverability and efficiency as the utmost priority. For more info, visit Bobcat's website or the booths 3052, 7506D and 7700D.
ASV's RT-50 Compact Track Loader (Booths 1142 and 7766D)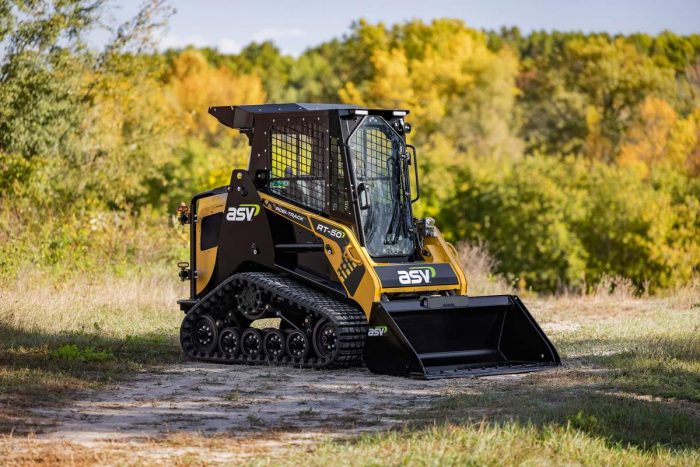 Landscapers love track loaders, so be sure to check out ASV's booth to see the company's RT-50 Posi-Track loader, now powered by a Yanmar engine. The new machine boasts an impressive-for-its-size 53.8 hp, up a full 8 percent from the previous model. The repowered RT-50 also offers improved serviceability, allowing owners to have the Yanmar engine serviced at ASV dealers. In addition to these benefits, the new RT-50 features new comfort, visibility and performance features, elevating the RT-50 as one of the top compact track loaders in both performance and comfort in its class. The Yanmar-powered RT-50 provides construction-grade performance in a small package, and is ideally suited for work in tight spaces, such as for rental, landscaping, construction, snow clearing and more. The compact track loader allows contractors high performance with a nimble 58.5-in. width, a 9.1-ft lift height, a 1,400-lb rated operating capacity and a 7.1 mph top speed. For more info, visit ASV's website or visit booths 1142 and 7766D.
Vermeer's AXT850 Compact Articulated Loader (Booth 7138)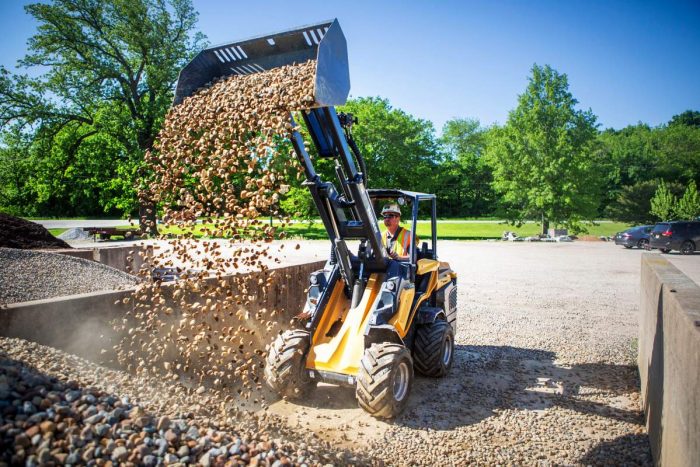 Vermeer offers lots of interesting equipment for landscape pros — mini skid steers, brush chippers, pedestrian trenchers and its line of compact articulated loaders. Considering the latter at the show, Vermeer will showcase its ATX850 compact articulated loader equipped with a 57-hp Kohler KDI903 diesel engine. The unit has an extended boom reach of 29.1 in. for loading material to a dump height of 117.3 in. With narrow tires, this articulated loader is just 42.1 in. wide and can be outfitted with wider tires for maximum flotation on soft grounds. The ATX850 has a rated operating capacity (straight) of 2,287 lbs while having a standard weight of 4,237 lbs with rear weights and without attachments. For more info, visit Vermeer's website or booth 7138.
Giant's Telescoping Loader and Walk-Behind Tool Carrier (Booth 30078)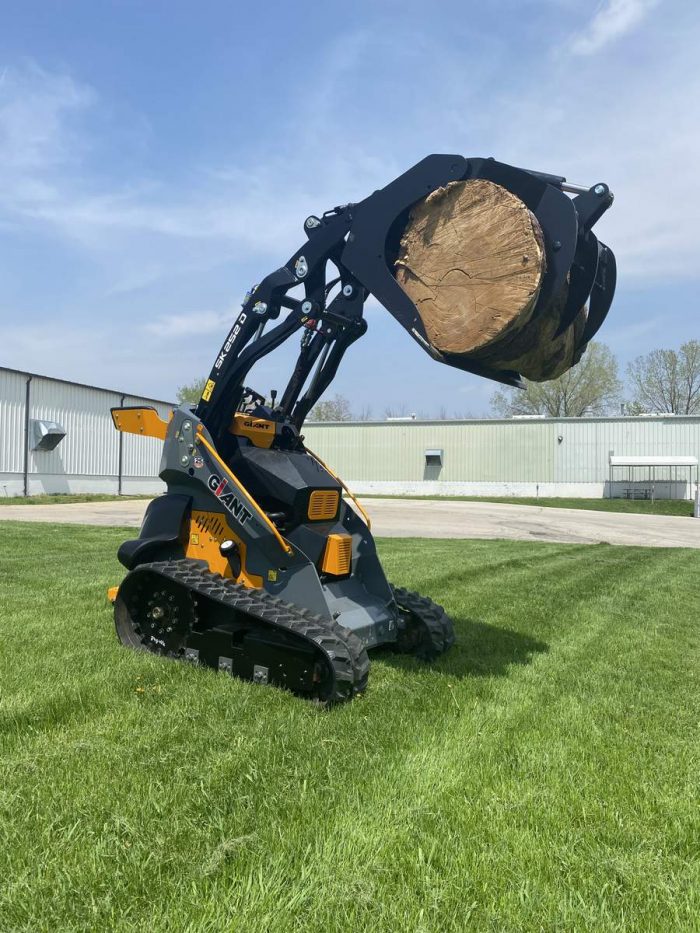 Giant Loaders will feature the G1200 TELE and SK252D at Equip Exposition. The G1200 TELE is a compact articulating and oscillating wheel loader that is eliminating the need for ground mats on turf at golf courses, front or backyards with landscaping and tree care companies, with overall machine width allowing access to 36-in. jobsite openings. This versatile machine features a telescoping boom boasting 111 in. of lift height and 1,980-lb tipping load, the standard G1200 regular boom offers 85 in. of lift height and a whopping 2,400 lbs of tipping load. The SK252D sports top speed of 4.3 mph and 9.2 gpm of auxiliary hydraulic flow. Both the SK252D and G1200 models feature the standard mini-skid attachment plate, able to use numerous attachments you already own, and both powered by a 25-hp Kubota diesel engine. For more info, visit Giant's website or booth 30078.
Kanga Loaders (Booths 2182 and 7740D)
Question: Do you know who invented the mini stand-on loader more than 40 years ago? No? Well while you're thinking, here's another one: Do you know who has been manufacturing these very same stand-on tool carriers loaders to operate in one of the toughest environments in the world? Australia. You may not have heard of Kanga Loaders in the United States (I mean, we have), but these units are tough tool carriers, built from all steel including steel gas tanks. Kanga machines have stood the test of time in Australia and are now available in the United States. There are four models available, from the smaller 2 Series to the largest 8 Series loaders. Options include gas or diesel, tracks or wheels as well as a wide range of attachments to suit any landscapers needs. For more info, visit Kanga's website or visit booths 2182 or 7740.
Utility vehicles are perfectly made for both work and play. Learn all about these sweet rides here.
Now, Here Are the Top 10 Reason to Visit Equip Expo 2022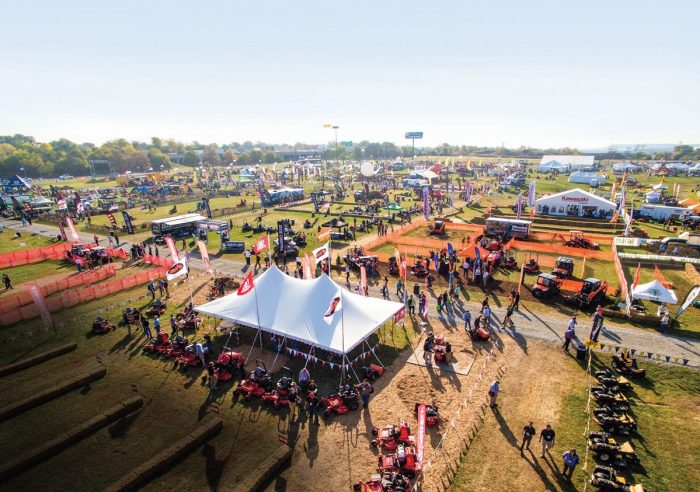 #1 – See the most cutting-edge outdoor power equipment in the expanded Outdoor Demo Yard. Now open all three days of the show, the 30-acre Outdoor Demo Yard is where attendees can see how technology is changing and impacting the equipment they use every day. Battery, electric, gas and robotics products are ready for attendees to drive, dig, mow, mulch, cut, saw and more in the outdoor area. Test out the latest equipment before investing in it for your business, and talk face-to-face with manufacturers.
#2 – Hop into a flight simulator in the Drone Zone. See how drones are revolutionizing landscape planning and monitoring right on the exhibit floor. Test your ability in the simulator, then step into The Zone and fly a drone. A two-day, 13-hour course (additional cost) will equip you for the Part 107 Remote Pilot Certification exam that is necessary for commercial drone use.
#3 – Drive around the expanded UTV Test Track in a new UTV that can tow even bigger loads than before. Put the latest UTVs through their paces on curves, hills, rocks, bumps and a little water and mud – and find out how they handle a big load. Attendees driving UTVs must be at least age 16 and have a valid driver's license.
#4 – Glimpse the future (and be ready for it) by learning how regulatory changes in California will change what types of power equipment can be used in that state – and what it means for the rest of us. What's happening on the west coast will have far reaching impacts on the industry. At the California Equation, hear from a panel of experts to learn how they're adapting to changing regulations in California that affect what equipment can be sold and used—and what can't.
#5 – Hang out with the lawn influencers you listen to on YouTube and other channels. Influencer Live will be a high-energy event on Thursday at 8:00 a.m. in the Event Center. It combines the largest gathering of industry professionals at Equip Expo and the conversational elements of an interactive, live podcast with some of the industry's biggest names into one action-packed space.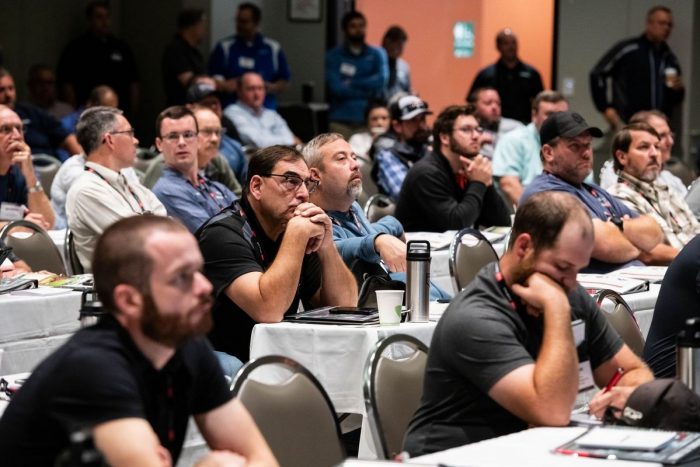 #6 – Learn from the top hardscape installers in the U.S. Now everyone wants a patio and outdoor kitchen, and hardscape offerings can massively boost your bottom line. So why not learn from the best? Get profit-boosting tips and up your hardscape installation game at live demos in the Hardscape House. And don't miss the HNA Installer Championship Competition. Admission to HNA is included for all Equip Expo attendees.
#7 – Learn the ins and outs of tree care. Using a real tree to demonstrate climbing and tree care techniques, professional instructors will work aloft over Freedom Hall (also home to fabulous food options). Learn first-hand about climbing systems, work positioning, pruning, rigging and more. Sponsored by STIHL Inc., in collaboration with the Davey Tree Expert Company and the Women's Tree Climbing Workshop. All Freedom Hall arborist demonstrations are included with your trade show pass.
#8 – Get your daily steps in and enjoy sweeping views of the Ohio River and Louisville's Great Lawn at the first Mulligan's 5K Fun Run & Walk. This inaugural event, sponsored by Ariens, will take runners (and anyone who wants to walk) over Louisville's Big Four Pedestrian Bridge on Wednesday, October 19 from 7:00 a.m. to 8:00 a.m. Raise funds to benefit the Kentucky Humane Society at this event as well as spend time with colleagues while getting a little pre-show exercise and fresh air.
#9 – Get inside secrets on marketing, hiring, sales, keeping great employees, purchasing and more from landscapers who know the challenges you face. Gather with Equip Expo attendees on Thursday at 2:00 p.m. at ENERGIZE, an event offering a candid and motivational conversation with landscapers. The industry's leading voices will give their first-hand perspectives on the thorniest issues facing all landscaping entrepreneurs.
#10 – Rock out at Fourth Street Live! to country legend Trace Adkins and top-notch entertainment during the Equip Expo Concert Series. It's not all work. Have some fun! Sponsored by STIHL and Belgard, house band favorite, The Crashers take the stage at 8:00 p.m. on Wednesday night. Country music legend Trace Adkins performs on Thursday at 8:00 p.m. Admission is included for all attendees.
Check out the full program at www.equipexposition.com and download the Equip Exposition app.
We'd love to keep in touch! Check us out on Facebook, Twitter and LinkedIn! Tags: ASV, Bobcat, Ditch Witch, Equip Exposition, GIANT, Kanga, Kubota, Vermeer, Yanmar