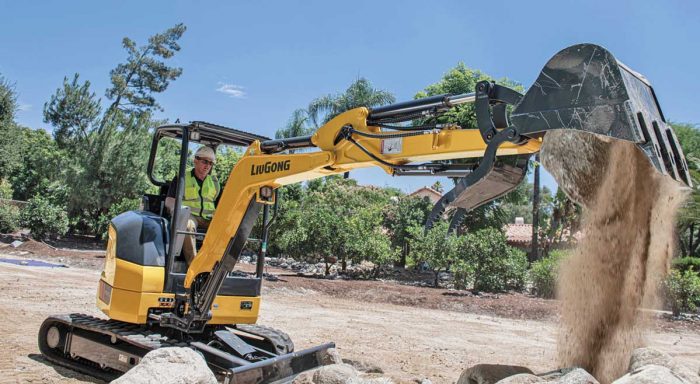 CONEXPO cometh. We're talking about the biggest tradeshow in America by physical size. It only happens every three years, and it's all centered around construction equipment. CONEXPO-CON/AGG will happen again March 14-18, 2023, in Las Vegas. We'll be there. So will everyone else. Follow our coverage right here. Here comes more important CONEXPO news…
The construction industry has changed significantly since the last CONEXPO-CON/AGG held in 2020, and so has the LiuGong presence in North America. As LiuGong returns to this year's CONEXPO, held March 14-18, 2023, in Las Vegas, it does so in an enhanced position in the construction equipment marketplace and as one of the fastest growing companies in the industry.
LiuGong arrives at booth F9205 on the Festival Grounds at the Las Vegas Convention Center with 19 total machines, including eight new products, two new battery electric vehicles, a significantly increased staff and a robust and growing dealer network.
"The LiuGong presence at CONEXPO/CON-AGG 2023 is a culmination of our growth strategy, new product development and investment made by members of our expanding dealer network," said Andrew Ryan, President, LiuGong North America.
"At CONEXPO, LiuGong will highlight the growth and development our team has worked on for the last several years, while also showcasing the value of our machines to prospective customers. The future is bright for LiuGong as a company, and we're looking forward to the week ahead in Las Vegas."
2021 and 2022 Business Success
The last two years for LiuGong have seen records in profit, revenue and growth. While other manufacturers scaled back production, LiuGong increased its production and inventory, making it the largest single producer of wheel loaders in the world.
The LiuGong Lineup at CONEXPO
The 19 products on display cover five product lines (wheel loaders, excavators, dozers, rollers and material handling applications) and include new technological elements throughout most machines.
Headlining the LiuGong display is one of its battery electric vehicles, the 856H-E MAX Wheel Loader. There has been exponential growth in this area, with an estimated 2,000 of these units already operating worldwide in some of the world's toughest conditions. The 856H-E MAX can enhance job sites where traditional combustion engines aren't allowed or in fixed site operations where investments in charging infrastructure make sense.

LiuGong debuts two new large size excavators. The 36-ton class 936F Excavator is a step above medium size excavators, while the 95-ton class 995F Excavator will become the largest in the LiuGong excavator portfolio.
There are two new Zero Tail Swing (ZTS) Compact Excavators premiering in the 9051FZTS and 9057FZTS models. These 5- and 6-ton class excavators fill a gap within the LiuGong lineup and build on the 9027FZTS model that premiered in 2021.
Answering the call to handle tight work on commercial and residential job sites, the new 15-ton class LiuGong 915FCR (Compact Radius) Excavator is a complement to the 913FCR, providing customers welcome choices in that size class. Both are evolved from the 915F platform with the focus on a short tail swing and little compromise in lifting capability.
Additional new products include the LiuGong 6612E Roller and the Dressta TD-25M Dozer.
LiuGong will also feature the HV Series Wheel Loaders (838HV, 856HV, 890HV). The HV Series of products have progressed to Stage V emissions standards and include updated transmission and hydraulic systems.
Rounding out the lineup is another Dressta product, the TD-16N Dozer, along with five products from the rapidly expanding LiuGong material handling business. This includes the LiuGong CLC2025A-SC, CLG2030G and CLG2035G Fork Trucks and S1930DE and S4046DE Mobile Elevated Work Platforms (MEWP).
The full list of LiuGong North America products at CONEXPO includes:
856H-E MAX Wheel Loader (battery electric vehicle; LiuGong North America launch)
9027F-E Excavator (battery electric vehicle; display vehicle only)
9051FZTS Excavator (LiuGong North America launch)
9057FZTS Excavator (LiuGong North America launch)
915FCR Excavator
922F Excavator
936F Excavator (LiuGong North America launch)
995F Excavator (LiuGong North America launch)
838HV Wheel Loader
856HV Wheel Loader (LiuGong North America launch)
890HV Wheel Loader
6612E Roller
Dressta TD-16N Dozer
Dressta TD-25M Dozer (LiuGong North America launch)
CLC2025A-SC Fork Truck
CLG2030G Fork Truck
CLG2035G Fork Truck
S1930DE Mobile Elevated Work Platform
S4046DE Mobile Elevated Work Platform
Increasing Dealer Coverage
Since 2019, LiuGong has signed 29 construction equipment dealers and 28 fork truck dealers for a total of 57 new dealers. At the year end of 2022, LiuGong had 92 total dealers with 156 locations. Several new dealers have signed recently and either have been publicly announced or will be in the coming weeks. Others have expanded their operations by either adding locations or enhancing their footprints.
"Our new dealers in both the construction equipment and material handling industries were looking to grow their level of support and relationship with a new manufacturer," Ryan said. "It's our job to help ensure that we as LiuGong work together with these new dealers to elevate them in the marketplace, while continuing to recruit more in key markets across the country."
Key Relationships
LiuGong has worked with Cummins for decades, and the companies have been involved in a joint venture building engines in China together since 2011. Cummins will have one of its engines on display at the LiuGong booth, while the Cummins booth will be in South Hall 4, booth S84615.
LiuGong will also display GRYB product attachments; GRYB has its own booth on the Festival Grounds, F8144. LiuGong also works with CATL as its battery supplier, with Miller UK to provide its globally recognized quick couplers, and with Leica Geosystems, a trusted supplier of premium sensors, software and services for geospatial data intelligence. Some of the other LiuGong business enhancements since the last CONEXPO include an enhanced dealer portal, the launch of the new LiuGong Finance program and a telematics support system, Topcon/Tierra for LiuGong.
We'd love to keep in touch! Check us out on Facebook, Twitter and LinkedIn!