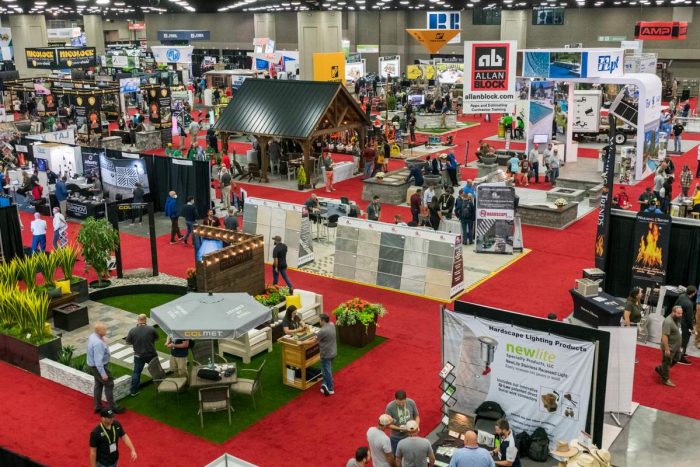 "HNA is the Disneyland of our industry!" Those are the words of Hardscape North America attendee Robert Dart, who travels to Louisville from California with his crew from The Paver Company. One of the show's most unique attractions, the Hardscape House and Outdoor Demo Yard have been called a "playground" for hardscapers and landscapers. Held at the Kentucky Exposition Center, HNA is set for October 18-20, 2023.
Hardscape House is the hub of HNA's outdoor exhibits. In addition to hands-on testing, this outdoor pavilion is the location of two popular show features — the Hardscape Demos where attendees can watch and learn the latest techniques from expert installers, and the Installer Championship where teams from across North America race against the clock as they compete for valuable cash and prizes.
Test Before You Invest

The Hardscape House exhibits, combined with the co-located Equip Expo's Outdoor Demo Yard, provide over 30 acres of outdoor space where attendees can get hands-on with hundreds of products. HNA attendees appreciate the opportunity to get behind the controls, test equipment and compare brands before making purchasing decisions.
"Getting to see and touch tools, equipment and products that are new to the market or not available locally is valuable to any business," said Zack Rulli, Dirt and Stone Landscaping, Newington, CT. "At this show you just walk in the building see what you want and then walk outside to try it."
Hardscape Demos
Patrick Murray and Kenneth Deemer, along with their team from Pittsburgh-based Local Roots Landscaping, will lead six demos on the newest installation techniques and best practices for companies that want to be on the leading edge. An $85 registration upgrade includes all six sessions, or attendees can purchase a VIP Pass to attend ten education sessions, two workshops and the six demos. Details are available at HardscapeNA.com/education-demos.
Wednesday, October 18
1:30 – 2:30 PM
Segmental Retaining Walls
Learn modern, efficient installation tactics for an age-old product: the segmental retaining wall.
3:30 – 4:30 PM
Paver Installations – Featured Product Sponsor: Natural Paving USA
Learn best installation practices for paver installations.
Thursday, October 19
9:30 – 10:30 AM
Hardscape Toolbox – What's in Your Trailer? – Featured Product Sponsor: Smart Level
Learn the most important tools to reduce labor, expedite a job and eliminate guesswork in your installation.
12:00 – 1:00 PM
Compact track loaders are the most popular category of compact equipment in America. Learn why with loads of track loader features right here.
New Products and Ideas – The Movers & Shakers – Featured Product Sponsor: in-lite Outdoor Lighting
Explore new products, tools and methods that are making waves (and saving backs) in the industry.
2:30 – 3:30 PM
Water & Fire Features – Featured Product Sponsor: Aquascape
Explore the products that have an extremely high impact on a project with a very low cost per installed feature and outstanding revenue.
Friday, October 20
9:30 – 10:30 AM
Outdoor Kitchens and Other Enhancements
See how experts install yard enhancement options such as a grill island and an outdoor kitchen and learn how to reach different markets for different budgets, better margins and best profits.
HNA Installer Championship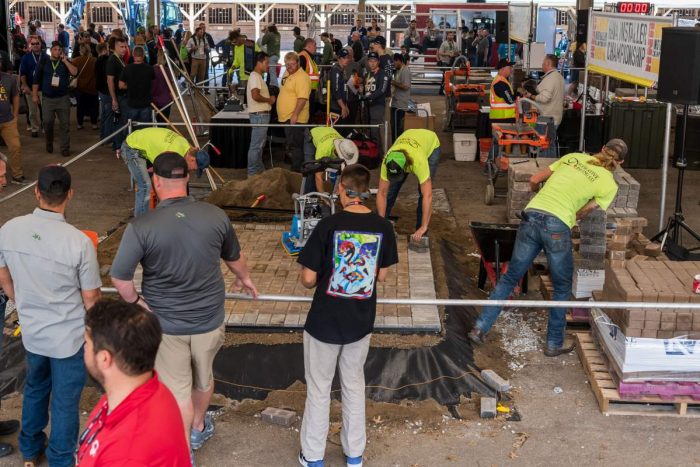 With cash and equipment prizes totaling more than $15,000, the stakes are high for the Installer Championship. The competition is intended to test and recognize the skill, dedication and passion of hardscape contractors from throughout North America. Teams will have their understanding of industry best practices and guidelines tested.
Defending champions Shovel & Thumb, along with 17 other teams, each sponsored by a hardscape organization, are expected to compete in the preliminary rounds on Thursday, October 19. The slate will be narrowed to four teams for Friday's championship round before the 2023 HNA Installer Champion is crowned. All HNA attendees have access to the Hardscape House to watch the competition.
HNA 2023
"HNA is an eye-opener! Not only can you see, test and touch all the different tools and products, but if you soak in the knowledge from the seminars and demonstrations, you can walk away with an entirely different mentality for your business," said Dan Hughes, Segmental Systems Inc., Otis Orchards, WA. Hughes, a three-time Installer Champion, brings his crew to HNA each year.
Early-bird registration for the tradeshow is available for $25* at HardscapeNA.com. (Fees increase after Thursday, September 7).
HNA Sponsors
HNA's 2023 Platinum Sponsors are Belgard Hardscapes, Colmet, Halstead Media and Keystone Hardscapes. Gold Sponsors are Nicolock Paving Stones & Retaining Walls and Unilock. HNA is produced by the Concrete Masonry & Hardscapes Association (CMHA) and endorsed by the Brick Industry Association (BIA) and the Natural Stone Institute (NSI).
*Registration for non-exhibiting manufacturers, suppliers, ad agencies and media sales is $450.
We'd love to keep in touch! Check us out on Facebook, Twitter and LinkedIn!