The Compact Equipment crew is excited to return to GIE+EXPO in person this week. Both attendees and exhibitors have indicated they are eager to participate in the annual trade show, which is set for October 20-22 at the Kentucky Exposition Center. Over 675 companies have already signed on to exhibit at GIE+EXPO and the co-located Hardscape North America — an 18 percent increase over the same time in 2019. There are more than 70 new exhibitors, and with the expo center's recent renovations to the demo area, exhibitors are looking forward to showcasing their latest innovations outdoors where attendees can test drive equipment. With expanded education on real-world topics such as drones, robotics and connectivity, as well as features that put attendees behind the controls, this year's show will offer a wide range of dynamic opportunities, including:
Hands-on Drone Zone where attendees can fly drones with expert trainers
Technology Summit presented by the National Association of Landscape Professionals
UTV Driving Experience
Remote Pilot Certification Course presented by the Indiana State University Aviation and Unmanned Systems Program
Expanded In-Tree Arborist Demos and Classroom Courses, including CEU opportunities
Opening keynote, "Leadership and a New World Order: The Need for Resilience," featuring Retired U.S. Navy 4-star Admiral James Stavridis
Free dealer workshops by Bob Clements International, including a discussion on Bulletproofing Your Business
Recently named the sixth largest tradeshow in the nation, GIE+EXPO is sponsored by the Outdoor Power Equipment Institute (OPEI), Professional Grounds Management Society (PGMS) and National Association of Landscape Professionals (NALP). For information and registration, visit gie-expo.com. For expanded coverage of the show, keep your eye on our homepage at compactequip.com.
What new equipment will be released at the show? Good question. Here are the machines we're excited to see.
Bobcat Compact Wheel Loaders
With a high bucket capacity, swift travel speeds and great maneuverability, the all-new L65 and L85 compact wheel loaders from Bobcat deliver performance to power through tough jobs. With standard bucket capacities of up to 1 cu yd, the L65 and L85 make fast work of tough material handling in landscaping, construction, agriculture and other industries. In addition to buckets and pallet forks specifically designed and approved for these machines, the L65 and L85 easily integrate with a variety of other Bobcat attachments that extend the usefulness of the machine. For example, the power Bob-Tach System allows operators to share select attachments across their Bobcat fleet. For more info, visit bobcat.com or booth K185.
Vermeer ATX530 Compact Articulated Loader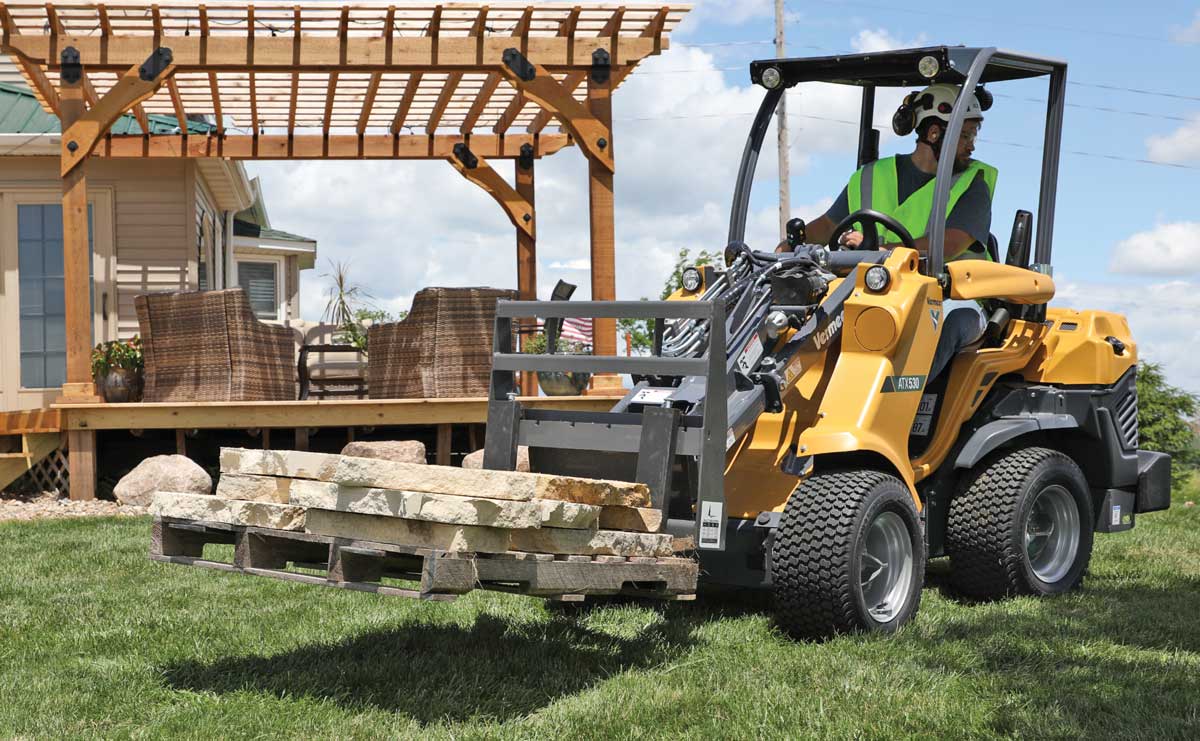 The Vermeer ATX530 compact articulated loader comes with a 25-hp Kubota D1305 diesel engine and has an impressive telescopic boom that extends 21.6 in. for loading materials to a dump height of 108.3 in. (hinge pin height). It has a rated operating capacity (straight) of 933 lbs*, while having a standard weight of 2,711 lbs with rear weights and without attachments. This lift-capacity-to-weight ratio allows contractors to use a lighter machine, while still being able to carry heavy materials on the jobsite. *Operating capacities show the rear counterweights installed and rated for a bucket application at 50 percent of the tipping load per 1SO 14397. For more info, visit vermeer.com or booths 7138 (indoor) or 7634D (outdoor).
Kubota RTV520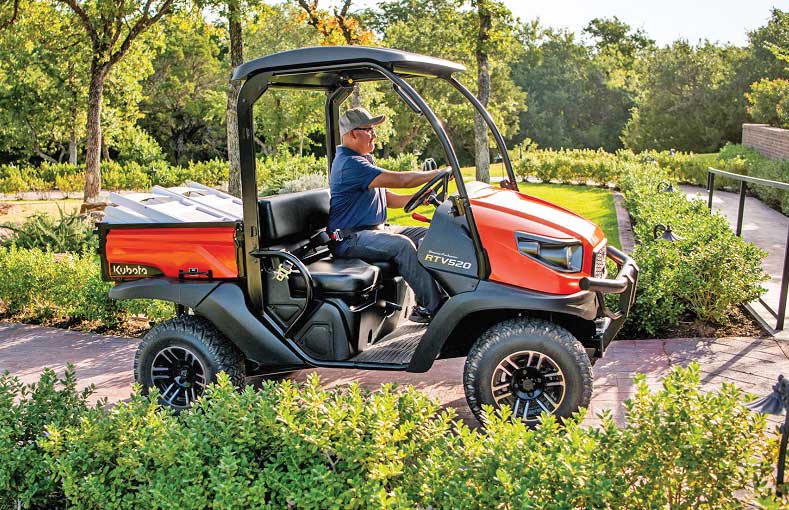 Kubota Tractor Corp. updated its RTV lineup with the launch of the gas-powered RTV520 with a new look and updated features. The new RTV520 features a more powerful two-cylinder Kubota liquid-cooled EFI engine that provides more than 17 hp and gives instant power with greater throttle control. Equipped with a variable hydrostatic transmission that provides exceptional performance on any terrain, the RTV520 offers a smooth driving experience at low speeds, and dynamic braking allows for one-pedal operation, making jobs that require frequent stops easier. Offered in general purpose and deluxe configurations, the RTV520 is available now at Kubota dealerships. For more info, visit kubotausa.com or booth 5084 (indoor).
Takeuchi TL12R2 Track Loader
Takeuchi's TL12R2 radial-lift compact track loader features a completely redesigned operator's station with a 5.7-in. multi-informational color display and precision pilot controls. Cab models have a smooth, low-effort overhead door that improves entry and egress while allowing the loader to be operated with the door in the raised or lowered position. An updated undercarriage with a wide-block, quiet-ride track system provides better flotation and improved ride quality with less noise and vibration. A 111.3-hp Kubota engine meets the latest EPA Tier 4 emissions standards while delivering 276 ft-lbs of torque. Active Power Control comes standard. For more info, visit takeuchi-us.com or booths 11146 (indoor) and 7734D (outdoor).
Mini excavators are making big waves on jobsites all over North America. Click here for the latest news on these machines and the companies that make them.
Caterpillar 2.7- to 3.5-Tonne Minis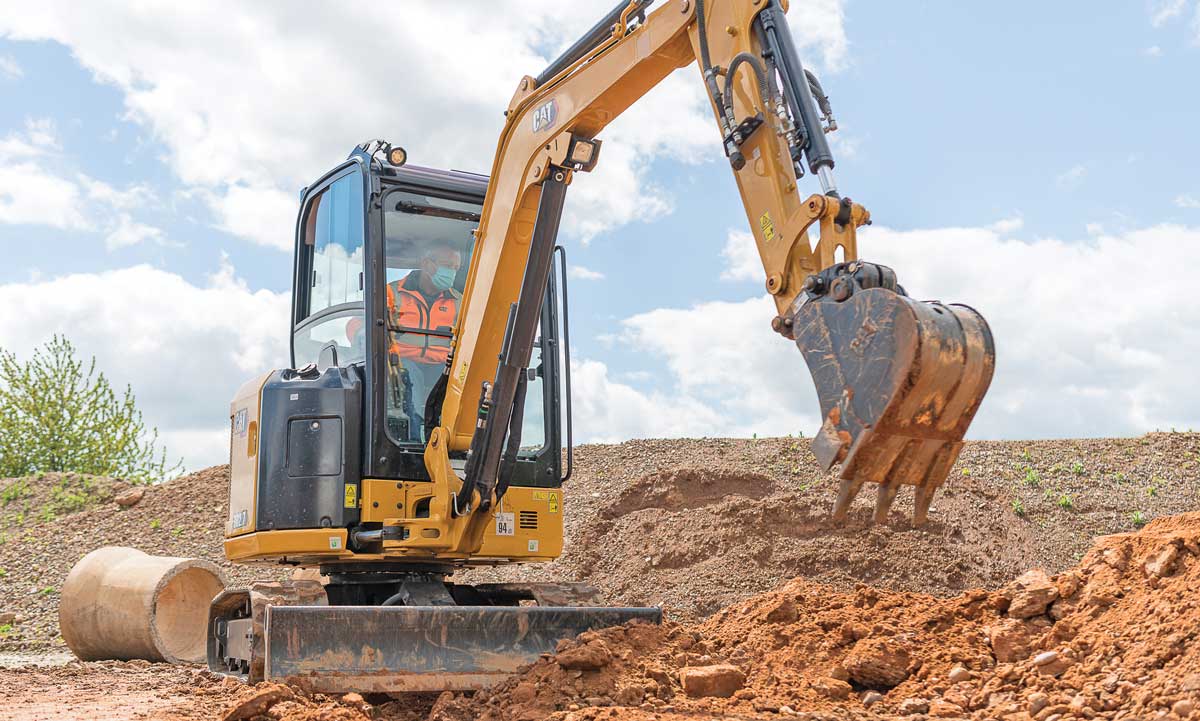 The new Cat 302.7 CR, 303 CR and 303.5 CR hydraulic mini excavators introduce industry-first features for the 2.7- to 3.5-tonne-class machines. Built on the Next Generation platform that offers a consistent operator experience through the 1.5- to 10-tonne range, each new model features exclusive stick steer, cruise control, operator adjustable settings and tilt-up canopy or cab as standard. Expanded use of common parts throughout the line plus their damage-resistant exterior construction help to reduce parts inventory investment and lower repair costs. Design enhancements for the new 302.7 CR, 303 CR and 303.5 CR deliver up to 10 percent more performance in travel and trenching. For more info, visit cat.com or booths 3084 (indoor) and 7650D (outdoor).
Ditch Witch Stand-On Skid Steers
The newly enhanced line of Ditch Witch stand-on skid steers offers construction-grade durability and versatility to conquer a variety of complex landscape and irrigation jobs. The family of skid steers is broken into two classes: mini stand-on skid steers and full-size stand-on skid steers. The SK600, SK800, SK1050 and SK1550 units make up the mini class. The machines are equipped with powerful engines ranging from 24.8 to 44 hp and offer up to 34.5-hp directed to the attachment, depending on the model. The SK3000 is the only full-size stand-on skid steer in the industry and is powered by a 59-hp engine — with the ability to direct 51 hp to the attachment. For more info, visit ditchwitch.com/stand-on-skid-steers or booth 7429D.
Kanga Loaders USA
The company who invented the stand-on compact utility loader back in 1981 recently celebrated a year since their North American release and will be exhibiting at GIE+EXPO in October. Originally designed in Australia as a motorized wheelbarrow in 1978, the concept developed into a stand-on machine which has gone on to change the face of many industries. The Kanga Utility Loader is ideally suited to the landscape and arborist market with its turf tire model offering minimized ground disturbance on grassy or sandy ground. Turf tires also offer greater ground contact for increased grip. For more info, visit kangaloaderusa.com or booth 23072.
Kioti Grapples
Kioti's first-ever line of grapples empowers professionals and landowners alike to tackle maintenance tasks with efficiency and ease. Offerings include three compact and three standard-duty rake models. With widths ranging from 48 to 72 in. and jaw openings between 30 and 41 in., there are models to fit a wide variety of operator needs. Each model is made with AR400 steel teeth, allowing operators to grasp, lift and move debris with ease. These lightweight yet durable attachments make property maintenance a breeze. Compact single arm models include the KG2048, KG2054 and KG2060. Standard-duty single arm models include the KG4060, KG4066 and KG4072. For more info, visit kioti.com or booths 3212 (indoor) and 7528D (outdoor).
For reprint and licensing requests for this article, please click here.