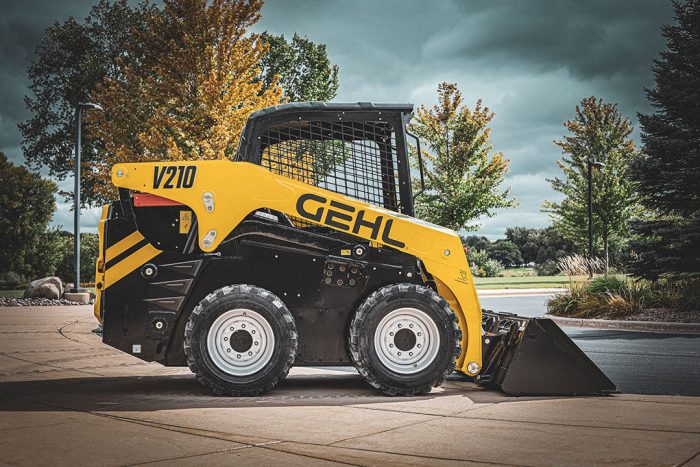 Manitou Group was busy last week at CONEXPO-CON/AGG. The global equipment maker, focused on the handling, aerial work platform and earth moving sectors, announced the complete overhaul of its global compact loader lineup, along with the launch of a new line of telehandlers dedicated to the North American market, at CONEXPO — the largest construction event in the United States. The group's aim is to present its international ambitions and consolidate its development.
One year after announcing a massive $74 million investment plan to expand and modernize its U.S. production facilities and develop innovative product lines, Manitou Group presented a brand new range of compact skid steer and track loaders, for which the North American market represents half of the global market, at CONEXPO. Manufactured at the Madison facility in South Dakota, this line meets many needs such as road construction, demolition, or land leveling. A brand new range of telehandlers, specifically designed for the North American market and assembled in Yankton, South Dakota (photo below), was also presented on the group's booth.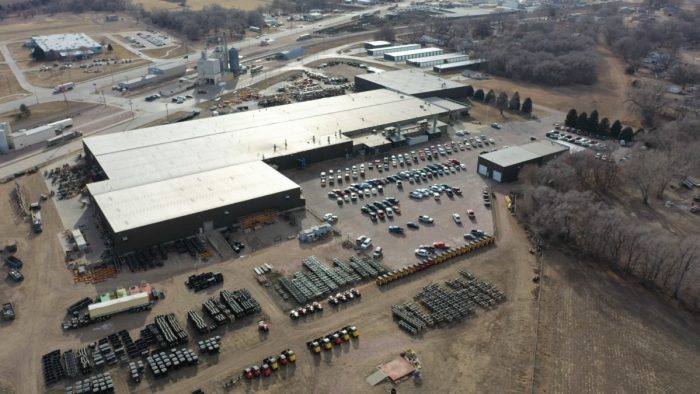 Global Launch of Six New Skid Steers and Compact Track Loaders
Three V-Series compact skid steer loaders and three VT-Series compact track loaders, available under the Gehl and Manitou brands respectively, make up this completely renewed range. These six new models have a capacity of 2,100 lbs to 2,750 lbs.
Nathan Ryan, Compact Loader Line Manager, says: "We have focused on improvements in five main areas: safety, comfort, productivity, simplification, and serviceability. All models are vertical lift and feature a new lift arm design. The driver's station has also been redesigned with an improved version of our patented folding door. The new cab also offers some of the best visibility on the market thanks to a new window and roof design."
The breakout force is now 12% higher on average (compared to the previous range) and the tank capacity is increased by 14%, allowing users to enjoy greater productivity. The new loaders feature keyless start requiring only code activation, LED lighting, and a patented Pilot joystick system as standard, adjacent to the operator's seat. Numerous innovations also facilitate maintenance with a lifting cab and centralized maintenance points.
For added comfort, the track loader range is equipped as standard with the patented IdealTrax system, ensuring automatic track tensioning and extending the life of the tracks. Numerous options (additional LEDs on the sides, high hydraulic flow, rear camera, etc.) are also available to meet the requirements of each user. It is worth noting that the total cost of ownership (TCO) of these models has been reduced, with the VT 210 model, for example, boasting a TCO of only $20 per hour, representing an average reduction of 7.2% over the previous model range. With these six models, Manitou Group highlights its desire to streamline the design of its models by offering its users a simplified range that meets all their needs.


Telehandlers Made in the USA for the USA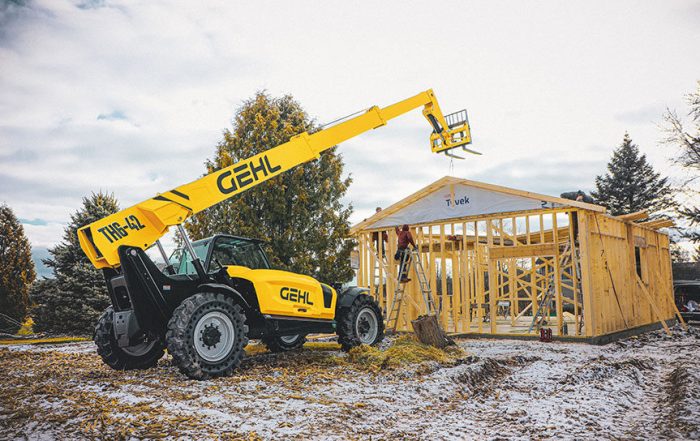 For this new range of telehandlers for the North American market, Manitou Group offers seven models, available under the Manitou (MTA range) and Gehl (TH range) brands. Manufactured at the Yankton facility in South Dakota, the new telehandler series is designed to meet the needs of the construction and rental markets in North America. This range offers a lifting height of 43 to 56 feet, and lifting capacities of 6,000 to 12,000 lbs. The new design also offers improved visibility, enhanced comfort and performance, and a lower total cost of ownership. The design has been completely redesigned with a new cab, providing enhanced comfort and better visibility around the machine and on the attachment. Noise pollution is greatly reduced to 80 dBA inside the cab. In the driver's cab, an intuitive dashboard provides operating and maintenance alerts, and the JSM (joystick switch and move) allows fingertip control of every function. For enhanced comfort and safety, this range also features an automatic parking brake.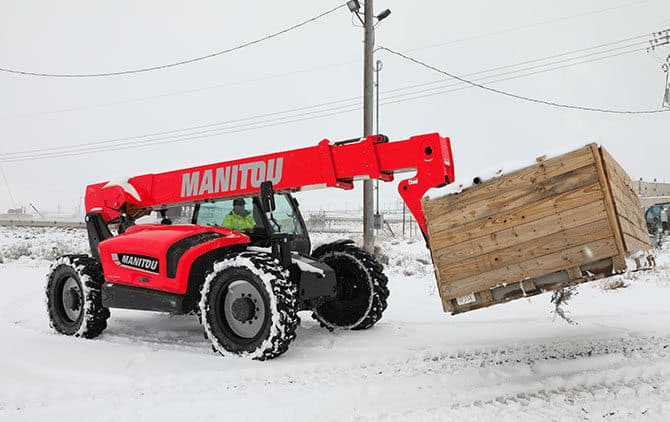 Steve Kiskunas, US Telehandler Product Line Manager, explains: "We have done a great deal of work on the comfort and performance of this new range. The new load-sensing hydraulic system improves smoothness and accuracy, and the combined hydraulic movements provide greater efficiency for increased productivity. The new transmission's automatic mode offers greater flexibility and optimum torque with less operator fatigue, with the option to switch to standard powershift transmission at any time."
Manitou Group has also worked on reducing TCO with more robust components for better residual value. Design innovations have also been introduced, including easier access to the engine, reducing preventive maintenance costs by 8.7% compared to the previous range.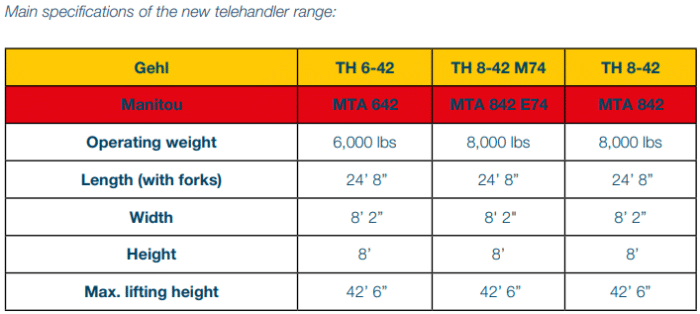 A Lift Truck Perfect for Rental Companies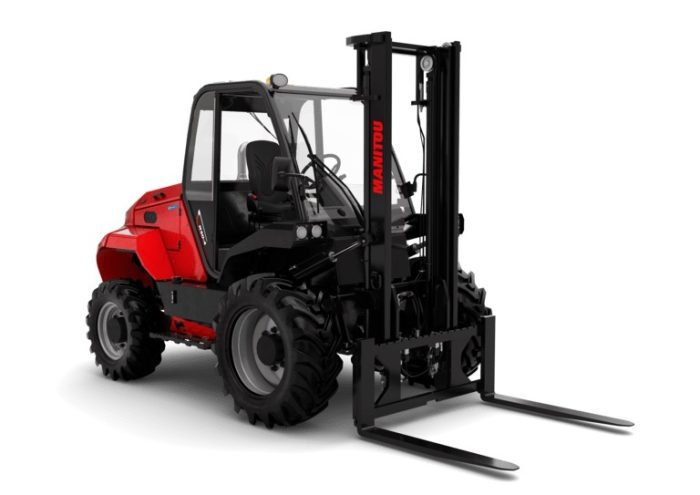 To meet the demands of North American rental companies, Manitou Group has upgraded its range of heavy-duty rough-terrain lift trucks. Equipped with a 45-degree tilting mast, the lift trucks can be easily transported on trucks in North America without the problem of getting under bridges where the clearance height is often reduced compared to European infrastructures. This sliding mast also gives the operator greater visibility. The M 40 model, presented at CONEXPO, has a load capacity of 8,800 lbs, for two lifting heights of 22 feet with the triplex mast version, and 15 feet with the duplex mast version. This range is particularly suited to residential construction, public works or road infrastructures, as well as container handling in port areas.
Launch of the Electric Platform Range in the United States
The Manitou Group continues to roll out its Oxygen low emissions range. After Europe last October, the ATJ 60e all-terrain aerial platform (200 ATJe in Europe), with a working height of 66 feet, is now available in a four-wheel-steered version for greater maneuverability and a basket that can now accept 550 lbs of full load, 66 lbs more than the two-wheel-steered version. The TCO is reduced with an almost 50% decrease in maintenance costs compared to the internal combustion version.
A new ATJ 46e model is also added to this range of all-terrain electric telescopic articulated platforms. With a working height of 52 feet, this model has a basket with a full load capacity of 551 lbs. A second version, the ATJ 46+e, is also available on the North American market, significantly increasing the capacity up to 882 lbs. An extended range solution known as E-Xtra generator was also presented at CONEXPO. It is a removable generator common to all the platforms in the range, delivering up to one week of autonomy.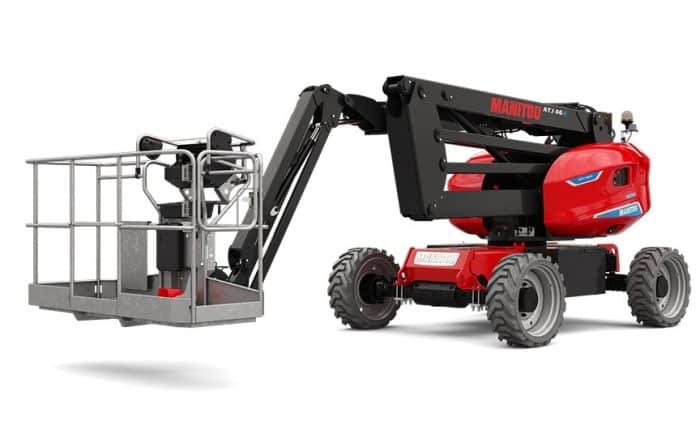 Arnaud Boyer, VP Marketing and Product Development, adds: "CONEXPO is a great opportunity to present new electric solutions. This continues the expansion of our US-bound aerial platform line, initiated in 2019. With 14 models now on offer, we are strengthening our position in a market with very high potential for Manitou Group. We will continue to extend electrification to other ranges in accordance with the objectives of our CSR roadmap."
We'd love to keep in touch! Check us out on Facebook, Twitter and LinkedIn!