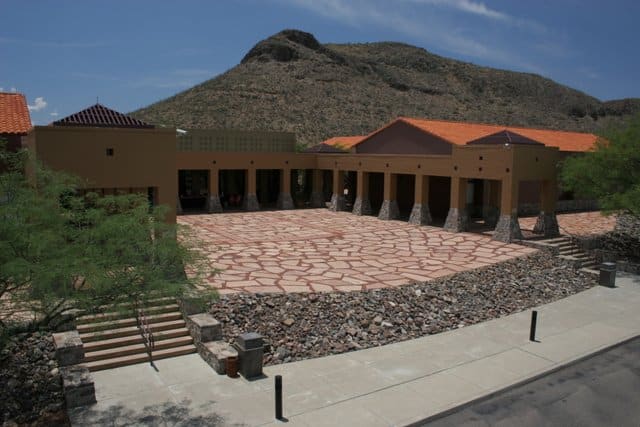 Every time I visit Caterpillar's massive demonstration and learning center out in the Arizona desert, we end up talking about the future of technology in the construction industry. The last time I was out at Caterpillar's Tinaja Hills Demonstration & Learning Center was in 2014 for a pre-CONEXPO-CON/AGG event. The big message back then was Cat Connect, which is Cat's umbrella term for its wealth of technology-equipped machines and smart-use services (everything from telematics to grade control).
This week it was "The Jobsite of the Future." Caterpillar invited about 30 trade editors out to Tucson (including Compact Equipment) to discuss the evolution of technology and productivity on construction equipment, as well as operate its latest group of high-tech machinery.
"We're trying to become obsessed with the jobsite, instead of being obsessed with the machine," explained Paulo Fellin, vice president of the global construction and infrastructure group at Caterpillar Inc. "How can I set up the jobsite so I'm more productive? How can I know my machines are working at full capacity? How can I tell that the operator knows how to use my machines well? We need to answer those questions. We need to fill that space, and that's what we're doing."
Caterpillar is aiming to take technology and services like Cat Connect to levels that might sound like sci-fi to most contractors — on the cutting edge, things like autonomous machines and drones mapping construction sites — and in growing applications things like predictive modeling and analytics, cloud power, same-day delivery logistics, social sharing and the ever important Internet of Things.
Data seems to be at the heart of it. In the same way sabermetics and science is changing sports like baseball, Caterpillar is hoping to change the customer experience of digitally and physically engaging with construction equipment, using data.
"The vision that we have is a connected jobsite — mixed fleet and everything. It says 2020 [on the presentation], but I think it's going to happen sooner than that," said John Carpenter, construction technology and solutions manager with Caterpillar. "We have a lot of data that we can analyze that can help us describe the issue, but also help us predict the future … The ability to have your tablet with you and analyze the machine or jobsite ahead of time. The ability to automate processes — auto digging, auto grading, auto weighing — with the ability to make novice operators great, expanding that labor pool. We can even envision the use of augmented reality — going in with glassware with a machine and recognizing the part that it needs, watching a video of how to repair it and beyond."
Caterpillar launched a new Analytics & Innovation (AI, get it?) Division in April 2015. Cat formed the technology and predictive analytics agreement with Chicago-based Uptake, a provider of analytics and insight platforms for a wide array of industries; since 2014 Uptake has been developing locomotive-related predictive diagnostics and fleet optimization solutions for Electro-Motive Diesel (EMD), a subsidiary of Caterpillar.
This new division, led by Caterpillar vice president Greg Folley, aims to capitalize on the growing importance and excitement of data analytics and to drive innovation to support customers. Caterpillar will co-locate key employees with the Uptake team in Chicago to accelerate the work needed to create a platform that takes massive amounts of data, combines it with data science to understand patterns and quickly deploys information to save customers money, optimize performance and prevent unplanned downtime.
"In the last 40 years, productivity in construction equipment has not increased," explained Fellin, pointing to a graph indicating this very fact. "In fact, productivity has declined. There's a big need out there and a thirst and a hunger."
We'll have to wait to see where exactly Caterpillar takes its data division in the future, but until then, we saw and operated some awesome equipment that is going to change jobsite productivity today.
Cat 336F L XE Hybrid Excavator
Cat released its first generation 336E L XE hybrid excavator back in 2013, and now the company released its updated F model. The Cat 336F L XE hybrid features an integrated design that conserves fuel, optimizes performance, and captures and reuses energy. The machine delivers an estimated fuel savings of up to 20 percent compared with its standard 336 counterpart with no compromise in performance and no added maintenance costs. The new Cat Production Measurement system adds even more value by enabling operators to load trucks with just the right weight while allowing managers to remotely monitor the machine's productivity.
The 336F XE uses three building block technologies to deliver outstanding fuel savings and performance. The Cat Electronic Standardized Programmable (ESP) pump smoothly transitions between the hydraulic hybrid power sources, the engine, and the accumulator to conserve fuel. The Cat Adaptive Control System (ACS) valve optimizes performance by intelligently managing restrictions and flows to control machine motion. Instead of wasting kinetic energy during swing braking, the Cat Hydraulic Hybrid Swing System pressurizes the accumulator to stop the machine and then uses that pressure when needed to accelerate the machine later.
The key ingredient is the ACS valve, which can be found only on the Cat brand. It is the "brain" of the system — one that independently controls machine functions and directs hydraulic energy where operators need it precisely when they need it. Because the ACS valve is fully integrated with the pump and hybrid system, operators will experience the same extraordinary control, hydraulic power, and lift capacity they get from traditional Cat machines with the added benefit of dramatically reduced fuel consumption. That's why the valve is now standard on larger machines like the 374F and 390F.
C Series Articulated Trucks
The new Cat 735C, 740C EJ, and 745C articulated trucks build on the proven performance, reliability and durability of their B Series predecessors with significant new features — new transmissions with expanded electronic control, automatic traction control, automatic retarder control, hill assist and waiting brake systems and an optional payload weighing system — all aimed at delivering lower costs per ton by reducing cycle times, saving fuel, and easing the operator's work load.
Rated payload capacities for the new models are 36, 42, and 45.2 tons, respectively, with all models replacing their B Series predecessors. The new 745C's 1.7-ton (1.5 mt) capacity increase (compared with the 740B's capacity) combines with its faster cycle times for significant production gains.
The new 740C EJ ejector model, which combines the 745C's tractor with a horizontal-discharge body, provides added versatility and safety in certain operations. The 740C EJ can unload material to uniform depths while traveling at speed, potentially reducing the need for on-site spreading equipment, and can discharge the load with added stability in soft underfoot conditions, on side slopes and grades, and in environments where overhead obstructions are present.
Cat 313F L GC Excavator
Of course, it wasn't all high-tech, expensive equipment — there were also clever, economized versions. The new Cat 313F L GC hydraulic excavator is designed for the user whose bottom line depends on reliable performance at a low cost per hour. The machine features an efficient C3.4B U.S. EPA Tier 4 Final engine that's light on fuel — with no need for diesel exhaust fluid. It has a proven one-pump hydraulic system that makes everyday tasks like light excavating, spreading top soil, setting utilities, and fine grading floors easy to do. It also comes equipped with unique features like a stout and stable long undercarriage, a quiet and comfortable full-size Roll-Over Protective Structure (ROPS) cab, and uncomplicated and easy-to-reach service points that will please operators and mechanics.
The 313F L GC's 70-hp engine provides all the power needed to run the machine's hydraulic system. Fuel-conscious owners will like the choice of high power and economy modes to actively manage fuel consumption; they will also like the engine idle shutdown feature that stops the engine after a pre-set idling interval, which helps reduce fuel consumption and emissions and also extends service intervals and contributes to higher resale value by eliminating idle time from the hour meter.
The machine's new and simple hydraulic system delivers ample and reliable power for digging, lifting, and attachment use. The load-sense pump and main control valve calculate exact work demands — all to deliver the stick and bucket force needed to get work done with low owning and operating costs. For added machine versatility, the 313F L GC can be equipped with high- and medium-pressure hydraulic circuits along with a quick coupler to handle a range of Cat buckets and work tools.
Tags:
Arizona
,
Cat Connect
,
Caterpillar
,
CONEXPO-CON/AGG
,
Editor at Large
,
home
,
Hybrids
,
Internet of Things
,
Tier 4 Final