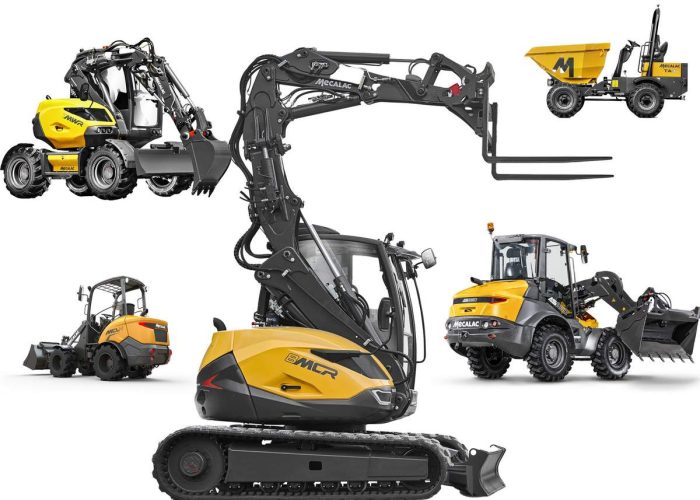 Mecalac machines just look cool. Those sleek designs. That gnarly three-part boom, fitted with rows of hydraulic hoses. All those articulating frames, twirling 180 or 360 degrees. I could easily imagine a 12MTX wheel excavator loader working in the background of some sci-fi film, with its unique articulating chassis, crazy multiangle boom and 360-degree loading and digging abilities (watch it). Sporting names like "swing loaders" and "skid-excavators," many of the machines under the Mecalac brand don't even fit into normal equipment categories.
"Our target was always to have a different approach," explained Patrick Brehmer, Mecalac head of design and product management, during a press event in Golden, Colorado, in mid-May. "[Our competition], they all do the same product. They all do the same mini excavators. They all make the same backhoe loaders. If you take away the [paint] color, you can't see the difference. They try to sell these by saying, 'Mine is 1 in. more here or 2 ft less here.' At the end of the day, the only differentiation is how much plastic is put in it, how is my cell phone integrated and then it's only fighting about price because the product is the same. We have a little bit of a different approach."
This different approach includes machines like Mecalac's MCR crawler skid-excavators (pictured below to the right), utilizing a unique side-mounted multiangle arm (with five axes of movement) for ultimate digging, loading and attachment flexibility. These excavator/track loader hybrids travel two times faster than any small excavator, can change joystick controls from excavator to skid steer pattern and can wield skid steer-sized buckets and then use those buckets in tandem with its backfill blade to generate track loader-type torque and pushing power. There's nothing else like it.
Another example is Mecalac's AS Series swing loader line, which allows 180 degrees of bucket/attachment swivel for precision loading and unloading in confined quarters. Like a telehandler, AS swing loaders have three steering modes — two-wheel, four-wheel and four-wheel crab — which give it the ability to precisely drive, maneuver and pivot for ultimate productivity. Here's a walk-around.
That's only two product lines. I recently had the opportunity to operate and explore a dealer lot full of Mecalac offerings with a trip to Global Machinery Specialized Equipment's Denver location (photo below). As you can guess from the name, Global Machinery handles a lot of specialized equipment: FAE dedicated mulchers, Avant Tecno small articulated wheel loaders and big pipelayers equipped with Bron vibratory plows. Even in this backyard full of interesting iron, Mecalac machines drew the complete attention of a group of trade journalists.

It helped that the company had a lot to report. It just introduced a line of MCL Series small articulated loaders to the American market. It's still pushing dedicated dumpers and seeing traction for that Euro-style machine, and now it's teasing electric iterations of its unique products in the near future. Here's everything I learned at Mecalc's North American press event.
Who Is Mecalac?
Mecalac is a manufacturer of high-end compact class construction equipment — excavators, wheel loaders, dedicated dumpers, backhoes or at least something in between those categories — headquartered in Annecy, France. Founded in 1974, Mecalac excavators were actually once a part of the Pel-Job Group — a famous brand of French excavators that was purchased by Volvo Construction Equipment in 1995. In 1998, Volvo CE divested the Mecalac brand, and today it's a stand-alone company that builds a lot more than just high-end excavators. Mecalac acquired those cool swing loaders from Ahlmann (a German company) in 2002. In 2017, Groupe Mecalac S.A. made a deal with Terex Corp. to acquire its backhoe loaders, site dumpers and compaction rollers' subsidiary — known then under the Fermec and Benford brands. In 2017, Mecalac Group increased its compact wheel loader business with the acquisition of French brand Pichon, which were the predecessors of Mecalac's MCL Series of small articulated loaders. It's built quite a portfolio over the last two decades.
Mecalac machines first arrived on North American shores in 2016, and the company has a 28,000-sq-ft facility in Norfolk, Massachusetts (near Boston), that serves as its North American headquarters.
"In Norfolk, we have $8 million worth of inventory under roof. We have about $2.5 million dollars' worth of parts and attachments inside, and we have a very active traffic of trucks coming in and out, bringing all these machines to our dealer network," said Peter Bigwood, general manager at Mecalac North America. "We currently have 23 dealers in America, and we are approaching 100 locations."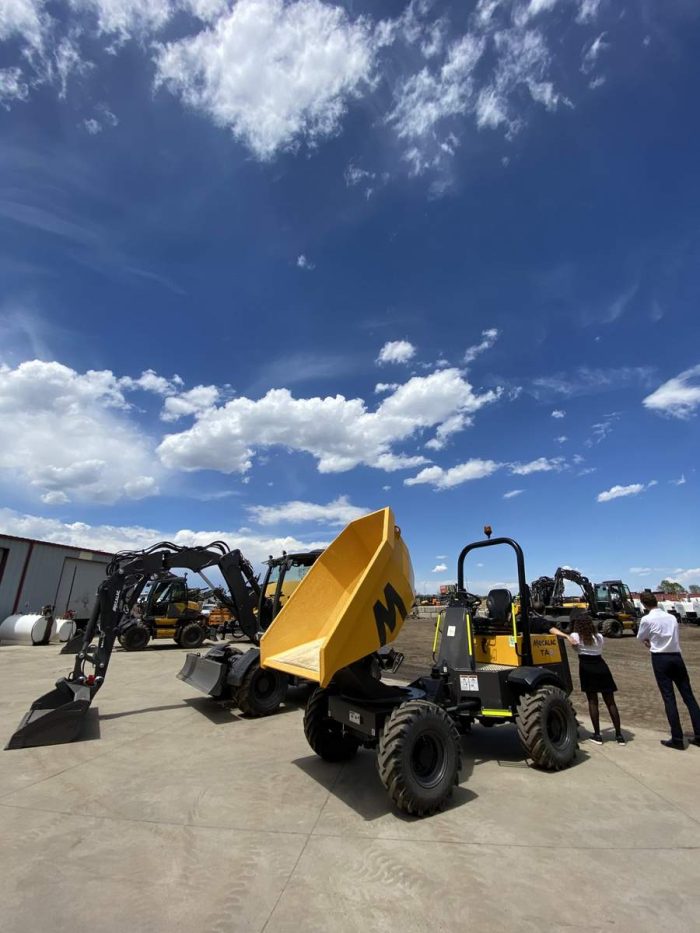 At the press event, Mecalac was pushing five categories of machines into the U.S. marketplace: MCL Series small articulated wheel loaders; MWR Series wheeled excavators; AS Series swing loaders; MCR Series skid-excavators; and its line of dedicated dumpers. The company also makes compaction equipment (single drum and tandem vibratory rollers), backhoe loaders and specialty machines like the aforementioned 12MTX wheel excavator loader, products like its rail-road excavators and AT and AS wheel loader units with telescoping booms. These machines come loaded with both unique technologies (swivel chassis, multiangle excavator arms, extra drive motors and dedicated pumps) and royal amenities (dual cameras, custom colors, heated seats, large controls and dials and most units come standard with a spacious cab + heat and air).
To ensure quality control over all this coolness, Mecalac manufactures many of the components that go into these unique units. "We do our cylinders. We do our swivel joints. We do our software," said Brehmer. The company even makes its own safety quick-coupler systems for its excavators. "It's the only quick-coupler in the world that is always pushing," continued Brehmer. "Even after 3,000, 5,000 hours of working, the cylinder will always push. So, every bucket, every attachment, will be completely attached."
Mecalac's aim is to offer compact class construction equipment that is optimized for attachment usage and boasts superior performance, flexibility, speed, safety and efficiency. Now, let's get into some of these products.
Mini excavators are making big waves on jobsites all over North America. Click here for the latest news on these machines and the companies that make them.
The MCR and MWR Series Excavators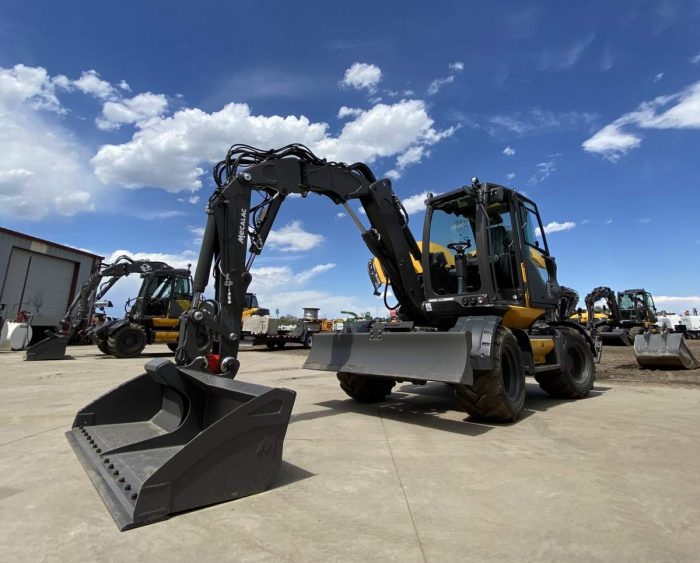 At the press event, I got the opportunity to operate a MWR Series wheeled excavator, and the experience was enlightening — crazy digging angles, fast speeds, luxury cab and outstanding visibility (especially with one camera in the rear and another on the side). Mecalac's MWR Series in America consists of four models — the 7MWR, 9MWR, 11MWR and 15MWR. The smallest of the three, the 7MWR, offers speeds up to 19 mph. Two of the larger models, the 9MWR and 11MWR, go up to 12 mph with an option for 22 mph on the 9MWR and 19 mph on the 11MWR. Balance is ultra-important on these machines, as digging with wheels instead of tracks can feel a little top-heavy.
"Our center bearing is 25 percent lower than any other wheeled excavator in the market. We're lower than the top of our tires, which lowers our center of gravity, which makes us very stable," explained Ryan Carter, regional sales manager at Mecalac.
That also means the cab is lower compared to rival products on the market, so getting in and out of the operator station is a breeze. The low position of the fuel tank also helps with that lower center of gravity. It also means the operator can refuel at ground level. With four-wheel steering, the MWR Series machines are incredibly maneuverable and feature a turn radius 2.5 times more compact than a traditional wheeled excavator, says Mecalac. These wheeled excavators even have three driving direction modes, which enables MWR operators to spin the cab, grab the steering wheel and get out of tight situations.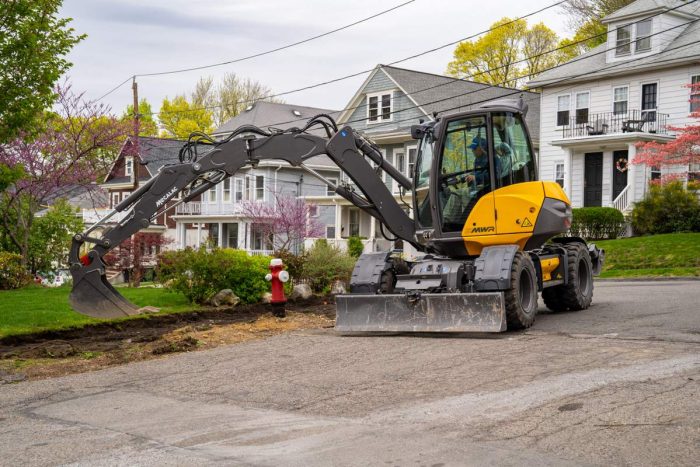 A 75-hp engine is standard on each MWR model, which means these diggers won't need diesel exhaust fluid. One of the most impressive feats of these wheeled units is the lifting capacity ratio, which is best in class, says Mecalac. The smallest model is able to lift 3 metric tons at 10 ft through 360 degrees. Of course, the standout feature might be Mecalac's unique boom design, which is a three-part arm with an extra cylinder, allowing five axes of movement to help dig from the sides and even below the excavator.
"It's a variable angle, multi-piece boom," explained Carter. "So, it does have this extra cylinder, which allows you to open it up and dig far away like a normal mono boom excavator or you can suck that boom in, close your angle and work in close where your mono boom can't.
With this, you can do about 30 percent more trenching without having to relocate the machine. You can even dig under the machine. I've got guys who work on a steel plate, like in an intersection, and they're digging down underneath themselves."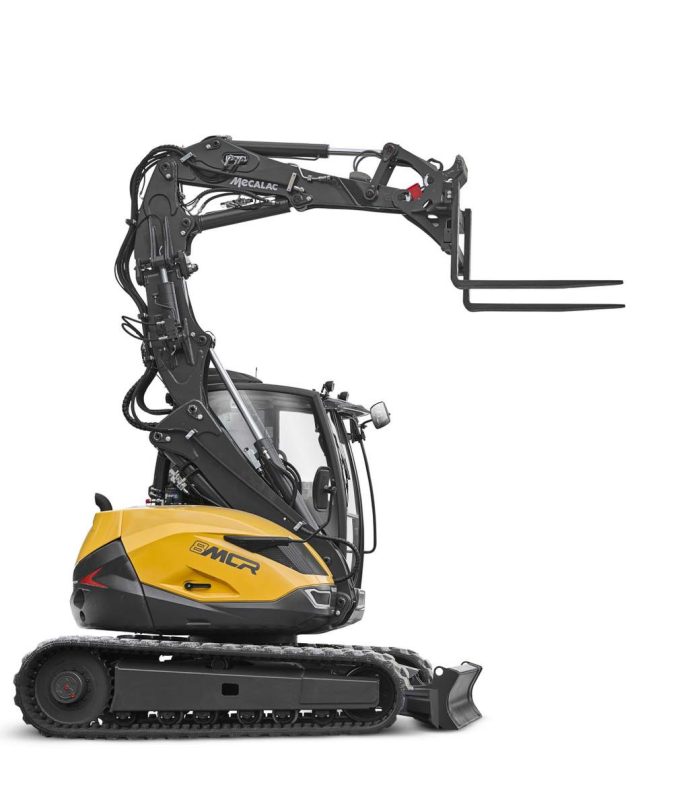 Fitted with an undercarriage, Mecalac also offers its MCR Series crawler skid-excavators to North American contractors. Comprised of three models, the 6MCR, 8MCR and 10MCR, Mecalac's line of compact skid-excavators provide the swiftness of a compact track loader (6.2 mph top speed) with the 360-degree rotation of an excavator. MCR units also utilize Mecalac's innovative three-part, multiangle arm and rotating ability to deliver big performance via the company's signature 360-degree compactness. The MCR Series also sports a unique undercarriage, featuring a hydrostatic transmission and drive motors that rival a compact track loader. A dedicated pump drives the motor, allowing for twice the speed of any traditional mini ex on the market. Inside the cab, the joysticks can even be adjusted to go from excavator pattern (ISO) to track loader pattern.
"As soon as you switch in the skid motors, you can drive the machine with the left joystick," said Brehmer. "One of the huge benefits of having a skid steer bucket at the end of the excavator boom [vs. on a skid steer] is you can operate without driving [or repositioning the machine]. Also, the tipping heights. There's no skid steer or anything like that able to drop materials from that level. So, it's not only a skid steer, it's the only 360-degree skid steer in the world. It's the only high drop skid steer in the world."
With a skid bucket attachment on a MCR skid-excavator, contractors can move up to .98 cu yds of material at top speed or rest the bucket against the blade for applications such as grading and ground leveling. MCRs also have skid steer-like attachment capability via the company's patented quick-coupler — called Connect. The advanced system allows operators to quickly transition between attachments — buckets, grapples, brush cutters, compaction plates — without leaving the cab. Attach a set of forks and MCRs can pick and place pallets at a variety of heights and even below ground.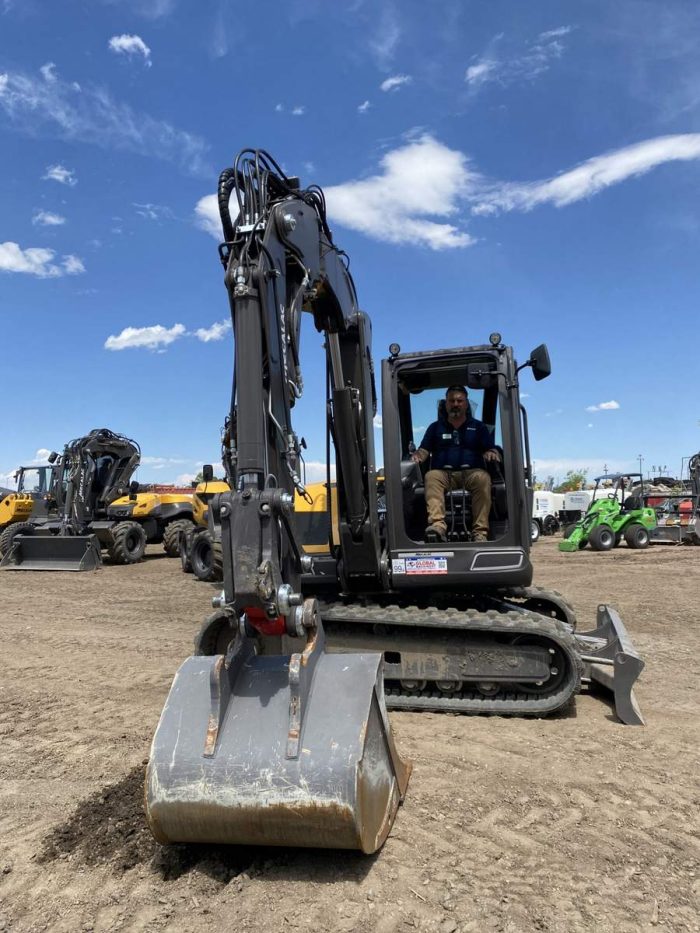 "Our little 6MCR goes almost 10 ft deep," said Carter. "With forks, you can do a negative lift, drop a pallet into a basement. Then again, that 6. It has the reach, the height and the capacity of a 5519 telehandler."
The cabs and operator stations on all these excavators are pretty boss. Just take one look at that big color monitor, spacious work area, glass-everywhere visibility and those joysticks full of extra buttons and toggles, and you'll quickly realize these units have a lot of impressive abilities. These excavators come ready for both grade-control options and the ability to wield a tiltrotator, which allows 360-degree spinning of the bucket and other attachments off the arm.
"Every machine that's been built since 2021 has the harnesses in there for a [tiltrotator]," noted Carter, "So you just remove the old joysticks and plug in the end of the other wiring harness that's already in there. It's plug and play. Then you just got to program it and tell it that you got the tiltrotator on there."
AS Swing Loaders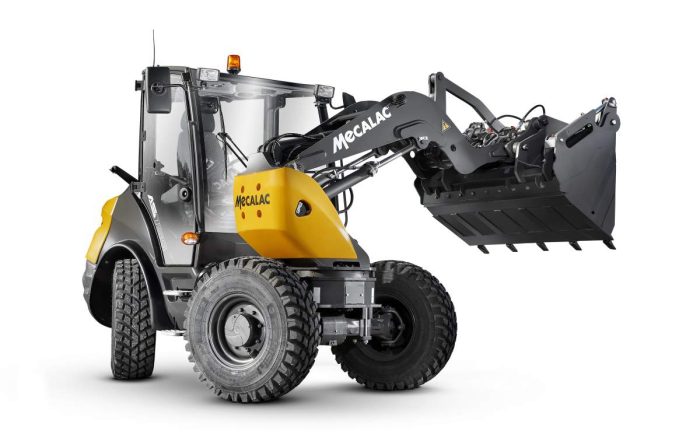 Mecalac offers a number of interesting wheel loader options — traditional articulated loaders, ultra-compact tool carrier types, telescoping variants and even a battery-powered model. Its coolest (in my opinion) are the AS swing loaders. The AS600, AS750, AS850, AS900tele, AS1000, AS1600 and AS210 all feature a rigid chassis and three steering modes — two-wheel, four-wheel and four-wheel crab — which allows for tighter turns than a standard articulated loader. All of these units also incorporate Mecalac's unique swivel boom, enabling 180-degree rotation of the bucket or attachment in a footprint that is smaller than a conventional loader.
"Mecalac's swing loaders offer new capabilities to the North American market," said Bigwood. "Mecalac has designed a product that addresses the shortcomings of traditional loaders and provides a tool that can operate in a confined space, is economical in its movements, improving productivity, and is completely stable in all positions. The new models offer all these advantages in the 11,000- to 15,000-lb range."
So, how does all that swiveling affect balance? Always focused on safety, Mecalac ensures its swing loaders are designed to maintain 100 percent stability regardless of how the bucket or attachment is positioned. With a proprietary integrated counterbalance paired with a patented automatic rear axle locking system, the bucket and its contents can be lifted and turned up to 90 degrees on either side without any loss of stability.
Here are some examples of popular units. At just over 11,000 lbs, with a bucket capacity of 0.98 yd3, the AS750 is the second smallest swing loader model in the Mecalac lineup. Compared with the AS600, the new model is wider with a longer wheelbase (6 ft, 1 in.) for even greater stability while the higher engine power (61 hp) provides heightened lift and load capacities. The parallel, or P-bucket, offers outstanding precision during material handling operations, especially with the pallet forks or load hook. The AS750 is also designed with a spacious cab and two doors to give the operator optimal visibility for a safer jobsite.
For those looking for even more productivity, the mid-size AS850, with an operating weight of 13,184 lbs and a bucket capacity of 1.1 yd3 is a pretty good answer. This model encapsulates all the benefits of the AS Series swing loaders with optional increased travel speed up to 25 mph. Going even bigger, the AS1000 is a mid-size model at 14,639 lbs with a bucket capacity of approximately 1.3 yd3. It offers fast speeds with its four-cylinder, 75-hp, high-torque engine. An optional high-flow hydraulic line offers up to 31.7 pm of auxiliary flow for the AS1000.
Urban construction sites with limited space and time-sensitive applications are the natural environment for these Mecalac swing loaders.
"The possibilities are endless," said Bigwood, "but construction, road, utility and municipal are strong. Attachments — pallet forks, buckets, brushes, snow plows, hedge trimmers, etc. — make them super versatile. Filling trenches, carrying pipe, jersey barriers, pallets of material, handling material, such as snow or waste."
We'd love to keep in touch! Check us out on Facebook, Twitter and LinkedIn!
MCL Small Articulated Loaders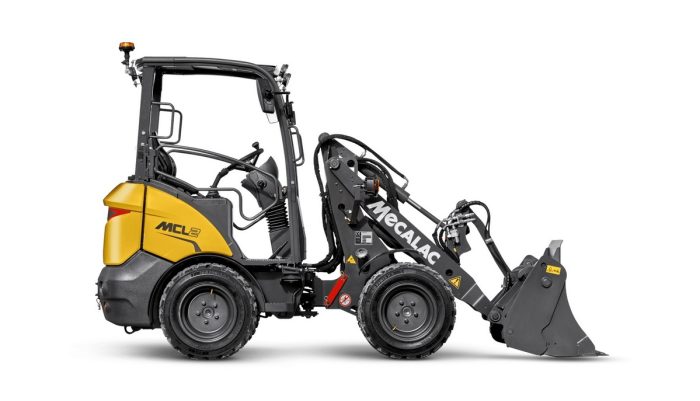 The newest addition to Mecalac's portfolio in North America is its set of small articulated wheel loaders — a category that's gaining traction and attention in the U.S. market. Mecalac's MCL line is comprised of six models, including the MCL2, MCL4, MCL4+, MCL6, MCL6+ and MCL8. These small wheel loaders are tool carriers, able to take numerous attachments beyond buckets, and these units can find work in agriculture, landscape, forestry, snow removal, utility, construction and beyond.
"We came out with six machines because each market takes care of different things," said Brehmer. "One wants to load light material high. The other one wants to lift very strong pallets. One wants comfort with speed and air conditioning and the other not."
These MCLs or Mecalac Compact Loaders are available in three versions — canopy, canopy with foldable top or a cab version. Like all Mecalac equipment, these small loaders come with cool tech such as M-Drive and speed control, which allow the loaders to function as a tool carrier, providing control of the rpm via hand throttle and speed via a foot pedal. This enables more precise and controlled operation of a wide variety of hydraulic attachments. When it comes to auxiliary hydraulics to the attachment, the MCL Series boasts 7.9 gpm of flow on the MCL2 and MCL4 models and 15.9 gpm flow on the MCL6 and MCL8. Smaller MCL units utilize a universal stand-on tool carrier attachment plate while the bigger units wield a universal skid-steer attachment system. Each MCL unit also has an option for auxiliary hydraulic lines out the rear of the machine as well as 12V 3 pole plugs.
"You could run a spreader off the rear of the machine or pull a trailer," said Geoffrey Andrews, product specialist and regional sales manager with Mecalac.
The MCL4+ and MCL6+ models come standard with a short boom, which offers a better tipping load, whereas the other four models come with a long boom standard, which maximizes tipping height. "The short boom is the construction style," said Andrews. "The longer boom version is mainly for agriculture because they're going to want a little bit more reach to stack bales and do other farm tasks. The long boom is going to be about a foot longer."
These articulating units are nimble. Each machine has a 45-degree articulation that keeps the front wheels traveling in the same path as the rear wheels while driving. The MCL2 and 4 models have a 25-hp engine, with travel speeds up to 7 mph for the MCL2, and 12 mph for MCL4 and 4+. The remaining models come with a 49-hp engine and travel up to 12 mph with an option for travel speeds up to 19 mph. Each machine in the MCL Series offers easy transportability between jobsites with low transport weight, ranging between 3,836 and 6,283 lbs and minimal width from 3 ft, 4 in. to 4 ft, 4 in., depending on tire selection.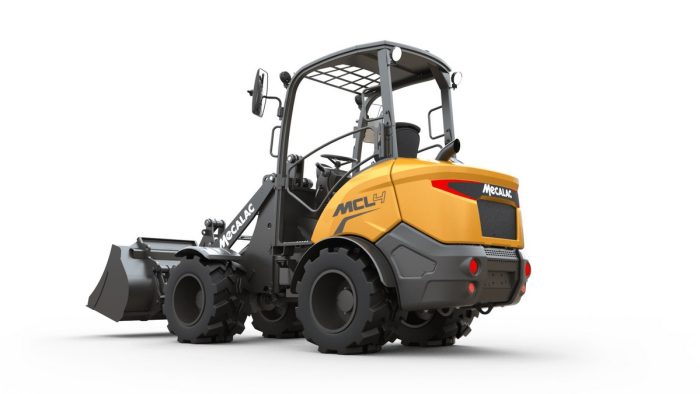 Once again, safety is a core focus for the MCL Series with easy accessibility for entering the cab or re-fueling from ground level. Maintenance is easy and safe as well.
"To access critical components, the cab lifts up off to the side," explained Andrews. "It's super easy access. This is a 24-hp engine right here. That means no [aftertreatment and] no DEF. You see your battery and master cutoff right here. Air filter. Underneath are our rear tie-downs."
These MCL units also allow some digital connectivity and flexibility. For starters, operators can tailor the machine to their specific operation. A startup digi-code incorporates a keypad that offers the owner tracking and monitoring capabilities by allowing the ability to assign a specific code for each operator. This digi-code also minimizes the risk of theft. Another option: MyMecalac Connected services offer remote management with access to all machine usage data, providing owners the information needed to minimize machine downtime through preventive maintenance. Operations can add the telematics box installation, which comes with a two-year subscription, to any MCL model they choose.
Mecalac Electric Units Are Coming to North America
As mentioned in the lede, Mecalac's 12MTX is a wheel loader excavator hybrid. It's a bigger 10-metric-ton machine that has an awesome articulating chassis, enabling crazy 360 digging and loading capabilities. The 12MTX is also engineered with a loader drivetrain, so it can perform bucket work like a wheel loader, while zipping between jobsites at a top speed of 19.9 mph. Making this machine even cooler, there's an electric version called the e12 (top speed 15.5 mph), which utilizes an electric transmission and lithium nickel-manganese-cobalt (NMC) battery technology. Mecalac noted this battery technology combines weight, power and quality ratios that are superior to conventional lithium-ion mixtures. Mecalac also noted this unit and more electric machines are on the way.
"Our electric offering is going to be three machines," said Brehmer. "That means a 10-ton excavator, a 1,000-liter loader and a 6-ton dumper. All of these are able to work a full day — even more. Those are not only the three most iconic machines in our range — a swing loader, the e12 [wheel excavator loader] and a swing dumper — they all fit perfectly together to be able to do zero emissions digging, loading and transportation of materials on a jobsite."
These electric machines could be on dealer lots by the end of 2024. We'll keep you updated about these e-machines and all the other cool equipment that Mecalac is selling onto American construction sites.
Keith Gribbins is publisher of Compact Equipment.
The TA3SH Dedicated Dumpers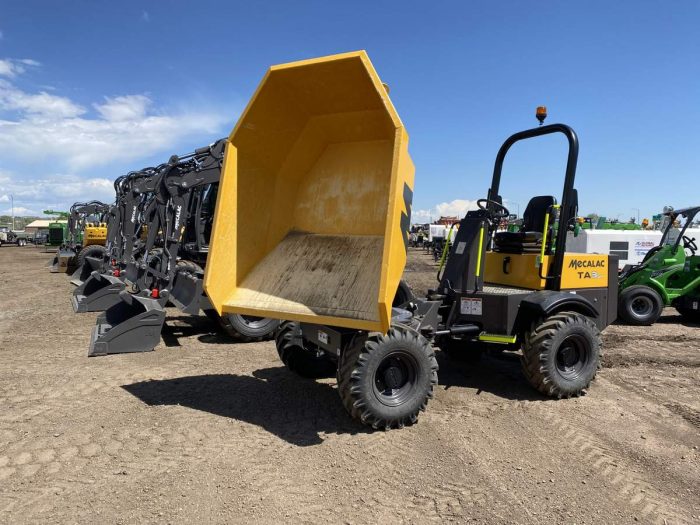 Like all Power Swivel site dumpers from Mecalac, the TA3SH is designed to deliver superior versatility and performance, especially on confined jobsites such as housing developments or landscaping projects. The TA3SH is 13 ft long and 6 ft, 1 in. wide. The Power Swivel technology features forward and swivel tipping mechanisms, allowing the load to rotate 90 degrees on either side before being tipped. This reduces the need to move equipment, enhancing productivity. Overall, the Mecalac range of Power Swivel site dumpers features payload options from 1 to 10 tons. The TA3SH's payload capacity is 6,613 lbs, making it ideal for industries such as concrete, landscaping and urban construction. All Mecalac Power Swivel site dumpers feature a heavy-duty locking device that keeps the skip facing forward while on the move. There are also some cool technology options on this Power Swivels, including Start/Stop Control, Capture and Hazard Detection. For more info, visit mecalac.com.