CONEXPO-CON/AGG is so big it only happens every three years. In 2020, North America's largest construction trade show — representing asphalt, aggregates, concrete, earthmoving, lifting, mining, utilities and more — will be more than 2.5 million sq ft (that's bigger than 40 frickin' football fields). There will be some 2,800 exhibitors across more than 700 product categories, attracting around 130,000 attendees that range from contractors and dealers to engineers and trade journalists like us. To help save you some steps, the CE crew has tracked down the must-see compact machines at the show, displayed below.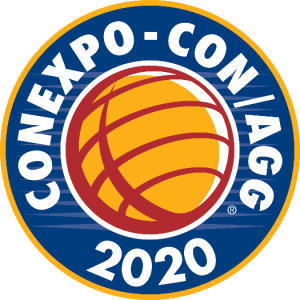 On top of these cool machines, the show will also boast 150 educational sessions, so contractors, business owners, construction material producers and end-users can obtain cutting-edge info for today's challenging economy. Other big cool events will include: the Caterpillar Global Operator Challenge (Tuesday, 9 a.m. to 2:30 p.m.), Future Cities Contest (a project-based learning program where students design cities of the future); The Ray — Creating the Highway of the Future (a tech talk on the high-tech highway in Georgia); and 3D Printing Buildings — Current Possibilities and Future Implications (a house display created entirely by 3D printing).
There's so much more, so for more info and to register visit conexpoconagg.com.
Kubota SVL65-2 Compact Track Loader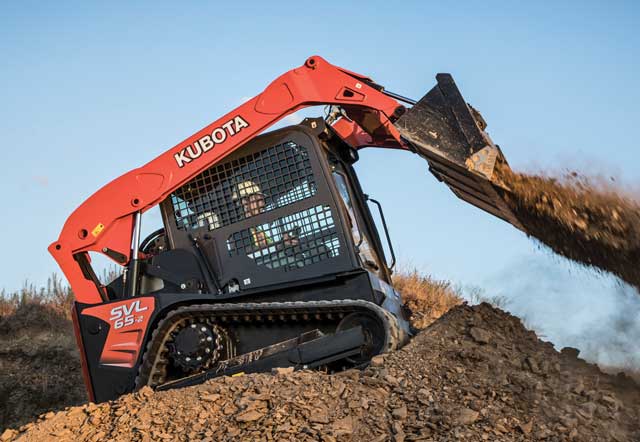 Kubota Tractor Corp. unveiled the new SVL65-2 in its popular compact track loader line in early 2019. The new compact track loader is positioned in a lighter ROC weight class than its predecessors and features an advanced multi-function valve, slideup overhead front door and easy on/off self-leveling function. The SVL65-2 features an advanced multifunction valve that provides smooth operation when using simultaneous functions, such as auxiliary, boom and bucket circuits, allowing operators to get the job done faster. The SVL65-2 boasts a wide working range including a rated operating capacity of 2,100 lbs at 35 percent, a reach of 34.9 in. and a hinge pin height of 118.5 in. For more info, visit booth N12501 or kubotausa.com.
Wacker Neuson 100-hp Loaders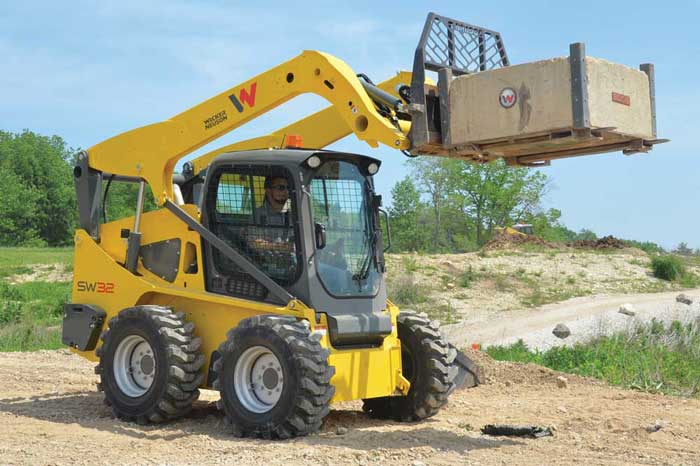 Wacker Neuson has expanded its growing skid steer and compact track loader line with a selection of 100-hp models. The SW32 skid steer and ST40 and ST50 compact track loaders bring maximum power and efficiency to the jobsite. All three units are powered by a Kohler KDI 3404 turbo diesel engine that offers a maintenance-free diesel oxidation catalyst (DOC) and a selective catalytic reduction (SCR) system as an exhaust aftertreatment. Wacker Neuson selected the Kohler KDI engines for all of its skid steer models because of its advanced design, power, performance, ease of maintenance and a four-year/4,000-hour engine warranty. For more info, visit booth 2548 or wackerneuson.com.
ASV RT-50 Posi-Track Loader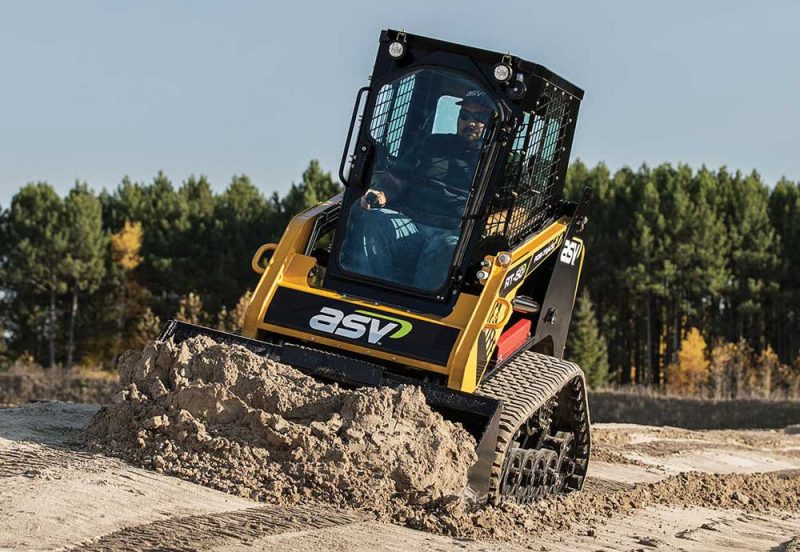 ASV Holdings Inc. recently announced the new RT-50 Posi-Track loader, featuring an industry-leading performance-to-weight ratio. The RT-50 allows operators to do more in more places thanks to one of the industry's lowest ground pressures, the option to be towed behind a 1/2-ton pickup truck and the ability to fit into tight areas and on narrow trailers. The 50-hp RT-50 boasts a 1,400-lb rated operating capacity while weighing just 5,350 lbs. Some competitive machines with a similar ROC weigh up to 1,000 lbs more. The machine's 109.6-in. pin height gives it the ability to load landscape trucks and small dump trucks. It has 15-in. tracks and a class-leading ground pressure of 3.1 psi. For more info, visit booth F100801 or asvi.com.
Kobelco SK85CS-7 Mini Ex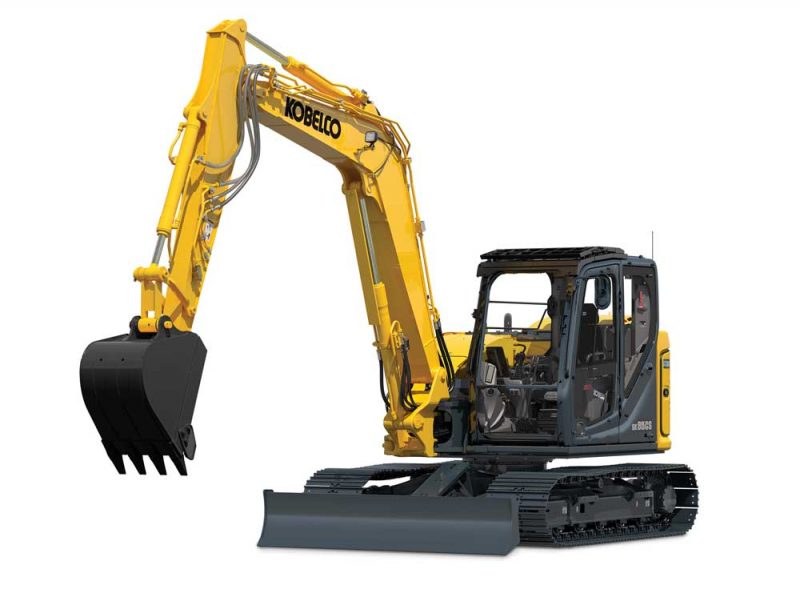 The enhanced Kobelco SK85CS-7 delivers greater efficiency, productivity, power and speed than ever before. With a dynamic digging force of 15,900 lbs and a ~37 percent increase in digging speed, the SK85CS-7 delivers continuous operation and reduces cycle times. This unit also maintains productivity and efficiency while working at high power levels, lifting heavy loads and traveling on steep grades. The SK85CS-7 cab interior has been completely redesigned and boasts premier operator comforts including: an optimized control layout with a new jog dial and 10-in. color monitor, built-in rear, left and right-side cameras with a customizable split-screen display function. For more info, visit booth N10037 or kobelco-usa.com.
Bobcat R-Series Loaders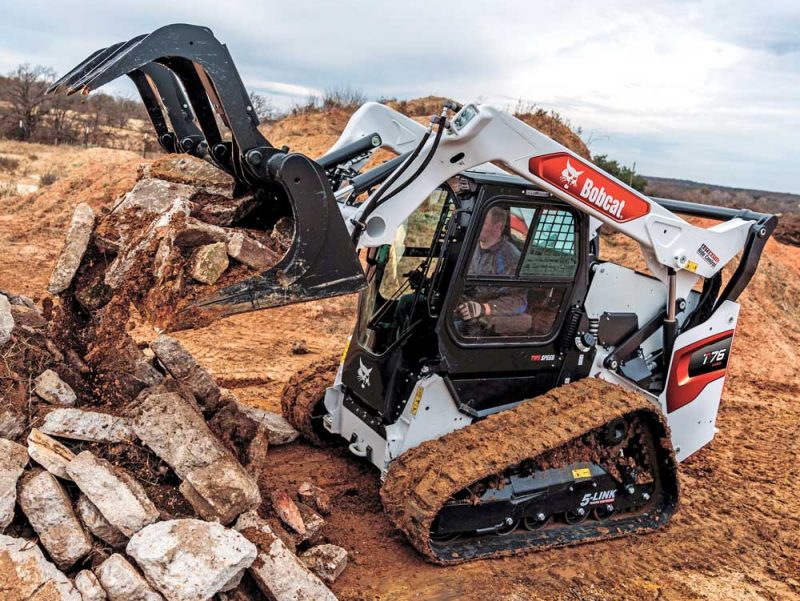 The all-new Bobcat R-Series loaders bring more comfort to challenging jobs with their leading all-around visibility, comfortable controls, numerous options and roomy environment. The optional clear-side enclosure and mesh-free windows allow operators to easily see to the sides of the machine and maneuver more confidently. The new cab design is a one-piece, sealed and pressurized design for a new level of comfort and improved service access. In addition, new R-Series loaders have a redesigned cooling system for optimal operation and maximum uptime. The fan size is increased by approximately 50 percent, and R-Series loaders are equipped with redesigned lift arms for increased lifting capability. For more info, visit booth N10001 or bobcat.com/next-is-now.
John Deere 50G Excavator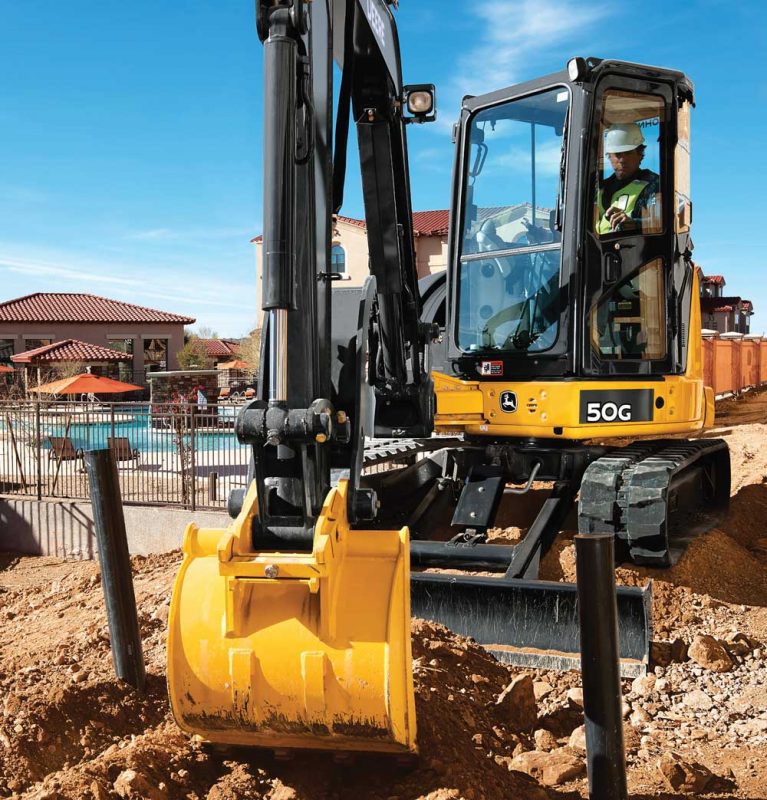 The 36-hp 50G features a variety of improvements, many of which affect the cab design to improve visibility, operator comfort and thus productivity. One of the biggest additions is a new door design for improved entry and visibility to the left-hand side of the machine. The door design widens the size of the cab entrance. Within the operator station, a new multifunction monitor provides a coolant temperature and fuel gauge, clock, two trip meters, regeneration inhibit, auto shut down control and machine hours among the many functions. Machine uptime is imperative on today's jobsite, so John Deere added a third service door to the 50G to improve access to the cooling core. For more info, visit booth N12525 or deere.com.
Avant Tecno e5 Electric Unit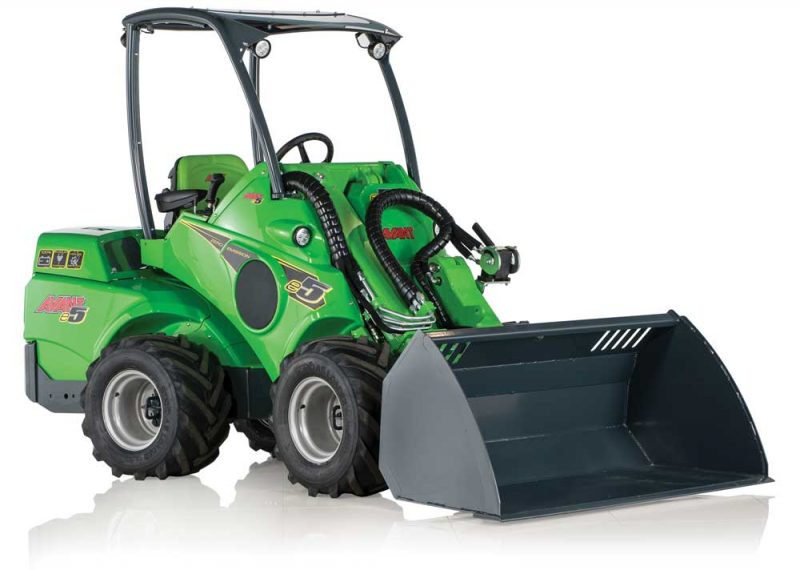 Avant Tecno USA recently introduced its first fully electric loader, the Avant e5, to the North American market. This battery powered machine is in the same size class as the Avant 500 Series, offering zero emissions, minimal noise and low operating costs. The e5 is especially well suited for indoor job and demolition sites where little to no ventilation is possible. Its low noise level enables work in noise-restricted areas or where minimum interference caused by noise is a benefit. The e5 is equipped with an AGM battery (absorbent glass mat), which is maintenance free and has a capacity of 13.6 kW. The Avant e5 has a 7.9 gpm auxiliary hydraulic flow, which allows working with various attachments. For more info, visit booth F3768 or avanttecno.com.
Case N Series Backhoes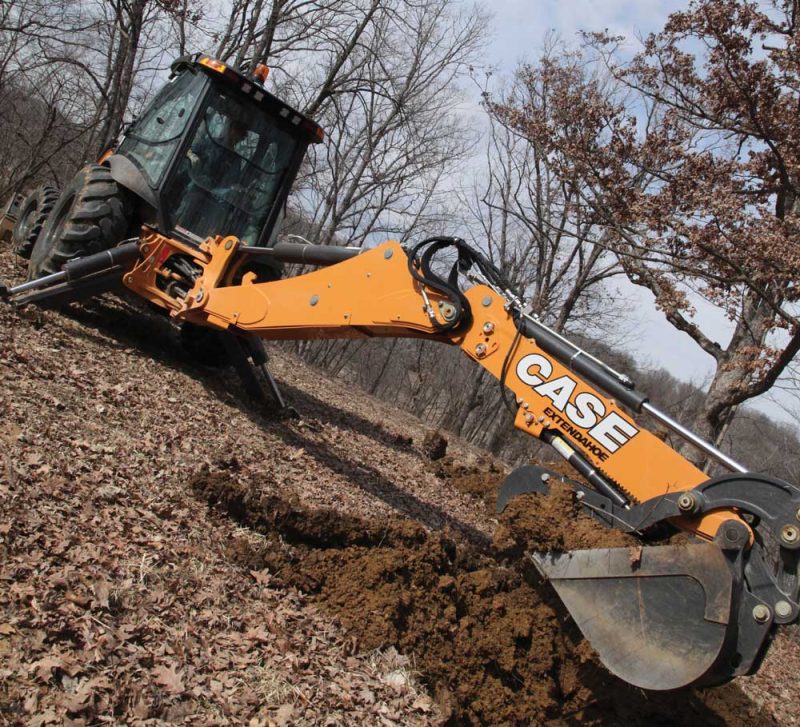 The 2019 Case N Series backhoe loaders have been updated with several enhancements designed to improve performance and productivity, including new industry-exclusive PowerBoost functionality, a new PowerDrive transmission upgrade with Direct Drive and a factory-installed thumb. New Case N Series backhoes also feature updates to loader controls, including a new declutch trigger, new roller/rocker switch for better attachment control and an all-new F-N-R thumb switch for simplified operation. PowerBoost is a new button on the left-hand backhoe joystick that provides the operator with a momentary boost of increased hydraulic power without decreasing engine rpm (so as not to affect speed/cycle times). This feature is ideal for digging through tough conditions, including hard clay, rock and frost. For more info, visit booth N11825 or casece.com.
Ditch Witch SK3000 Stand-On Skid Steer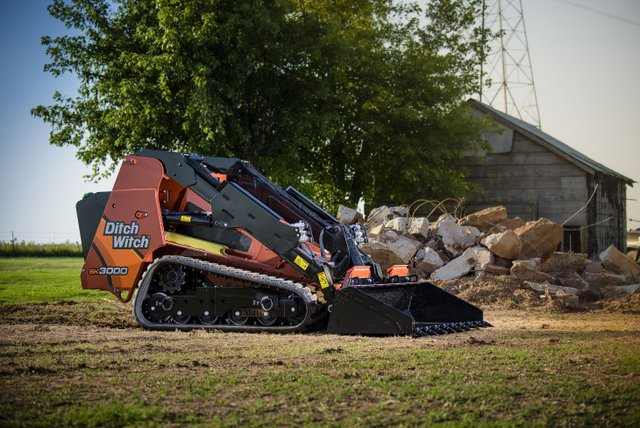 Hardscape, landscape and tree care operators looking to step outside the cab and gain a 360-degree view of the jobsite, without compromising power, can now turn to the Ditch Witch SK3000. The new Ditch Witch SK3000 full-size stand-on skid steer is built with the power to complete a wide range of projects typically reserved for traditional skid steers. As the largest and most powerful unit in the Ditch Witch family of stand-on skid steers, the SK3000 features an operating capacity of 3,100 lbs — 50 percent more than its closest competitor. The unit delivers 5,500 lbs of breakout force to help operators lift and move heavy loads with a bucket. It also directs up to 51 hp to the attachment. For more info, visit booth C31857 or ditchwitch.com.
Toro Dingo TXL 2000 Compact Utility Loader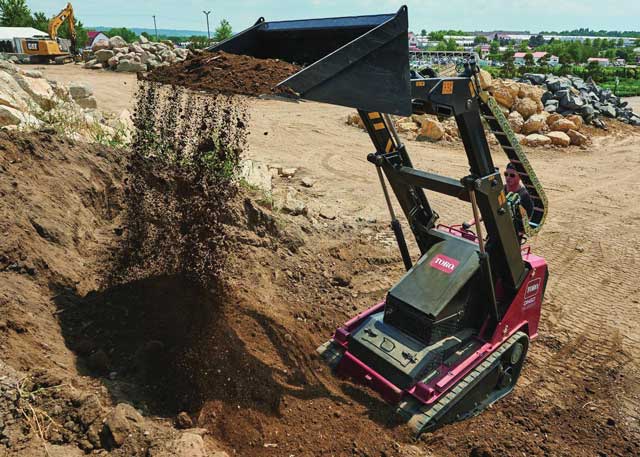 Toro recently launched the all-new Toro Dingo TXL 2000, which features telescoping arms to allow the TXL 2000 to reach over obstacles, dig below grade and extend the operator's working range. Thanks to the telescoping loader arm technology, operators can perform a number of tasks previously unachievable with this class of equipment. For instance, operators are able to backfill behind a retaining wall or dump material into the center of a full-size dump truck or dumpster. Fully extended, the boom has a hinge pin height of just over 10 ft. The TXL 2000 is also one of the most powerful compact utility loaders on the market with a rated operating capacity of up to 2,000 lbs. For more info, visit booth C31275 or toro.com.
Vermeer CTX160 Mini Skid Steer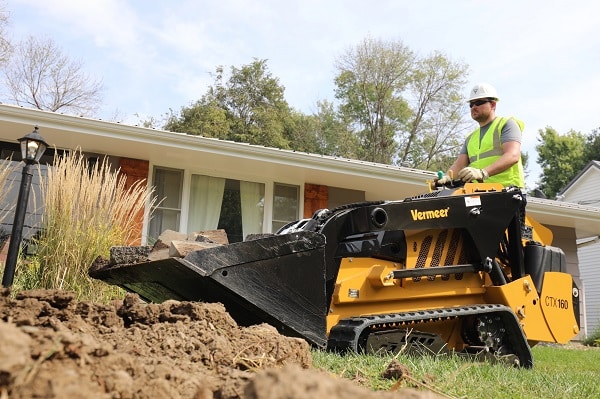 With a rated lift capacity of 1,600 lbs, 16.7 gpm of auxiliary hydraulic flow and a width of 42 in., the vertical-lift Vermeer CTX160 mini skid steer delivers all-around performance while remaining compact and nimble to operate. This durable Vermeer compact utility loader can handle jobs such as moving heavy material and working ground-engaging attachments to efficiently maneuver in congested operating conditions. For landscaping, hardscaping, rental and general construction work, the Vermeer CTX160 gives contractors efficient performance in a compact-sized machine. The Vermeer CTX160 is backed by a three-year/3,000-hour extended limited warranty on the loader arms. For more info, visit booth C32529 or vermeer.com.
Komatsu Dozers with Proactive Dozing Logic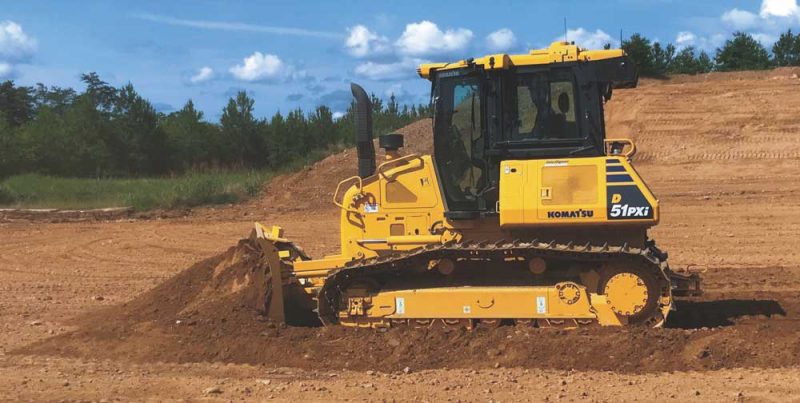 Among the many products and services that Komatsu will showcase at CONEXPO are the D51i-24 and the D61i-24 dozers with patent-pending proactive dozing control — technology that enables operators to use the machine control from grass to grade. The industry-first technology records terrain data at the track. Using that data, the integrated system makes calculated decisions — whether to cut and carry material, whether to spread or fill that material or whether to perform finish grading. Whether an operator has 20 years' experience or is new to the job, proactive dozing control provides precision work for easier operation and more productivity. For more info, visit booth N10825 or komatsuamerica.com.
A Cut Above: FAE and Loftness Offer Gnarly Mulching Equipment and Attachments
FAE Sonic Tech and Cutting Heads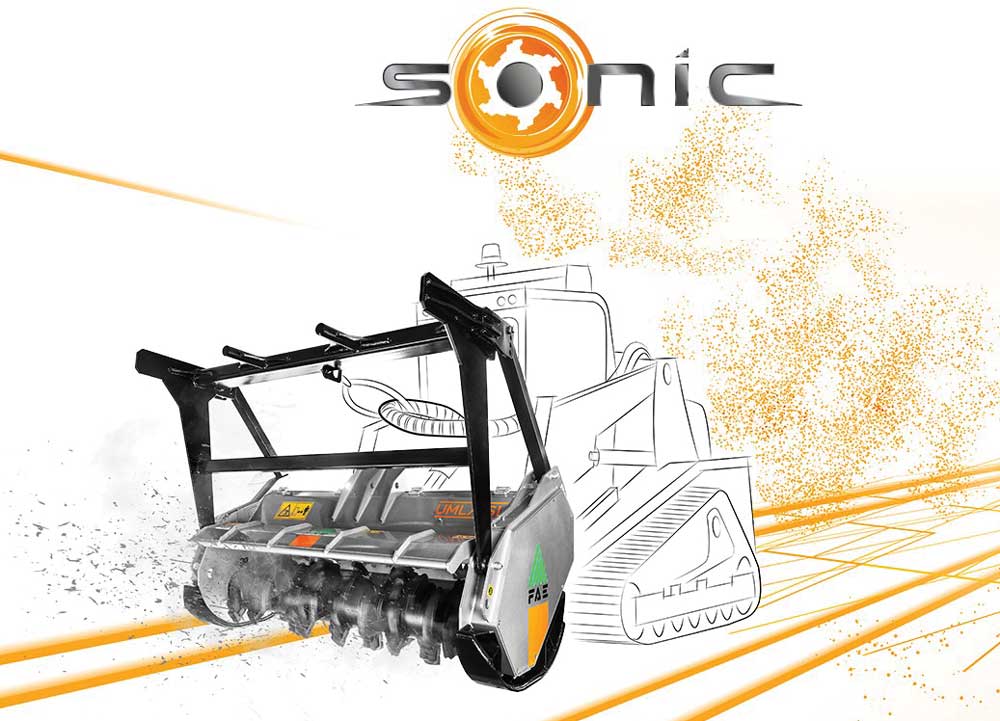 FAE USA will be releasing its newest "Sonic" technology, sure to revolutionize the mulching industry. FAE will also be releasing its exciting line of new cutting-edge products, including the new PrimeTech-175 T4, new excavator heads and stump grinders along with a wide range of rock cutters. The PT-175 T4 features a Cat 4.4 engine with 173 hp and four in-line cylinders. The oscillating undercarriage is equipped with Berco D3 components, lubricated chain and dozer-type rollers. The cooling system features a high-capacity radiator for hydraulic oil, air and water to ensure optimal cooling. The forestry mulcher 140/U has an overall width of 85 in. with a cutting width of 72 in. For more info, visit booth C22221 or faeusa.com.
Loftness Battle Ax Mulching Attachment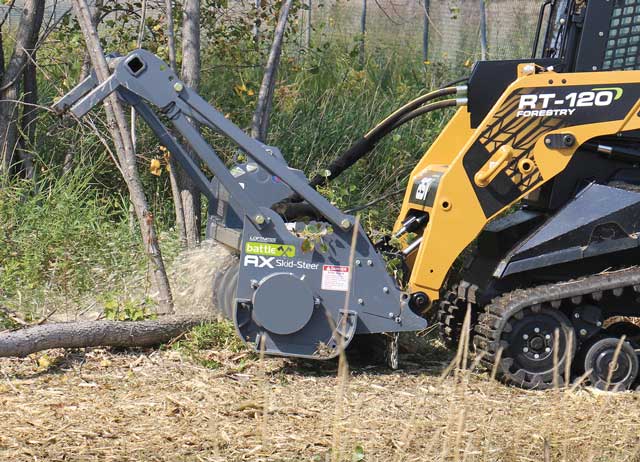 Loftness offers new models of its Battle Ax horizontal drum mulcher for skid steers, excavators and prime movers. Featuring a new rotor, tooth design and exclusive two-stage cutting chamber, the heavy-duty Battle Ax is designed for highly efficient vegetation management, including right-of-way maintenance, land clearing, forestry applications and more. The Battle Ax rotor features built-in depth gauges, which function similarly to raker teeth on chainsaws to prevent the attachment from engaging too much material at one time. This unique design is more ideal for managing the amount of material being fed into the attachment than competitive ring-style rotors. For more info, visit booth S5655 or loftness.com.
Danuser Mega Mixer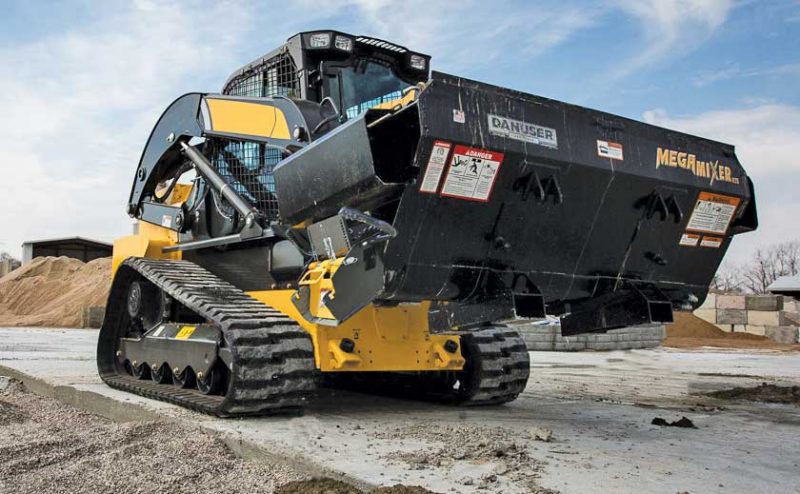 For the first time in the company's 110-year history, Danuser will feature its products at CONEXPO. The Mega Mixer, Danuser's new and improved material handling bucket, is expected to be a showstopper. From concrete to livestock feed, the Mega Mixer is designed to mix, scoop and dispense a wide variety of construction and agricultural materials. The attachment also allows the operator to deliver material on the left or right of the host vehicle. The unit includes features like chute storage, pin holders, easy-to-read yardage markers and a robust 8-in. diameter auger coupled directly to a heavy-duty, low-speed, high-torque motor capable of dispensing 3/4 yd of material in 26 seconds. For more info, visit booth C20904 or danuser.com.
Fecon Roof Mounted Hydraulic Cooler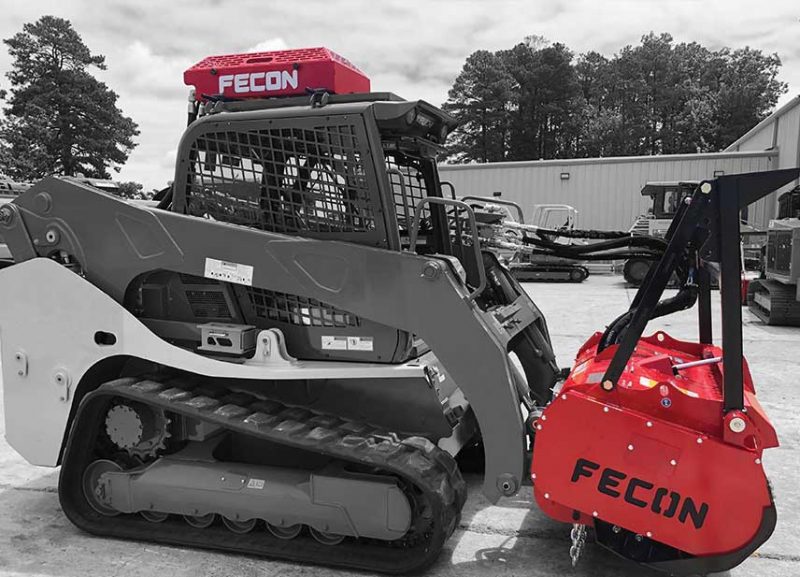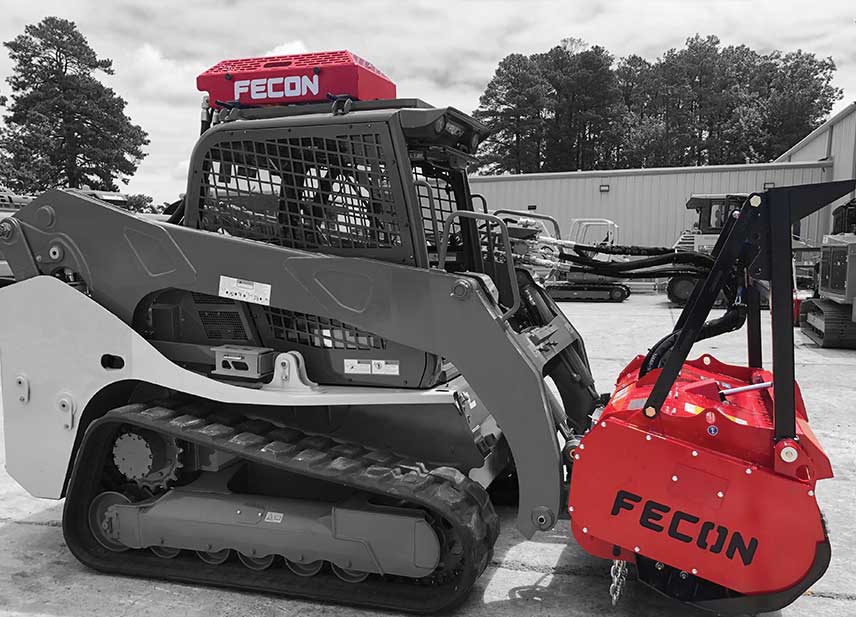 New Fecon hydraulic coolers, which are designed to be mounted on compact track loader and skid steer rooftops to maintain hydraulic fluid at optimal temperatures and viscosity, will be featured at CONEXPO. This durable all-steel design weighs approximately 185 lbs plus mounting brackets, with adjustable mounting rails for varying mounting positions. Two 11-in. thermostatically controlled electric cooling fans cycle on when needed to mitigate rising hydraulic fluid temperatures. A bypass relief is included for cold oil starts. These compact units fit atop virtually all units, handle flows up to 48 gpm and provide up to 120,000 BTUs/hr of cooling capacity. For more info, visit booth S5944 and C20654 or fecon.com.
Sullair 1600H Series Compressor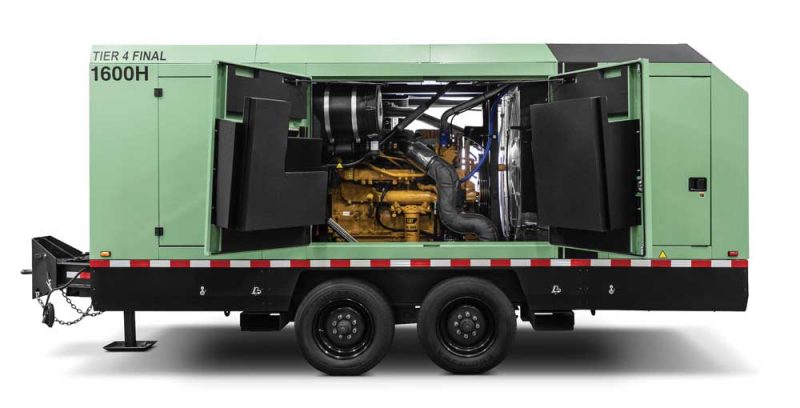 At CONEXPO 2020, Sullair will debut the next generation of its 1600H Series Tier 4 Final portable lubricated rotary screw air compressors — now featuring an improved package design. All 1600H models feature a new service door and closure design which eliminates the center post. Without a center post, users can easily access all service components. The Sullair 1600H Series produces 1,600 cfm at 100 to 150 psi. Additionally, aftercooled and afterfiltered air models now include a next generation condensate management system, with no condensate drain required. These enhancements are in addition to multiple engine options such as Caterpillar and Perkins. For more info, visit booth B7800 or sullair.com.
Doosan Portable Power Intelligent Load Management System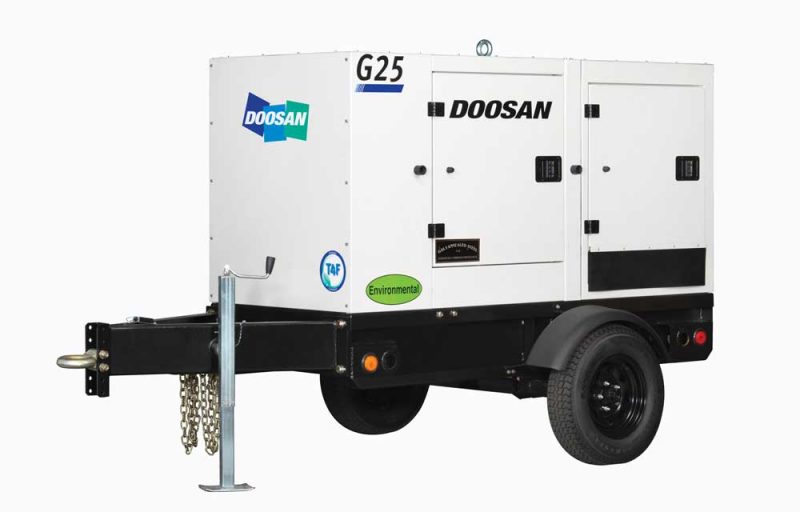 Doosan Portable Power offers a generator option that can eliminate the potential for wet-stacking and the associated issues it can cause for diesel generators. The internally packaged Intelligent Load Management System (ILMS) option improves machine performance and decreases potential downtime associated with Tier 4-compliant mobile generators in light load and fluctuating demand applications. The ILMS option automatically adjusts the engine and exhaust temperature with supplemental heat to ensure the generator operates at full capacity regardless of load demands. For more info, visit booth N10001 or doosanpowermoves.com.
Miller Bobcat Welder/Generators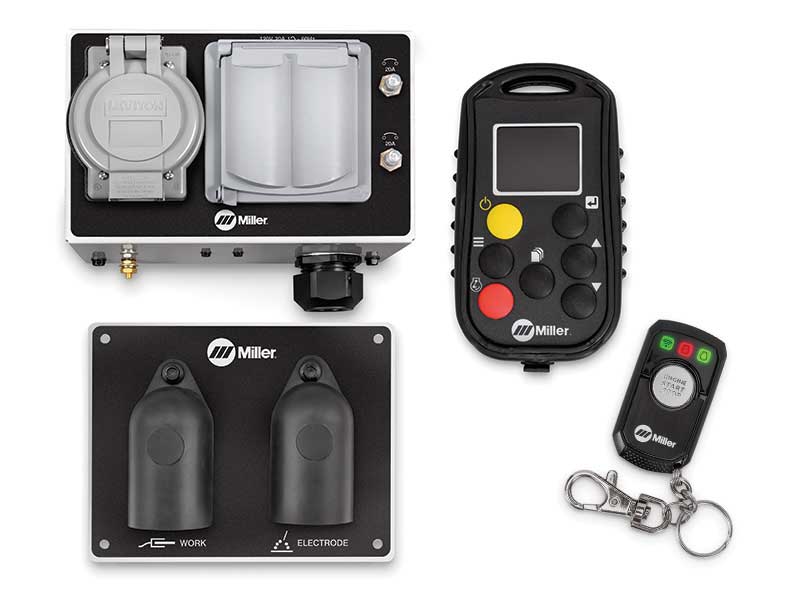 With the new remote solutions on Miller engine drives, operators will redefine where they work. Bobcat welder/generators with Remote Start/Stop give operators the ability to start and stop their Bobcat 225 or 260 from where they are working — so the machine doesn't have to run when it's not needed. Operators with a Trailblazer or Big Blue welder/generator can get those same remote start and stop capabilities — plus total control of their machine — with the new optional Wireless Interface Control. Compatible with Bobcat, Trailblazer and Big Blue welder/generators, the Remote Panel Kit provides access to the auxiliary power and weld output panels at the point of use. For more info, visit booth B8905 or millerwelds.com/remotesolutions.
Caterpillar's Immersive CONEXPO-CON/AGG Booth and Operator Stadium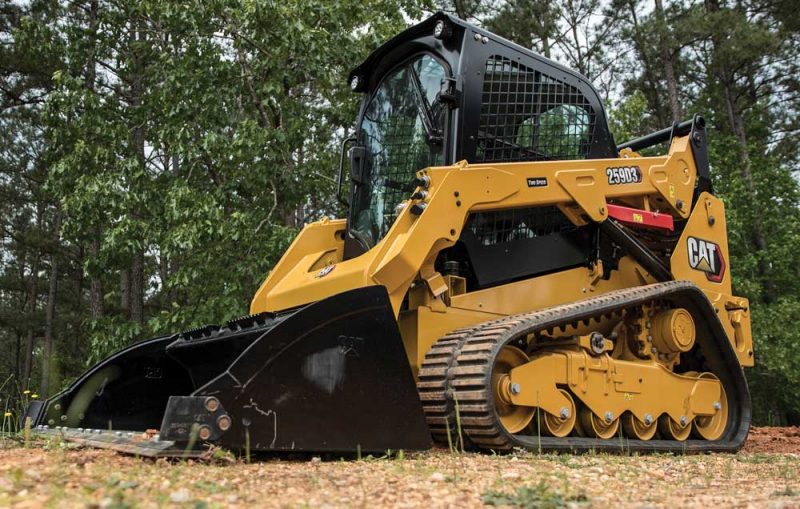 Paying tribute to those building the world's infrastructure, the Caterpillar CONEXPO-CON/AGG 2020 experience includes a mix of static displays, an equipment demonstration area and new services/technologies under the theme of "Your Work Matters." The 60,000-sq-ft exhibit in the show's new outdoor Festival Grounds includes the Operator Stadium, where the finals of the Global Operator Challenge and equipment demonstrations take place. Caterpillar is investing in technology and safety features showcased in more than 30 Cat machines on display, including nine new product introductions from the dozer, excavator, articulated truck and backhoe loader families. For more info, visit booth F4455 or cat.com.
Power Up: Kubota and Hatz Will Showcase Next Gen Diesels
Hatz E1 Tech and H-Series Engines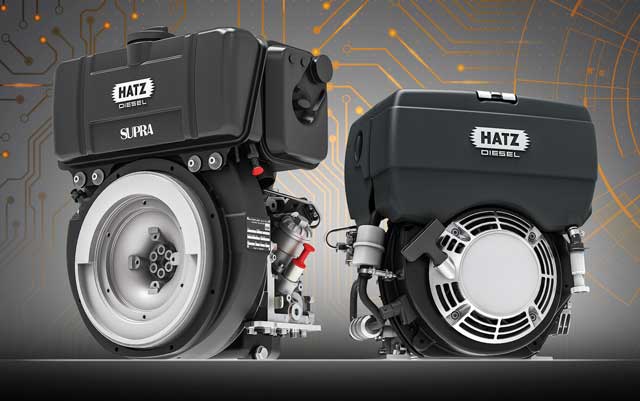 With new E1 technology, Hatz is now also bringing single-cylinder engines of the B-Series and D-Series into an interlinked future. Furthermore, H-Series engines form the focus of the trade fair appearance. Hatz is showing the new E1 technology as the first electronic controls for single-cylinder industrial diesel worldwide. E1 technology with power from 2 to 10.8 kW is groundbreaking when it comes to leading hand-held machines, mobile light towers or power generators into a future of connected services. Hatz thus bridges the gap between once mechanically controlled motors and the requirements of modern, digitized companies. For more info, visit booth S84106 or hatznorthamerica.com.
Kubota D902-T Engine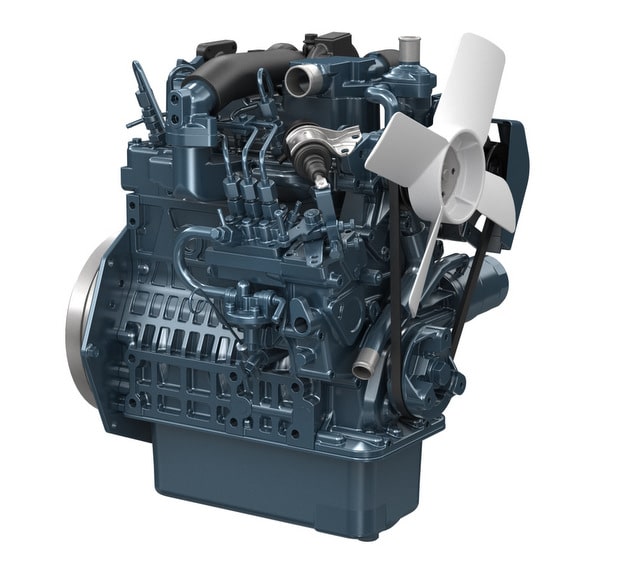 The D902-T provides customers with an unrivaled high torque, light-weight solution to their toughest challenges. With the highest output among Kubota Super Mini Series engines, this turbocharged, three-cylinder diesel engine brings 18.5 kW at 2,800 rpm, prime for applications that require a compact engine. The D902-T provides the same engine footprint as Kubota's naturally aspirated D902 and the spark-ignited WG972-G/GL engine. Offering powerful output, high-altitude capabilities and reduced noise, the D902-T is an impeccable choice in applications such as skid steers, compressors, mini excavators and beyond. The engine is EPA Tier 4 Final and Stage V certified. For more info, visit booth S84914 or kubotaengine.com.
Tags:
ASV
,
Avant Tecno
,
Bobcat
,
Case
,
Case Construction Equipment
,
Cat
,
Caterpillar
,
CONEXPO-CON/AGG
,
Danuser
,
Ditch Witch
,
Doosan
,
Doosan Portable Power
,
FAE
,
February 2020 Print Issue
,
Fecon
,
Hatz
,
home
,
John Deere
,
Kobelco
,
Komatsu
,
Kubota
,
Kubota Engines
,
Loftness
,
Miller Electric
,
Sullair
,
Toro
,
Vermeer
,
Wacker Neuson