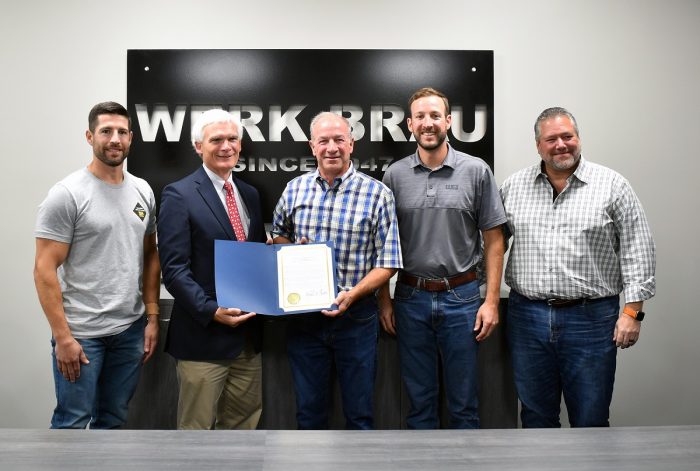 Werk-Brau Co. Inc., an industry leading manufacturer of buckets and attachments for excavators and loaders, recently hosted Congressman Bob Latta. He met with company officials and talked about the challenges and opportunities that the company is facing. After touring the 500,000-sq-ft manufacturing campus, Congressman Latta presented Werk-Brau President Jon Ballinger with a Congressional Proclamation congratulating the company on their 75th anniversary. 
"Manufacturing is the backbone of this country, so it is an honor to celebrate this momentous occasion of longevity, ingenuity, and perseverance.  It is refreshing to see the company thriving, and the 4th generation working within this family business," said Congressman Latta. 
"We're delighted to host Congressman Latta," said Ballinger, "we're humbled and honored that he was able to spend some time with us."
The core vision upon which Duke Werkheiser and Dutch Brautigam founded the company in 1947 still drives Werk-Brau today, "safely provide excellence in quality, design and delivery of products and services which exceed our customers' expectations." They have grown from a single blacksmith shop to numerous North American locations with 500,000 sq ft of manufacturing space and over 500 employees.  They maintain dealer direct partnerships with over 2,000 North American heavy equipment dealers from their Findlay, Ohio, headquarters. 
We'd love to keep in touch! Check us out on Facebook, Twitter and LinkedIn! Tags: Werk-Brau