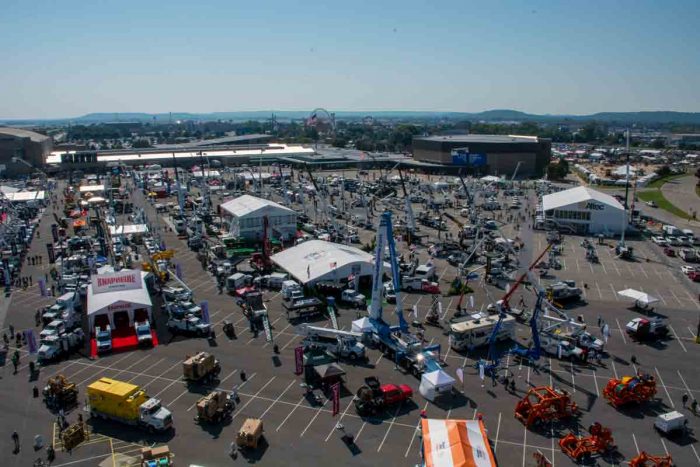 Association of Equipment Manufacturers (AEM)-owned trade shows CONEXPO-CON/AGG and The Utility Expo recently took home Best of Technology and Savvy Marketing Campaign awards, respectively, at The Trade Show News Network's (TSNN) 2021 TSNN Awards.
In addition, CONEXPO-CON/AGG finished as a finalist in the Created a Communality category. TSNN is the online information resource for the exhibitions and events industry, and it ranks the top trade shows in the United States by exhibit space size. Its annual TSNN Awards, held earlier this month in Uncasville, Conn., recognize the top trade shows and trade show organizers for their success and innovation.
"We are committed to broadening the ways in which we connect brands with their customers in an effort to enhance our best-in-class face-to-face exhibitions," said AEM Senior Vice President of Exhibitions and Marketing Nicole Hallada. "These awards serve as a testament to the hard work and accomplishments put forth by our talented staff to – through a variety of strategies and tactics – benefit our show stakeholders more than ever before."
Best Use of Technology Award – CONEXPO-CON/AGG's Scout
A highlight at CONEXPO-CON/AGG's Tech Experience in 2020 was the unveiling of the world's largest 3D-printed statue to honor the growing role women play in the construction industry. AEM worked with Wauwatosa, Wisconsin-based artist Anna Benjamin – who put in nearly 400 hours of design work in a CAD software – to emulate a female construction worker that would complement the style of the other two male construction worker statues on display at the show grounds in Las Vegas.
"It meant so much to us to be able to recognize the important and growing role women play in construction today, and unveiling the statue gave us the opportunity to symbolically represent all the women who work hard to build our world and serve as ambassadors for our industry," said CONEXPO-CON/AGG 2020 Show Director Dana Wuesthoff.
The statue is 30 ft high and weighs 2,800 lbs. Fifty-five 3D printers took a total of 10,220 hours to 3D print 365 individual parts.
CONEXPO-CON/AGG 2020 featured a record 2.7 million-plus net square feet of exhibits and 2,300-plus exhibitors from the manufacturers across the United States and around the world, along with more than 130,000 show registrations.
Savvy Marketing Campaign – The Utility Expo Rebranding
The decision to roll out a new, all-inclusive name – The Utility Expo – in 2020 reflected the commitment of show planners to provide an event that introduced professionals from all utility sectors to the new equipment, ideas and innovations they need – all in one place.
The 2021 installment of The Utility Expo was the largest in the show's history, with more than 900 companies spread across more than 1.4 million net sq ft (32-plus acres) of the Kentucky Exhibition Center in Louisville, Ky.
"We were thrilled to bring the utility industry back together in a big way in Louisville this past fall," said Utility Expo Show Director John Rozum. "From those humble beginnings in a farm field in Northern Illinois, The Utility Expo has grown to become the leading utility event and one of the largest exhibitions of any industry in the United States. And while the name has changed, what hasn't is our commitment to ensuring the show remains the gathering place for the utility, both now and in the years to come."
Tags:
Association of Equipment Manufacturers
,
CONEXPO-CON/AGG
,
The Utility Expo