You read right. Compact Equipment and its mother ship company Benjamin Media Inc. (BMI) will have a huge presence at the upcoming ICUEE show, which will be held Sep. 29 to Oct. 1 in Louisville, Ky., at the Kentucky Exposition Center. The attendees of the International Construction and Utility Equipment Exposition (ICUEE) will be able to see and experience first-hand what new technologies and best practices exhibitors have to offer at the new ICUEE Demo Stage presented by BMI and Compact Equipment. The stage will discuss the coolest innovations and equipment being released and exhibited at the utility-focused trade show that only happens every two years.
"Benjamin Media's premier construction brands serve their markets with high-quality, informative and educational content through a wide array of media," explained Benjamin Media president Rob Krzys. "Hosting the Demo Stage at ICUEE 2015 where thousands from the utility industry gather is the perfect platform for BMI to continue educating and informing construction professionals. We are equally excited to have an industry partner like AEM and are looking forward to bringing phenomenal presentations to the ICUEE Demo Stage."
The stage will run during show days (Tuesday, Sept. 29 through Thursday, Oct. 1) and will be located at the front of the exhibit hall. ICUEE attendees can simply stop by the stage located in South Wing B, booth #2504 and grab a seat. Presentations will vary from 15 to 30 minutes — see the schedule on the right hand page!
We're Also Hosting a Charity Auction for Vets!
Bringing military veterans and industry jobs together is the goal of the new ICUEE Benefit Auction, to be held Thursday, Oct. 1 on the show floor (check out our article on page 16). BMI is also helping pull it together. One hundred percent of the auction proceeds will go to The Call of Duty Endowment. This national organization helps military veterans find high-quality jobs, including in the construction/utility industry, by supporting and funding groups that prepare veterans for the job market. The ICUEE Benefit Auction will be held 12:15 p.m. to 1:15 p.m., Oct. 1, and will not have minimums nor reserves (all items will be sold). ICUEE 2015 exhibitors are donating products and prizes that include everything from a signed guitar from country music star Kip Moore to an Atlanta Braves baseball package to underground and construction equipment.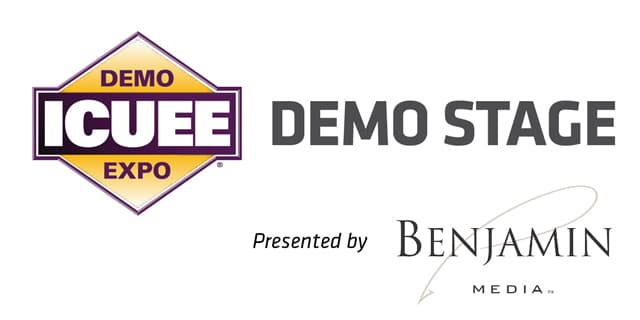 Tuesday, Sept. 29
10:00 a.m. Camso, The Road Free Co.
10:30 a.m. HammerHead
11:15 a.m. Ditch Witch
1:00 p.m. McElroy
1:30 p.m. Dragon Wear
2:00 p.m. Greenlee
2:45 p.m. IFD Corp.
Wednesday, Sept. 30
10:00 a.m. IFD Corp.
10:30 a.m. Great Pacific Equipment
11:15 a.m. Freightliner/
Allison Transmissions
1:00 p.m. National Commission for the
Certification of Crane Operators
Thursday, Oct. 1
11:15 a.m. IFD Corp.
11:45 a.m. The Associated General
Contractors of America
12:15 p.m. ICUEE Benefit Auction
For more info on ICUEE, visit its website right over here.