Dozens of key BOMAG distributors and customers recently received a personalized tour of BOMAG Americas' new North American headquarters in Ridgeway, S.C. Held January 25, attendees received a first-look at the new BOMAG offices, training center, parts distribution center and manufacturing area, and they were treated to an equipment parade and exhibit that showed the breadth of the BOMAG product line.
"Impressive," comments Dan Soley, executive vice president of sales & marketing for BOMAG distributor Miller Bradford & Risberg, Inc. "The facility is world-class, and the staff BOMAG Americas has assembled and charged with responding to customers' and distributors' needs is second to none."
BOMAG Americas completed the move from its previous plant location in Kewanee, Ill., in 2015, and, more recently, transferred Cedarapids paver and CMI reclaimer-stabilizer manufacturing from Oklahoma City, Okla., to the Ridgeway facility. The inaugural BOMAG Day event was held as a way to show key customers and distributors the company's significant investment in the new facility and in its parts support, training and manufacturing capabilities in South Carolina.
"We are very appreciative of the Kewanee community and workers at our Kewanee facility who helped to build BOMAG Americas into what it is today, but our product line investment and strategic support and growth plans required the change to a new facility," says Greg Shockley, national sales manager for BOMAG Americas. "From training to parts warehousing and distribution to manufacturing, our first-class U.S. facility in Ridgeway brings everything together in one location, so we can more deeply support our customers."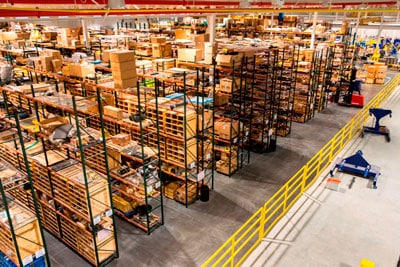 Doug Wilson, division manager for Scott Van Keppel, a BOMAG distributor, attended the event and was impressed with BOMAG America's investment in training and support. "The training facility is very impressive," he says. "The commitment to the U.S. market that the company has made in building the Ridgeway, S.C. facility will better serve the BOMAG customer."
Event attendees were welcomed by John Hood, director of heavy equipment sales for BOMAG Americas, and they were given an overview of BOMAG and the Fayat Group, BOMAG's parent company. Then the guests were divided into intimate groups, where they were given a full tour of the manufacturing space, semi-automated spare parts warehouse and distribution center, offices, training bay for equipment, and demonstration area. Commenting on the tour, Soley added, "The facility is bright, open and efficient. It is designed such that there are no barriers to communication. We brought customers with us and will definitely be bringing more in the future.
In the afternoon, participants were treated to a southern-style barbeque lunch before the parade of equipment. Nearly 40 machines from BOMAG's extensive line up of light and heavy compaction, asphalt paving, milling, and soil stabilizer/asphalt recycler equipment where exhibited. BOMAG application specialists, engineers, sales personnel and product managers were on hand to answer any technical questions attendees had about the equipment and applications.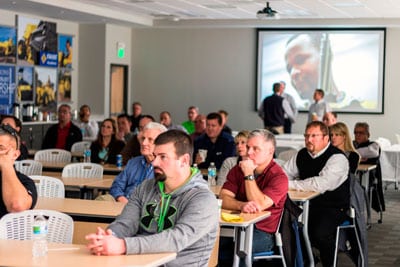 "Events such as this provide incredible value, as they allow us to meet and speak with other distributors, customers and manufacturer employees like Tim Hoover (BOMAG regional sales manager)," says Scot Ender, sales manager for BOMAG distributor Ruffridge-Johnson Equipment Co. Inc. "The parts support and shipping area are very well organized. It was quite evident that BOMAG is well prepared to support customer needs for the 2016 paving season and well into the future."
From the day's events, customers and distributors alike received a greater appreciation for just how far-reaching the BOMAG product line is, not just on the compaction side of the business but also for the road building contractor. "Customers left BOMAG that day with a greater knowledge of just how impressive the BOMAG product offering is," says Doug Neff, sales and asphalt product manager for BOMAG distributor, Southeastern Equipment. "Especially for the asphalt side, BOMAG has put it all together for the road building contractor – mills, reclaimer/stabilizers, pavers, material transfer vehicles and compactors. BOMAG now offers a true full line of asphalt equipment and no other manufacturer can make that claim."
 Key BOMAG Americas new Ridgeway, S.C. facility stats:
Facility investment – $18.2 million
BOMAG complex – situated on 33 acres
Overall building size – 127,600 ft2
Spare parts warehouse and equipment manufacturing space – 107,100 ft2
Office space – 20,500 ft2
Training space – two training rooms with access to training bay for in-door equipment viewing
Strategically located – 30 miles from Columbia, S.C., and 70 miles from Charlotte, N.C.
For more coverage of BOMAG equipment, click this link. Do it now!!!! 
Tags:
Bomag
,
Dealers