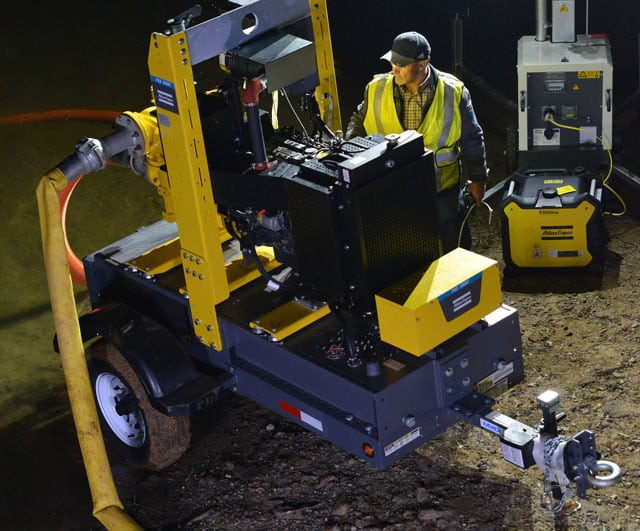 Three high-flow pumps from Atlas Copco Power Technique North America are on display at The Rental Show for the first time. The PAS line includes:
PAS 100, a 4-inch pump accommodating flows up to 1,232 gallons per minute
PAS 150, a 6-inch pump accommodating flows up to 1,430 gallons per minute
PAS 200, an 8-inch pump accommodating flows up to 3,655 gallons per minute
The PAS open frame pump systems consist of a highly efficient diaphragm pump with a semi-open impeller and a large separator, allowing the pumps to pass true 3-inch spherical solids. Air is separated from the liquid and sucked by the vacuum pump, making automatic and efficient priming possible. Both wet prime and dry prime options are offered.
The PAS pumps include hinged doors for easy access to the pump housing, making them easy to service and clean. They are easy to transport with multiple trailer configurations available. Exhaust emissions compliance is met by the Tier 4 Final engine, which is designed for low fuel consumption.
The pumps, which debuted at ConExpo in 2017, have been attracting new rental customers due to the quality and range of Atlas Copco's new pump product line. The pump expansion is part of the development of Atlas Copco's flow product category. In the last year, the company has refined its product categories to focus on air, power and flow solutions.
"From sewer bypass to construction dewatering to dewatering a lake in a backyard, the PAS pumps are well-rounded rental pumps perfect for customers' water transfer needs," said Joe Moser, Product Manager – Pumps at Atlas Copco Power Technique North America.
Atlas Copco Power Technique North America has expanded its product catalog for the dewatering market with the launch of over 30 new heavy-duty, high-capacity pumps to offer customers the best choice and widest selection. Atlas Copco's offering for the dewatering market comprises highly efficient wet and dry prime centrifugal pumps for construction, drainage and emergency applications, plus specialized models for wellpoint applications and pumping abrasive liquids and bentonite mud.
To offer customers extra flexibility, all ranges can be supplied with a diesel engine or an electric motor as part of Atlas Copco's E-Pump concept. Furthermore, up to six modular configurations are possible per range. Depending on the range, pumps can be supplied on a standard pump block, a basic or flexi-skid, or as part of a trailer, crate or fully containerized package.
As well as its seven centrifugal and piston positive placement pump ranges, Atlas Copco offers portable submersible dewatering pumps as part of its WEDA+ range. The range recently underwent a design overhaul, resulting in the introduction of five innovative pumps that offer up to a 20 percent overall reduction in power consumption compared to previous models.
Tags:
Atlas Copco
,
The Rental Show