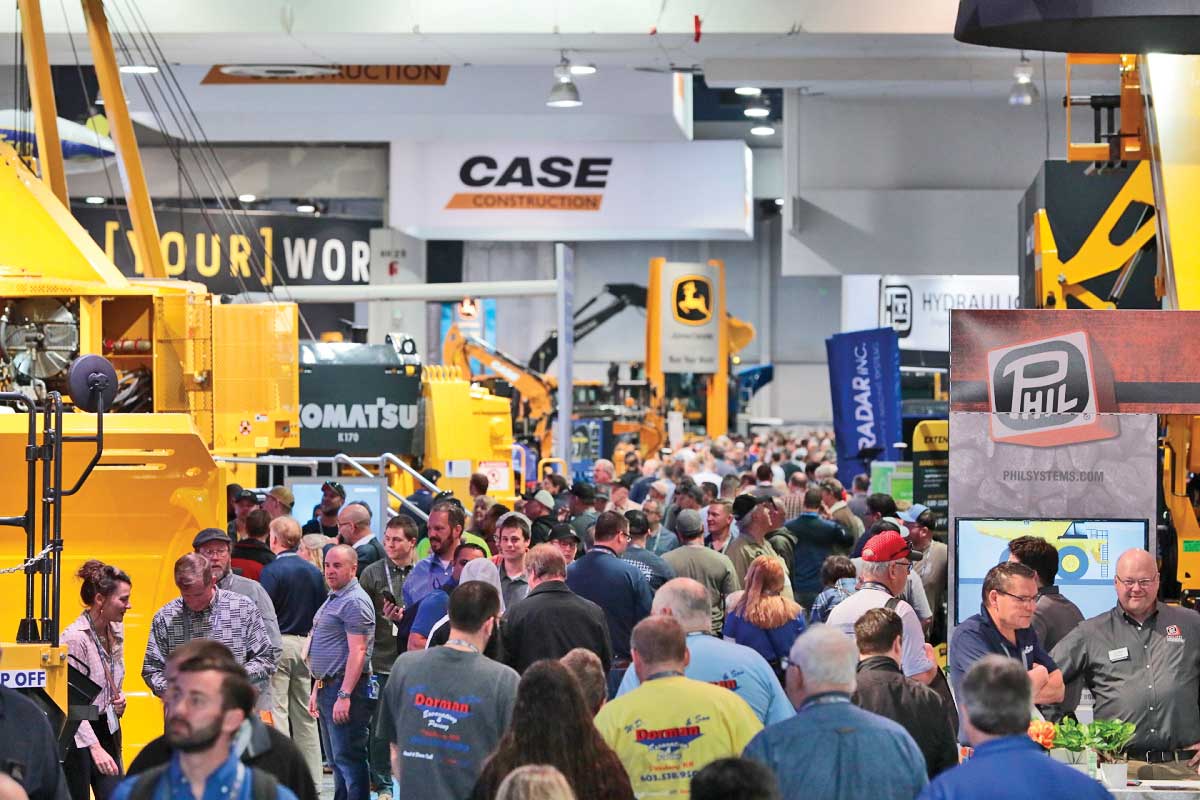 CONEXPO cometh. In fact, it starts today. We're talking about the biggest tradeshow in America by physical size. It only happens every three years, and most of it is centered around construction equipment. CONEXPO-CON/AGG will happen again March 14-18 in Las Vegas (this week). We're already there. So is everyone else. The show is bigger than ever too. The 2023 iteration is nearly 5 percent bigger than the record set in 2020 and will feature 1,800 exhibitors. There will also be 150 educational sessions, and topics will range from "Why Gen Z Eats Sustainability" to "Building Blocks of an Effective Equipment Budget."
Despite being the largest CONEXPO ever, recent additions to the Las Vegas Convention Center (LVCC) will make it the easiest to get around as well. Beneath the entire LVCC campus runs the Convention Center Loop, an underground transportation system designed by Elon Musk's The Boring Co. that transports convention attendees throughout the campus in under two minutes in Tesla vehicles, free of charge.
Understanding how to get around will be important — because there's going to be a lot to see. For starters, the exhibitors listed below should be at the top of your list when exploring next generation compact equipment. Let's start with…
ASA Electronics
Booth # N13032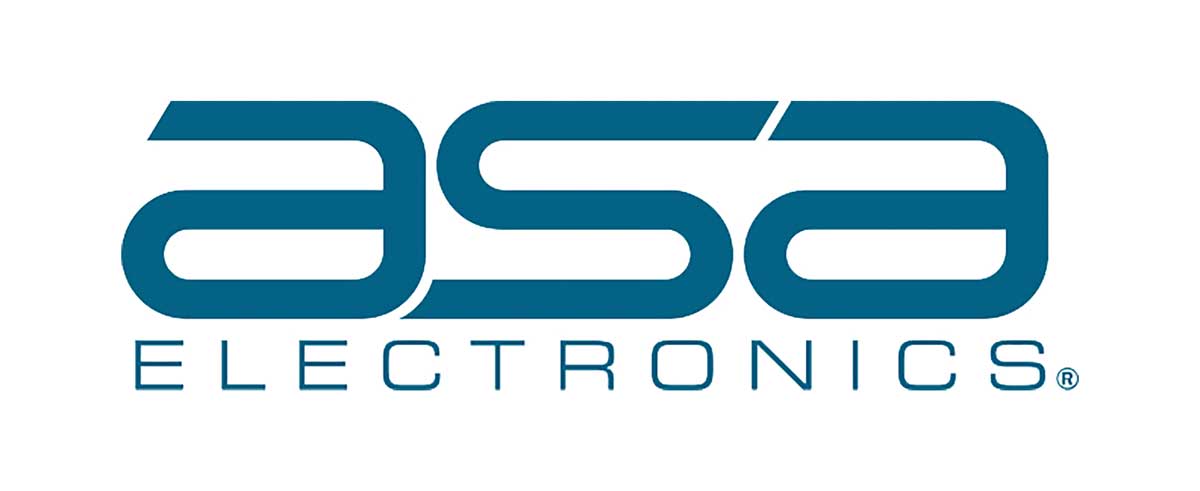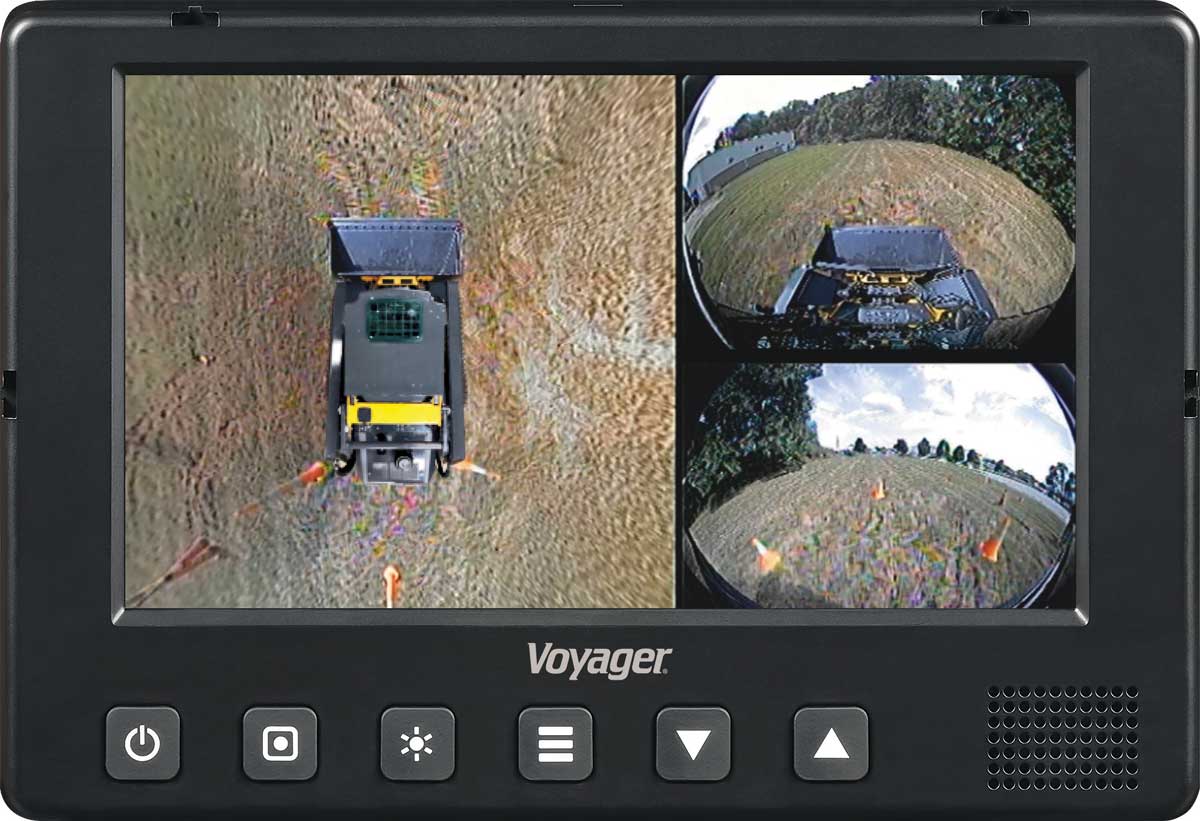 Join ASA Electronics at booth #N13032 in Las Vegas to preview the future of awareness with mobile observation. The innovative tech leader will highlight their new solutions to optimize the construction industry. ASA will display its Voyager 360 system, an OE-friendly system that stitches together images from four high-definition cameras, automatically creating a seamless, 360-degree panoramic view around the entire vehicle. Auto-calibrating technology minimizes installation time, so drivers can maximize visibility and minimize accidents. Visitors to the ASA booth can speak to mobile observation experts on the system's benefits and other details. ASA offers the industry's most efficient way to stay aware of surroundings, leading to increased driver and vehicle safety. Learn more at asaelectronics.com.
The New CASE Construction Equipment: You'll See the Difference
Booth # W40800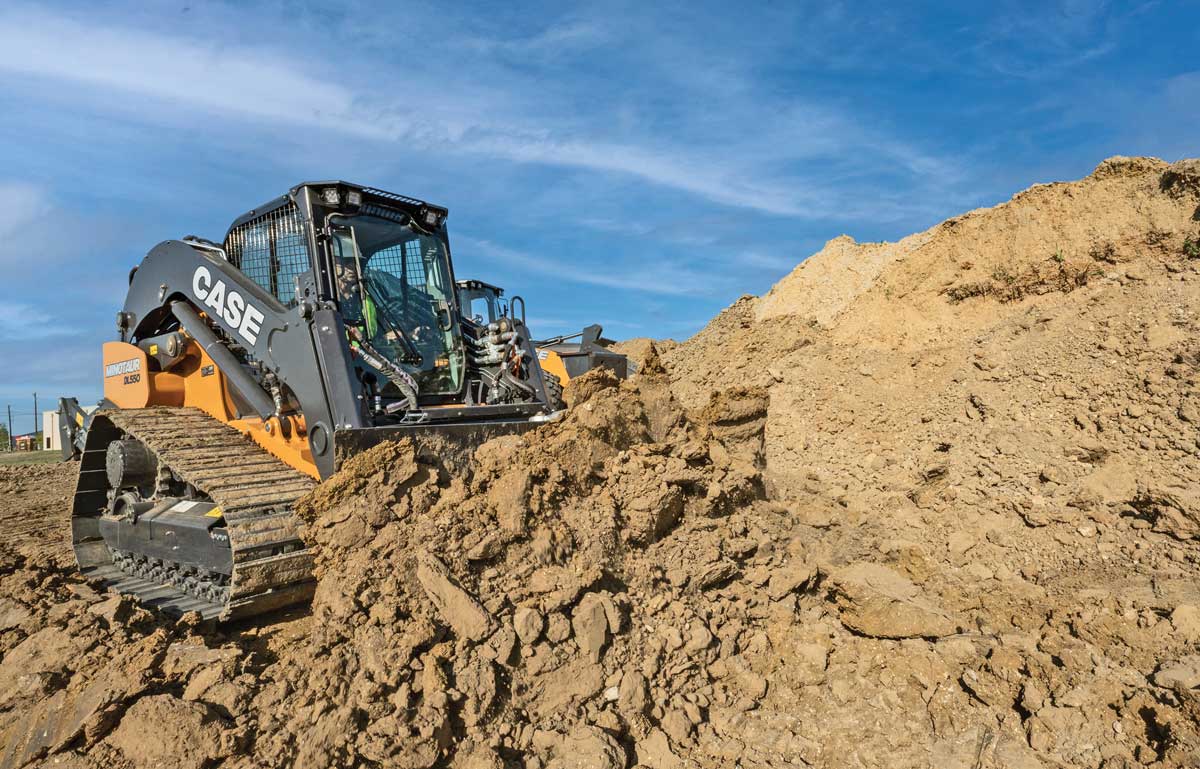 Check out the new CASE at it booth in the West Hall (W40800), and you'll immediately see the difference. More than 30 new machines, tons of new attachments and loads of knowledgeable team members ready to help you get more done, with greater ease and more profits than ever before. CASE is digging deeper, pushing harder and reaching higher to help customers win. In addition, you'll also learn about ingenious new technology, services and business solutions designed to help customers get ahead every day.
Get a close look at the CASE Minotaur DL550, the industry's first compact dozer loader that created an all-new equipment category and put the construction world on notice that you can have true dozing and grading performance, as well as powerful site loading capabilities and compatibility with hundreds of attachments, an all-in-one platform that sets the bar for versatility, power and precision in a single machine.
The company will also showcase multiple new product introductions including the all-new CASE E Series excavators — seven new models — including two in new size classes. These machines are focused on enhancing the total operator experience in performance and control to deliver even greater productivity, operator satisfaction and operational efficiency while driving down total cost of ownership over the life of the machine.
What else does CASE have in store? All-together, the company will introduce more than 20 new models, highlighting new ways it is delivering hip-pocket support, equipment financing, real world know-how and robust rental and attachment solutions in its commitment to elevate the operator experience and outwork all competition in helping customers build more business success. Learn more at CaseCE.com/SeeTheDifference.
Hatz at CONEXPO 2023: Steel and iron, bits and bytes
Booth # S-85429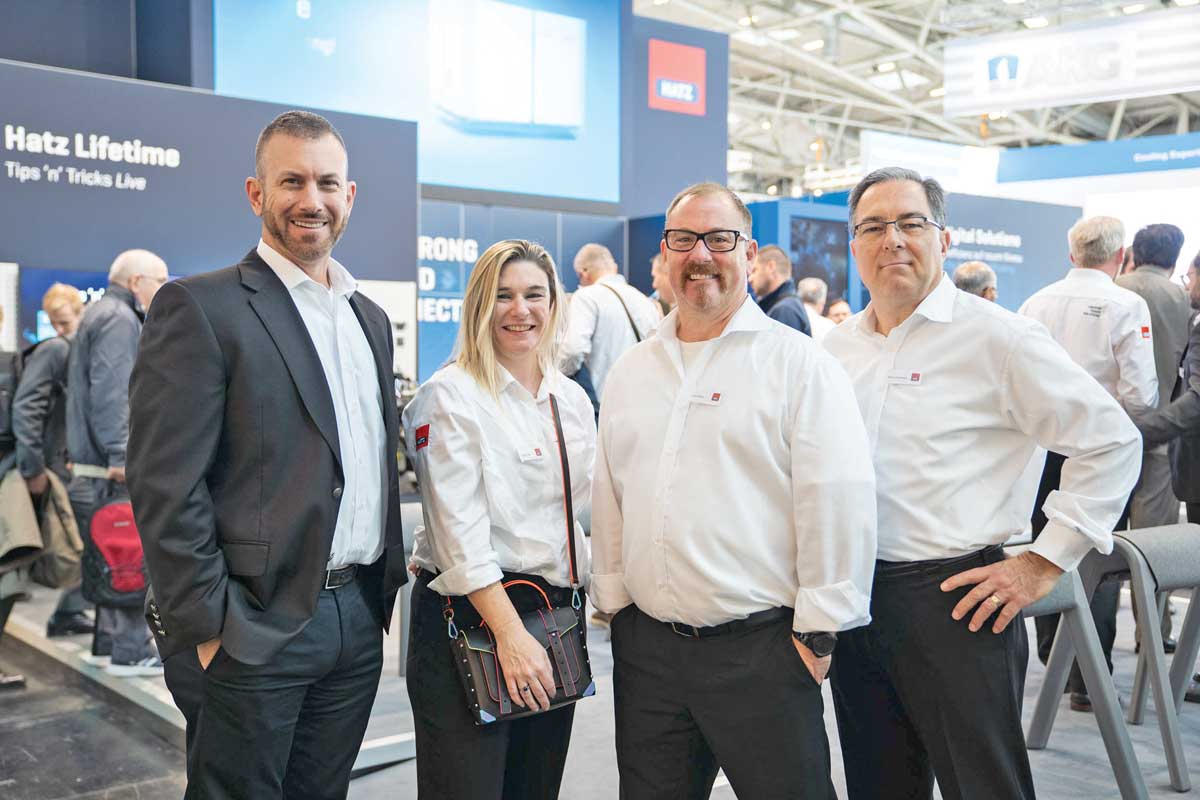 Hatz has transformed from a manufacturer of high-quality, compact diesel engines into a technology company. Alternative drives, sustainability and digital solutions for machine operators are just as much a part of the range on offer from the company as the traditional diesel engines. The benefits resulting from this combination can be experienced live at the CONEXPO 2023 tradeshow in March in Las Vegas.
Hatz is committed to the goal of zero emissions. The traditional German company with one of its biggest branches in the United States is successfully transforming itself from a manufacturer of robust and excellent compact diesel engines to a technology leader for precisely tailored drive systems that will be needed in compact machines on the construction site in the future. Hatz continues to develop the combustion engine but also stands for hybrid and electric drive concepts: the right solution for the respective application, regardless of the underlying technology. These drives are complemented by digital services and IoT functionalities. These make life easier especially for rentals and contractors getting the most out of their equipment and their business.
Based on excellent application and technological expertise and decades of experience in the development of high-performance industrial diesel engines for compact work machinery, especially for construction, Hatz develops highly innovative solutions and technologies.
Company contacts info:
Cassie Treuer, Communications Director
C.treuer@hatznorthamerica.com
Stephan Gritsch, Marketing Communications Team Leader,
Motorenfabrik Hatz GmbH & Co. KG
s.gritsch@hatz.com
We'd love to keep in touch! Check us out on Facebook, Twitter and LinkedIn!
Made for America, Raised in Georgia
Booth # F9553

Wet your whistle at the SANY America Beer Garden and then follow the smell of tasty, tangy BBQ to booth #F9553. SANY America's compact equipment champs, our swing boom excavators, will be there waiting for you. Jump in the cabs and experience the comfort for yourself. They make the most of limited space — on the job and on the way there — with four models under 12,000 lbs for easy transport. This group offers outstanding digging depth and hydraulic performance, all with the desirable agility of a swing boom. The SY16C, SY26U and SY35U run without a DPF. If you require more performance, capacity and productivity, the SY50U, SY60C and SY80U will get the job done. Whichever model is right for you, you can enjoy the peace of mind that comes with SANY's 5-year/5,000-hour warranty. We'll be hard to miss, so come on over and enjoy some down-home music with us.
Loftness to Showcase New Battle Ax Updates at CONEXPO
Booth # D1436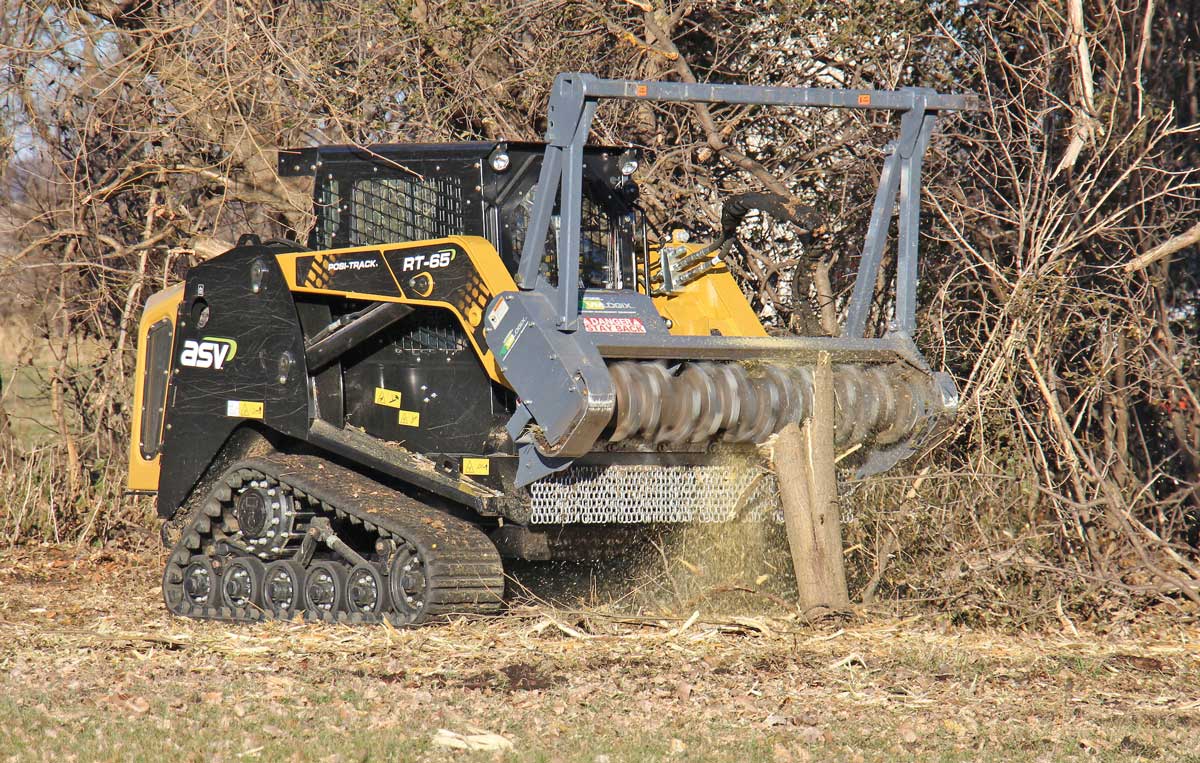 Loftness has made recent updates to its popular Battle Ax mulching head, which will be on display at CONEXPO. The Battle Ax is defined by its unique rotor with built-in depth gauges, which function similarly to raker teeth on chainsaws to prevent the attachment from engaging too much material at one time. This design is more ideal for managing the amount of material being fed into the attachment than ring-style rotors, which many operators find to be overly limiting. It also has the Loftness-exclusive two-stage cutting chamber, which allows the Battle Ax to process material more thoroughly than competitive mulching heads, since it has two separate shear bars.
The Battle Ax is offered with multiple cutting teeth options to meet customer needs. The teeth are mounted to the rotor with a single bolt and can be easily reversed, replaced or removed on the jobsite using a common hex socket. Other standard features of the Battle Ax include an efficient staggered/spiral tooth pattern, machined anti-wrap bearing protection and premium strength steel housing.
The Battle Ax is available for a wide variety of power units, including low- and high-flow skid steers, excavators, compact tractors and more. They are made in the U.S.A. and backed by an industry-leading, two-year warranty.
Company Contact Info:
Loftness
650 South Main Street
Hector, MN 55342
1-800-828-7624
info@loftness.com
www.loftness.com
Perkins Engines
Booth # S84329, South Hall
A wide range of technologies for helping original equipment manufacturers (OEM) transform the sustainability of high-performing jobsites will be exhibited by Perkins.
Perkins has developed a full range of engines from 0.5 to 18 liters and 7.5 to 597 kW (10.1-800 hp) with an integrated suite of advanced technologies that reduce greenhouse gas (GHG) emissions while delivering significant improvements in power density, performance and operating efficiency. Engines on display include a compact 904J-E28T industrial open power unit, an efficient 1204J-E44TA and a powerful 1706J-E93TA, all of which can use low carbon-intensity fuels including biodiesel up to B20 and hydrotreated vegetable oil (HVO) to EN15940.
The company will also exhibit 48V and 300V battery configurations, which Perkins engineers are currently developing and field testing, that can be leveraged by OEMs in the construction, industrial, materials handling and agricultural industries. The lithium-ion batteries are a robust, modular design and feature factory-installed telematics to optimize performance and packaging in off-highway applications. They are also being designed for recycling and reuse at the end of life to incorporate sustainability across their entire life cycle.
Additionally, Perkins offers a powerful and growing portfolio of connectivity solutions that help OEMs promote the optimal, sustainable performance of diesel engines. Available as a standalone service from Perkins or easily integrated with OEM fleet management offerings, connected engine capabilities deliver timely insights through a customizable dashboard of performance, fuel and oil consumption, and other vital engine data points that can maximize the uptime of Perkins-powered machines and fleets.
Contact: info@perkins.com
Hauling Evolved with Toro
Booth # W42945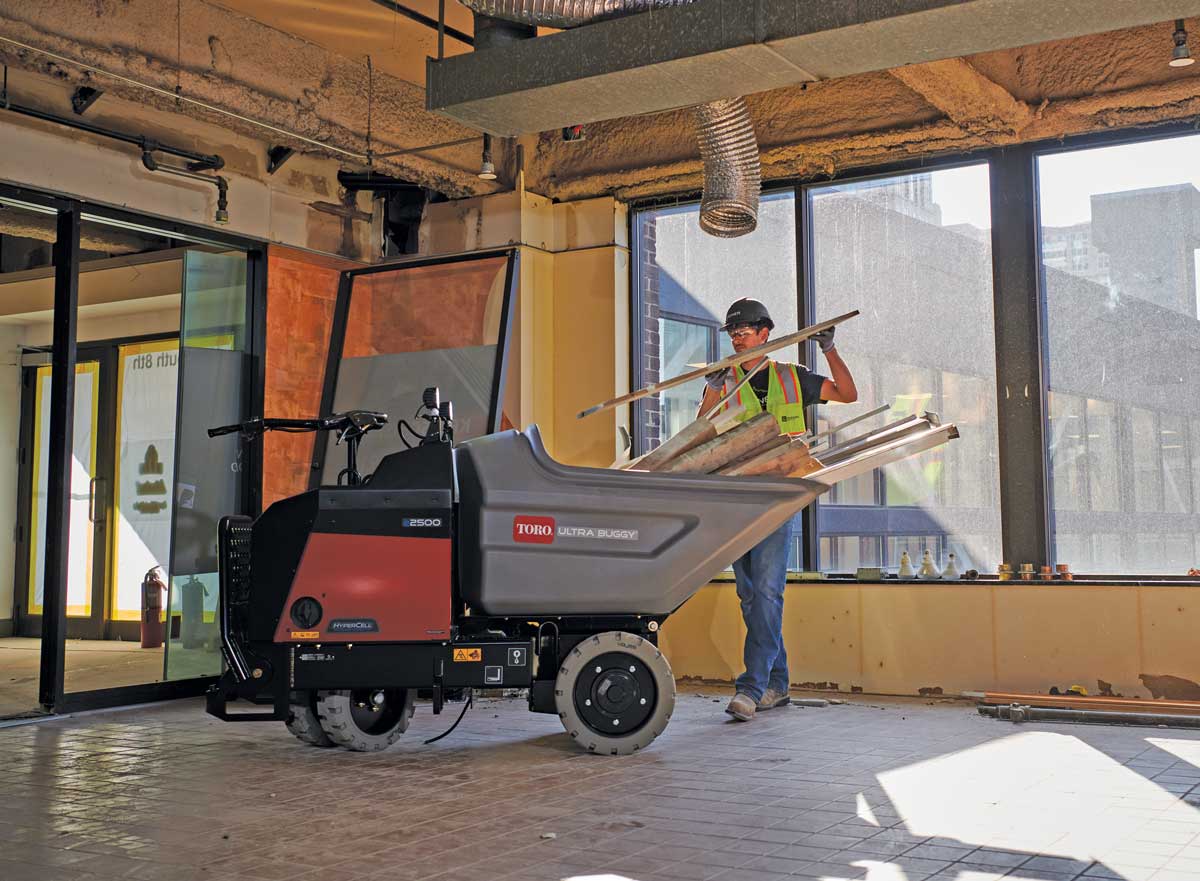 Don't quit hauling until the day is done. Combining up to 8 hours of continuous runtime with zero engine exhaust emissions and 2,500 lbs of carrying capacity, the Toro electric Ultra Buggy e2500 is the next evolution in compact material hauling for inside and outside jobsites.
Powered by Toro's HyperCell battery technology, the electric Ultra Buggy e2500 matches the power of our traditional gas-powered products while delivering the performance you expect. Its narrow width and zero-turn radius allow you to maneuver materials through tight spaces with ease, while non-marking tires ensure finished floors are passed over without a scuff. The intuitive controls are easy to learn, allowing you to get to work quickly. Plus, the electric Ultra Buggy e2500's auto-return dump feature automatically places the tub back in a resting position while you focus on retrieving your next load.
Stop by booth W42945 at CONEXPO 2023 to learn more about the all-new electric Ultra Buggy e2500 and see it up close.
TVH Keeps You Going
Booth #: S61315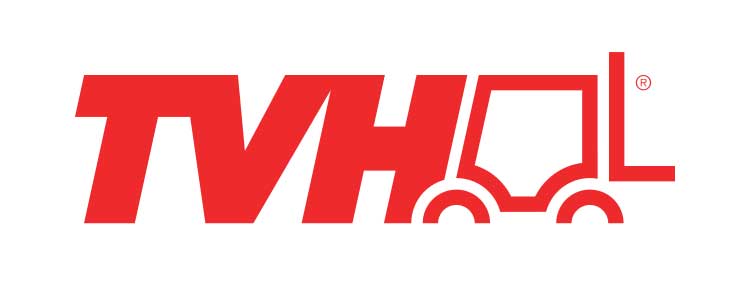 TVH Americas is a leading provider of quality replacement parts and accessories for the material handling, industrial and construction equipment industries. As parts specialists, we are dedicated to providing comprehensive, quality service from the initial quotation to the final product delivery. Our extensive inventory provides access to 46 million part numbers, making us one of the most well-respected names in the industry. With 15 locations throughout North and South America, TVH is the one-stop-shop for multiple equipment types. When shopping on our site, you will find a growing list of part and accessory options for skid steers, mini excavators, forklifts, sweepers, scrubbers, aerial work platforms, personal burden carriers and more.
Our professionally trained staff is ready to assist you with your toughest questions about our light construction selection. They are here to ensure you get the right part the first time. TVH offers a wide variety of bucket teeth styles, including long, short, hammer, fabricated, tiger and more. Our offering also includes tires and tracks with various tread patterns for different terrains, such as traction tires or zigzag tracks. Whether you are looking for a pump, tilt cylinder, tire, glass windshield or more, our impressive inventory will help you best take care of your machine. We offer replacement parts and accessories for high-quality brands such as Bobcat, John Deere, Kubota and many others. Plus, we have strict quality control to guarantee we provide premium parts at the best price. Our light construction selection is constantly expanding to fit your machine's needs.
Change Starts at the Volvo CE Booth. Get Ready for It.
Booth # F8926

With future-ready diesel technology, emissions-free electric construction equipment and unique Volvo services that help you earn more, we're ready to show you what the efficient, get-it-all-done future of construction looks like — and we're ready to help you confidently face it head on. What does it feel like to operate an electric machine? Join us in the Volvo booth, F8926, and test drive one of our compact electric wheel loaders or excavators to experience the smooth, quiet power for yourself. You can also get a glimpse of our electric autonomous concept wheel loader, see the world's first fuel cell articulated hauler, take a walkaround of our first midsize electric excavator, meet a driver of the electric FIA World Rallycross, see game-changing product redesigns and much more. While you won't want to miss the iron, don't forget to check out several new ways we're helping customers cut costs and earn more. As an example, when you step inside our solutions hall, you'll have access to experts ready to discuss the way you do business and show you tailored solutions that can help you put more focus on your day-to-day business to grow it the right way. Our world is rapidly changing — the future will have its challenges — but we're ready today to discuss how you can take the lead and stay ahead of your competition.
Yanmar Compact Equipment Returns to Las Vegas with Significant Product Launch at CONEXPO
Booth # W40059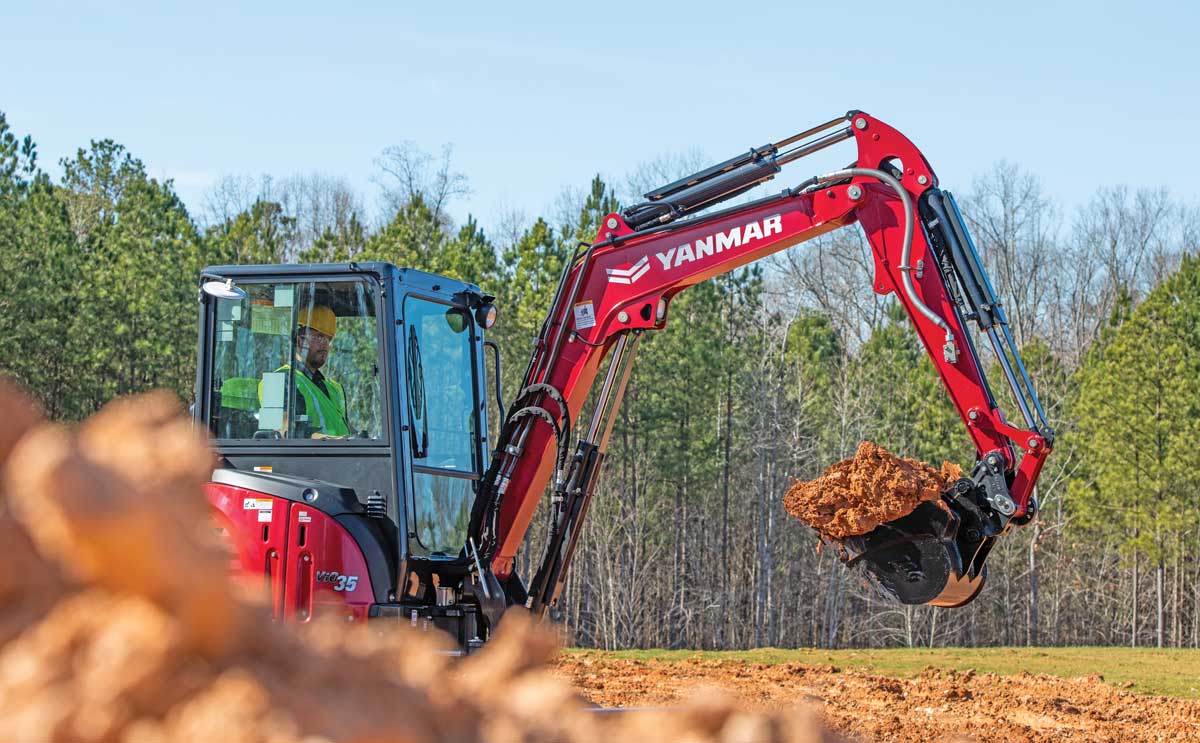 In its first CONEXPO-CON/AGG appearance since 2014, Yanmar Compact Equipment will launch new products strengthening its line of compact equipment in Las Vegas at the Yanmar Compact Equipment North America booth W40059 in the West Hall. The manufacturer will feature its new products as well as its mini excavators, compact wheel loaders and tracked carriers in a 7,880-sq-ft booth. The booth will include more than 10 machines showcasing Yanmar Compact Equipment's full line of compact equipment offerings suitable for any worksite. The booth will feature several vignettes marking Yanmar's key pillars in the construction industry — heavy civil, commercial and residential.
Yanmar Compact Equipment North America, based in Grand Rapids, Minn., encompasses Yanmar Compact Equipment division's powerful, dependable and efficient mini excavators, tracked carriers and wheel loaders and ASV's innovative, reliable and industry-leading Posi-Track compact track loaders. Yanmar Compact Equipment North America is a part of Osaka, Japan-based Yanmar Co. Ltd., which was established in 1912, and in 1933 became the world's first manufacturer to develop a practical small diesel engine. Today, Yanmar is a global innovator with a wide range of industrial equipment solutions in agriculture, construction, marine, engines and more, that address the challenges customers face toward realizing A Sustainable Future. For more information: Yanmar Compact Equipment North America, 840 Lily Lane, Grand Rapids, MN 55744; call 1-800-205-9913; fax 218-327-9122; www.YanmarCE.com.
Compact tool carriers, compact utility loaders, mini skid steers. Whatever you call them, we can all agree these machines pack a lot of productivity in a small package. Learn more about them here!