All-terrain Power Dumpers Designed for Optimal Durability at an Ultra-competitive Price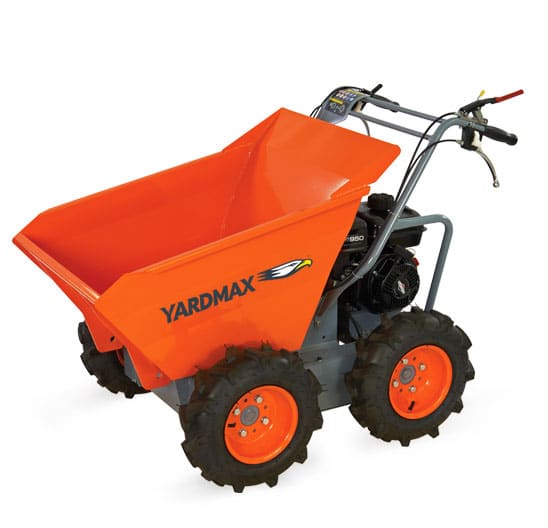 Yardmax, a manufacturer of innovative, high-quality outdoor power equipment (OPE), announced today the availability of its power trackbarrow with hydraulic assist, power trackbarrow with gas shock assist in hopper or flatbed styles, and a power wheelbarrow. With a focus on durability and performance, Yardmax delivers features such as solid steel parts, all-terrain heavy-duty wheels and tracks, and Briggs & Stratton engines as standard — for no upcharge. Supporting the company's focus on delivering high-quality OPE products to the market at the best value, this line of power barrows starts at $1,799.
Yardmax power track- and wheelbarrows are designed to safely and efficiently transport dirt, cement, stones and other heavy loads. Highly-engineered for optimal balance and control, each power barrow incorporates all-terrain maneuverability and stability, using zero turn radius to pivot without damaging the ground or work surface. The line is initially available for purchase or pre-order at Amazon.com, Hayneedle.com, Jet.com and independent retailers nationwide.
"At this price point, no one in the market sells power barrows that compare to the features, design, and durability of the Yardmax line." said Shad Shafer, Yardmax vice president.  "Our goal is to deliver the best user experience possible through superior OPE products and world-class customer support."
Yardmax Power Trackbarrows
Offered in multiple styles and weight capacities, the Yardmax line of track barrows includes a Power Trackbarrow with Hydraulic Assist (1,100 lb. capacity) and Power Trackbarrow with Gas Shock Assist (660 lb. capacity) in hopper or flatbed style options. Special features include:
• 900 Series Briggs & Stratton engine
• Tracks for all-terrain traction control
• Heavy-duty, multiple-speed transmission
• Zero turn radius
• Highly-engineered, evenly-balanced design
• Instant stop safety controls
• Solid steel frame, handles and hopper
• Removable flatbed sides
• Starting price of $2,199
Yardmax Power Wheelbarrow
The compact power wheelbarrow has a load capacity of 660 lb. and offers traction and stability needed to move heavy loads across rugged, uneven, muddy and wet landscapes. Product features include:
• Briggs & Stratton engine
• All-terrain, self-propelled all-wheel drive
• Zero turn radius
• Multiple speed heavy-duty transmission
• One-handed release
• Two position-enabled controls to ensure safe operation and instant stop
• Compact size allows access to hard-to-reach locations
• Directional AG tires
• Starting price of $1,799
Tags:
Power Trackbarrows
,
Power Wheelbarrow
,
Yardmax